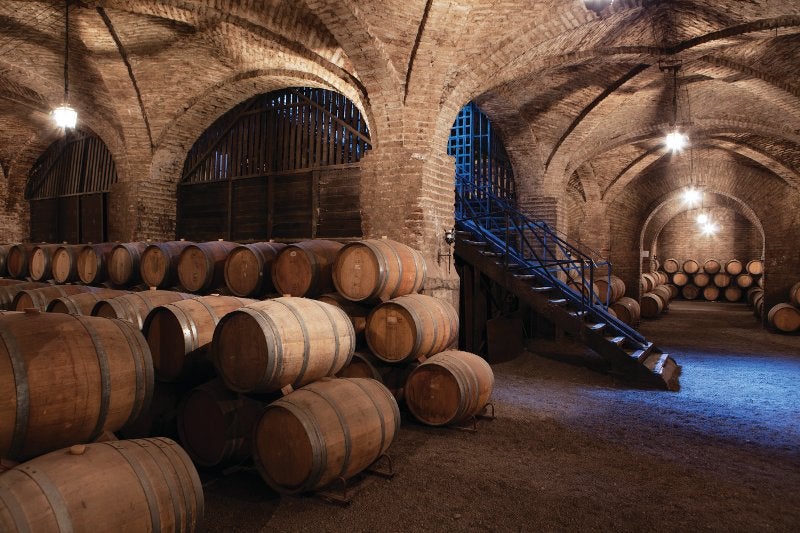 Victoria Daskal reports on recent developments at the Chilean producer, including the discovery of old bottles and documents in the aftermath of the 2010 earthquake, and on a special tasting from which fellow taster Michael Schuster shares his notes
At an exclusive lunch in September 2017—at the Pollen Street Social restaurant in London, co-hosted by Santa Carolina's winemaker Andrés Caballero and Chilean wine expert Peter Richards MW—guests were treated to a one-of-a-kind vertical heritage tasting with a distinct purpose: to compare wines from the 1950s and '60s to a new revival project breathing life back into a bygone style of Chilean wine.
Richards set the stage for this "back-to-the-future" project with a whistle-stop tour of Chile's wine history. In the 1550s, when the Médoc was still marshland, conquistadors were already planting Vitis vinifera vines throughout Chile—Pais and Moscatel at first, followed by Chardonnay, Pinot Noir, and Cabernet Sauvignon. Fast-forward to the 1990s, post-Pinochet, and Chile's wine production exploded, fueled by an exponential export demand. In 1989, Chile produced 400 million liters of wine, 7 percent of which was exported for a value of $35 million. By 2009, the country was producing one billion liters of wine, 70 percent of which was exported for a value of $1.4 billion. New vines were rapidly planted to support this growth, and today two thirds of all Chilean vineyards are less than 20 years old, with one third of them Cabernet Sauvignon.
Chile's beating heart
"Cabernet Sauvignon is the beating heart of Chile," says Richards, "but this has also been its detriment." Young vines, high yields, and overripening have contributed to the narrow caricature of what Chilean Cabernet is capable of. Largely consumed in adolescence and highlighted by chunky muscle and overly extracted primary fruit, this outdated style of Chilean Cabernet was reaching?a dead end. At Santa Carolina, one of Chile's oldest wine estates, a positive turning point came from a tragedy.
In 2010, a devastating earthquake— with a magnitude of 8.8—occurred off the coast of central Chile, triggering tsunami warnings in 53 countries. President Bachelet declared a "state?of catastrophe" as 525 people lost their lives and 9 percent of the population in the affected regions lost their homes. Based in Santiago, Santa Carolina winery was heavily damaged, but a silver lining emerged with the discovery of a secret cellar while cleaning up the wreckage. A wine library of old bottles was unearthed in a formerly hidden compartment of the underground cellar, and old documents explaining vinification techniques used by Santa Carolina in the 1950s and '60s were found scattered amid the rubble of the winery's collapsed buildings. This welcome surprise spurred on a two-year research and resurrection project called Bloque Herrencia, including a number of initiatives such as Chacra Centenario, a garden with several century-old traceable grape varieties, aimed at preserving and using them in the blends of icon wine Luis Pereira?and experimental wine Romano.?The garden was established in 2014, when vines dating back to 1912 were carefully transplanted from Santa Carolina's foundation vineyard in Macul, Santiago, to the Totihue Estate, in the Alto Cachapoal Valley. So far, pre-phylloxera old-vine material from 29 different varieties has been replanted as a field blend.
Besides the admirable strides made to research and preserve historic vines, Caballero has implemented many changes in the winery, reinventing?the Santa Carolina style to reflect the mid-20th-century restraint they tasted in the bottles discovered in their hidden cellar. The hand-picked grapes are harvested a month earlier than current traditional harvests, with a yield of six tons per hectare (almost two thirds less than the level to which the yield had risen). Fermentation is spontaneous with indigenous yeast, and addition of acid is avoided. Maceration is short, followed by one year in old barrels?and another year in French oak casks. The first vintage of the new icon wine was 2012, and it is named Luis Pereira for the founder of Santa Carolina.
At the lunch, Caballero showed an exceptional selection of wines including three of the vintages recovered after?the earthquake—1959, 1962, and 1964 Cabernet Sauvignon—which inspired the new style of Luis Pereira starting with the 2012 and 2013 vintages. Part of the shift in philosophy involves a move away from drinking wines too young and the introduction, therefore, of bottle aging at the winery: 80 percent?of production is held back from release until the wine starts developing a more mature profile. Luis Pereira retails for £100 per bottle and is distributed through Ehrmanns in the UK.
The Tasting
Pollen Street Social Restaurant, London; September 5, 2017
Santa Carolina Semillon 1962
Deep orange-gold, amber in effect; a ne bouquet, no longer recognizably Semillon as such, but a combination of honey, flowers, and orange marmalade, clear cut, aromatic, and surprisingly zesty given its 50 years and more. It was also remarkably stable in the glass. A full, bone-dry, vital wine, long, fine, and aromatic, a sort of very-old-yet-very-fresh Pessac-Léognan in style; long to taste, long to finish, with most distinctive aroma and flavor: ripe in its fruit core, mint-tinged and caramely in the nicest sense, fragrant, complete, individual, and really quite lovely. A reminder—and it probably is needed—of just how good Semillon can be from Chile, where, up to the middle of the 20th century, its plantings were significant. As thoroughly inadequate additional information: | 92
Santa Carolina Cabernet Sauvignon 1959
(12.5% ABV)
Mature pale ruby; gently sweet, old-fashioned, faintly "herbal" bouquet, becoming more truffley and mushroomed as it sat in the glass; a light, moderately concentrated wine with just a little dry, defining tannin still there; pure, delicate, freshly sweet, modest in complexity and gently persistent. A fine, old, top cru bourgeois-quality level, still sweet in fruit, delicate yes, but with all its (frail) faculties there. The nest of these three old reds, remarkably complete and delicious. I will give a score—but what does that add to the information or, more to the point, to the pleasure that this delightful nigh-on-60-year-old delivers? | 91
For the complete tasting notes please refer to Issue 61.