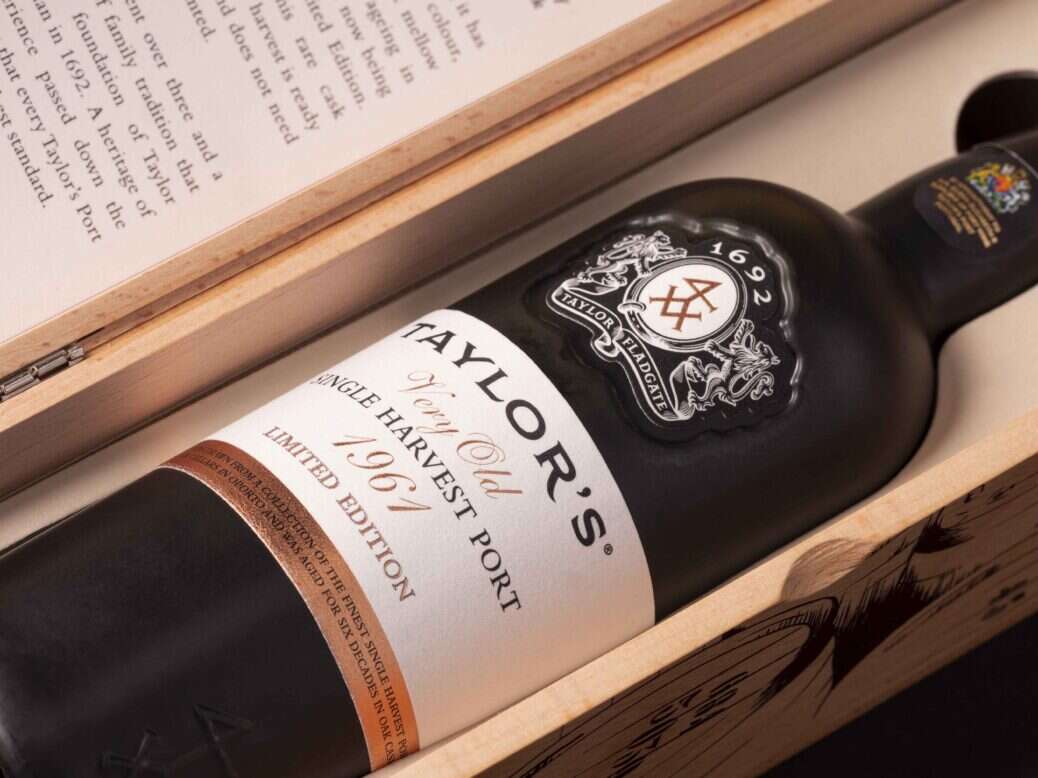 The leading Port house has released the latest in its series of venerable Tawny Ports, perfect for those celebrating a special anniversary or birthday this year, but equally tempting for all wine lovers
1961 was not a "declared" vintage for Port, although the Single Quinta concept had already been born, as those lucky enough to have tasted Quinta de Vargellas 1961 can testify. Several barrels, as is normal, were kept back for the wood-aged styles, for so long, and somewhat mysteriously, perceived as less impressive than their early-to-bottle siblings. Things, not surprisingly, have moved on… quality will out eventually, after all, and this has resulted, especially latterly, in burgeoning demand for the older blended Tawnies and the Colheitas. A logical extension, with the success of vintage-dated Armagnac et al providing inspiration, has been the development of the single-vintage labels. Why relegate the best cask when it can be bottled solus? What better celebratory present for those with a not insignificant birthday in 2021? By definition, they will have been gifted the ultimate statement in wood-aged Port. A defining definition in many cases, such is the sheer brilliance of the wines.
A propos, how was the crop in the year of Yuri Gagarin, The Bay of Pigs, and the installation of JFK? The year when the Berlin Wall went up, with the Cold War at its height, and yet one that did not lack for optimism—more optimism, it may be surmised, than we currently entertain in early 2021. A legendary vintage in Piedmont and Bordeaux, and an impressive performance in the Douro, too, with only the magisterial quality of 1960 preventing more by way of accolade. Back-to-back declarations were unheard of in those days, maybe with good reason, commercially speaking. A fine vintage, for all that, and without the drawback of the best fruit being immediately requisitioned for the Vintage wines. The concept of Single Harvest Tawny Port was not even nascent at the time, so one has to decide for oneself whether the uncovering of a single cask of superior quality from 1961 is merely serendipitous; either that or cleverly spotting a gap in the market; or, most likely, the fruits of patience and empiricism. Some casks turn to volatility too soon; some lose even vestigial fruit; some just fail to live up to early expectations… as long as there is just one… but which one? Herein lies the skill of winemakers such as Guimaraens père et fils; when one is playing such a long game it can be a multi-generational affair. And here we have it, finally; patience has been rewarded to the tune of a modest 2,900 bottles, recalling and celebrating the year of Breakfast at Tiffany's and West Side Story. Classics all. (For more on the question of vintage variation, see here).
Winemaking was different then, of course, especially in Portugal, which was maybe slower to embrace technological advances, certainly pre-Revolution. This is where the forgiving magic of fortification steps in, and while one can probably not, in all conscience, discern characteristics that are especially redolent of Vargellas per se, one is able to appreciate the fruits of a strong vintage and the slow working of gentle oxidation over a very extended period. The cask of tawny port has been stored in Taylor's cellars at Vila Nova de Gaia, the proximity to the sea tempering the excesses of the hinterland, the relative humidity perfect for a gently unpredictable evolution. As with Madeira and aged Sherry, nature hereby shows its workings with all the nuanced subtlety of an Old Master, the careful draftsmanship of youth softly shrouded by a veil of experience; imperfections touching upon perfection with predicted unpredictability. These special releases are targeting anniversary years, for sure, but are not specifically chronological (1970 rather than 1960 was the last one) which once more validates the exercise and underlines a seriousness of intent. One sip will underline this in triplicate.
Tasting note (December 2020)
Bright, Velasquez walnut, gentle fade to the rim, hints of green recall ancient Boal, dignified for all that. The aromatic is only modestly lifted, dried fig and toffee apple at first, then something briny, heather maybe; woodsmoke and fireplace yes, but also something fresher, more poised and almost modern; preserved lemons, even wild strawberry, something from the orange grove. This carries to the palate, where butterscotch and almonds are evidenced; not quite marzipan; too restrained and venerable… The acidity sings clearly after all these years, nothing too volatile by way of descant, the overriding impression is of clarity and precision, tarte tatin sweetness, brocaded soft silk tannins and flavors vaguely recalling macerated cherry but ethereal, elegiac energy quietly resonant. 95