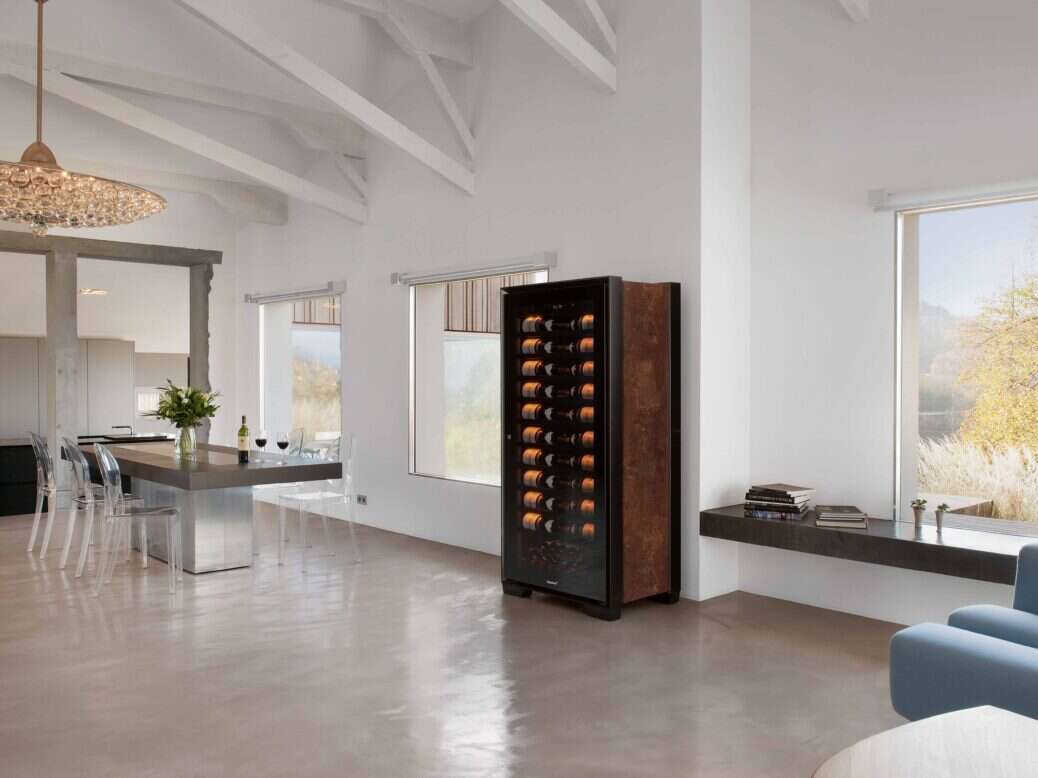 WFW 's definitive guide to wine preservation begins with an overview of the best options for different households
We are all aware that wine is delicate, and requires specific preservation conditions related to temperature, humidity, and light to stay intact and, even more important, to age well. But many of us devoted wine lovers struggle to meet those criteria, especially those of us in cities, where underground storage—or any storage, for that matter—is limited. There are many options for wine preservation: from home cellars, wine rooms, and wine cabinets, to professional storage or members clubs. And even those who keep most of their wine in specialist storage will still find it necessary to have temperature-controlled options at home to ensure their wine reaches the glass in the best possible condition; most will need to withdraw their wine from specialist storage in cases of six or 12 bottles, some of which they may wish to keep at home for several more years.
In the first part of our wine preservation overview, we are focusing on wine cabinets, assessing the different purposes of cabinets and fridges, and exploring their key features. Part two will look at out-of-home solutions such as members club storage services and other professional facilities.
A reminder of the requirements
Optimal wine preservation will have constant year-round temperature of about 54°F (12°C), a high level of humidity of around 70–75%, a dark environment free of UV light, adequate ventilation, and be vibration-free. The objective of this environment is to allow the quality of the wine to maintain and ideally improve as it ages at a steady pace.
Stable temperature of 54°F (12°C)
The most critical aspect of wine preservation is to maintain a cool and constant temperature. Most storage experts agree that the ideal long-term temperature is 54–56°F (12–13°C), and that the aging curves of stored wines will accelerate at higher temperatures but not in beneficial ways as far as quality is concerned. Consistency within a fairly narrow range is equally important, because even a small spike—as during a few days of a summer heatwave—to temperatures higher than 86°F (30°C) is enough to cook the wine. Studies carried out by the Australian Wine Research Institute show that exposure to temperatures higher than 68°F (20°C), even for short periods, can be detrimental to the wine's color, clarity, aroma, and flavor.
High humidity of around 70%
A relatively high humidity is needed to minimize evaporation through corks. A range between 65 and 75 percent is high enough to protect the wine and is quite easily maintained. Besides being too cold, the low humidity of food refrigerators is another reason why they are not suitable for storing wine, only for short-term chilling. It's important to not exceed 80 percent humidity either, however, or there will be a risk of damage to labels, and to wooden racks, and mold may be rampant.
Airflow
Air ventilation is essential in order to minimize the growth of mildew on capsules, labels, and racking. Elevated humidity combined with limited airflow is the disastrous recipe for a mold outbreak in wine storage.
Light
Let there be no light. Direct light, whether natural or artificial, can cause light strike, which damages the wine's aromas and flavors. Extended exposure can also raise the temperature inside the bottle and affect its color.
Vibration
Any unnecessary movement or vibration can negatively impact the wine's quality. It both disturbs natural sediment that may be present in the bottles, and causes invisible complex chemical reactions which alter the wine's aging. The most common culprits of vibration are public transportation (homes that are close to trains and subways), and appliances within the home (like a washer or dryer). Better quality wine cabinets will have internal equipment and the right structure to absorb vibration.
Home cellar: from storage to service
Having spent more time at home in 2020 than ever before, many of us have had to make adjustments ranging from creating home offices, to setting up home gyms. For many wine enthusiasts, a home storage solution has become a top priority. Pascal Marchand, president of Eurocave, confirmed that this year was a turning point for global sales, with a nearly reciprocal rise in demand for personal use units to compensate for the decrease in demand for professional cabinets in restaurants. "During this lockdown people are staying more at home, they are eating and drinking at home, and they want to make their place nice. So, we have seen a huge rise in wine cabinet sales. What we lost in restaurant sales we've nearly gained in private consumer demand." The decline in professional units is not unexpected, of course, due to the devastating impact of coronavirus on the hospitality industry around the world. While the commensurate increase in interest for personal wine cabinets might be surprising, in the UK alone, Google searches "wine fridge cabinet" have increased by 60% over the past 12 months, and those under the term "wine storage cabinet" by 70%. This growing interest seems a timely opportunity to review wine cabinets, clarify their purpose, and compare some of the leading models.
What's the purpose?
Although the terms wine cabinet, wine fridge, and wine cooler are often used interchangeably, there are distinct differences in their purposes. As a general rule, a wine cooler is a short-term storage appliance used to keep a number of wines ready to serve at their ideal temperature. It's also often referred to as a wine fridge.
Wine fridges come in many different shapes, sizes, and constructions, and they range in price from relatively cheap (under £100), to rather expensive (around £5,000 and up). Beyond the basic criteria mentioned above, a key feature to look for in these is the possibility to rearrange shelves to accommodate different bottle shapes and sizes, and the number of temperature zones. Most models come with dual, or even triple, temperature zones, which allow for storing sparkling, white, and red wines at their ideal particular serving temperatures. It's generally not advisable to use the wine coolers for long-term storage, because leaving the wines at extreme temperature ranges will harm the wines' maturation. It's possible to set a wine cooler to a more suitable long-term storage temperature, but these appliances don't always have the additional features needed to keep wine safe and secure over time. Some of the most expensive wine coolers will have the full range of features that control these parameters. This slight overlap of features and functions can lead to confusion when deciding whether to opt for a wine cooler or a cabinet.
Wine cabinets are specifically designed with the purpose of long-term wine storage. They usually have just one temperature zone, which reflects their primary use as a place to mature wine. They also tend to have much larger capacity and be more expensive than wine fridges. In addition to controlling temperature, they properly address the main challenges of long-term wine storage for the quality of the wine, which become much more critical when storing wine for years, rather than months. Most high-end wine cabinets have sophisticated systems that accurately absorb vibration, block UV light, control humidity levels, and manage the impact of ambient temperature fluctuations.
Eurocave makes a large range of units, from classic wine preservation cabinets like the Royale, to serving-temperature wine fridges for both home or professional use (like its keenly priced 4000 series), as well as hybrid options like Pure.
Speaking with Pascal Marchand, it's clear how concerned he is about consumers underestimating the preservation responsibility of storing wine at home. "When the wine is in the bottle it is just a semi-finished product. It might be good, but given the chance to mature in the best way, it could become very good." He continues on the topic of service temperature: "Here in France, producers are getting very concerned with the issue. If you taste a great Hermitage at 16°C [61°F]—that's going to be an experience. If you taste the same wine at 21°C [70°F]—you won't understand why you paid so much for those bottles.
This happens when customers try the wine in a restaurant at the right temperature, and then at home it doesn't taste as good."
Of course, if consumers are taking the time to buy or collect a variety of fine wines, it's worth experiencing them at their best. Serving wine at the correct temperature allows one to experience fully the wine's aroma, flavor, and texture, which is why wine fridges are growing in popularity. Serving wine in the correct glassware will also greatly improve its flavor. Yet the proper élevage of the wine, which often continues much longer in the bottle than it did in the winery, is difficult to achieve in our homes.
"We know that 12°C [54°F], is the best temperature for aging wines, and we have ensured that all our wine cabinets maintain this temperature everywhere—from top to bottom, front and back. Many wine cabinets claim this but actually have temperature variations as much as 7°C [12.6°F]! That's huge! I've seen ones where the back of the cabinet is zero and the bottle is touching the back with liquid inside nearly freezing. That's bad design," laments Marchand. "We advise our customers who only have one cabinet to opt for a long-term storage wine cabinet."
The Royale, which Eurocave christened "the world's best wine cabinet" upon its release in late 2018, is indeed the top of the range for long-term wine storage cabinets. It boasts having vast filters to ensure the air inside the systems is pristine, and it is completely insulated from any vibration. "The temperature inside the Royale is guaranteed to be perfect, no matter what's happening outside," says Marchand.
"When people visit the show room not knowing what to expect, this is the product that has the real 'love-at-first-sight' effect," says Marchand. Besides China leading the way with the most coups de foudres so far, sales for the Royale have been strongest in the US, UK, and France.
"Aesthetics are very important now," says Marchand. "Our customers used to buy the cabinets to keep in their garage; ten years ago, 85 percent of our sales were for plain-door cabinets, but now 90 percent of our sales are glass-door. The wine cabinet has moved from the garage, to the living room or kitchen. Before, customers wanted to stock; now they also want to display."
And don't let the price put you off, Marchand assures. "If you ask me, Eurocave is the cheapest in the world. If you look at the time you're going to have your wine cabinet, after 30 or 40 years, you're going to say 'actually that was rather cheap.' We still have people using our first ever cabinets. Our focus is on creating products that last."
There exists a vast array of models of differing sizes, capacities, features, and prices. While Eurocave is the leading producer of wine cabinets as their sole focus, there are other high-end appliance companies that have branched into wine storage units and offer attractive options depending on one's requirements.
Below is a comparison of just a few of the most popular models from the most respected brands.
Service temperature suggestions by wine style
White wines
Simple sparkling wines, Muscats, simple sweet wines 44–46°F (7–8°C)
Late harvest Alsace wines, sweet wines, acidic or light dry white wines 48–50°F (9°–10°C)
Dry white wines, medium-dry white wines (Vouvray, Pinot Gris d'Alsace), Gewurztraminer, fine Champagnes, fine sweet wines, noble grapes 52–54°F (11–12°C)
Fine dry white wines, vin jaune, and other oxidative wines 55–57°F (13–14°C)
Rosé wines
Simple sparkling rosés 44–46°F (7–8°C)
Fine rosé Champagnes, classic rosé wines 52–54°F (11–12°C)
Bordeaux clarets, structured rosé wines, Burgundy rosé wines 55–57°F (13–14°C)
Red wines
Light-body and fruity red wines 52–54°F (11–12°C)
Beaujolais and low-tannin wines, Banyuls and other natural sweet wines 55–57°F (13–14°C)
Burgundy, Rhône, and Loire wines and red wines of medium structure 59–61°F (15–16°C)
Bordeaux wines and any red wine with a good structure, Port wines 62–64°F (17–18°C)
Exceptional, mature wines 66–68°F (19–20°C)