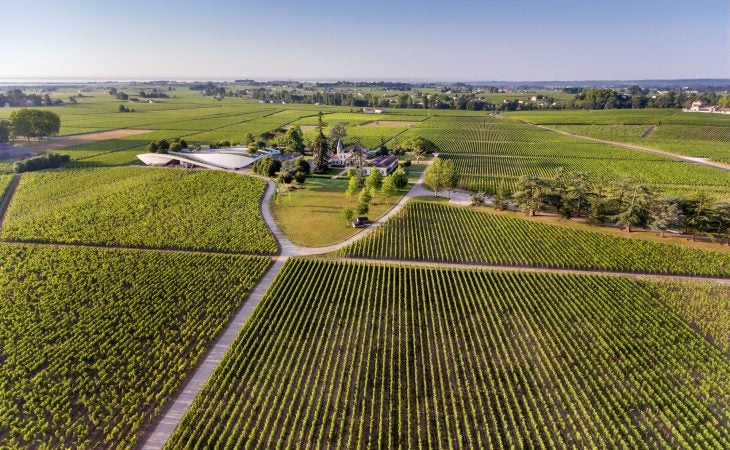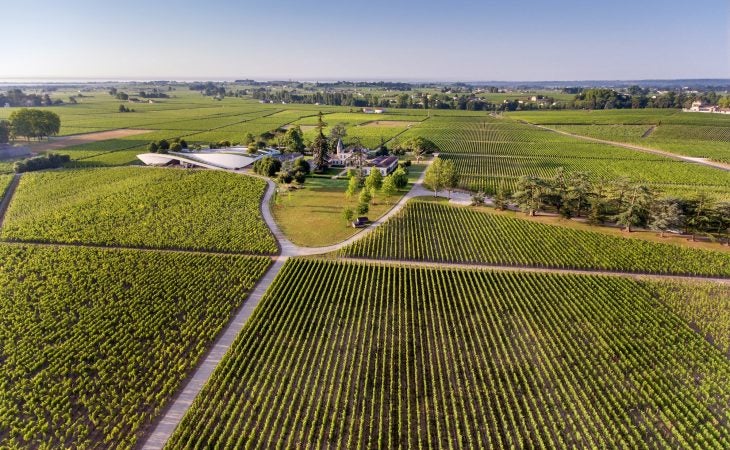 Bordeaux's rich history has secured its wines a special place in the upper echelons of the fine wine world. But a new wave of winemakers is embracing modern techniques and challenging outdated perceptions about the region. By Irenie Forshaw.
Every spring, thousands of wine merchants and critics travel to Bordeaux to taste barrel samples of the latest vintage. The practice—which dates back to the 18th century—is an opportunity for the top châteaux to showcase their wines and secure sales en primeur, as futures, ahead of bottling and release. The wines themselves will continue to mature in-barrel for at least another year.
For Tom Jenkins, the buyer responsible for Bordeaux at Justerini & Brooks, en primeur season is the busiest and most exciting event of the year. "It's back-to-back appointments," he enthuses. "We go in, taste the wines, make our notes and then we're back in the van and driving 100 yards down the road to the next château."
Last year, however, the pandemic brought such endeavors to a halt. As borders closed, tastings were canceled. For the first time in history, Bordelais estates were, instead, forced to send cask samples to select journalists and buyers across the world. Jenkins and his colleagues ended up sampling the 2019 vintage in his garden. Against the odds, he reflects, "they were some of the best samples I've ever tasted."
[See also: Justerini & Brooks Looks to a New Generation of US Winemakers]
Standing the test of time
As Britain's oldest continuous fine wine merchant, Justerini & Brooks has forged a reputation for its long-standing relationships with the most revered properties in Bordeaux. Unlike Burgundy, where comparatively small quantities of wine require extremely close ties with the growers themselves, the sheer scale of production in Bordeaux makes buying a more commercial affair.
Today, Jenkins and his colleagues work with more than 30 Bordeaux négociants responsible for selling and distributing wines from the region's historic estates. "These allocations are built up over time," he explains. "There's a quid pro quo relationship with our suppliers—they reward loyalty and expect us to support them by buying a broad spread of wines."
But acquiring the allocations is only the beginning of the story; quality wines must be looked after carefully. After all, says Jenkins, "if you transport or store wine poorly, it will never reach its potential."
It's an issue Justerini & Brooks takes seriously. One hundred feet below the hills of Wiltshire lies the merchant's bonded warehouse: Cellarers. Bordeaux's finest wines are transported to this cool, dark cavern and labeled with the buyer's name and unique identification number.
"It would be fair to assume that all wine companies land, assign and label individual cases of wine to the specific customer as a matter of course. However, almost without exception, they do not," says Jenkins. "Our customers know that when they've bought en primeur from us, they will be getting the same case in 20, 30 years' time."
A change of approach
Bordeaux has been synonymous with fine wine for centuries. The region's classification system – introduced when Napoleon III called for a ranking of its best wines in 1855 – remains virtually intact. And, despite some critics arguing it is outdated, the somewhat rigid hierarchy is unlikely to change any time soon. "There are some wines that, if classified tomorrow, would be in a different order," acknowledges Jenkins.
Nevertheless, in the right pair of hands it is possible for the fortunes of a château to change. Jenkins likens Bordeaux's "super-star technical directors" to Premier League football managers, whose expertise and flair are in high demand. "We're always keeping our ear to the ground," he says. "Our trip to Bordeaux every January [before the en primeur tastings] gives us an opportunity to spend time with the region's great and good. It's amazing what you can learn over a long lunch or tasting in the cellar."
Tom Jenkins' best value Bordeaux
Home to some famously pricey appellations, the region has faced its fair share of scrutiny. Following years of exponential growth in the Chinese market, the average cost of a first growth bottle of Bordeaux wine skyrocketed.
"In hindsight, many 2009 and 2010 prices were excessive," recalls Jenkins. "Eventually, China stopped buying and the market plummeted."
Jenkins believes a more balanced, long-term approach to pricing has emerged in the years since. In stark contrast to a decade ago, he says, the top châteaux focus as much energy on the quality of their distribution, finding discerning consumers and listings at top restaurants, as maximizing profits.
Jenkins is eager to stress that, contrary to popular belief, the region offers a range of affordable, high quality wines. "Bordeaux isn't all glitzy, expensive châteaux," he insists. "You can still find a really good bottle of claret for £10 ($14)."
Breaking the mold: Bordeaux's next generation
Keen to shrug off these long-held perceptions about the region, a new wave of winemakers and consultants are injecting vibrancy and innovation into Bordeaux's wine scene like never before.
"It's extraordinary how much the winemaking has improved," reflects Jenkins. "They understand so much more about their vines and everything that's going on above and below the soils – it's a meticulous approach."
"They're picking riper fruit, being gentler with macerations, and extracting finer tannins. In the past a very ripe easy-drinking wine probably wouldn't have the backbone to last, but they've managed to find a balance where they can produce approachable wines with the potential to age."
Unlike previous generations, these winemakers are likely to have traveled widely, bringing back a wealth of knowledge from both the Old and New world.
Tom Jenkins' wines to put in your cellar:
Jenkins shares a tip for discovering the best value wines of the region: look to the sister properties of the top estates. A case in point is Château Grand Village, the home of the Guinaudeau family since the 17th century.
Grand Village has benefitted from its connections with the legendary Pomerol vineyard, Château Lafleur. "They've got all the infrastructure from a Pomerol property to invest in the wine," explains Jenkins. "When you've got state of the art technology, an amazing winemaking team and access to the best genetics—you can make excellent wine."
Jenkins also cites the satellite appellation, Côtes de Castillon—home to Château La Grande Maye and Château Montlandrie—as being especially worthy of investigation. The hills of Castillon are a continuation of the Côte de St Emilion, with similar terroir, aspect and climate.
Amid quarantine restrictions, Jenkins again had to forgo his annual tasting trip to Bordeaux, with tastings taking place remotely. It has only strengthened his appetite for returning next April to experience the unrivaled bustle and excitement of Bordeaux en primeur season once more.
Learn more at justerinis.com