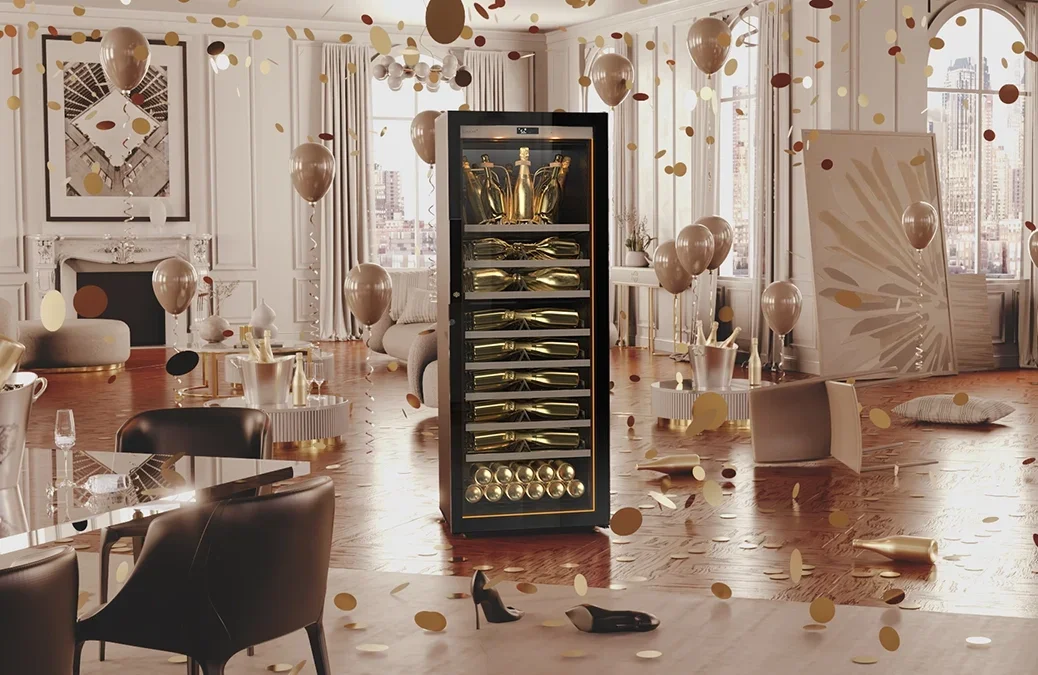 EuroCave, the leading innovator in wine storage solutions, has recently unveiled its latest offering—a Champagne cabinet that is exclusively designed to showcase and serve the iconic bubbly drink. This cabinet is a must-have for Champagne lovers who value style and functionality.
The cabinet is designed to house Champagne bottles of all shapes, including magnums, thanks to its cleverly designed shelves. Drawing inspiration from the classic ice bucket, the Champagne cabinet offers a unique vertical display of your finest labels through its turntable support in chrome-plated steel. Its sleek and stylish design exudes a sense of hedonism and elegance that is sure to impress even the most discerning Champagne enthusiasts.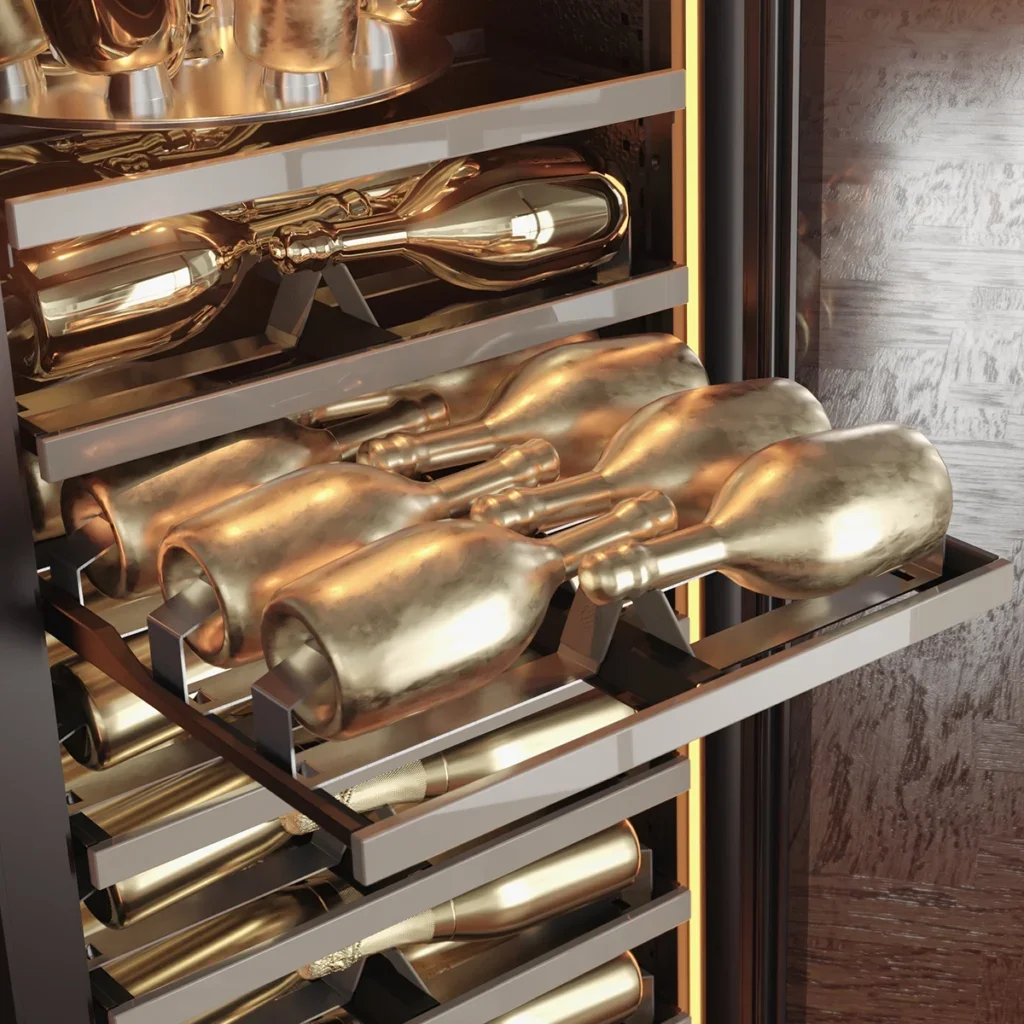 But the cabinet is more than just a pretty face. Its single-temperature feature allows for a temperature range of 5-12°C (41-54°F), which is perfect for storing and preserving the optimal flavor and aroma of the Champagne. The custom-made iridescent leather cladding covering the bottle shelves is a testament to the level of attention to detail that went into the design and production of this high-end Champagne cabinet.
The EuroCave Champagne cabinet is available in two sizes, making it perfect for both personal and professional use. It can hold up to 91 bottles, making it a great addition to wine cellars, bars, and restaurants. The cabinet's amber, blue, or red lighting illuminates the room where it is installed, adding an extra touch of glamor and sophistication.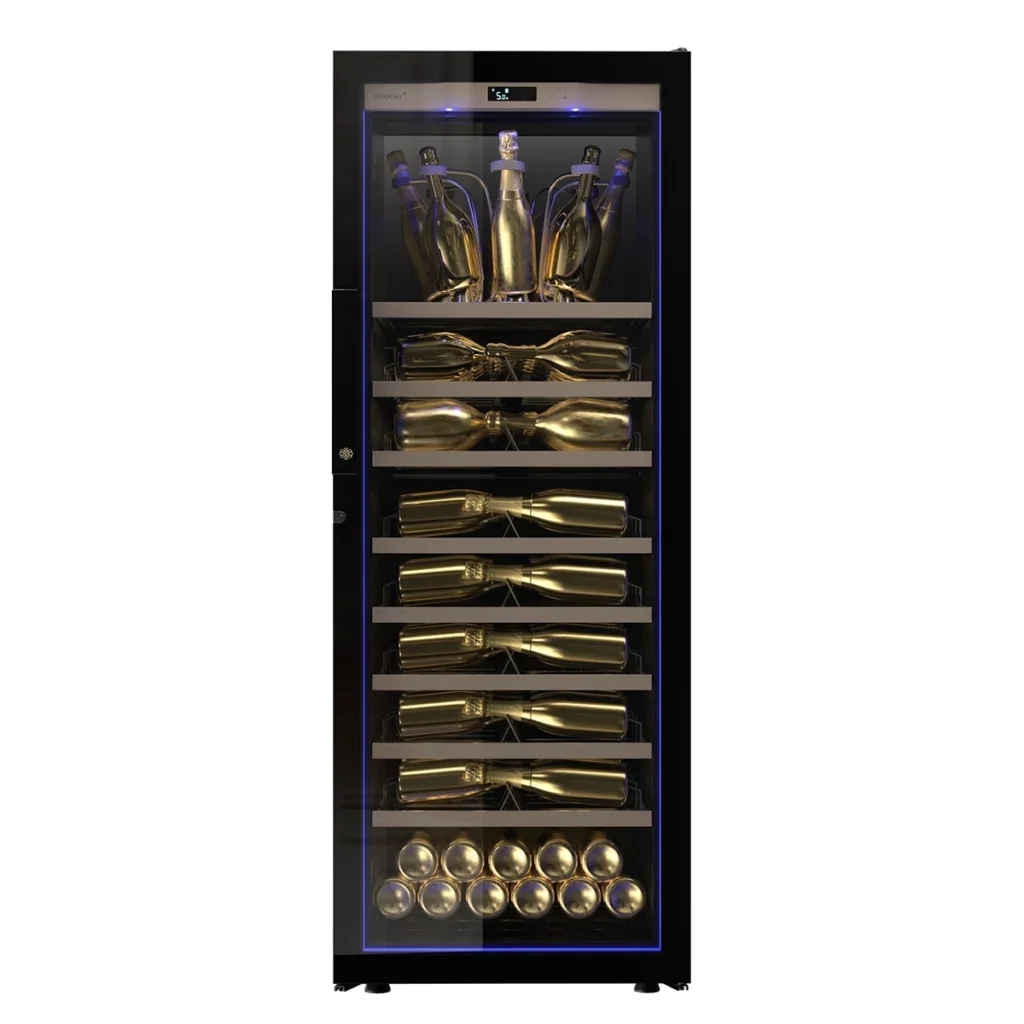 EuroCave's Champagne cabinet is a testament to the brand's commitment to innovation and excellence. This cabinet offers a perfect combination of style and functionality, ensuring that every sip of Champagne is an unforgettable experience. Whether you're a Champagne enthusiast or a professional in the hospitality industry, this cabinet is a must-have investment for those who value the finer things in life.
Discover more on https://www.eurocave.co.uk/en/shop/wine-cabinets/product/Champagne-wine-cabinets-v-champ-l/v-champ-l-aluk-cnprg-glbleu-spga