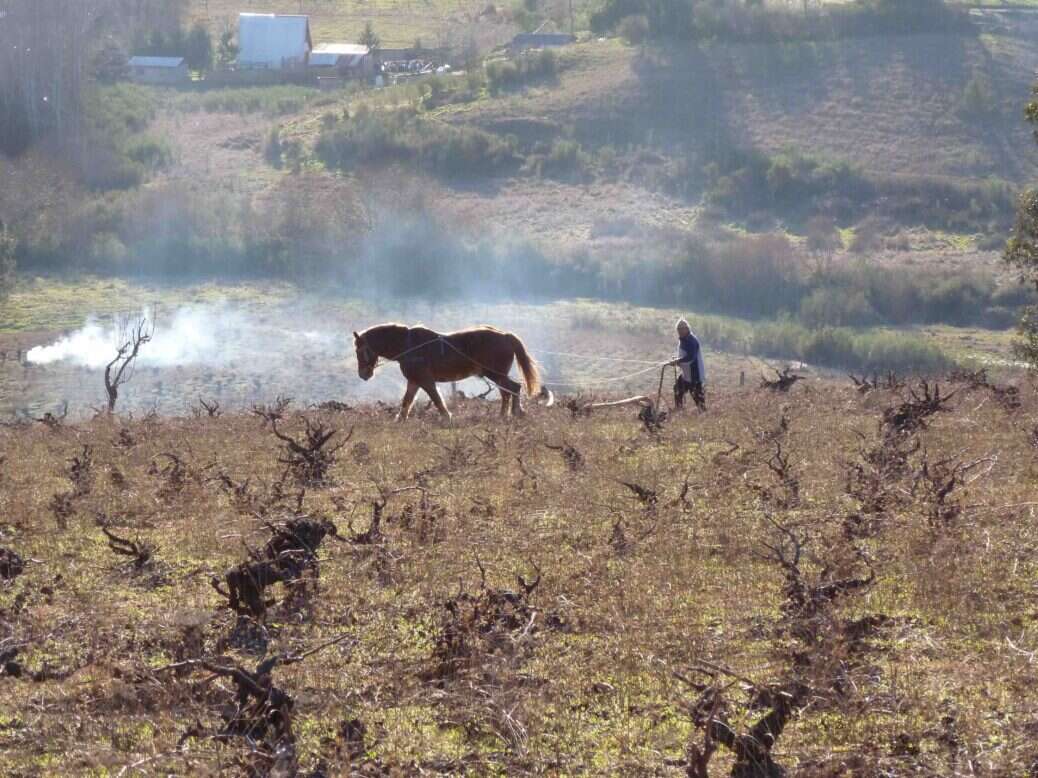 Southern Chile is a treasure chest of old vines and heritage varieties, and growers in the Itata Valley are keeping traditional Chilean viticulture alive.
What are heritage wines? To answer that question, you first need to get to grips with the concept behind it. According to the Foundation for Agrarian Innovation, a department of Chile's Ministry of Agriculture, agricultural heritage refers to, "All those products and/or processes that have a social and symbolic significance and that are also part of the history and particular development of an associated community in a specific territory."
Grapes and winemaking processes can be included in this definition, of course. But the really crucial element of "heritage grapes" is the traditions they represent—and the recovery of this history, over many previous generations.
Heritage varieties in Chile

Semillon
A native of southwestern France, Semillon was once the most widely planted white grape in Chile. At its peak in the 1960s, Semillon plantings reached a total of 30,000ha (74,130 acres), and it was undoubtedly the grape responsible for Chile's best white wines of the time.
During the 1980s, however, when Chile began to export its wines, Semillon was slowly replaced by internationally in-demand varieties such as Sauvignon Blanc and Chardonnay. Today there are just 950ha (2,348 acres) of Semillon in Chile, mostly concentrated in the Maule Valley. Importantly, however, a high proportion of those vines are very old, with many vines more than 70 years of age. Dry-farmed, they collectively form a kind of living heritage—a vital part of the viticultural history of Chile.
Carignan
A Spanish native, Carignan was introduced to Chile shortly after the Chillán earthquake in 1939. The variety has a deep color, very good acidity, and somewhat rustic tannins. It can also be quite productive, a characteristic that was highly prized when it was first introduced, a time of economic depression as southern Chile came to terms with the effects of the devastating earthquake. In Chile today, Carignan from the dry inland areas of the Maule Valley has earned a high reputation, both at home and overseas. It adapts very well to the hot climates of the region. In total, there are now approximately 730ha (1,800 acres) of Carignan in Chile.
Cinsault
Another southern French native, Cinsault is an essential part of the wine heritage of the Maule and Itata valleys. Once somewhat overlooked, it has, over the course of the past five years, emerged from obscurity, its reputation transformed with fresh, fruity, easy-drinking wines, ideal for hot summer afternoons. It arrived in Chile just after the great Chillán earthquake in 1939, and for much of its near-80-year history in the country, it was for the most part a supporting actor in blends. More recently, however, it has taken on a new, leading role, a transformation brought about by small winegrowers in rural Maule and Itata, and a reevaluation of their work with dry-farmed vines. Currently, there are approximately 620ha ((1,530 acres) of Cinsault in Chile.
País
País, otherwise known as Criolla in Argentina and Mission in Mexico and the United States, is Chile's most traditional and authentic variety. It was introduced by the Spanish during the second half of the 16th century and is the basis for making pipeños (young, unfiltered wines), chichas (a traditional South American fermented beverage) and asoleados del sur (sweet wines), among other typical Chilean alcoholic drinks. Once viewed little more than contempt by much of the wine market, in recent years País has enjoyed a resurgence, bringing something new and authentic to Chilean wine in the process. The main strength of País wines is their ancestral style, which is dominated by fresh fruit, and is characterized by a balance between delicacy and rusticity. It's been a case of going back to basics and rescuing the vine and traditional winemaking techniques, with País representing the traditions and culture of many areas in Chile. There are currently approximately 7,600 ha (18,780 acres) planted across the country.
Moscatel
One of the oldest grape varieties in the world, Moscatel arrived in Chile along with País in the colonial era. Indeed, it's testament to Moscatel's long history in the country that, in the Itata and Biobío valleys, you can still find vineyards where the vines are head-pruned. Moscatel is appreciated throughout the country, north and south. It is used in the production of pisco, dry and sweet wines, and the very distinctive style known as pajarete. In southern vineyards, it is usually co-planted with a little Torontel. In total, there are around 3,100ha (7,660 acres), almost all in dry conditions, that is, without irrigation.
Itata: Preserving Chile's viticultural heritage
To the southwest of Chillán, in the Ñuble Region, lies the Itata Valley, the most extensive wine-growing region in southern Chile. Crossed by the course of the Itata and Ñuble rivers, the region has characteristics that make it unique in Chile's southern zone: a humid Mediterranean climate; considerably lower temperatures than found in other valleys; well-differentiated seasons; good soil; and plenty of light.
The valley is characterized by the high variation between daytime and nighttime temperatures during the grape-ripening season. Itata is very hot and dry during the day, with indices that far exceed 30°C (86°F) in the shade in December, January, February, and even in March, while at night the temperature falls below 10°C (50°F).
Thanks to these privileged conditions, vineyards planted on the eastern slope of the coastal mountain range are able to produce high quality grapes. The vines are not perfect, but they are old, cultivated by local families or immigrants who came to Chile many years ago and marvelled at the landscape and climate.
The Itata extends for about 100km (62 miles) between the cities of San Carlos in the north and Bulnes in the south, in the province of Ñuble. The vineyards, of rustic varieties, such as Muscat, País, and Cinsault, have adapted perfectly to the valley's soil and climate and are planted in large areas without wires or trellises.
First planted to vines by Spanish settlers in 1550, this is a wide and diverse valley, with more than 400 years of winemaking tradition. Today, Itata's vineyards are keeping the history of Chilean viticulture alive.