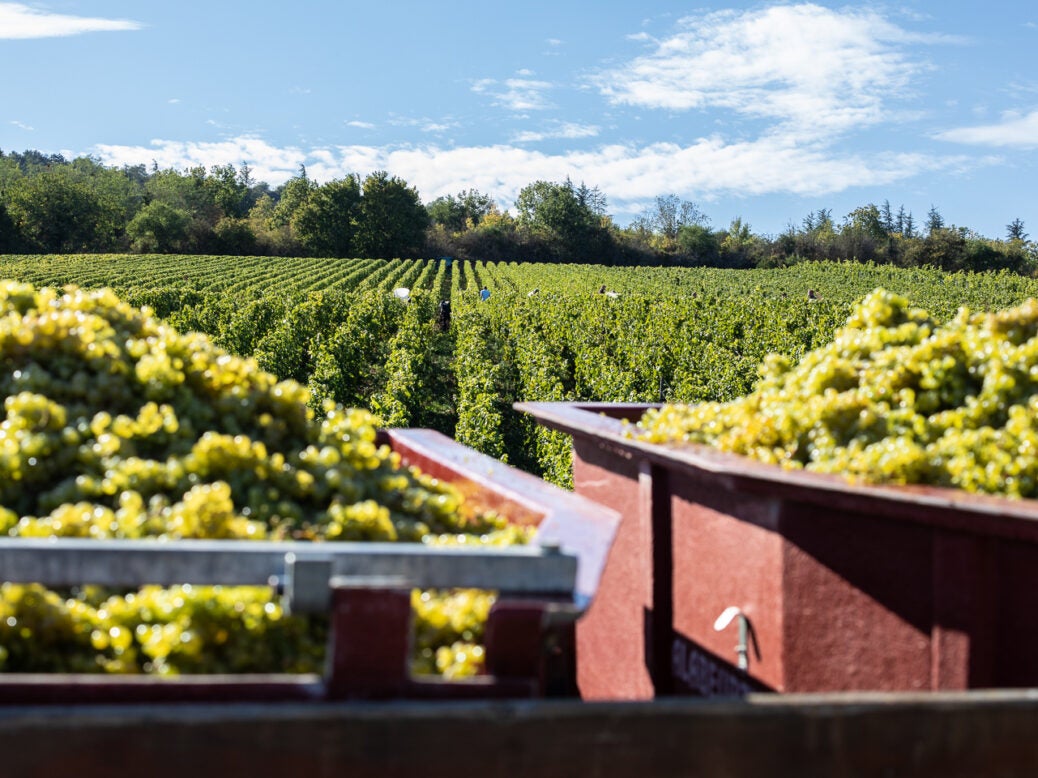 Over a 270-year history, Justerini & Brooks has forged a reputation as the preeminent UK importer of fine wines
Over a 270-year history, Justerini & Brooks has forged a reputation as the preeminent UK importer of fine wines from Europe's leading winemaking regions. In order to retain that position, huge time and effort is invested into identifying who the next generation of top estates might be—and few regions are currently demonstrating more dynamism, innovation or value than Burgundy.
Following a festive season of overindulgence, many people enter the new year with a pledge to put down the wine glass—at least temporarily. For those in the UK wine trade, however, abstinence is not an option: January marks "Burgundy month."
"The second week of January is chock-full of merchants and producers bringing over samples of the new vintage," explains Giles Burke-Gaffney, buying director at London's oldest fine wine merchants, Justerini & Brooks. "It's been a complaint of wine journalists over the years—'there's so many tastings each day.'"
Such is the month's commercial significance, he continues, that Britain has become the first international port of call for Burgundy producers unveiling their highly sought-after new releases each year.
A rich history
Justerini & Brooks has played a significant role in bringing the market to this point. The story begins with the son of a Bolognian distiller, Giacomo Justerini, falling in love with an Italian soprano and following her to London. There he meets investor George Johnson and, in 1749, they establish the first iteration of the storied wine merchants.
The business has since gone on to develop a client list that amounts to a roll call of the great and the good of British high society over the last two-and-a-half centuries. In the ultimate demonstration of its Establishment bona fides, Justerini & Brooks has been awarded the Royal Warrant by every successive British monarch since King George III.
Burke-Gaffney is proud of this rich history, but believes excessive dwelling on the past risks painting too narrow a picture of what the business does so well. "I think we're more dynamic than people give us credit for," he argues. "We're very good at serving the top collectors around the world, but people would also be surprised by the span of wines we have—things that don't have to cost the earth."
At the heart of these efforts is an unstinting commitment to developing incredibly close and lasting ties with growers, both established and new. The merchants' long history empowers its buyers to look beyond the short-term.
"We're always trying to unearth the next big thing—we don't blow hot and cold depending on the trends of the time," says Burke-Gaffney. "We take a longer view. We can access any top Burgundy estate you can name, but our job is also to find out who the next ones will be."
Julian Campbell, the buyer responsible for Champagne, Germany, the US, the Loire, and southwest France, adds: "It's not necessarily about having the biggest list—it's about really getting under the skin of the areas we work in."
Between them, Burke-Gaffney and Campbell have clocked up four decades at Justerini & Brooks. Remarkably, the business only numbers 57 employees in total, making for a close-knit team. "Once people join us, they tend to stay," says Campbell. "We're a bunch of passionate long-termers—our energies lie in dealing personally with our customers and producers."
Back to Burgundy
The company's recent history in Burgundy is a case in point. Back in the early 1990s, Burke-Gaffney's predecessor, Hew Blair, introduced Burgundy en primeur tastings, making Justerini & Brooks the first British merchant to offer barrel samples from family-owned Burgundy domaines to private customers.
"Hew deserves a lot of credit," says Burke-Gaffney. "He had belief in the area and its wines long before it became so popular. It all stems from that passion and spirit of entrepreneurism."
Over the past decade, the price of both red and white Burgundy has skyrocketed as demand outpaced supply. According to French land agency Safer, a single hectare of Burgundy grand cru vines today is valued at €14.5 million, double that of 2011. The region is home to a complex patchwork of growers, often making small quantities of multiple wines.
"For some of the wines being offered in January, there was only one barrel being made—that's 288 bottles for the world," says Burke-Gaffney. "If we can get just 10% of that, we're extremely happy."
Limited availability requires increased imagination. "I think the current climate is pushing people to look to other areas within the region that deserve attention," says Burke-Gaffney. "Yes, Burgundy can be crazy expensive, but there's also a lot more accessible, good Burgundy out there these days."
"The quality has gone up so much more than the price for the lesser-known appellations," agrees Campbell. "The bar has actually swung in favor of consumers."
A new generation of winemaking talent
While Burgundy is still celebrated for its legendary domaines such as Comtes Lafon and Comte Liger-Belair, a new generation of producers has steadily emerged. Interestingly, these newcomers demonstrate a willingness to break with tradition and bring new perspectives to the region. "Compared with 20, 30 years ago, they have an outward-looking mentality," says Campbell. "I think they're a bit more proactive in terms of considering ways to make better wines, which comes from studying what people elsewhere around the world are doing—they're looking beyond their own vineyards and cellars."
Burke-Gaffney adds: "The exchange of ideas and wines between producers is more prevalent than ever before. Thirty years ago, a producer in a village in Burgundy would not necessarily know what's going on in the village 20 miles down the road. Now, lots of young people are trying to get as far away from home as possible so they can bring back new ideas."
A commitment to sustainability is central to the new generation's philosophy and there has been an explosion of organic and biodynamic winemaking in recent years.
It is an exciting time for wine lovers willing to branch out and sample what Burgundy has to offer from new producers in outer-lying, often less-prized areas. Burke-Gaffney cites Mâconnais, Mercurey, Rully, Maranges, Pernand-Vergelesses, and Marsannay as appellations particularly worthy of investigation. But word spreads quickly, and hidden treasures will not stay buried for long.
"There's a magic to Burgundy that is impossible to replicate elsewhere," reflects Burke-Gaffney. "Many people have been priced out of the top Burgundies, so you have to get your fix another way. Experiment with up-and-coming regions and you will find they give you everything you're looking for."
Giles Burke-Gaffney's Burgundy growers to watch:
Domaine de la Commaraine (£705-£735)
Chateau de Meursault (£95–£885)
Chateau de Marsannay (£90–£1,890)
Genot Boulanger (£125–£730)
Bruno Clair (£50–£3,890)
Learn more at justerinis.com