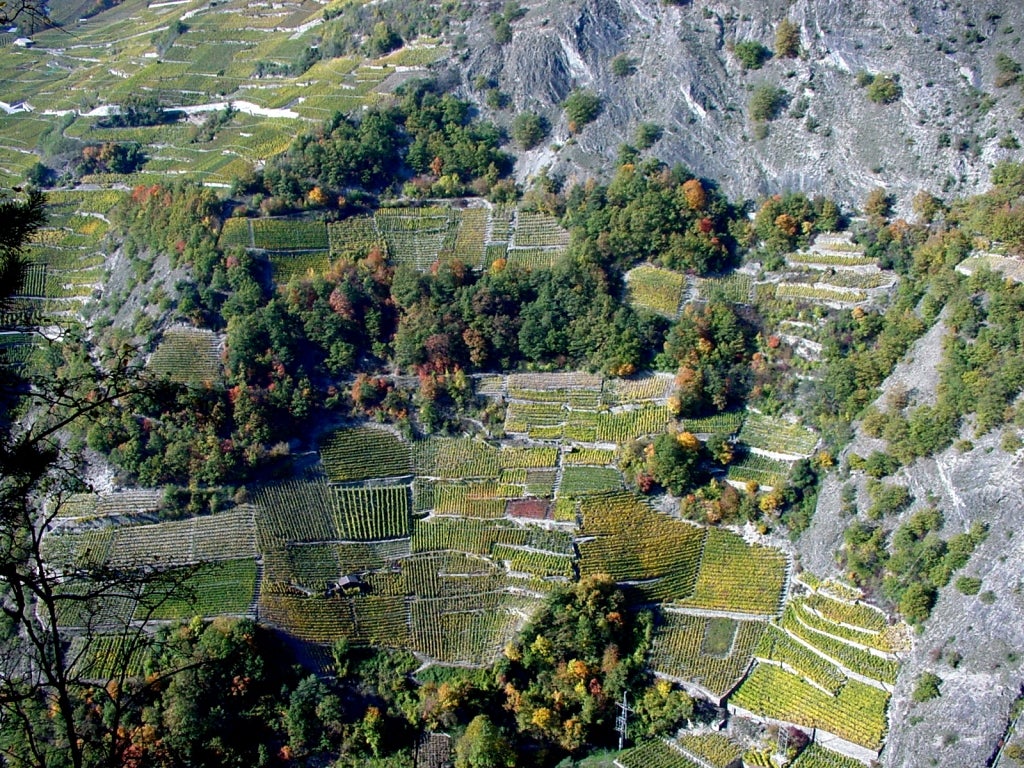 The land of vineyards and wine
With 5,000ha (12,350 acres) of vineyards, Valais is Switzerland's main wine-producing canton. It has many assets: imposing landscapes that enjoy an exceptional amount of sunshine, vines planted high on the lofty hillsides, a wide range of grape varieties producing many great wines, each more interesting than the last, and customs and traditions that give it character and a strong identity.
Valais grape and wine varieties
In Valais, a large number of grape varieties enjoy ideal conditions, and they flourish thanks to the tremendous range of soils, aspects, and climates.
Most varieties are grown here at an altitude that generally varies between 1,475ft and 2,625ft (450–800m). Although four grapes—Chasselas, Pinot Noir, Gamay, and Sylvaner—occupy a large part of the regional vine-growing area, AOC-quality specialties also abound. Petite Arvine, Johannisberg, Païen/ Heida, Cornalin, Humagne Rouge, Syrah, Amigne, and Ermitage—some of them native varieties long overlooked— have been introduced into the regional viticulture as well and are being produced in ever greater quantities.
And although the more familiar grape varieties—such as Chardonnay, Marsanne, Pinot Gris, Savagnin Blanc, Sylvaner, Merlot, Cabernet, and Syrah—are grown in wine-producing regions around the world, in Valais they acquire their own individual and appealing identity.
Recognized worldwide for the excellence of its sweet, sticky dessert wines along with the elegance (brightness, vividness, refinement) of its Petite Arvine, the nobleness of its Fendant, and the character of its Cornalin, Valais also harbors many other delightful and exciting treasures just waiting to be discovered.
Masters of spellbinding wines
Valais is not so much a common ground between nature and its winemakers as a world that binds them inextricably together. In this world, wine production takes center stage, an art form and an alchemy that evolves throughout the seasons.
Wine producers in Valais add passion into their wines— a signature expression and a hallmark of skill. Their terroirs are their friends, and the stories that they tell are the stuff of poetry. They know every nuance of their vines intimately, creating an element of surprise and capturing dreams in the bottle. They visualize their wines as a fashion designer does a collection. Chanel invented allure; Dior, elegance; and Saint Laurent, style—Valais wines embody all three.
They are always seeking new ways to inject passion into the mundane. These are the magicians who enhance our lives and strive to encourage wellbeing and good taste. They are the artists who tantalize the taste buds and, in so doing, demonstrate their remarkable skill and exceptional talent.
A vineyard trail
The Chemin du Vignoble, or Valais Wine Trail, is a 40-mile (66km) route, completed in 2007, running from Martigny to Loèche. It is an excellent way to discover the valley and its wines. It traces a meandering course from village to vineyard to château; mostly staying on the sunny, south facing slopes on the north side of the Rhône. Each new vista of scenery that unfolds seems worthy of an unforgettable masterpiece.
The Valais Wine Trail comprises:
three parallel and sometime overlapping routes, which can be covered using your favorite mode of transport, whether that be on foot, by bicycle, or by car;
a range of easy walks (in spite of the altitude) in the glorious Valais countryside;
by prior appointment, the opportunity to taste and buy wine from welcoming producers along the route.
Contact Les Vins du Valais
Avenue de la Gare 2
1964 Conthey
+41 2 73 45 40 80
www.lesvinsduvalais.ch
www.cheminduvignoble.ch
Book Les Vins du Valais