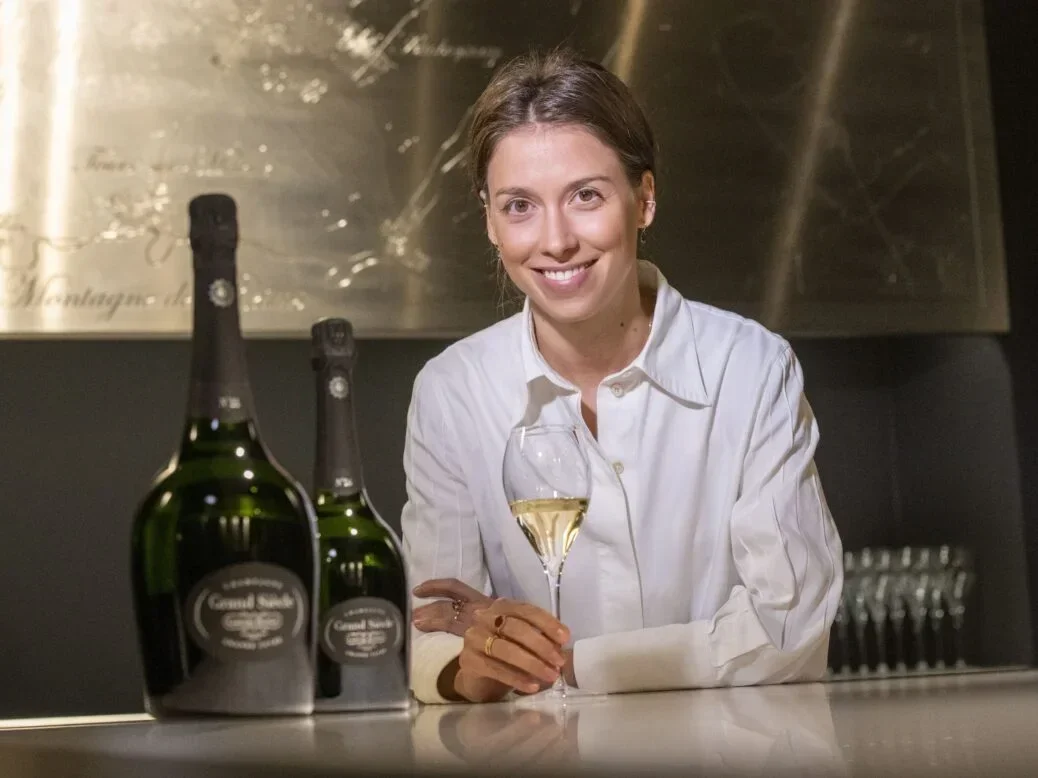 Lucie Pereyre represents Grand Siècle, the prestige cuvée from the iconic Champagne house Laurent-Perrier. By Toby Louch.
Lucie Pereyre de Nonancourt is the fourth generation of one of Champagne's greatest lineages. A family-run house since its founding in 1812, Marie-Louise de Nonancourt, her great-grandmother, purchased the Laurent-Perrier estate in 1939. It has stayed in the family ever since and Laurent-Perrier has become the largest female-run Champagne house in the region.
She is the most recent family member to assume the responsibility of building on this storied legacy. Pereyre formally joined the business in 2019, with the particular responsibility of representing the house's prestige cuvée, Grand Siècle.
Champagne remains one of the most competitive fields in vinification. As the world's most sought-after and venerated sparkling wine, it maintained its dominance despite numerous setbacks during the 20th century and today is more popular than ever.
Certain Champagne houses hold a particularly high degree of fame. These producers are regarded as some of the best winemakers in the world and as such their brands are some of the most recognizable on the planet. It is important to remember, however, that all had to start somewhere.
"When my great-grandmother purchased it, Laurent-Perrier was not a famous brand," says Pereyre. In 1948 Bernard de Nonancourt took over Laurent-Perrier and built it into a global brand. "Over time I discovered more about the story of my house. I was very impressed by my grandfather and how visionary and innovative he was."
Today, Laurent-Perrier is firmly positioned as one of these iconic houses, a true "Grande Marque".
A prestige cuvée represents the best of the best. It is the ultimate bottle that a particular Champagne house produces. It's the bottle that a brand wants to be known for. These bottles top rankings, win awards and are revered among wine collectors, with value increasing with age.
At Laurent-Perrier, Grand Siècle holds the mantel as its prestige cuvée. And it's Pereyre de Nonancourt who has been placed in charge of continuing and communicating its purpose.
The perfect year
The majority of Champagne houses use a similar method to produce a prestige cuvée vintage. By only using grapes from excellent years, Champagne houses aim to produce an outstanding bottle. While exceptional vintage is an important component of Grand Siècle, Laurent-Perrier takes things a step further.
"In April 2019, a significant change was made to Grand Siècle, our prestige cuvée," says Pereyre. "For the first time since its creation in 1959, an iteration number was added to the neck of the bottle to help the consumer get more details on the composition of the blend."
The art of assemblage is the true crux of Grand Siècle. It's what separates it from all the other prestige cuvées. While other winemakers patiently waited for the perfect year, Bernard de Nonancourt believed it would never come. Instead, he chose to create the perfect year by blending three exceptional previously declared Laurent-Perrier vintages.
The decision in 2019 to clearly label each iteration was a big step towards transparency for Laurent-Perrier. "It was decided that my role would be to represent Grand Siècle around the world and nourish my grandfather's vision," adds Pereyre. "It was key for us to better explain our vision of always choosing to blend three complementary and exceptional vintages to recreate the perfect year, the one that nature cannot give on its own.
"It is not as simple to understand as a vintage cuvée. I work in close collaboration with the cellar master and his team through the whole production process, and I travel around the world to spend time with private collectors, top clients, and prospective clients to help them discover this singular prestige cuvée."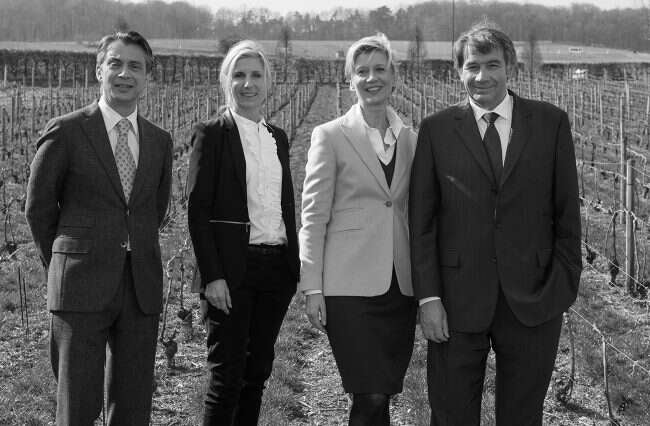 Independent and family-owned
Unlike many Champagne houses that fall under larger conglomerates, Laurent-Perrier remains independent and family-owned. "It matters because we are the holders of a vision. This independent spirit allows us to make our choices freely, to be reactive and innovative but always in order to serve our vision," says Pereyre.
When discussing Laurent-Perrier, the word innovation often comes up. Its spirit is deeply ingrained. Years before the arrival of the De Nonancourts, in 1889, Laurent-Perrier launched "Grand Vin sans Sucre," a sugar-free champagne that was more attuned to the British pallet.
Inspired by the rich history of the Champagne region, Pereyre's grandfather Bernard continually innovated and expanded upon traditional winemaking techniques as he built the Laurent-Perrier brand.
"He launched Grand Siècle in 1959, a blend of three exceptional vintages, introduced Cuvée Rosé in 1968, a rosé made by maceration and launched at a time when rosé was not popular," says Pereyre. "Ultra Brut debuted in 1981 and was the precursor to the Brut Nature category (zero dosage)."
Building upon their expertise in zero dosage champagnes and vinification of Chardonnay, Laurent-Perrier released a Blanc de Blancs Brut Nature in 2019. It is a celebration and continuation of the innovative spirit at the heart of Laurent-Perrier.
While Pereyre represents the fourth generation, her mother and aunt, Alexandra Pereyre and Stéphanie Meneux are the current leaders of Laurent-Perrier.
"In the history of Champagne, women always had an important role to play," says Pereyre. During the First and Second World Wars women often maintained the vineyards and Champagne houses as men had to fight. "It shows that anyone can contribute to the evolution of the Champagne industry."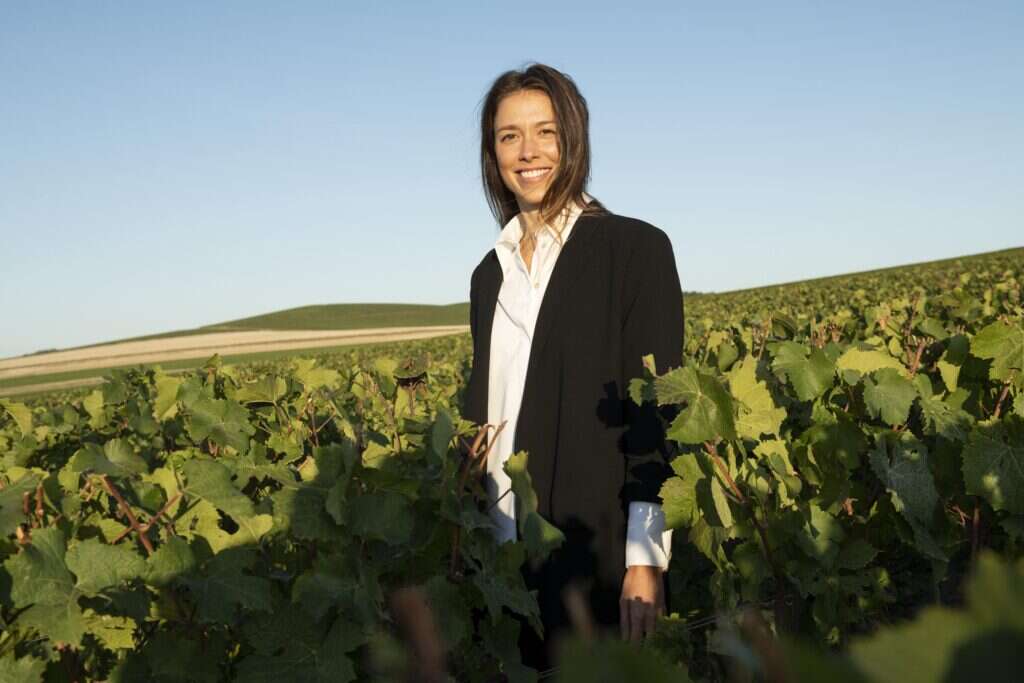 Life amongst the vines
While Pereyre finds it impossible to pick a favorite iteration of Grand Siècle ("It is like choosing a favorite child; each is created from the same vision, but they all take different directions through time), naturally, she does highlight that Grand Siècle is her favorite wine.
However, without hesitation, Pereyre suggests that the harvest is her favorite part of the winemaking process. She says: "The whole region is excited and works very hard to pick the grapes at the right moment for the highest quality. You have a specific atmosphere with so many aromas in the winery and inside all the villages."
Pereyre's focus solely on Grand Siècle allows her to give as much time and attention to the prestige cuvée as possible.
She says: "I still have a lot to learn and to understand before taking more responsibility upon my shoulders, but it allows me the freedom to think about the future and innovation in the meantime.
"Looking at the future, I am very excited about the new challenges that we are facing, like sustainability, technology in viticulture, but also in terms of wine, to further develop awareness for Grand Siècle and discover the future iterations."
For more information, visit grandsiecle.com or laurent-perrier.com