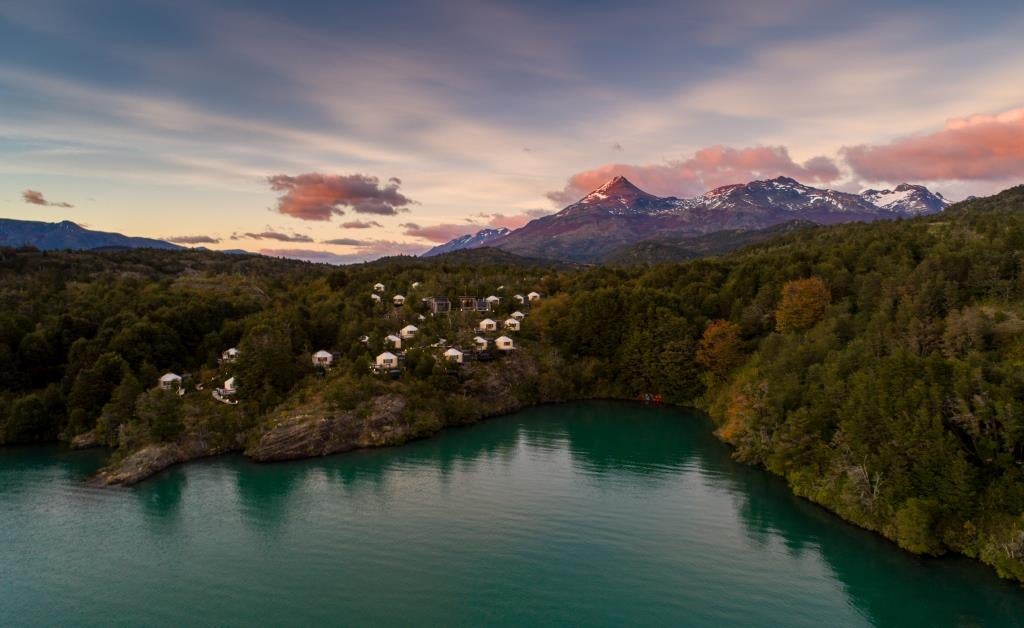 Patagonia Camp is the first luxury camp in Torres del Paine, Chilean Patagonia. It features 20 Yurts (Mongolian style tents) finely decorated with local handcrafts and furniture and fully equipped with central heating, ensuite bathroom and private balcony; just like a hotel room but in the midst of an ever green native tree forest where is possible to enjoy an intimate contact with nature. The Camp was built since the beginning following sustainable principles; the architectural design is harmoniously adapted to the landscape and with a system of minimum impact to help preserve the environment, as the company has a strong commitment with ecology, always taking care of the planet.
The Camp´s team of local guides will lead you to discover the spectacular landscapes of Torres del Paine or to explore solitary trails within the 34.000 hectares private property where the hotel is located; you can choose among different hikes of all difficulty level (from hard to easy), kayaking in the lagoons within the complex or fishing on the shore of the pristine waters of Toro Lake which is the largest of the region.
In Patagonia Camp´s restaurant is possible to taste typical dishes prepared with a great selection of local food with gourmet touches, and drink the best organic Chilean wines. Also, in the same line of sustainability the Camp prioritize the hiring of local people; on this way travelers can get to know a full native cultural experience day by day. We invite you to the ultimate nature experience with luxury services!
*Subscribers from World of Fine Wine get 15% off on bookings at Patagonia Camp until December 31st 2020, subject to availability
Address: Camino Molodon Porteño (Ruta Y-290), Km 74, Torres del Paine, Chile.
Location: Google maps HERE
Commercial office phone: 56-612415149
Web site: https://www.patagoniacamp.com/
Email: bookings@patagoniacamp.com