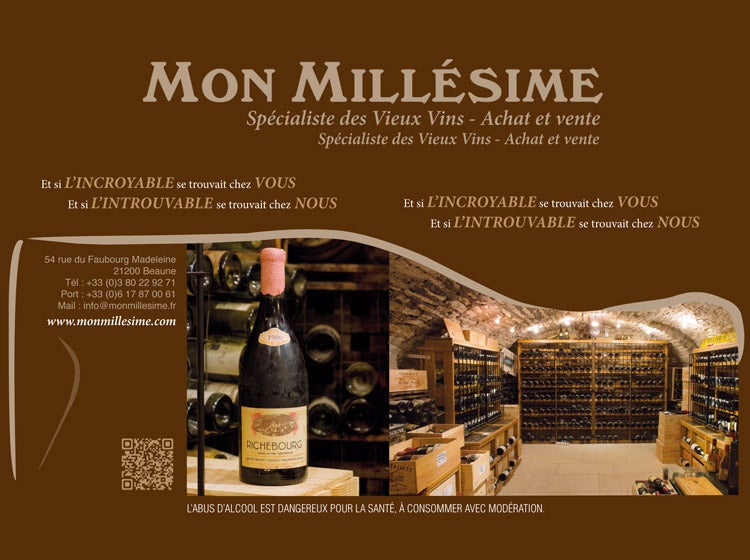 The Creator
Mon Millésime was created thanks to a pure passion for old vintages. The owner of the company Philippe RENAUD, was introduced to old vintages as a young man and decided to pursue a career in what inspired him most.
With a family background in viticulture, a personal background in business, incredible knowledge and formidable enthusiasm – His aim is to share the hidden secrets of his beloved drink and to do this he has developed two ranges of wines from all over France: A selection of old and rare vintages and a unique range of younger wines….
Old wines
Mon Millésime is an Aladdin's cave of rare and exciting bottles. Whether you are searching for a particular year or hoping to discover the mystery behind the old vintage legend we hope to have the perfect bottle for you. We stock wines from all over France, from small producers to the top names, Château Margaux, Château d'Yquem, Domaine de la Romanée Conti… We work hard to ensure these bottles are sensibly priced.
Most of our older bottles are bought up from personal cellars, in which case we are able to check the storage conditions as well as having the privilege of unearthing bottles that are simply impossible to find elsewhere. Every bottle has a story to tell which only serves to increase our interest and fuel our passion.
Young wines
Knowing the Burgundy region like the back of his hand has allowed Philippe to source smaller producers with top quality wines, while avoiding the high prices reached elsewhere. He will not stock a younger wine unless he has tried and, more importantly been impressed by the product. Every aspect of production is taken into account during this selection process, from the vinification methods of the grower to the quality of the wine.
In addition to these less well known and real value for money wines, Philippe is proud to offer vintages from some of the most famous producers in the world. From Armand ROUSSEAU to Domaine de la Romanée Conti, the Mon Millésime selection has an unmistakeable touch of class.