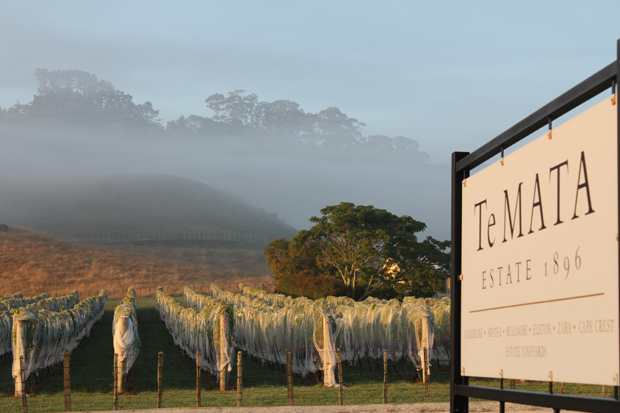 On the East Coast of New Zealand's North Island is the independently owned, family-run, Te Mata Estate. Owners and staff still work on vineyards that began growing Cabernet, Chardonnay, and Pinot Noir back in the 1890s, making it the country's oldest wine estate. Since 1905, this winery has been winning gold medals globally, which led to these sites becoming the country's first to be protected by law due to their viticultural history.
The Buck family, which owns the winery, currently has three generations working there. Today, Jonathan Buck is a vineyard manager, Nick Buck, the CEO, and Tobias Buck is sales and marketing manager. Also, Zara, Thomas, and Henry, from the third generation of the family, work in the cellar door and vineyards.
In 1994, Te Mata Estate introduced Viognier to New Zealand, pioneered Gamay Noir, and had the second-oldest planting of Syrah in the country.
Today, Te Mata Estate works on 47 parcels of land across four vineyard sites within Hawke's Bay. Each parcel has subtle differences in aspect, climate and soil types, including clay, limestone, loess, sandstone hills, red metal gravel, and alluvial river terraces.
Te Mata's elevated north-facing sites take full advantage of the long, dry, Hawke's Bay summers' high levels of UV light, and cool evenings that produce a climate similar to Bordeaux or Northern California.
Cropped at low rates, then hand-harvested in passes, Te Mata Estate wines are made, aged and bottled in New Zealand's oldest winery buildings within walking distance of the vines on which they grow. The estate produces a stunning array of red and white wines from these sites, including such famous labels as Coleraine and Awatea Cabernet/Merlots, Bullnose Syrah, Elston Chardonnay, and Cape Crest Sauvignon Blanc.
Te Mata Estate wines are currently available in 45 countries and have been presented at some of the world's top tables— including to President Barrack Obama, President Xi Jinping, and Queen Elizabeth II's Diamond Jubilee.
Named after the Buck family's Northern Irish ancestral town, Te Mata Estate's flagship wine, Coleraine, which isn't released every year, is keenly reflective of the vintage in which it is made. When it is released, it immediately becomes a collector's item, with the last four vintages selling out from the winery within weeks.
Regarded as New Zealand's most famous red wine, in 2018 35-year verticals of Te Mata Estate Coleraine achieved the highest ever auction price paid for any collection of New Zealand wine. Air New Zealand recently showed vertical collections of Coleraine and Bullnose Syrah to wine writers and guests in Melbourne and Sydney.
Te Mata Estate's wines hold a unique position in the New Zealand wine-landscape. Simultaneously the cabernet-based Coleraine acts as the most famous example of this country's global fine wine ambitions and as a benchmark for any discussion of wine as an age-worthy investment. Cabernet-based Coleraine is designed to evolve over decades and, with its first vintage in 1982, has a pedigree unlike any other wine in the country.
US wine critic James Suckling listed recent vintages of Te Mata Coleraine and Te Mata Bullnose in his Top 50 Wines of the World, and last year Decanter magazine profiled Coleraine '98 as one of its "Wine Legends," describing it as "the most avidly collected of New Zealand red wines"—making it the first ever New Zealand wine to achieve this accolade.
Whilst Coleraine '98 was available at release for $75, it currently sells for more than $500 a bottle. Other Decanter Wine Legends retail for up to ten times its price: Domaine de la Romanée-Conti '78 ($6,500), Château Haut-Brion '29 ($3,500), Château Lafite-Rothschild '59 ($3,300) and Ridge Monte Bello '70 ($1,200).
This isn't the first time, however, that Coleraine has received such prestigious recognition. Coleraine '14, '15 and '16 each collected a bevy of five-star reviews from various sources. On the back of strong vintages and this increasing level of worldwide recognition, demand for more recent vintages has soared.
Contact Te Mata Estate
350 Te Mata Road
Havelock North
Hawke's Bay
+64 6 8774 399
www.temata.co.nz
cellardoor@temata.co.nz
Book Te Mata Estate