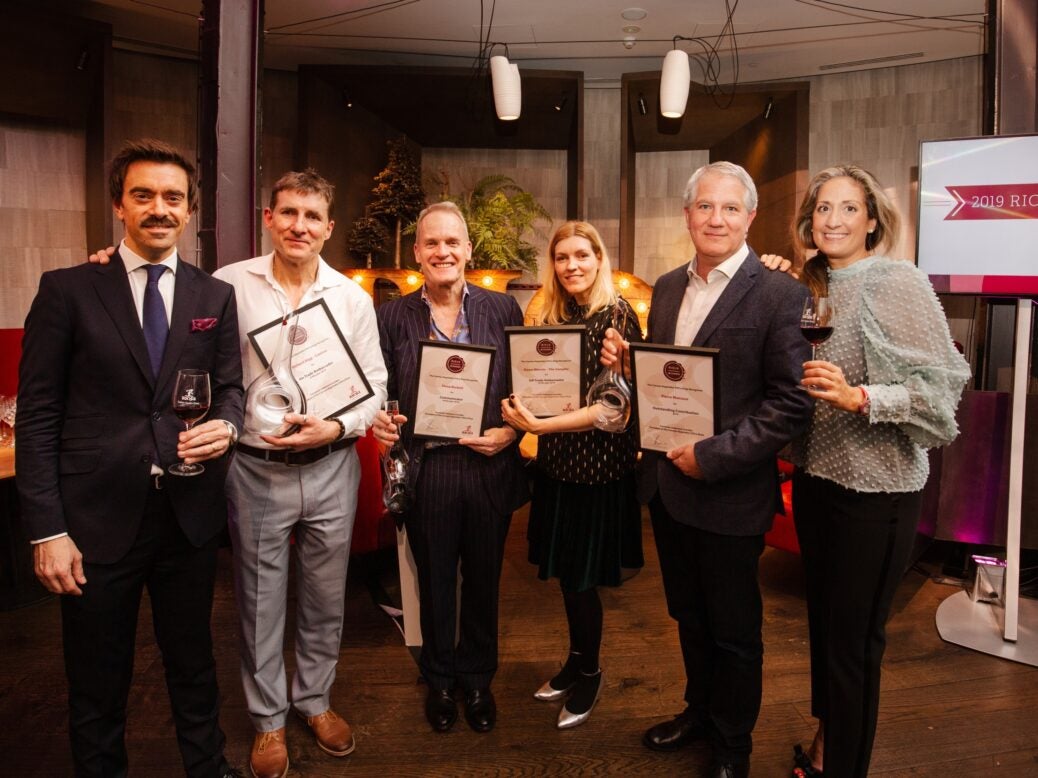 Now in its fifth edition, Rioja Recognises celebrates those who have made a significant contribution to Rioja wines in the UK. A region which accounts for 3.2% of the volume and 3.9% of the value of the UK's still wine market.
The evening was hosted by Tim Atkin MW and held at Eneko Basque Kitchen & Bar in Covent Garden, the London outpost of Michelin-starred Basque Chef Eneko Atxa. Guests at the exclusive event enjoyed fine wines selected by the winners, alongside some of this year's 10×10 top wines alongside an exceptional menu curated for the event.
The 'Communicator of the Year' award went to Fiona Beckett. She was acknowledged for her consistent support for Rioja through numerous articles she published on her popular website matchingfoodandwine.com and for highlighting up-and-coming Rioja producers and developments from the region in her weekly Guardian column.
The 'On-Trade Representative of the Year' award went to Richard Bigg, managing director and founder of popular Spanish restaurant chain, Camino. Richard oversees the wine portfolio across the group which now has five sites, always ensuring that Rioja plays a key role in the selection. This year, Richard championed Rioja by participating in a restaurant challenge and listing six new Rioja producers, offering tasting flights of Rioja wines, ticketed Rioja wine events, and organized a Rioja party at the group's Bankside location.
Dawn Mannis, founder of independent wine retailer, The Sampler, received the 'Off-Trade Representative of the Year' award for her continued efforts in highlighting Rioja producers in The Sampler's wine list. including mature Rioja and rare vintages. There are three locations across London which all operate an 'icon' tasting machine allowing customers to try samples of rare and exclusive wines, such as mature Rioja.
Finally, the 'Outstanding Contribution' award went to Pierre Mansour, head of buying at The Wine Society. Pierre is responsible for the Spanish portfolio which consistently receives accolades for the quality and depth of offering, and includes leading and up-and-coming Rioja producers.
Iñigo Tapiador, director of global marketing for the Rioja DOCa shares, 'Rioja is the UK's favorite Spanish wine region, and Rioja Recognises is an opportunity for us to celebrate and thank key personalities who have played a part in keeping Rioja at the top. This key date in our calendar is also an opportunity for us to build relationships with various members from across the wine trade and show our gratitude.'