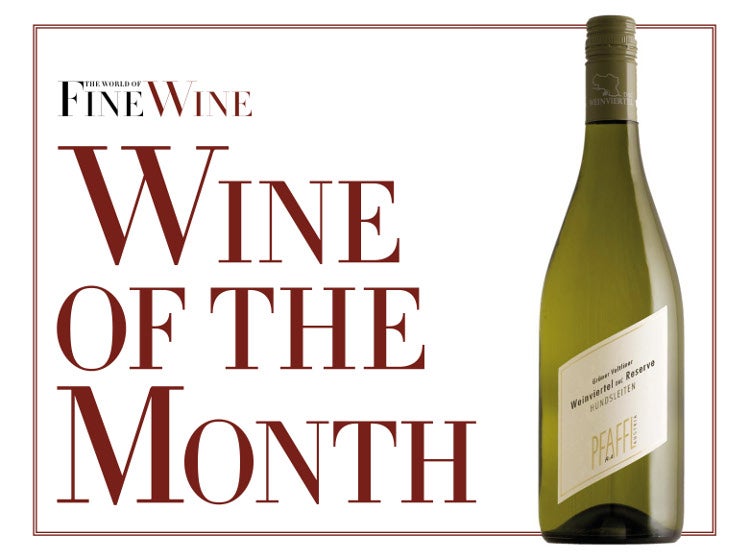 I admit to having felt slightly apprehensive when I received the invitation to join this blind tasting of dry Furmints from Hungary and Gru¨ner Veltliners from Austria. Do both varieties have anything in common, except that both of them are considered national treasures in their native countries? Both were certainly cultivated in the Austro-Hungarian Empire — the former (often blended with Hárslevelu and other varieties) to be served as Tokaji Aszú or Eszencia to emperors and kings, the former (again blended with other varieties) to Austrian peasants. But the empire collapsed in 1918, and during the century since then, Austrian and Hungarian wines have followed quite difference paths.
Especially during the 25 years since the fall of the Iron Curtain, the changes in both countries have been dramatic. Along the Danube River, the former rather simple Gru¨ner Veltliner (the natural cross between Traminer and St Georgener) has been cultivated and vinified like top white Burgundy and is suddenly able to challenge in international blind tastings not only the finest Chardonnays from there but also prestigious dry Rieslings from Austria and Germany. As a fairly versatile grape variety, yielding wines that can equally well be fresh and crisp or powerful and rich, Gru¨ner Veltliner soon became Austria's fashionable Jack-of-all-trades. Nicknamed Gru¨ner, Grooner, Groo-Vee, or simply GV, it has rapidly emerged as an Austrian superstar, both at home and abroad. It is now cultivated with pride in all of Austrian's wine regions except of Styria, which is simply too cool to bring the mid-ripening variety to full maturity. Some 45 percent of Austria's white-wine vineyards are now dedicated to Gru¨ner Veltliner, its 13,518ha (33,400 acres) representing 29.4 percent of the total vineyard area (figures from 2009).
Furmint
From an international perspective, Hungary's most prominent white grape variety is surely less famous than the prestigious sweet wine it has served so well for nearly 500 years — Tokaji Aszú. But what about dry Furmint? Despite the fact that certain sites in Tokaj — around Mád, Tolcsva, and Rátka — have long been recognized for dry Furmints, "even before the sweet wines gained such a strong foothold" (J Robinson, J Harding, and J Vouillamoz, Wine Grapes, 2012), only the geeks among us have started to investigate the merits of a great and versatile grape variety that for decades most of us knew only through Tokaji Aszú. But as it has gradually been rediscovered, vines and vineyards have been restored and modernized, as have the wines. Hungarian producers and their customers may still be discussing the proper style for dry (száraz) Furmint, but the results — while still very wide ranging stylistically — are already stunning, not only in terms of diversity but in terms of quality, too.
Whereas Gru¨ner Veltliner has remained a predominantly Austrian phenomenon, Furmint has started to migrate to Austria from Hungary again. Until phylloxera, the most prominent grape variety to inform the famous sweet Ausbruch wines from Rust on Lake Neusiedel (Burgenland), Furmint is again being replanted here, albeit it in very small quantities so far (9ha [22 acres] in 2010). Producers like Heidi Schröck, Ernst Triebaumer, Michael Wenzel, Paul Schandl (whose vines are up to 30 years old), Harald Tremmel, or Hannes Schuster pick the late-ripening, thick-skinned, high-acid, and botrytisprone grape not only for their Ausbruch wines but also for dry varietal or even single-vineyard wines. The best dry Furmints here are pretty good in their typical Austrian clarity, fruitiness, and freshness, though quite different from the more full-bodied, concentrated, and complex Furmints from Hungary.
One Austrian producer who has co-planted Furmint with Gru¨ner Veltliner in Mu¨llendorf (Burgenland) since last year is Roland Velich, whose Moric Blaufränkisch and Gru¨ner Veltliner wines are highly acclaimed internationally. Velich believes that "along with Blaufränkisch (or Kékfrankos), Furmint is part of Pannonian culture." Together with his friend Attila Homonna of Homonna Vineyards in Erdobénye, Hungary, one of the most interesting producers of dry Furmint, Velich has recently started a joint venture to highlight this shared feature of Pannonian culture.
Furmint originates from the Tokaj region in northeastern Hungary, where more than 97 percent of Hungarian plantings (4,006ha [9,900 acres] in 2006) are located, Somló in the far west being the only other region with significant holdings. According to Wine Grapes, Furmint — of which four distinct types with the same DNA profile have already been identified — is most likely the offspring of Gouais Blanc, and so probably a half-sibling of Chardonnay, Riesling, and approximately 80 other grape varieties. Furmint is also a parent of Hárslevelu, the other key grape variety in traditional Tokaji wines.
Furmint can deliver powerful dry white wines with good structure and mineral flavors on the palate. With floral, nutty, and occasionally stone-fruit and lemon-zest aromas on the rather discreet and subtle nose, the variety also has the ability to faithfully reflect the origin of the place where it is grown.
The results
In our tasting, it was Gru¨ner Veltiner (not only from the Danube but also from the Weinviertel) that delivered the more convincing — or at least more charming — wines; in the panel's top 12 wines overall there was only one Furmint, even though many wines came from the 2013 vintage, which is regarded as one of the best for many years in Tokaj. However, as Jancis Robinson MW states, the Furmints "showed slightly less winemaking prowess and consistency than the Gru¨ner Veltiners" but demonstrated "the potential of the Furmint grape to make top-quality, distinctive dry wines every bit as good as GVs." Since Furmint generally has a bit more austerity and nerve than Gru¨ner Veltliner, Robinson assumes that many wines "may well end up making (even) longer-lived dry wines than GV." Alex Hunt MW, though, found that "all but one of the [Furmint] wines [in our tasting] more than two years old had fallen apart." He also thought that the really good Furmints "matched the more modest Gru¨ners for quality." So, at this stage we might conclude that Furmint is not capable of being a pop star but could be a great rock star again.
What's left to say about the Gru¨ners? We had some prestigious wines in our tasting — grands crus from the Wachau, Kremstal, and Kamptal, but also from the Weinviertel. These are rich, ripe, round, and powerful wines, still with a tension-filled and ageworthy structure. Several of the mature GVs, however, lacked the freshness and tension we normally attribute to young, supposedly ageworthy Veltliners. Does this mean that some producers are still going too far in their quest for ripeness?
Pfaffl Weinviertel DAC Reserve Hommage Gru¨ner Veltliner 2013 ranked in Stephan Reinhardt's, Alex Hunt MW's and Jancis Robinson MW's top wines at this tasting, and is our wine of the month.
Pfaffl Weinviertel DAC Reserve Hommage Gru¨ner Veltliner 2013
AH | A hedonist's delight, this nose is full of apricot, peach, and red apple, opulent yet lively. Rich, viscous, and grippy on the palate, there are peppery-green notes and traces of gas that temper the opulence and pep up the overall balance — just because this is a style teetering on the brink of excess. | 16.5
SR | Golden yellow in color, this Gru¨ner Veltliner has a very attractive nose of fully ripe Veltliner grapes along with subtly spicy and limey flavors of herbs and terroir. This wine tastes intense and creamy and is quite piquant but seems not that powerful and saturating like so many other Veltliners of the 2013 vintage. However, the finish is quite powerful and displays again the well-concentrated if not cooked yellow-fleshed fruit. Finally, this is a rich and very elegant wine with a natural expression of grape variety, vintage, and origin. Excellent! | 17.5
JR | Bright gold. Pungent, spicy nose. Then some structure and sufficient acidity, though clearly from a warm site or warm vintage. Sufficiently well made to keep some tension. Big and bold but by no means flabby. An interesting edge of smokiness. Lip-smacking. Apricot cream flavors and texture. 2014-20. | 16.5