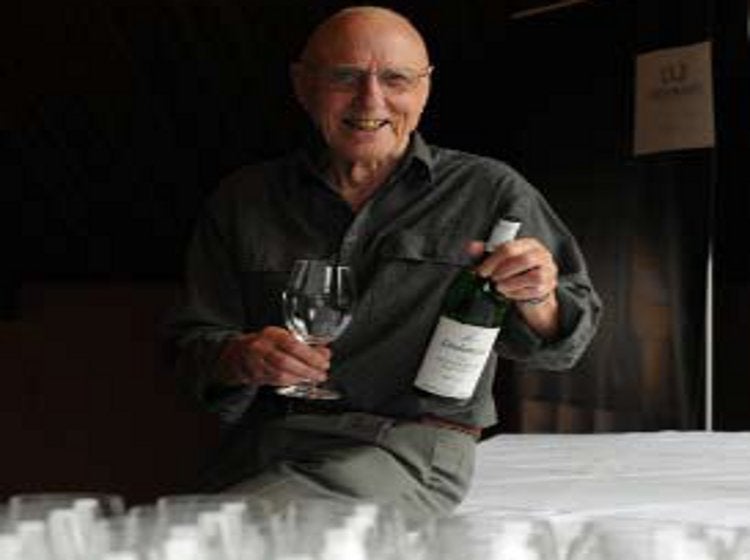 For many wine drinkers, the Australian wine industry really only kicked off a couple of decades ago. Before that, other than an occasional Grange (or Grange Hermitage, as it was known then), it was a sea of fortifieds, rustic reds masquerading under European place names, tanker-loads of bag-in-a-box, and wines bearing names such as Emu Wines – a forerunner of the "critter" wines of today, perhaps. These were wines that Maurice Healy, author of Stay Me with Flagons (1940), described as "detestable" and "horrible" and that gave Monty Python such easy ammunition for their famous sketch pooh-poohing Australian table wines.
Of course, there was more to it — and even a few gems to unearth for anyone who made the effort: the everdiminishing cache of wines made by Maurice O'Shea at Mt Pleasant in the Hunter; the extraordinary Woodley's Coonawarra Treasure Chest series from the late '40s and '50s, Mildara's Peppermint Pattie (a Coonawarra Cabernet from 1963); Wynn's Michael Hermitage (Shiraz) from 1955; Penfold's Bin 60A from 1962 (a blend of Kalimna Shiraz and Coonawarra Cabernet and considered by many to be the finest wine ever made in Australia); Grange itself; and a trio of Shiraz (dubbed "Burgundy" at the time) from Lindeman's in the Hunter: Bin 1590 from 1959, and the twins from 1965, Bins 3100 and 3110. Wines such as these provide a rich if seldom-seen liquid history. All these wines still bring huge prices on the rare occasions that they appear at auction. As Andrew Caillard MW, of Langton's Auctions, says, "Today, it is easier to buy 1945 Château Mouton Rothschild or 1921 Château d'Yquem than it is 1965 Lindeman's Bin 3100." Unfortunately, many of them are now hit-and-miss propositions, with the exception of the twins from 1965, both of which inevitably show superbly, as though they have somehow discovered a vinous fountain of youth.
Needless to say, wines that attract prices of several thousand dollars a bottle and that are extremely scarce (Lindeman's knows of the existence of only one remaining bottle of its 1959) are rarely seen. It takes something special to drag them out of the cellar. But Lindeman's decided that the celebrations for the centenary of its current Ben Ean site in the Hunter (they began operations under Dr Henry Lindeman on the nearby Cawarra site in 1843) was just the occasion, and no one was about to argue. The wines, shrouded in myths, were made by Karl Stockhausen.
Karl was born in Germany in 1930, migrated to Australia at the age of 25 to study accountancy, and then joined Lindeman's as an office clerk. Lacking experience but seen as someone with meticulous attention to detail, he was offered the winemaking role in 1961. Long retired, though as effervescent as ever, Karl joined the centenary celebrations and revealed the true story behind these wines.
A drought year, 1965 was still an excellent and large vintage in the Hunter, but this created a problem. The white varieties, dominated by Semillon, were all picked in early February, and Lindeman's simply did not have the space to bring in any more grapes. All their vats were needed to ferment the whites. So, the red grapes simply hung on the vines, and it wasn't until late that month that harvesting of them could begin. Fortunately, conditions had remained fine – rare for the Hunter at this time of year. The vineyards were taken over in 1912 with the move, but it is believed that the vines were actually planted in the 1870s.
The grapes came in at 15-16° Baumé. They were fermented in open concrete vats and then pressed into a mix of 500- and 1,000-gallon casks. The wines were taken out of casks and bottled in less than 12 months, simply because the winery needed the cask space for the next vintage. Stockhausen believes that one reason for the two 1965 Twin Bins showing such consistency over the years was that, unlike the previous stellar vintage of 1959, the handling of the '65s was done much more quickly.
The 1959s were much patchier. Lindeman's usually made three versions of its Shiraz. The decision would be made in the winery, the allocation depending on the quality of the various casks. Stockhausen said that, in 1965, the quality was so uniform across the board that only two wines were made, and even then there was hardly any difference. At the time, he wondered whether there was any point in splitting the wines into two lots. He doesn't recall just how much of these wines was made, but he does remember that it was "an unusually large vintage."
There was always, however, one slight difference between the pair. Lindeman's had a very small patch of Pinot Noir behind the winery, and the juice from these grapes would always end up "somewhere." Labeling was universally a little less accurate in those days, and Lindeman's thought nothing of it. Len Evans, writing about these wines when they were released toward the end of the 1970s, made much of the addition of this Pinot to one of the wines. This was as much Pandora's box as treasure trove, because for many years it became the focus of discussions whenever the wines were mentioned.
Some reports put the proportion of Pinot as high as 10 percent. In truth, Lindeman's always felt it to be only a very minor issue, and today it is more a trivial pursuit than a matter of genuine importance. Stockhausen didn't even recall which wine had the Pinot injection and says that it totaled a mere 0.5 percent of whichever wine it was (we now know that it was the 3100, as below). Had Evans not made it public, Lindeman's would never have done so.
The wines themselves were much bigger and more powerful than usual Hunter reds, with alcohol levels approaching 15% — rather extreme for the day. Lindeman's felt that they were not ready for release until the late 1970s. When they were finally released, Stockhausen thinks that the price was less than A$12 a bottle, a bargain compared to the prices upward of A$3,000 that they attract today.
Bin 3100 went into a Bordeaux bottle, Bin 3110 into a Burgundy bottle. Stockhausen says that there was no significance in this, and that it certainly had nothing to do with the dollop of Pinot. And indeed, the back label that appears on some of the later releases reveals that it is actually the 3100 that contains the Pinot.
Stockhausen remembers that if there was any difference in the wines in the early days, it was that the 3100 was considered the bigger, more forceful wine at the time. And this is amplified today. It is undoubtedly the more muscular of the two, while the 3110 is all about elegance. Stockhausen believes that both wines will still be drinking superbly when they put him "down under."
If ever the opportunity to try either of these wines presents itself, grab it – not only because they are compelling evidence that Australia has a vinous history that includes some truly great wines, but because they are worldclass wines still in glorious form.
1965 Hunter River Burgundy Bin 3100
Undoubtedly, the bigger of the two wines, this has serious power and concentration. It is a wine brimming with life and showing not the slightest inclination to slow down or settle into a gentle dotage. Fully ripe and rich, there are notes of roasted meats, spices, a little chocolate, and coffee grinds. Also hints of licorice and brambly dark fruits. Immaculately seamless and with a very, very long finish. There is still an extensive tannin structure in place. A muscular, firmly structured wine that has many years ahead of it. Past notes suggest that it plateaued some time ago and seems unlikely to be going anywhere for some time. 18.5
1965 Hunter River Burgundy Bin 3110
Always a dangerous analogy, but if the 3100 can be considered as the muscular and more "masculine" of the pair, the 3110 is the more "feminine" wine, the embodiment of ethereal elegance. Wonderfully complex, with a kaleidoscope of flavors that come in ever-evolving waves. There are still the exotic spice characters, but it is more floral, with mocha and red-fruit notes. Sweet earth, old tobacco, and dried vegetation. Sweet leather notes. An array of flavors that can only emerge with maturity, yet again this wine is fresh and amazingly youthful – and certainly destined for a very long life. It may not have the force of the 3100 but instead offers a graceful, lingering quality. The tannins are more gentle and settled. An Australian wine that ranks with the very best that this country has ever produced. 20