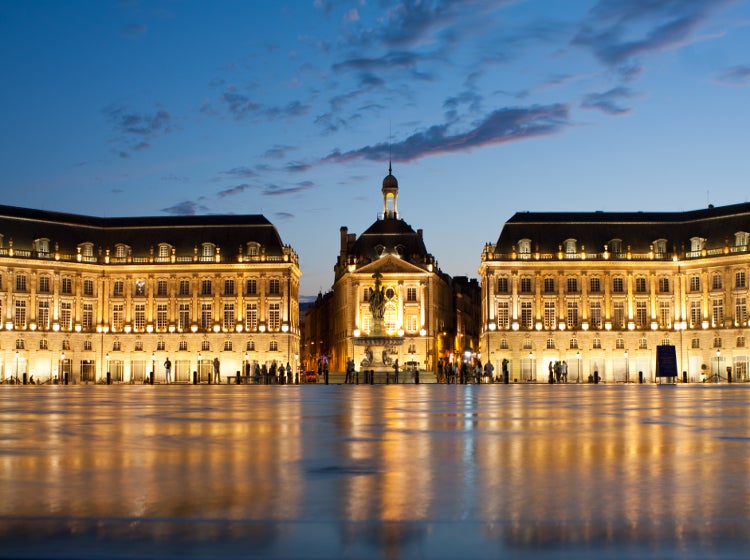 The newly offered vintage is clearly a remarkable one. But with prices expected to rise, how will châteaux decide the pricing and timing of their offers, and how tempting will the wines be then?
When I was in Bordeaux in early April last year for the en primeur tastings, it was raining. It was also raining on June 23, the day of the Brexit vote and of the Fête de la Fleur—so my intronisation (enthronement!) into the Commanderie du Bontemps de Médoc, des Graves, de Sauternes et de Barsac had to take place under a marquee rather than outside in the Jardin Publique. When I returned on September 13, 2016, I got soaked to the skin in apocalyptic rain, dotted with gigantic hailstones that left me fearing for the vines.
Rainmaker
You will forgive me, then, for not necessarily expecting a great vintage. But in fact these three episodes of rain were crucial in making 2016 an excellent year for Bordeaux. The first, long bout of spring rain (12 months' worth in half the time) provided a crucial supply of water for what was to be one of the driest summers of the past 100 years. A dry and clement period then allowed the vines to flower consistently, and the Brexit rain was the last they would see until the skies opened dramatically—and not a day too soon—in September.
Approximately 30mm (1.2 inches) of rain fell in 15 minutes, depending on exactly where. Happily, the parched earth was unable to soak up more than half this amount, and the remainder ran off, avoiding water-logged soils or unwanted dilution of the grapes. Furthermore, the hailstones that battered me in the car park at Les Sources de Caudalie, as I ducked the mercifully small distance between Florence Cathiard's Tesla and my rented Citroën, were miraculously localized. They had skirted the edge of Smith Haut Lafitte's vines, as technical director Fabien Tietgen discovered to his and the Cathiards' great relief when he rushed outside to examine the vines before the rain had fully subsided. In fact I seem to have witnessed pretty much the only hail across the Bordeaux AOC that day!
I was not the only one with concerns about the vintage. At Château d'Issan, technical director Eric Pellon admits, "I didn't realize it was going to be a great vintage until the third day of harvest." Véronique Sanders, president and general manager at Château Haut-Bailly, identified three key words to express the 2016 vintage: "doubts, extremes, luck." Plagued with uncertainty and extreme weather (in terms of both temperature and rainfall—or lack of), the vintage ultimately flourished, thanks to "three lucky things," explained Sanders. The first stroke of luck was avoiding frost; the second, a dry spell for flowering; and the third, the famous drought-quenching rain on September 13.
Quality on every street
What resulted, in Sanders's view, is a "feminine" wine. In general the 2016 vintage is fresh, balanced, and elegant, a generalization that I am comfortable applying more or less sweepingly to all appellations. After all, this vintage is one of unusual homogeneity in terms of quality throughout the region. Early reports were of a Left Bank vintage, but tasting across the board yielded as much pleasure for me on the Right Bank, and critics' scores seem fairly evenly balanced so far. In the words of one courtier, Nicolas Ballarin, from Bureau Blanchy & de Lestapis, "the success of the 2016 vintage is remarkable because it is common across the Gironde region, and it combines the twin facets of Bordeaux: power and elegance."
Sans pareil
The wines have the power, concentration, and tannic strength of the 2010s, but with lower alcohol, and some of the charm of the 2009s thrown in. "The big surprise of this vintage is the rounded, integrated form of the tannins," observed Tietgen, saying "often in dry years they're not so round, but more drying and rigid". Thanks to this softness, the 2016s should be approachable early, like the 2009s, but they are also set up to last forever, like the 2010s. In this regard they will resemble the 1982s, with good, long drinking windows. In fact, I expect them to be ready to start uncorking before the 2010s, six years their senior. At Château Canon, cellar-master Stéphane Bonnasse recounted that after the team tasted the final blend, they took the bottle to lunch and drank the whole thing. "I've never seen that!" he exclaimed.
Referring to the relation between the 2015 and 2016, Château Cheval Blanc's chef de culture, Nicolas Corporandy, said "They are very different vintages, a bit like the 2009 and 2010," adding, "2016 is fresher and more tannic, with cette droiture bordelaise" (which could be loosely translated as "a certain bordelais integrity"). "We haven't made such a structured wine since 2010," he stated.
"We did ask ourselves the question again whether we should produce Petit Cheval at all," recounted Corporandy, after famously putting everything into the grand vin in 2015, but in the end the decision was to take out three parcels from Cheval Blanc, rendering it "even more defined," and resulting in a second wine representing 7 percent of production. With the grand vin at 77 percent (compared to a whopping 92 percent for the 2015), that leaves 16 percent that didn't make the grade. "There was a section of the vineyard that was completely blocked by the end of July and was sold in bulk," explained Corporandy, underlining the severity of the summer drought.
Pickers can be choosers
Just down the D245 in Pomerol, Vieux Château Certan's director, Alexandre Thienpont, told me, "We increased selection even more than '09 and '10," leading to "even higher quality, more precision." This rigorous selection process entailed marking "every vine that was too stressed," and not using its grapes, which resembled "2003" or even "Syrah," according to Thienpont. Elaborating, his son Guillaume explained, "You absolutely must take into account the heterogeneity of the vineyards, even within each parcel."
Olivier Berrouet, director at Petrus, also underlined the importance of selection, recalling, "We had to be very precise in all our actions." In a vintage of excesses, he emphasized that "the road leading to balance was very narrow." Happily, harvest took place during "beautiful weather," from September 28 to October 11, and every plot could be picked at optimal maturity. The road did not end, however, with picking. "We had a wine that was ripe, dense, with huge tannic potential and alcoholic potential, and happily high acidity," said Berrouet, explaining, "we had to be very gentle in the vinification to avoid caricature." He finished our conversation with this analogy: "Our job is to find a balance between aromas and tannin, just like tea; leave the bag in too long and the tannins dominate."
Selection was also key on the Left Bank. At Château Rauzan-Ségla the technical team went further than ever before in its pursuit. "We noticed there were some vines with tired bunches and we harvested them early, separately," explained cellar-master Henry de Ruffray. This entailed going not just row by row, or even vine by vine, but bunch by bunch, and not just picking, but also vinifying these separately. Unlike at Vieux Château Certan, these grapes did end up making the grade. "We thought we might not use them but they ended up being very good," said Ruffray, precisely because the team was able to vinify them more gently to extract less than for the fresher bunches.
This is just one example of Bordeaux's unerring quest for quality, with constant investment, improvement, and innovation in both viticulture and winemaking. As Olivier Bernard, president of the Union des Grands crus de Bordeaux and owner of Domaine de Chevalier, was keen to remind us at the opening dinner for the press, "We are working at a different level than a few years ago." He argued this made comparison with even the great vintages of 2009 and 2010 impossible, concluding, "This is another expression."
Some producers are calling this their best ever wine. Jean-Valmy Nicolas, co-owner of Château La Conseillante, declared, "Our 2016 is, in my view, the best La Conseillante we have ever made." At Château Pontet-Canet, Alfred Tesseron said of the 2016, his 40th vintage, "I really think honestly that it's the most accomplished of all Pontet-Canets," referring to its "balance and power, sweetness and energy."
Size matters
What is more, 2016 was a vintage of generous yields. "With quality we have quantity, and I love quantity," pronounced Bernard, reminding us that when he started out in 1983, "45 hl/ha was low; not now." In 2016 the average yields across the Bordeaux AOC as a whole were 52 hl/ha, the largest since 2004.
At Château d'Issan, yields were 55 hl/ha, while neighbor Château Margaux brought in 52 hl/ha on the grand vin in 2016, compared to 45 hl/ha normally, and 40 hl/ha in 2015. This is down to "many more berries on the bunches," explained Sébastien Vergne, the first growth's technical director. 30 hl/ha constituted "a good yield for Petrus," said Berrouet, while at Cheval Blanc, yields were 40 hl/ha, "which we haven't done for a while," said Corporandy. "I think at 30 hl/ha we would have struggled to rein in the alcohol and pH," he reflected (the figures ended up at 13.3% and 3.56 respectively).
A similar approach was taken at Canon, with 45 hl/ha. "We actually sought to have larger yields," explained general manager Nicolas Audebert, continuing, "if we're too severe with green harvests we'll have too much concentration." Retaining freshness was key, and "at 20–25 hl/ha it would have been bulky," he said, hunching his shoulders to illustrate his point. What they have been able to achieve with the 2016 as a result is an immense fullness and presence in the mouth without any heaviness, or in Audebert's elegant analogy, "a kilo of feathers rather than a kilo of lead." (The French is more alliterative with plumes and plomb).
There were of course exceptions. "There's not lots of quantity everywhere," emphasized Philibert Perrin, of Château Carbonnieux, reeling off the calamities in Pessac: "frost, mildew, and dry soil." Yields were lower than average at L'Evangile—32 hl/ha, due to lots of old vines and also the young vines suffering from the drought. At L'Eglise Clinet yields were 43 hl/ha compared to 47 hl/ha usually, prompting an amusing note on the tasting sheet reading simply, "too few cases," where other wines from Durantou's stable were assigned a number. Palmer's production was down due to mildew, but largely affecting the second wine—the wet spring took its toll on these biodynamic vineyards. At Léoville Poyferré yields were 44 hl/ha vs 48 hl/ha in 2015. "The abundance was in Merlot, not in Cabernet Sauvignon," clarified owner Didier Cuvelier.
Nonetheless, more châteaux than not are sitting pretty on healthy amounts of 2016. In theory, this should help keep release prices reasonable. "It's very good for Bordeaux when there's a vintage with this quality and good quantity," announced Bernard. "It's also good for the market, because it will help the château owners find the right price," he said optimistically, while allowing for the possibility that this might not be the reality by concluding, "I just dream that the price will follow the market."
How much is too much?
Audebert is hopeful, asserting that "Anyone who is intelligent will make their margins on the volume not on the prices." He continued, eminently rationally, "If the prices stay more or less the same when the quality is even better, everyone will be content," concluding "things seem quite measured so far." Bernard agreed that volume will help, saying, "When you have low quantity it is very easy to make a mistake with the price." One story on the Bordeaux grapevine was that some châteaux who made such "mistakes" last year will release their wines early, and at the same price as the 2015, in a bid to prove themselves reasonable.
I am not so sure: I didn't speak to a single producer who was not open about the fact they were intending to increase their price on 2015. They were visibly boosted by the interest in their wines, receiving more visitors than for several years. Some 6,500 people registered for the Union des Grands Crus de Bordeaux tastings compared to 4,500 last year (the largest number hailed from France, then China, with the UK third, Germany fourth, and the USA in fifth). "I've traveled to Asia and the USA already this year and the interest is very wide," confirmed Mathieu Chadronnier, managing director of négociant CVBG.
"It's a great vintage so it will be very expensive," stated Nicolas Glumineau, managing director of Château Pichon Longueville Comtesse de Lalande. "My ambition is to raise the price this year, yes," he confirmed, frankly. "Demand is good, and perception of the vintage is great," enthused François-Xavier Borie, owner of Grand-Puy-Lacoste. "I don't know the price yet but we will without doubt raise the price," he added, with the caveat, "but it shouldn't explode."
Borie also allowed, however, for the possibility that not everyone will be as sensible, referring to the "danger that there'll be châteaux who'll have a different pricing policy," by which he means aiming high in price terms, and only releasing a small proportion of the stock. Glumineau was vocal in his condemnation of this approach, calling it "artificial," and adding, "it doesn't work to sell only 50 percent at a higher price." He confirmed that Pichon Lalande usually sells 80 percent of any vintage en primeur. This figure can go above 95 percent for Beychevelle, which Philippe Blanc, managing director, thinks is too much, and wants to adjust slightly.
This is political
"Price-wise I don't think there is anyone who's thinking about selling 2016 at a lower price than 2015," confirmed Blanc. He continued pertinently, "The big question is how much more," adding, "with the pound we are conscious of that." Chadronnier concurred, saying directly, "Everyone completely accepts prices will go up," but countering "everyone agrees it should be reasonable." He admitted that we still need "to find out what the producers think 'reasonable' means."
So, what is reasonable? Wine Lister recently asked its 49 Founding Members precisely that. These key players in the global fine-wine trade responded on average that a reasonable price adjustment on 2015 would in fact be a decrease of 4 percent (fig.1). This questionnaire was carried out prior to any tastings, however, and naturally the trade's interest lies in curbing price rises by the producers.
While the producers are naturally overflowing with enthusiasm, there is nonetheless a sense that the trade is holding back somewhat, acutely aware as it is that the success of this en primeur campaign rests on measured, rather than overenthusiastic, pricing. "I think it's clearly a very good vintage but I don't buy all that 'greatest ever' stuff that some Bordelais have spouted," stated Stephen Browett, chairman of Farr Vintners. He set his stall out further, saying, "What's for sure is that prices to the consumer need to be significantly lower than current prices of physically available vintages such as 2005, 2009, and 2010." Referring to the Bordeaux producers, he added, "If they increase euro prices—combined with the weakness of the pound—they do risk killing any customer interest that the quality level will arouse."
The Bordelais are savvy enough to be entirely aware of the complex factors at play in this unique political climate. Uncertainty is rife in every key fine wine buying market, with Brexit unfolding in the UK (and the ever-low value of the pound), Trump being unpredictable in the USA (and this reverberating in Asia, too, especially in China and Korea), and the French and UK elections. Emmanuel Cruse, co-owner of Château d'Issan and Grand Maître of the Commanderie du Bontemps, addressed a room full of producers and négociants, saying, "We all know the situation isn't stable, but we need to be positive, as the vintage is great and we have made a lot of it."
"We need to take into account the world's fragile political and economic condition in order to ensure our international clients are sufficiently engaged to distribute our wines profitably and passionately," professed Ballarin. The message has reached producers, too. Cuvelier avows, "It's true England worries us, as it's always what sets the tone of the campaign." Borie also cites exchange-rates worries, though remains largely positive about the general health of the market, saying there are "lots of sales at the moment and stocks are low." Glumineau mulled disbelievingly the possibility of a Le Pen victory, stating "It would affect the stock markets, and could devalue the euro relative to the pound."
Learning from the past
Adam Brett-Smith, managing director of Corney & Barrow, is concerned that pricing will escalate as it did just under a decade ago, observing "an eery, and I suspect ominous, parallel between '08, '09, '10 and '14, '15, '16, a parallel of potential pricing if not of quality." Ballarin also refers to "two excellent vintages in a row (and even three if we count 2014)," and likewise advocates restraint when it comes to pricing. "What is certain is that the market will not want to miss out on such a successful vintage for our top wines," concluding "why not allow all our distributors and consumers to make good buys and profitable sales of this vintage, with prices that are relatively stable compared to 2015?"
Ballarin elaborates on this very sensible question, pointing out that "It is impossible to speak in generalizations about en primeur pricing. Each property must find its own sweet spot that works for those who distribute its wines and brings about the satisfaction of its end customers."
"The en primeur system is excellent," enthused Glumineau, telling me that Pichon Lalande has had four successful en primeur campaigns in a row. "We have managed to optimize, to find the price that works well for the company," he explained, adding, "the release concluded in 2.5 hours, and the négoce sold on afterwards, too." In other words, Glumineau claims to have "found the balance."
This might well be the case, but for every one of the trade's darlings, there is a château that gets it wrong. "No cru is in the same situation as its neighbor," Ballarin reminds us. "The primeurs market is very selective; it chooses and adores its favorites, but also knows how to replace them," he warns. "Price rises will be accepted in some corners and badly received elsewhere."
The point is that en primeur is not entirely predictable; its success is predicated on the notion that the end consumer is buying wine that later on will be more expensive or not available at all, but of course nobody knows in advance. The impetus for a certain wine can quickly spiral if a few big négociants jump in, and everyone feels they might miss out if they don't follow suit. In other words, en primeur is FOMO (fear of missing out) for wine.
Even though the quality is high (fact), and the prices might be "reasonable" (to be confirmed), this doesn't guarantee a successful campaign without FOMO. "We have seen modest campaigns despite very good vintages, and enormous campaigns on the back of average vintages," reflects Laurent Elichondoborde, president of the négociant Descaves, emphasizing the lack of reason behind a campaign's success or otherwise.
Timing is everything
As for the timing of this en primeur campaign, there was some talk of first growths coming out early and leading the way. The greater likelihood, however, is that the campaign will follow traditional timing conventions. This, according to Glumineau, means "crus bourgeois first, then the fifth growths, then the fourths etc.," although he admits to being, "maybe a bit reactionary" in this regard.
Chadronnier thinks the campaign will start early, pointing out that, "If you don't always sell everything en primeur and you've made good wines you want to release early while there's still cash available to buy them." This only goes for the lesser wines though. He thinks we will see releases of "the crus classés largely in May," and adds, "I'd be surprised if everything was out by Vinexpo." This is certainly the consensus, so we can expect the campaign to last beyond June 21 and possibly even into early July.
"The general opinion is not to be quicker than need be," mused Blanc, adding "it's good to have context." Where Beychevelle is concerned, Blanc said, "We definitely won't be the leaders timing-wise," and overall, he believes "it's very likely it won't be a very quick campaign, and probably won't be finished before Vinexpo."
"I really feel a desire here in Bordeaux for this to be a successful campaign," asserts Chadronnier. Ballarin concludes with a plea, ever-tactful as a courtier should be: "For the 2016 campaign, let's try to be a bit like this vintage: powerful and elegant all at once." Until the party gets started, we won't know whether the campaign will fly or flop. This Gallic simile from Elichondoborde puts it best: "En primeur is like love: It is desire and not always reason that determines success. And this vintage is all desire."
Ella Lister is Founder and CEO of Wine Lister
For more analysis on Bordeaux 2016, visit https://www.wine-lister.com/analysis to access Wine Lister's latest regional study.
WFW has secured an exclusive subscription discount of 33%, bringing down the cost of an annual subscription to Wine Lister from £90 to just £60. Simply follow this link <https://www.wine-lister.com/subscribe/info?dc=wfw> to access your special price as a World of Fine Wine reader.