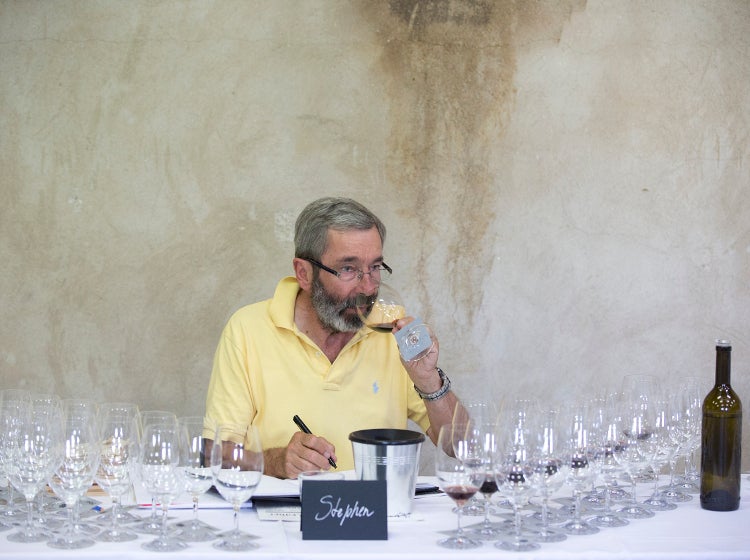 Henschke's Hill of Grace is Australia's most famous singlevineyard wine. The first vines were planted in 1860 by Nicolaus Stanitski, in the same year the beautiful Gnadenberg Lutheran church was built directly across the road. Gnadenberg loosely translated from the German means Hill of Grace, and the vineyard gradually became known by that name. It could easily have been Parrot Hill Vineyard; in those days there was a small village at the opposite end of the vineyard by that name, with a post office and school. Ruins are all that remain of the village today.
The vineyard, situated between Eden Valley and Moculta in the Barossa ranges, was planted mainly to Shiraz, with Riesling, Semillon, and Mataro, and originally the wine would have supplied family and friends.
Stephen and Prue Henschke in their historic Hill of Grace vineyard, first planted in 1860, against the backdrop of the Lutheran church that gave the vineyard its name Photography courtesy of Henschke
Ownership passed to Stanitski's descendants before it was bought by Paul Gotthard Henschke in 1891. It eventually ended up in the hands of Louis Henschke, brother of Cyril, who created the first Hill of Grace wine in 1958, and uncle of current winemaker Stephen. Louis Henschke tended the vineyard for nearly 40 years, and was a valued mentor to Stephen and Prue. They took over management after his death in 1990 and later bought the vineyard outright.
The vineyard today has 8ha (20 acres) of vines including 4ha (10 acres) of Shiraz. It is managed according to organic and biodynamic principles and the inter-rows are permanently grassed with mainly native species. Compost and straw mulch are used under the vines.
The vines are on their own roots and yields are low, averaging one tonne per acre (2.5 tonnes/ha) off a widely-spaced planting; the vines are 3.1m (10ft) apart and the rows are 3.4m (11ft) apart. The exact clone is unknown, but it is known that the oldest vines, nicknamed the Grandfathers, are from stock imported from pre-phylloxera Europe by early settlers. Subsequent plantings have been made from cuttings taken from the original vines.
The altitude is 400m (1,312ft), significantly higher than the Barossa Valley floor but also more continental, meaning the nights are colder. The soil type is red clay-loam, derived from 540 million-year-old Cambrian rocks. Some sections have a layer of windblown sand and clay that is more recent; some have a layer of gravel. The prevailing soil is deep clay-rich loam with a topsoil of fine, brown sandy to silty loam. It allows vines in most sections of the vineyard to sustain themselves without irrigation.
There are seven blocks of Shiraz vines and the grapes are harvested block by block, at different times, to allow for variations in maturity caused by differing soils, vine-age, and vigor. Average harvest sugar is 24 degrees Brix and the acid/pH balance is always good, with very intense color. Picking is early to mid April.
The grapes are crushed and destemmed, with a small proportion of whole berries included. The must is fermented in old wax-lined concrete open vats, with a submerged cap, and rack-and-return (delestage) is performed.
Acid adjustment is rarely required, according to Stephen. A pure yeast culture is added for the primary fermentation and a cultured bacteria for the malolactic.
There is no extended maceration. The wine is racked into barrels to finish its fermentation — at about one degree Baume. It spends two years in the same barrels: hogsheads of new, two-, and three-year-old French oak, and sometimes some American. Prior to the 1990s, locally coopered American oak was more common. These days most of the pressings are added back, in contrast to the 1970s when pressings were mostly sold off to other wineries. The grapes are also being picked riper now than in the '70s. Both changes help explain why the wines have more body and structure from the '80s onwards.
The wines
When Cyril Henschke bottled the first Mount Edelstone Shiraz, 1952 vintage, as a single-vineyard wine, he was way ahead of his time. It was highly unusual to sell a wine made from purchased grapes under a label that featured the vineyard's name. This was the era when multi-vineyard — indeed multi-regional — blending was king in Australia. The wine's immediate and spectacular show success confirmed the wisdom of Henschke's move.
Six years later, he did the same thing with Hill of Grace, 1958 vintage. At the time, the oldest Hill of Grace vines were nearly a century old, and it's remarkable to reflect that the entire fame of the brand has developed since then. Except for three off-vintages — 1960, 1974, and 2000 — Hill of Grace has been bottled every year, and so has a continuous 50-year history.
The Henschke family celebrated with a tasting of every vintage from 1958 to 2008. The 2008 was released concurrently — at a breathtaking A$650 a bottle, not far short of Penfolds' Grange and Torbreck's The Laird. Cyril Henschke was his family's fourth-generation winemaker, and was something of a visionary. He recognized that the cooler Eden Valley climate was more suitable for table wines than for the fortified wines — ports and sherries — that were the focus of the lower-altitude Barossa Valley. Cyril made fortified wines, too, but his heart was with fine table wines made from Shiraz and Riesling.
There is an important historical context. Max Schubert of Penfolds and Ron Haselgrove of Mildara both visited Bordeaux in 1950 (separately) and returned home with the inspiration to make high-quality, long-living red table wines. Schubert made his first experimental Grange Hermitage in 1951 (but it wasn't released publicly for several years) and Haselgrove began what could have become an equally iconic line: the once-famous Mildara Yellow Label Cabernet Shiraz, discontinued in the 1980s. Maurice O'Shea was making sublime table wines in the Hunter Valley despite the market for such wines being tiny in those beer-sodden times. And Colin Preece was doing similar things at Seppelt's Great Western cellars. It was a time of great change in Australian wine.
While all of these winemakers were great blenders, which was the fashion of the day, Cyril Henschke was taking a more European, single-vineyard approach. He was a terroirist before terroir entered the consciousness.
That said, however, it must be acknowledged that the wines since Stephen Henschke and his viticulturalist wife Prue took over, upon the untimely death of Cyril in 1979, have lifted both Hill of Grace and the Henschke wine company to a new level. There would be few husband and wife double-acts in the world that could surpass what the Henschkes have achieved. Part of their challenge is to overcome the vagaries of the seasons, which is a handicap for Hill of Grace when compared to, say, Penfolds Grange, which is a vineyard and regional blend. They have largely achieved this: Since about the early 1990s, wine quality has risen, there are fewer lesser vintages, and more great vintages.
Cork problems no doubt contribute to the lower ratings of some older vintages, and since 2002 the screwcap has kept the wines consistently fresher. But there are other improvements; fruit ripeness is more precise; oak quality is higher and oak handling more subtle; tannins are more refined because more gently extracted. The vineyard is probably better managed now than ever, the winemaking more attentive and skilled. Hence, we find a parade of stunning wines in the past decade that live up to the fame of this great vineyard.
1958 (very good) Quite deep tawny-russet red color, remarkably deep for its age. Wonderfully complex old-wine bouquet, lots of roasted-meat and roasting pan scrapings aromas. Raisins, prunes, molasses. Chocolatehoneycomb bar. A hint of volatility. Quite hot from alcohol and rich, deep, powerful, and still drinking remarkably well. Long finish, partly due to alcohol. Drinking superbly. A real surprise that this wine has so much depth, power, and vigor! This vintage out-performed expectations. 17.5
1959 (exceptional) Tawny-brown color with yellow rim. Looks very old and possibly oxidized. Hints of old balsamic vinegar on the nose. Faded, tired-out, earthy, and maderized. Some chocolaty elements. Still just drinkable but it's breaking up badly on the palate. A disappointing bottle of what was always regarded as a great vintage. "There are no great old wines, only great old bottles…" 14
1961 (excellent) Medium-deep russet/tawnyred. Mushroomy nose, very old and rather past it, while the palate is breaking up and has lost its line. Raisins, chocolate, and dried figs. Some alcohol heat. It's still drinkable but well past its drinking window. 15
1962 (excellent) Deep-ish russet red to tawny color. Some maderization showing on nose, as well as a meaty pong. It's rather pungent. A little disjointed, hot and broken on the palate. Some bitter elements from oxidation. A top vintage, but this bottle is edging past its drinking window. 16
Huon Hooke, who concluded after tasting every Hill of Grace that "The vineyard is probably better managed now than ever, the winemaking more attentive and skilled"
1963 (average) Medium brick-red/brown color. Smells very animal: query Brett. The palate is weak and hollow, the flavor has been hollowed out of it. Too animal. 13.5
1964 (very good) Medium-full tawny/brown russet color. Dark chocolate and roasted nut aromas. The palate is still intact enough to drink and enjoy, but has seen better days. Some alcohol heat on the finish and aftertaste. Just drinkable. 14.5
1965 (excellent) Medium-full brick-red russet color. Very complex old-wine bouquet, with roasting-pan aromas. Very rich and alcoholhot on the palate, with plenty of flavor and character, considerable power and density. Still a very good wine and still gives great pleasure. Long, long finish. Splendid stuff. 17
1966 (excellent) Medium brick-red with a russet edge. Leathery, earthy old-wine bouquet, a hint of mustiness but very savory, dry, and lasting on the palate. Quite powerful, high-impact, and very long. Alcohol heat and flavor reverberate around the mouth for ages. Excellent palate. 18
1967 (great) Medium brick-red tawny color with russet tinges. Lovely old-wine bouquet: very complex and detailed with earth, leather, and roasted-meat complexities, some old canvas sandshoe notes. Some animal. This is still hanging in there, showing lots of character and length, power and generosity. Near the end of its drinking window but still giving great pleasure. 18
1968 (good) Medium tawny-brown and yellow-rimmed color. Some volatile acidity on nose, as well as chocolate and vanilla old-wine characters, starting to fade now. The palate confirms this; it's breaking up and is disjointed. Leather, licorice, and slightly bitter on the aftertaste — from oxidation. Still drinkable. 15.5
1969 (poor) Pale brick-red/tawny color. Animal, horsey, Brett-like aromas. Thin and badly faded. This is well past its drinking window. A lesser vintage that didn't age. 12
1970 (average) Medium brick-red/tawny russet. Quite a pleasantly mellow aged bouquet, some complexity, rather drying gritty tannins but the wine is pretty good overall. The palate has a leanness to it, and an elegance, and is still drinking very well. 17
1971 (very good) Medium tawny/russet color. Complex aged earth/leather and prune aromas; the palate has some bitterness and astringency, perhaps some alcohol hotness, too. An attractive mature wine, without great nuancing. Good focus, intensity and length, even if it's a tad astringent. 16.5
The first Hill of Grace bottling, the 1958, when single-vineyard wines were still extremely rare, despite Henschke's first Mount Edelstone bottling of the 1952 vintage Photography by Dragan Radocaj, courtesy of Henschke
1972 (exceptional) Medium-light tawny/ russet color, fading a little. Vegetal elements on the nose. Chocolate and leather, too. Quite appealing and complex – very mature and mellow. Pronounced sweetness on palate, quite a feature of the wine. Some vanilla notes. A very attractive, very elegant old wine, smooth and rounded and very mellow. 18
1973 (excellent) Medium-full tawny-red color, very good for its age. Marvelously complex bouquet, mellow and slightly vegetal/spicy, with charcuterie and roast-meat aromas. Full-bodied, concentrated, powerful in the mouth; quite explosive flavor. Lots of alcohol warmth and drive, and endless length of palate. Very good, very ripe wine. 18
1975 (good) Medium brick-red, tawny edge. Funky, animal bouquet; suspected Brett. Lean, slightly elevated acidity, some tanginess. Fine, subtle, lots of leather, but the palate is lean and falls away rather quickly. Lacks the nuance of some vintages. 15.5
1976 (very good) Medium brick-red, with a russet middle and tawny rim. Sweet leather aroma, roast-meat and charcuterie notes. Lean and lively in the mouth with pronounced acidity and a lack of richness. Not especially complex; a rather lean and nervy wine, and seems lower in alcohol. 15.5
1977 (great) Medium-full brick-red/russet color. Smoky, roasted-meats and animal aromas. Some sweet prune notes. The palate is lean and sinewy, lacking flesh and generosity. It's firm and has a spine of tannin, but the wine lacks flesh and extract and generosity. Also lacks detail. Merely good. 16
1978 (excellent) Medium-full brick-red with tawny rim. Slightly tired, animal, aged bouquet; earthy, with some sweet spice notes and slight vegetal suggestions. Meaty/ charcuterie. The palate is dense and taut, firm and angular, with a slight boniness that lacks a bit of charm. The tannin is quite evident, and it's a bit tough on the final impression. But it certainly has some intensity. 16
1979 (very good) Medium brick-red with a tawny rim. Very aged, mature, slightly fading bouquet, with lots of dusty and earthy notes.