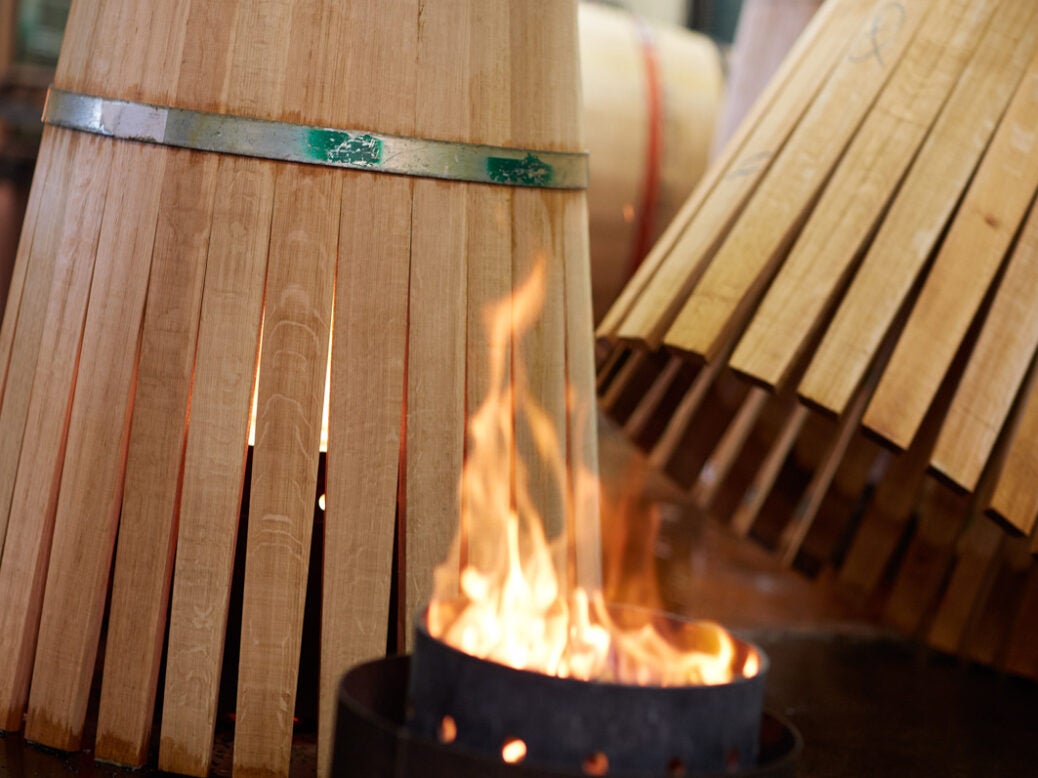 There is a fascination to watching a cooper make a barrel. To start with, straight staves sprout from a circle on the floor; they are softened, tamed, and coaxed to a curve; iron rings are tapped down in a dancing rhythm of hammer blows — and lo, it fits. The arc of the barrel is perfect, the shape familiar and comfortable. And so it should be. It's carpentry.
From the winemaker's point of view, the cabinet-making aspect of a barrel is not the point. For around €600, a barrel should not leak. What you are paying for is not the carpentry, however skilled, but the wood: the forest in which it grew straight, the climate that made it grow more or less slowly, the wind and the rain to which the staves were exposed, and the fire with which the cooper toasts the inside of the barrel. What you are paying for, largely, is weather. The forests of France have some of the most expensive weather in the world.
From forest to cooper and grain
Of course, that's unfair. You're also paying for French forest management, which aims to produce just the straight trees coopers need; and you're also paying for the skill of the cooper in providing you with precisely the barrel you need for your particular wine: the right grain, the right aging, the right toast. Even a small proportion of the wrong wood can unbalance a wine. It used to be that winemakers chose their barrels according to the forest. Now, first of all, they choose their coopers. The difference between coopers is far greater, and has far more effect on the wine, than the difference between forests (though there may be differences here, too — see below). The reason is that to talk of Alliers or Nevers or Tronçais is to talk of vast areas, with many microclimates. Winemakers may still have a preference for particular forests and may talk in terms of forests — Allan Sichel of Angludet likes wood from Jupilles, for example — but the cooper comes first. Jupilles was recommended to him by Tonnellerie St Martin, and he says he's tried Jupilles barrels from other coopers, but "it can be harder, less integrating." It is the style of the cooper, and the cooper's understanding of a particular wine, that creates the ideal marriage between wood and wine.
The forest is the cooper's domain. Says Camille Poupon of Tonnellerie Sylvain, "Jean-Luc Sylvain has been buying Tronçais for 20 to 25 years, from the northeast of the forest. Another cooper will know the southwest of the forest very well, for example.
"Each year, the ONF [Office National des Forêts] selects plots to be sold. It estimates how much wood there is, and of what quality. The auctions are in October and November; for each forest, there is one sale. It may be too expensive for us, or the ONF may take something out of the sale if it's too cheap; it has to make money." She describes a desirable tree as "very straight, with few nodes for fewer faults. We don't want twists — twists mean no staves. We don't use the sap wood, the roots or the branches; we only use the first 2-3 meters [6ft 6in-10ft] from the ground. In the same forest, there will be different soils, different exposures, from one plot to another. In the same plot, you can find a tree with a very tight grain and one with a more open grain."
Grain, not forest, is what it's about now. A tight grain gives slower evolution of the wine, and more aromas; a more open grain gives fewer aromas, more tannins. At Chanson, Gilles de Courcel chooses tightly grained wood for more open wines, like Meursault, and a more open grain for tighter wines or a cooler, tighter year. But is there an association of oak and forest? Some say that Limousin oak is more likely to be pedunculate oak, Tronçais sessile oak, and the chemical composition of the two species (both are Quercus robur) is slightly different. (Christian Moueix prefers sessile.) But the differences between individual trees are probably greater than the differences between sessile and pedunculate oaks.
Elise Peeter of Seguin Moreau says, "The forest of provenance is not our criterion of choice." If you go into any winery and look at the barrels, you'll see them labeled by grain and toast, with never a mention of Vosges or Limousin. You can still buy single-forest barrels, but coopers prefer to mix them up according to grain. Barrels are more consistent that way, and it's easier to maintain consistency from year to year — if, for example, a particular forest is in short supply one year. Seguin Moreau, indeed, has abandoned provenance in favor of analyzing the concentration of different extractable compounds in the wood and correlating them with the organoleptic profile of wine at the end of aging. So, you can buy a barrel that will provide "ample and expressive oak profile with emphasized notes of hazelnut, coconut, and vanilla," or one that "is respectful of the fruit and discreetly provides olfactory complexity. It differs from the traditional American oak profile by its absence of strong smoky or coconut notes; in this sense, it is closer to French oak's wood profile." But as to where it comes from…
The need to deliver consistency of oak — year in, year out — is not unlike the job of a blender in Champagne, producing an identical-tasting Non-Vintage blend, whatever the weather. Winemakers used to complain about inconsistency in barrels, both from year to year and within each year's delivery; now all say that quality has improved. As Mel Knox puts it, "The worst cars of today are better than the best cars of 30 years ago. It's the same with barrels. Coopers had to improve what they were doing, or people wouldn't buy from them anymore." Coopers listen to what winemakers want. They visit the wineries, do blind tastings of wines from barrel, and take note of the result. Says Véronique Sanders of Château Haut-Bailly, "There were tiny differences between our seven coopers at [the last] tasting; the differences were much bigger a few years ago. There's a feeling they all understand what we want."
Changing roles
What winemakers want has changed a lot, of course. When obvious oak flavors were in vogue, coopers changed their barrels to provide that. If you wanted to make a wine that would offer Robert Parker-style texture, weight, structure, and flavor, a cooper would help you. Now, apart from a few benighted regions, that style is fading. Coopers have to be quick on their feet. What winemakers are asking for now, increasingly, is barrels that are almost invisible. Their job might be to give a wine roundness, or tension, or softness; but they must do so with discretion. Some offer one thing, some another; some are behind the wine, some are around it; some offer decoration, some transparency.
It's rare for a producer to work with only one cooper. In Burgundy, Dominique Lafon says, "I use Chassin and Seguin Moreau for vineyards with more power, like [Meursault] Perrières. Seguin Moreau can be a bit too coconut, but the texture is nice. For more delicate wines, it's Damy, for sure." Philippe Prost of Bouchard Père & Fils likes François Frères for Puligny; Bachelet-Monnot uses François Frères for almost everything; and Pousse d'Or uses François Frères for everything.
In Bordeaux, at Sociando-Mallet, Vincent Faure likes Taransaud for Cabernet Sauvignon, Seguin Moreau (more gentle) for Merlot, Boutes for Cabernet Franc. "Taransaud and Boutes keep the fruit; with Seguin Moreau, the fruit is not so evolved. For Demoiselle [the second wine], which has 25 percent new oak, the main cooper is Boutes. Boutes is more flatteur for a wine for younger drinking than Taransaud." For Allan Sichel, "St Martin is the heart of the wine, Sansaud is around it, and Taransaud is the base of the wine, holding the whole thing." Christian Moueix likes Remond and Taransaud for the lime soils of Château Bélair-Monange, and Demptos and Seguin Moreau for the clay of Trotanoy. At Château Petit-Village, Marielle Cazeaux says, "Taransaud and Demptos make barrels that show their full expression with time. They are, therefore, very interesting for aging wines in barrel over 12 months. For me, Boutes and Ana Selection make barrels that respect the wine from the very early stages. At the time of the en primeur tastings, these barrels give harmonious notes of wood that have already blended into the wine."
In the Douro, Quinta do Vallado likes François Frères for Sousão, "which is rustic and needs it. Taransaud suits Touriga Nacional; it preserves the fruit, it's elegant, and doesn't mark it with wood." At Quinta do Vale Meão, they attribute most of the change of style of their wine, from chewiness to elegance, to a change of cooper, from 100 percent Seguin Moreau in 2001 ("it gave volume") to nearly all Taransaud now ("for freshness").
Endless permutations
One could go on and on and on. The permutations of grape variety, terroir, winemaker, and cooper are endless. But the permutations at the tonnelleries are endless, too; there you have grain, maturation of the wood (or washing), and toast. Yes, toasting can be light, medium, or heavy, but that's about as accurate a way of getting what you want as vaguely ordering oak from Alliers. Mel Knox points to the complexity of the relationship between air drying and toasting; so first let's look at them separately.
For air drying, it's a question of where, how, and how long. What you want is rain and wind to take out the astringency from the wood and encourage the growth of friendly enzymes and molds. Wood aged in Bordeaux or Burgundy, both of which have plenty of rain and wind, tastes totally different from the same oak aged in, say, Australia. Australian-dried wood will have many more lactones, which means a stronger oak flavor. (Coopers in both Bordeaux and Burgundy can point to differences between the two climates — the former maritime but warmer, the latter more continental but cooler — and thus between oak dried in either.) How the wood is stacked also has an effect; the ideal is even exposure to the elements. Mel Knox explains it thus: "After 12 months drying, the wood is still very planky and astringent. After 18 months, you start to lose that. Every six months gives a marked improvement in subtlety. The longer the drying, the less obvious the taste of the barrel." Drying can be for two years, or three, or four, or even five. Says James Healy of Dog Point Vineyard in Marlborough, "You can still get coconut flavors sneaking in at three years. We try to avoid coconut at all costs."
During air-drying, bacterial and fungal microflora develop in the wood, and these produce aroma precursors during toasting — hence the relationship between the two. By the time the wood is in the cooperage, your options are fewer, says Mel Knox: "You can't adjust the toast to get the same result from different drying times." The oak will either have or not have coconut flavors, which come from cis and trans lactones, found in raw oak. Eugenol, clove-scented, is produced during the oxidative breakdown of lignin in air-drying; vanillin is also produced as lignin degrades. Toasting produces smoky-scented guaiacol and 4-methyguaiacol; caramel, coffee, and butterscotch notes come from furfural and 5-methylfurfurol. If you plotted the development of these compounds during toasting, you would get a bell-shaped curve: some heat gives more; more heat gives less. So, the temperature and duration of toasting is what matters. As Véronique Dausse of Château Phélan Ségur says succinctly, "Burned wood is not just burned wood."
What the toast does is help the wine to integrate with the wood — or perhaps vice versa. The flavors that come from toast are smokiness, coffee, and torrefaction; more toast means less oak flavor, less complex aromas, less finesse. Very low toast is only possible on perfectly matured wood; otherwise you run the risk of unripe, hard tannins. "Low toast gives less integration with the wine," says Allan Sichel. Suddenly it's clear why so many winemakers opt for the Goldilocks position of medium toast.
A long, slow toast, traditional in Burgundy, goes farther into the wood; Bordelais toasting is traditionally shorter and hotter. Each has a different effect on aroma and flavor, and each cooperage has its own traditions, its own ways of toasting, just as it has its own ways of air-drying. But it's no longer the case that Burgundians buy only from Burgundian coopers, or Bordelais from Bordeaux ones; now you can find Bordeaux châteaux with François Frères barrels, and Taransaud has a cooperage in Burgundy. Outside Europe there's no pattern; people may go to a Burgundy cooperage for Cabernet, or a Bordeaux one for Pinot.
A range of styles
The reason is that cooperages offer a range of styles — Seguin Moreau, for example, offers a dozen different toasts. And winemakers who get to know their coopers and invite them to taste will discuss small adjustments of the toast to suit specific wines. Fabien Teitgen, technical director at Château Smith Haut Lafitte, who not only buys his own wood but chews it to assess the flavor, has his own toast: "I prefer longer and slower. But if the wood is different, I can adapt." There are, however, rules of thumb. Pinot Noir, surprisingly, soaks up wood and can handle a powerful toast; Cabernet Sauvignon doesn't like too much. Longer, slower toasting is becoming more popular. At Domaine de l'Arlot, Jacques Devauges liked the surface of the barrel after toasting to be "a natural blond color with nearly no visible traces of toasting, and the toasting reaches deeper into the wood. Directly after toasting, the surface smells of freshly cooked brioche or fresh bread, whereas with an average toasting the barrel would smell of toasted bread." Subtlety and elegance are what people want now, but what is subtle for one wine would overpower another.
Much depends on how long a wine will stay in barrel. Says Mel Knox, "For the first six months in oak, the wine soaks into the toasty part, getting toasty aromas. After about six months it reaches the second layer of the wood, and it picks up cinnamon and nutmeg aromas from the eugenols. After that it goes deeper and picks up lactones. So, toast is important, but it's only part of the story. Bordeaux, with about 18 months' barrel aging, has all three stages. But for a California Chardonnay that's in oak for six months, the toast is the most important thing."
In general, though, you can't pick out one defining factor in oak. It's the combination of grain, air-drying, and toast that makes a barrel suitable for one wine but not for another. As Camille Poupon says, "The role of the barrel is not to compensate for deficiencies in the wine, but to underline, to help, to structure, to give backbone and length. But if the wine doesn't have what is necessary, the barrel can't perform a miracle. If a winemaker says, 'I need violets for my Cabernet Franc,' we don't know how to make violets."