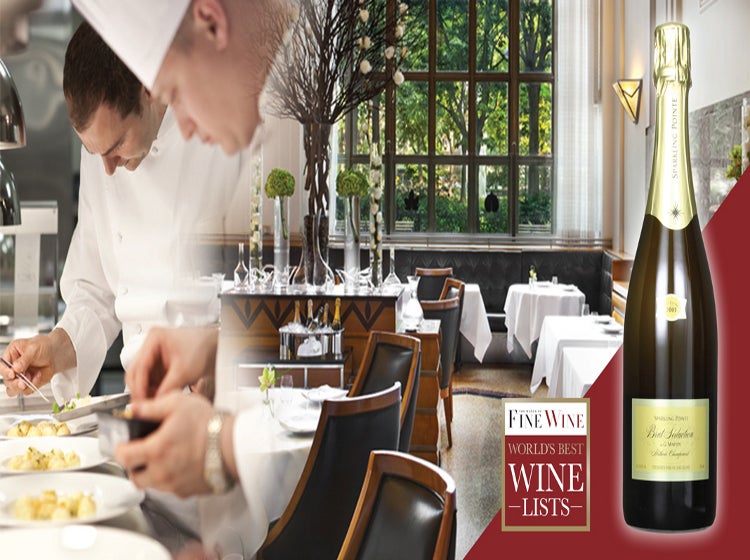 This month, Eleven Madison Park, three star winner and recipient of the overall World's Best Wine List 2015 award, shares their current favorite pairing.
The Wine Director, Cedric Nicaise chose Sparkling Pointe, Brut Seduction, North Fork of Long Island, New York 2005 to pair with Chef Daniel Humm's current favorite dish: Eggs Benedict with Asparagus.
Chef Daniel Humm, Chef/Owner, Eleven Madison Park
"The eggs benedict course on the menu right now is one of my favorite new dishes. I love cooking with eggs and find them essential to the basics of cooking. When we came up with the idea of our version of an eggs benedict, we started first in looking back to the history of that dish in New York. The first version was actually invented just across Madison Square Park at Delmonico's and while obviously it's been replicated many times over, it's one of those dishes that everyone can relate to and appreciate.
In our version we use pickled quail egg, white asparagus, green asparagus, smoked ham, pork fat hollandaise, miniature house-made English muffins, and we top it all off with some caviar. The presentation provides a little surprise for the guest and it's a lot of fun for us to serve. The ingredients all come together in a very familiar way, but with a luxurious touch."
Cedric Nicaise, Wine Director, Eleven Madison Park
"A local sparkling wine. The dish gets its inspiration from a famous breakfast item. Great pairings sometimes are more than a good flavor, weight, and acid match. Sometimes the pairing also just has to make philosophical sense, champagne for breakfast? Yes, please. The long aging of this wine means it can hold up to the richness of the hollandaise. The nearly 50/50 blend of chardonnay and Pinot Noir also give it the acid to match Chef Daniel's food. With a dish rooted in NY, it's only natural for the pairing to be from NY."
Click here to read more about Eleven Madison Park