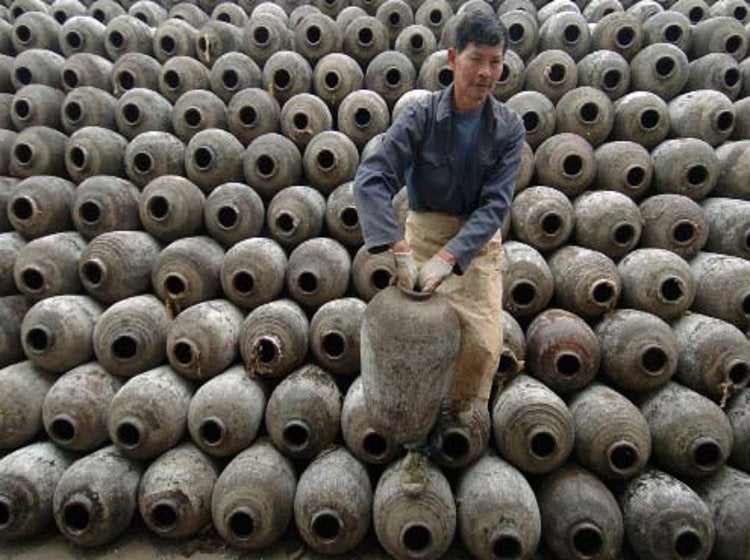 Li Zhengping
Chinese Wine
Liu Junru
Chinese Food
Cambridge University Press, $19.99/ £12.99
Reviewed by Stuart Walton
The early stages of what has already been classified as the Chinese century have acquired giddying momentum. TV documentaries about everyday life in the People's Republic proliferate, along with books essaying a variety of awestruck to deeply alarmed predictions about its coming destiny.
Mandarin is being taught as an option in British secondary schools. China's vote in the United Nations Security Council grows more pregnant with geopolitical significance by the year. Barely had our gaze turned from the Beijing Olympics than another slew of dissident incarceration sagas hit the headlines.
Now a Chinese space program, Tiangong 1, is upon us. As the country grows to Asian superpower status, its businesspeople pour into Europe, North America, and Africa, followed by a tourist tsunami.
If the West has awoken rather late in the day to this opportunity, some of the explanation for its slowness on the uptake lies in what is still seen as the vast cultural illegibility of China, itself distantly bred by the apathy of empire.
Opium-pushing Victorian imperialists saw in the Chinese physiognomy a mask of incognizance. The country's history was a tale of centuries of feudal savagery, which had coalesced by the time of the Qing dynasty into what would be its swan song-a glacially impassive absolute monarchy supported by a complex bureaucratic mandarinate steeped in Confucian obeisance. After the proclamation of a republic in 1912, under Sun Zhongshan (Sun Yat-Sen)- China's Kerensky-a prolonged bitter struggle produced in 1949 one of the 20th century's more convulsive attempts at a revolutionary communist society, itself later to be consumed by waves of hysterical chaos, economic disarray, and morbid repression.
Nonetheless, for all its multibrachiate ethnic identities, this is the world's longest continuously surviving civilization and worthy of our notice. Where it has been noticed at all in the past century, with due respect to the efforts of Bruce Lee and Jackie Chan, has been in its gastronomic culture, surely the most richly elaborate in the world now that French haute cuisine is barely more than a lingering aftertaste. There is a sturdy repertoire of (mostly Cantonese) dishes that front the operation of the global Chinese catering industry, forming a kind of cordon sanitaire against the rather weirder stuff that the Chinese themselves eat.
As one particularly tenacious myth once had it, if there were Chinese people eating in your local Chinese, it must be a good place, but they were possibly setting about fish maw, duck tongues, and chicken feet while you got through as much sweet-and-sour as you could before giving up.
CUP is currently publishing a series of around 30 introductory guides to aspects of Chinese culture in an attempt to dent Western bafflement. Li Zhengping's Chinese Wine will be enough of a surprise in itself to those who believe that all Chinese have enzymatic alcohol intolerance. So ingrained had drunken decadence become among the elite of the Western Zhou dynasty (1046-771 bc) that the first anti-wine regulations in Chinese history were promulgated. Wine was used in sacrificial ritual, ancestor worship, military rites, and medicine, but it was also valued as a tonic comforter for smoothing away the world's pains.
By "wine," Li predominantly means rice wine, of which there are several varieties, including the highly prized yellow wine of Shaoxing in Zhejiang province. Chinese legend supplies a cognate story to the accidental Western discovery of maturation, in the tale of a poor tailor named Zhang who had kept a buried jar of Shaoxing to celebrate the birth of what he hoped would be a son. When his wife produced a girl, the jar remained unbroached until his daughter's wedding day 18 years later, and the aged wine turned out to be as surprising and delightful as that drunk by the wedding guests at Cana.
A poignant tension between moderation and excess attends all intoxication cultures. In Chinese society, the former is reflected in the notional measure of three large cups being sufficient at any occasion to be marked by drinking, while the latter whispers its temptation in the ancient proverb that states, "When drinking with dear friends, a thousand cups are not enough." It is polite to fill a guest's wine cup to the brim (so no room for swirling and sniffing), while tea is filled no more than halfway.
Wine is the fuel and subject of literary creativity in the medieval period, much of its resplendent sensuality deriving from the legendarily capacious Eastern Jin poet Tao Yuanming (ad 365-427), from whose pen the drunken lyric flowed as eloquently and copiously as love sonnets from Shakespeare's. Ensconced in Horatian pastoral seclusion, he prefaces a suite of 20 drink odes with the explanatory apologia: "I live in seclusion without company and face long nights. Occasionally I have fine wine and spend the entire evening drinking. I drink alone until I am drunk." It lacks only the latter-day injunction, "Get over it!"
Grape wine came to the northwestern Xinjiang province with the Persians as early as the Han dynasty (206 bc-ad 220), though it was to wait 20 centuries before it began to be a significant contribution to global viniculture. Li dates the production of the first bottle of modern dry white wine as recently as 1978, but China is now a grape-wine exporter and has attracted serious French expertise to its vineyards.
It might have got out of the blocks earlier had it not been for the interdiction on foreign wine as a corrupting luxury, which held sway throughout the entire period of Mao Zedong's presidency. It will doubtless take a while before an international taste for the traditional offal wines of the Zhuang minority is cultivated. Chicken gall-bladder wine and pork-liver wine are consumed much as is Mexican mescal with its worm, the liquor being drunk first, before the protein (in this case, slivers of innards) is meditatively chewed. Liu Junru's companion volume on Chinese food describes these impeccably nutritious drinks in the context of enumerating the fascinating regional food cultures of China's dozens of ethnic groups, all of which have contributed to the glorious edifice of its culinary tradition.
Other than during the period when communist state-owned restaurants encouraged disciplined austerity in repudiation of "corrupt and backwardthinking" gourmandism-never the likeliest morale-booster-the Chinese have accorded gastronomy an exalted place in folk tradition and court culture.
Even though, or perhaps because, the specter of scarcity and malnutrition has darkened so much of ordinary people's experience, the celebration of food, in the homes of the poorest as much as among the aspirant middling sorts, has played a key symbolic role.
Food is essential sustenance both biologically and medicinally-a fusion noticeable in the fact that Shennong, the ancient god of agriculture, also does votive service as the god of medicine. To this day, professional chefs undergo courses in nutrition as a standard part of their culinary training.
There is pride in the colossal diversity of the Chinese kitchen, seen in its elaboration of up to seven taste categories (where Western cooking makes do with an unambitious four) and a keen awareness of the capacity that the Chinese palate has to assimilate and outdo even the oddest productions of Western gastronomy. "Cheese from the Western world," Liu writes, "may be thought to smell, but it is said to have nothing on the stench of Chinese stinking tofu," likewise the counterintuitive product of fermentation.
The dramatist Anton Chekhov, inviting a Chinese man to drink a vodka with him in the late 19th century, noted the extraordinary formal delicacy that his companion brought to the occasion. He held the glass out to the tavern-keeper, his staff, and to Chekhov in turn-a little bow and the word "qing" ("please") accompanying each acknowledgment-and he sipped appreciatively at it little by little amid the general ambience of Russian gulping and then offered his host a handful of coins. "This is a rather interestingly polite nationality," observes Chekhov, attentive as ever to the minutiae of social exchange. Indeed, the more one explores, the more evident it becomes that there is virtually nothing about China that isn't, at the very least, rather interesting. A massive task of comprehension lies ahead of the Western world if this is, indeed, to be the Chinese century.
These useful, well-illustrated, and mostly capably translated handbooks will help many along the way.