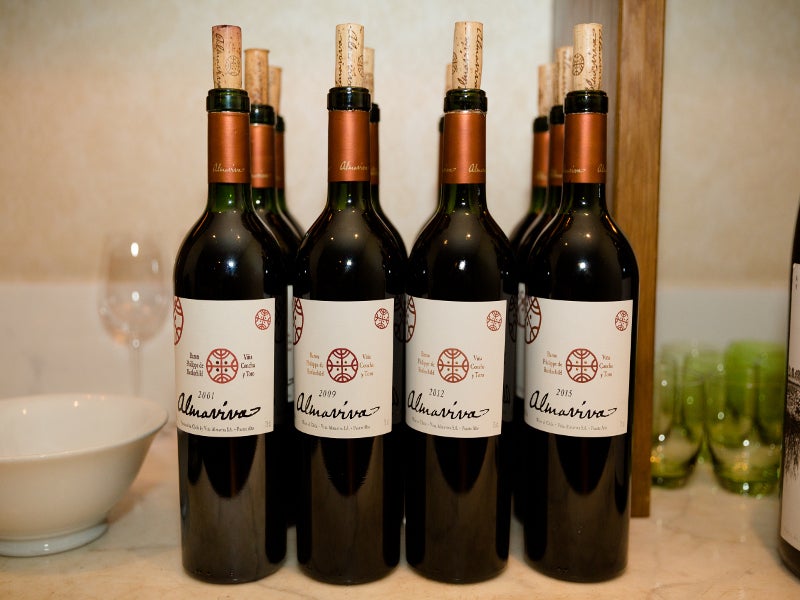 The wine being served at this particular WFW dinner was Almaviva, the Mozart-referencing red from Chile created by a joint-venture between the Rothschilds of Mouton and Concha y Toro. Concha y Toro provided the vineyards and the Rothschilds provided the Bordelais know-how. The winemaker now is Michel Friou, who recalls that in 1997, when it started, it was the first project in Chile to focus all its resources on just one wine. There were 40 hectares (100 acres) in Puente Alta to begin with; 65 ha (160 acres) now. But the influences on the terroir, and the reasons why that particular spot was chosen, haven't changed. One is the cooling influence of the Andes, which means that everything, from budding to picking, is a couple of weeks later than in most places near Santiago, and means that the average temperature is 2º–3ºC (3.6º–5.4ºF) cooler, and gives cold winds that blow from the mountains at night. "A late terroir is dangerous in Bordeaux terms," Friou pointed out, "but positive in a dry climate."
The vineyards are also close to the Maipo river, and are planted on the river's oldest alluvial terraces: stony soil with some clay, that gives smooth tannins. And it was apparent, from the four vintages we tasted, that the tannins have become smoother over the years.
But first, a few details. We had gathered in Bar Boulud in the Mandarin Oriental Hotel in Knightsbridge, London. (Those of a certain age may remember the building as the Hyde Park Hotel.) We were the usual mix of readers and trade, happily rubbing shoulders, that comes to WFW dinners. One guest remembered being refused his allocation of Domaine de la Romanée-Conti some years ago: "They thought I was going to sell it on. I wasn't. They didn't like speculation." Some producers like speculation, though: it's always been popular among top Bordeaux châteaux, because without it, how would their wines have reached those prices?
But more of such matters later. The first wine has been served, and it's the 2015, just released, and it's matched with Pâté en Croute du Jour and Boudin Noir. Pâté en croute is basically pork pie, and show me an Englishman who doesn't like pork pie. This was a most refined version, served alongside a purée of boudin noir on apple. It set the tone for the evening: rich flavors, dark and deep, nicely autumnal, and a perfect match for the rich, dark, deep flavors of the wine.
The 2015 without food was a bit hot, but with food settled into balance and harmony. It's a perfectly Chilean wine now: if it ever aspired to Bordeaux-ness it has moved on and does what Chilean Cabernet does best, expressing ripe, juicy fruit. "You can't export the French climate," says Friou. He has in the past worked at Viña Aquitania and Casa Lapostolle, so he has considerable experience of bringing France to Chile, and how in the end, you can't. "At the beginning," he goes on, "the French influence was very strong. There were changes in the vineyard to lower the yields, reduce irrigation, increase ripeness and concentration. Almaviva then became more like itself." The past five years, however, have been very dry, with 230–240mm of rain instead of the normal 340, which makes the site worryingly close to the technical definition of desert. "We use more irrigation now than at the start." The blend is 69% Cabernet Sauvignon, 24% Carmenère, 5% Cabernet Franc, and 2% Petit Verdot, which is fairly typical, and while the older vines have reliably good pH, the younger ones can need a touch of acid adjustment. Friou describes it as a classical year in climate terms.
The next vintage, 2012, was a dry year: just 230mm of rain in the winter, followed by a warm, dry growing season. "A riper year, with small yields," says Friou, and a year in which the influence of the Andes helped with freshness. The wine is tarry and salty, with black-cherry fruit, intense, with lovely balance and black spice. Think of balsamic cherries. It was matched with pappardelle with ceps, parsley and parmesan, classic and flattering to the wine: mushrooms are an umami gift to such succulent wine.
This is when the question of a secondary market for Almaviva came up. My neighbor, the head of an auction-house wine department, doesn't think there is one in the UK yet, and Friou agrees. "There's probably not enough of it in the UK." One guest suggested that producers often want the profit for themselves. "Look at Bordeaux." Almaviva is sold entirely through the Place de Bordeaux, meaning that what the producers gain in distribution and speedy sales they risk losing if it means not knowing where their wines are finally sold. Friou, however, suggests that they have enough controls in place to ensure that Almaviva doesn't end up in the wrong places. Asia is the main market, taking about half of production, followed by the US and Brazil. (Brazilians go to Miami to stock up with wine, apparently.) They would like it to appear at auction, though, says Friou. "When we get a track record," it may develop. Whether a secondary market can still push prices up the way it has for Bordeaux in the past is a moot point, though. The profitability for the buyer of anything other than top vintages of Bordeaux is looking pretty iffy these days; yet collectors, said my neighbor, go on buying regardless, even though they may sell at a loss. The en primeur offers come out and they get rung up by x, or y, or z, and it's fun, and they like to be part of it. But if they never make a profit, won't they get fed up and buy something else? "There's nothing else yet in wine that has both volume and a secondary market."
Friou worked on Indian wine Omar Khayyam at one point. "In a hot climate you fear heat, in a wet climate you fear rain," he says. Which is worse? He shrugs. "Water is life."
The 2009, matched with beef paleron as thick as my fist, and slow-cooked with "seasonal garnish," ie carrot in three different ways but not much of it, drew us back to how the wine had evolved over the years. It's savory, rich, and full of cherries and cardamom, from a warm year with generous yields: its brightness and savory freshness meld with its herbs and spice. "Chilean Cabernet should have a certain ripeness," says Friou. "Most wines adhere to that Chilean style. We have a naturally later terroir, and we can keep freshness and get complexity and structure. In a warm place, wine will tend to be either underripe or overripe. To get freshness and ripeness at the same time is difficult."
What would Friou eat with Almaviva in Chile? Lamb, basically, perhaps in the form of asado. Or confit de canard. "Old vintages with cheese, though there's not much cheese in Chile. Fish with old years, too, depending on the year. Maybe 1998, which is less ripe, and very good with fish. But Chile is much more meat-oriented, even though it has a long coastline." And at what age does he think Almaviva is at its best? "Ten years ago people preferred younger vintages, perhaps because they were often newer drinkers; now most people drink it at five to ten years." So, 2009, 2005, and 2006 might be the first choice for drinking now.
The 2001, which came with cheese and a smidgen of fig—this was not a dinner for anyone concerned about getting their five-a-day—was redolent of leather and undergrowth, cinnamon and turmeric and balsamic, aromatic and very long; but with the merest touch of rusticity when compared to more recent years. "It's an earlier stage in terms of style," says Friou. "It was a rainier winter, with 530mm, and dry and warm afterwards; the kind of year we like. Yields were low and the berries were small, concentrated, and the tannins were not as they are now. We've done a lot of work in the vineyards, separating blocks and picking each at the right time—we've improved the quality of the tannins over the years."
It's reassuring that you can't Frenchify a wine beyond a certain point, and that in the end, the terroir will insist on having its way. Otherwise, why bother to drink wine?