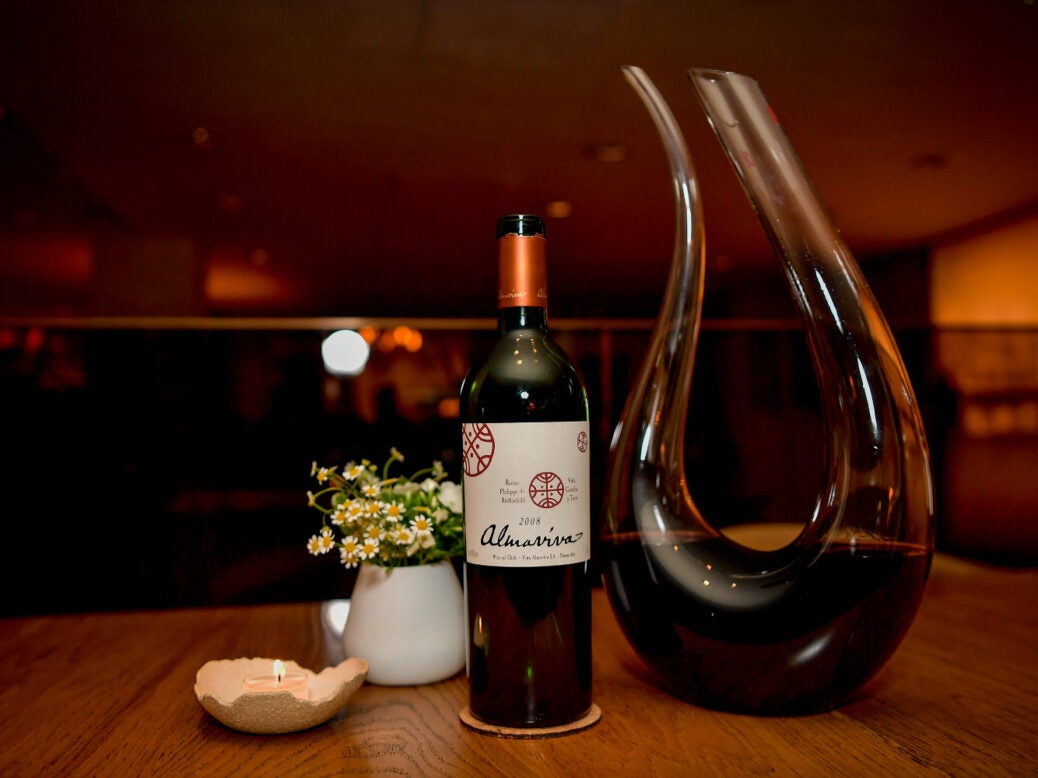 Using the wrong glass is not something of which you could normally accuse Hide, the restaurant in London's Piccadilly chosen for a recent dinner to accompany Almaviva's wines. I can think of plenty of swanky places in London that do – Annabels, for example, serves Champagne in the bar in saucer glasses – but Hide's wine service is impeccable, even if the ever-increasing size of the decanters reminds one of those giant pepper-grinders that Italian restaurants used to love.
But to stick to the point. We were at Hide to taste Almaviva with the winemaker, Michel Friou, and the export director, Felipe Felíu, and 'we' were an assortment of wine writers and sommeliers. It's when it's all sommeliers that things can go wrong, apparently. My neighbour told me of an all-sommelier dinner from hell: first they wanted to know why there was no Champagne yet. Then they looked at the wine list, and everything was the wrong wine, or the wrong year. And then they started on the glasses, which is where we came in. The wine-writer equivalent would probably be searching the menu for spelling mistakes, or apostrophes in the wrong place – sommeliers might show off, but it takes a wine writer to be really pedantic.
Hide is under the same ownership as Mayfair wine shop Hedonism, and sources its wines from there. We, however, apart from kicking off with a glass of Roederer, were drinking Almaviva only, a blend of Cabernet Sauvignon plus Carmenère, Cabernet Franc, Merlot and Petit Verdot, and we started with the cool 2013 vintage, with its lovely tobacco nose, its spicy fruit and its almost Pauillac-like tannins. It illustrates the story of Almaviva, and the story of Bordelais ventures in Chile. Friou had worked at Vina Aquitania and Casa Lapostolle before Almaviva, so has been part of this particular journey for a long while; in a nutshell, Bordelais winemakers started off thinking that if they wanted to make Bordeaux blends in Chile they needed Bordeaux solutions, and then understood that they needed Chilean solutions.
The first vintage was 1996, launched in 1998 after the joint-venture agreement between Baroness Philippine de Rothschild and Concha y Toro was signed in 1997. So the 2013 was quite a long way down that path. 'When you arrive in a place it's good to come with knowledge and experience,' says Friou, 'but you have to realise that the climate conditions are different, and you have to take into account the experience of the local people.' One difference, apart from the obvious ones of rainfall patterns and light – cool years aren't cloudy here, as in Bordeaux; they're just as sunny, but cooler – is proximity to a river. In Bordeaux, the sites near the river are generally highly prized. Almaviva's vineyards, which Friou describes as 'the best terroir for Cabernet Sauvignon in Chile kown so far', is four kilometres from the river Maipo. In the case of the Maipo, he says, the closest terraces are the youngest terraces and consist of rocks, sand and small gravel but not much clay 'because clay comes from the erosion of rock. The best terroir is the oldest terrace, furthest from the river… we can't speak of the same gravel' as in Pauillac. 'The climate, especially the rainfall, has no relation to Bordeaux,' he says. 'We used to stop irrigation at veraison. But it's not 45 days from veraison to harvest – it can be 90 days – and we have to keep irrigating. The water table in Bordeaux is quite high; you can't have the same definition of stress. And there's even less rain now than before [at Almaviva]. There used to be about 340mm of rain, but in the last four to five years we've had 240-250mm, and sometimes less. Last year we had 160mm.'
We started dinner with Hide's signature first course of raw and lightly pickled vegetables accompanied by watermelon gazpacho, and slices of home-cured goose breast wrapped around pheasant tail feathers. One wonders what happens to the feathers afterwards. Do they put them through the dishwasher and use them again? Or do they just have a very big box of pheasant feathers somewhere?
This was followed by Rare wagyu beef cooked over charcoal with figs, rocket, crushed white beans and summer savoury – we're still with the 2013 Almaviva. It was a good match, though wagyu beef is more about texture than flavour and these thin, rich slivers of fatty blandness could have been replaced with a punchy salami, and the wine would still have been happy, perhaps happier.
Then, just before the arrival of 'Gently cooked foie gras in a blackcurrant leaf brot' (sic: pedantry alert), we were approached by a sommelier with a decanter so vast that yes, it did bring those comical pepper-grinders to mind. It was lyre-shaped, would have been about a metre in length if unwound, and gave the sommelier a passing resemblance to a young Apollo. (The problem with such an implement, he says, is not the beginning but the end: you end up serving double glassfuls and spilling it unless you're very careful.) It contained the 2017, a warm, early vintage in which the Cabernet shut down, so there was a touch of greenness there. It's a compact wine, still very young, with both puppy fat and pronounced tannins, and notes of dark chocolate and green peppers that recall the flavours of the Chilean Merlots of yore, though it is very much more appealing. With time in the glass it settled down into subtlety and depth.
Foie gras is always a challenge, but the wine coped well, helped by the salty broth; salt can be a big aid to matching food to wine with substantial tannins.
The 2008, which came next, had tannins which were certainly present; the result of a late, dry vintage. Said Friou, 'when a year is early, dry and warm, it's quite simple. But when it's late and dry you can have dry berries, and you have to decide [what to do]. We had to look for the right balance, and then the fermentation was quite complicated. The berries were small and dry, the fermentation was slow, and the tannins needed time.' Now it's beautifully harmonious, and a balanced match for a perfectly balanced dish of Roast dry-aged duck, confit tamarillo with blueberry vinegar, celeriac purée and smoked walnut praline – the last ingredient giving a nice crunch to the whole.
We finished with cheese and the 2002 in a flashback to Alamaviva's early years. It had the exuberance of young vines and was from an era when a more Bordelais style was being attempted. It did have a certain Bordelais quality; if you were tasting it blind it might be hard to say where it came from. It certainly wasn't obviously Chilean, but it was a lovely wine.
Why these vintages? We tasted two very dry years, 2008 and 2017, and two 'normal' ones. The 2017 is the latest release, sold via the Bordeaux Place. Between those two vintages a lot was learnt about how not to have very dry tannins – which is just as well, says Friou, because the future might be like this.