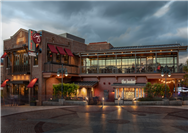 Led by Master Sommelier George Miliotes, Wine Bar George offers more than 140 wines by the glass, bottle and ounce. Enjoy wines from acclaimed and well-known wineries as well as growing regions that are up-and-coming. Whether you are looking for a glass of wine on tap or an ounce of some of the finest wine in the world, there is something for everyone to savour.
The design for Wine Bar George is similar to a winemaker's home estate, with a welcoming, comfortable atmosphere. The menu features masterfully paired wine and food and a selection of cocktails, all of which include grape-based spirits. George and the team relish the opportunity to pair wine and food for you to enjoy.
Sommelier and wine consultant Luciana Girotto heaped praise on Wine Bar George, wishing for "more please" from this perfectly crafted, World's Best Micro Wine List.
Wine Bar George is particularly distinguished in this year's awards, as a new establishment, having opened since 2017 and a first-time entrant to the competition. In addition to its global win, Wine Bar George was also named Best By-the-Glass Wine List With Coravin in North America.
Judge and wine writer Elin McCoy commented that it "really fulfills the idea of a micro list…something for everyone"