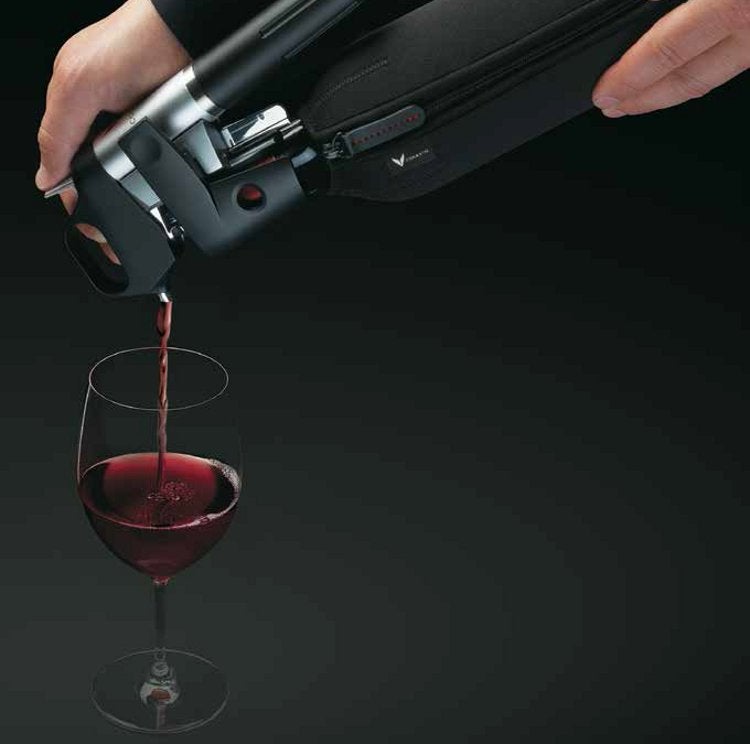 The list of wine accessories is a long one. But aside from the corkscrew, the decanter, and various devices that assist in the cleaning of the decanter, I can't think of many that are essential, and there are some that are highly dubious in terms of their true utility. (Here I am thinking of various aerating devices, the "breathable" wine glass, and various magnetic wine-aging devices.) But in July 2013, we saw the introduction of a wine accessory that is truly — to use a rather clichéd bit of business-speak — game changing. It's the Coravin.
The Coravin has the potential to change how fine wine is enjoyed at a significant level, and there has been a lot of excitement about it among wine collectors, as well as in the fine-wine trade. For a long time, people have been struggling with the problem of opened wine bottles and, specifically, what to do with their contents if not all of the wine can be drunk in one sitting. If we are dealing with expensive bottles of wine, whether or not the bottle can be finished influences whether or not we open it. This applies to the collector as well as to the retailer or restaurant. Various wine-preservation devices have been marketed, but all have their shortcomings, because once a bottle has been opened and a small amount poured, the wine will have seen enough oxygen for it to lose quality if it is then recorked, even if the headspace is then filled with inert gas such as argon or has been evacuated with a vacuum device. The latter also seems to affect the aromatics of the wine (anecdotal reports and personal experience), as well as not protecting completely against further oxidation. Attempts to preserve wine by means of immediately decanting half to a clean fresh bottle, resealing it, and then drinking the remainder, also run into the problem of oxygen pick-up leading to a degradation in quality. Many people just recork a bottle and drink it the following day, and this, along with the aforementioned preservation approaches, is not a bad option for young whites or reds, some of which improve with the oxygen exposure they have seen. But for fine wines, our appreciation is based on the detection of small degrees of quality, and we want our wines to be showing as well as they can do. And older fine wines are quite fragile and won't satisfactorily survive any of these preservation attempts.
Expand fine-wine opportunities
So, what do we want of a preservation system? We want no compromise, no loss of quality. Only then will we entrust it and allow ourselves to take a little from a bottle at a time. A preservation system such as this will considerably expand the opportunities for enjoying fine wines. A bottle that is too precious to waste for a glass with dinner on a Tuesday evening suddenly becomes an option if it can be used to supply five or six such glasses spread over a number of weeks.
It is clear that the only device that will work is one that uses inert gas to dispense the wine and fill the vacated volume in the bottle, without allowing any air into the bottle during the process. ("Inert" is used to describe a gas that is nonreactive with the wine. Oxygen reacts with the wine, causing loss of quality. Carbon dioxide doesn't react chemically with wine components but dissolves in the wine; it is highly soluble in wine and changes its flavor this way. Nitrogen and argon are inert — and of the two, argon is preferable because it does not dissolve in the wine, while nitrogen dissolves just a little. The reason nitrogen is sometimes used is because it is much cheaper than argon.) The first devices to offer that were the likes of the Enomatic machines, where a bottle is uncorked and the cork quickly replaced by a seal that allows inert gas to be pumped into the headspace, displacing the wine, which is then dispensed via a tube. As the wine is dispensed, the headspace is filled with the inert gas, either nitrogen or argon (preferable, though in practice both seem to work quite well).
These machines, which typically fit eight bottles at a time, have become a popular feature of wine retail, allowing customers to experience either tasting measures or drinking measures of wines of which they wouldn't want to commit to a whole bottle. At retail, customers can try before they buy; in bars and restaurants, staff can offer a broader range of wines — and a higher number of pricier wines — by the glass without the risk of spoiled wine. Some retailers have used Enomatics and similar machines to allow customers a chance to try otherwise unattainable wines. The machines, when used properly and when the turnover is of the order of days or a couple of weeks, seem to work perfectly. The drawback is that these machines are expensive and bulky, and so are unsuited to small retail operations and restaurants, or — of course — to home use.
"A wine bar in my house"
This is where the Coravin is so revolutionary and is beginning to have such an impact on fine-wine consumption. It follows the same principle as the Enomatic, in that inert gas is introduced to propel wine from the bottle into a glass, without the introduction of any air. The key difference is that it is able to do this through the cork, by means of a fine, flexible needle. The inventor of the device, Greg Lambrecht, comes from a medical-devices background, and it's his knowledge of medical needles that led to the invention of the Coravin. "I developed Coravin to be able to taste and compare wines in my own home without hesitation or concern about the wine remaining in the bottle," says Lambrecht. "I like to try two or three wines in an evening to explore a wine-producing region, or one producer across multiple years, or a grape produced in different countries around the world. I found that preservation technologies didn't allow me to do this. Essentially, I wanted to break the connection between the volume in which wine was sold to me and the volume in which I wanted to drink it. I wanted a wine bar in my house."
The Coravin needle is able to penetrate the capsule and the cork, and then, when the wine has been retrieved, it can be taken out, allowing the cork to seal itself. The bottle can then be replaced in the cellar for months or even years, with the wine quality intact. If this sounds too good to be true, it isn't. The cork does reseal itself, and the wine does retain its quality, as has been shown through a number of trials. eveloping and testing different versions of Coravin until I found the right combination of needle, gas, and pressure that could pour wine without any degradation in the quality of the remaining wine," says Lambrecht.
The application of the Coravin extends beyond the collector who wants to sample bottles at periodic intervals without committing to opening one. It is a game changer in the restaurant and wine-bar scene, allowing a much larger and grander by-the-glass list. The Quality Chop House in London got hold of a Coravin (ahead of its launch in the UK) and uses it to offer a few very smart bottles on their list Coravined (forgive the neologism) by the glass. Proprietor Will Lander says that this has actually resulted in so much interest in these bottles that they probably don't need to Coravin most of them. Xavier Rousset's 28:50 group of London restaurants is another wine-focused restaurant that has been using Coravin ahead of launch. But perhaps the biggest impact in the wine trade has been for reps, who are now able to visit clients and pour them a range of wines that previously would have been economically prohibitive.
Solution up its sleeve
A cloud recently appeared on the horizon, however. Coravin made the news for the wrong reasons. "Early in 2014, we received the first report of a bottle that broke during access with the Coravin," says Lambrecht. "The bottom of the bottle had broken off during pour. The customer informed us and sent us their bottle, as well as the Coravin involved. We assessed the Coravin, which was working as designed. Coravin applies only 1.5 atmosphere of pressure to pour wine, well below the 10 atmosphere or more a standard wine bottle can withstand without failure. We sent the bottle to an expert who assessed the two pieces and found that the bottle had been damaged prior to the customer's attempt to access the bottle. Specifically, the bottle had been cracked, likely as the result of a drop. The crack weakened the glass such that even at the low pressure the Coravin applies, the bottle broke." This would not be cause for undue alarm: Customers were instructed to inspect their bottles for signs of damage first before using the Coravin. But by May, they had received seven reports of bottles breaking. "We analyzed the Coravins and bottles involved that we received from our customers," reports Lambrecht. "The Coravins were working as designed. Each of the bottles, however, had prior damage or manufacturing flaws that weakened the bottle enough to cause it to break during access."
Coravin stopped sales immediately and voluntarily reported the breakingbottle events to the appropriate US regulatory agency, the Consumer Product Safety Commission (CPSC), whose job it then was to determine when and how Coravin could come back to market. The solution Coravin devised was a neoprene wine bottle sleeve that is able to contain broken glass if a bottle breaks. "The CPSC approved our plan on June 25, 2014, to send each of our customers a remedy kit, including the sleeve, and to bring Coravin back on the market," says Lambrecht. "Canada followed the recommendation of the CPSC. The EU let us know that, while we were not required to take any action as the risk level is low, they were happy with our decision to make the sleeve part of the Coravin system."
Coravin shipped the sleeves to all its 40,000 customers worldwide and were able to bring Coravin back to market by July 8, 2014. This move makes Coravin the world's largest producer of neoprene wine-bottle sleeves, the vast majority of which will never be used. No one I knew who had a Coravin stopped using it because of this "scare."
Now back on the market, Coravin is continuing its onward march. In late July it launched an exclusive partnership with Harrods in the UK, and it will launch a UK e-commerce site in October. "We are also focusing on our plans to launch across the EU this year, followed quickly by launches in Asia, South America, and eventually everywhere that wine is enjoyed," says Lambrecht. "I believe we have come back strongly from the issue of bottle breakage, and we are very much looking forward to being able to share Coravin with the rest of the world."