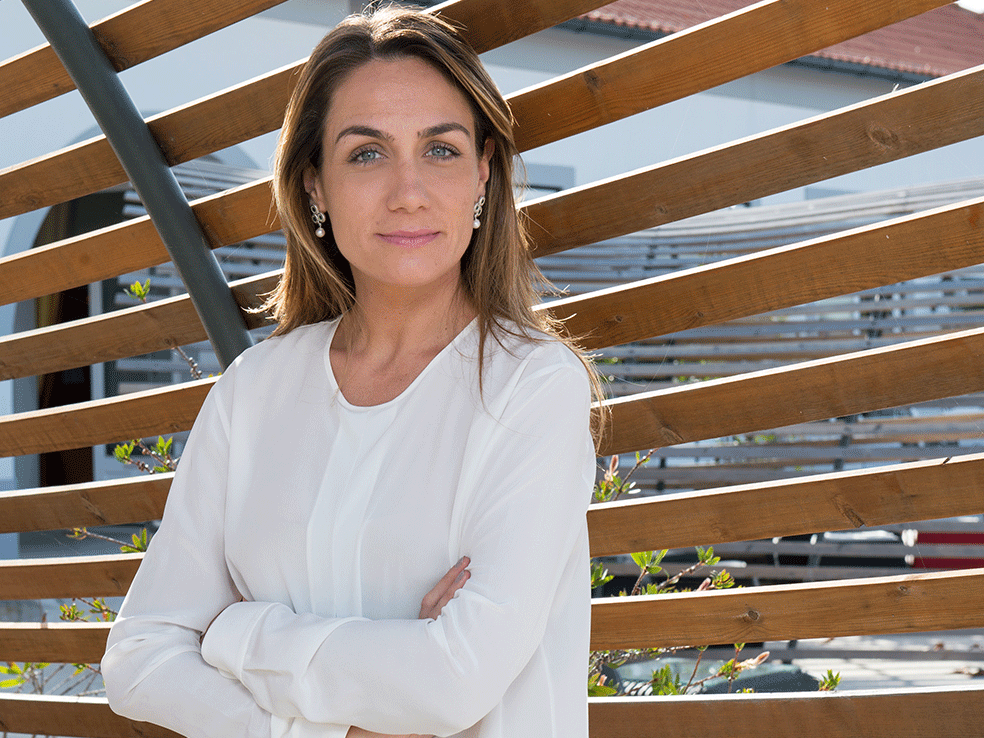 Beatriz Machado is the wine director at The Yeatman, one of Portugal's grandest hotels located in Porto. Overlooking the Douro River and drawing on the city's wine heritage, The Yeatman Hotel is an idealistic host for its wine-focused clientele. Beatriz takes guests on a journey through Portugal with a wine list showcasing over 1,000 wines, 97% of which are Portuguese. It is this focus, and artistically curated wine program that led to the hotel winning the Best Regional Wine List Award in the 2017 World's Best Wine Lists.
WFW spoke with Beatriz shortly after the restaurant heard the good news, upon which she popped open a bottle of Espumante Soalheiro Alvarinho Bruto Minho 2015 to celebrate with the team. We discuss the unique approach to the hotel rooms which are not only interwoven with the wine program, but the country's wine heritage, the next big project on the horizon, and more.
Congratulations on the success of The Yeatman in the World's Best Wine Lists 2017; not only claiming a three-star award for the third consecutive year, but being awarded the title of Best Regional Wine List in the World 2017.
What does it mean to you to win this award?
We were super excited. On our list we have over 1,000 different Portuguese wines, and to be on the world's radar as the Best Regional award; that's something. Portuguese wines are actually drawing attention [on the world stage], and also our identity in terms of wine lists, which is quite unique.
We have the Wine Journal, a magazine which I call, 'around Portugal in 83 wines'. This is because the hotel has 83 rooms and each of the rooms is sponsored by a Portuguese wine producer, where each room has a name of a Portuguese wine company.
Being a regional list there is so much focus on Portugal, and we have these 83 engaged in the same concept. We're doing something different here, and it's something special.
How did you and the team celebrate?
Are you kidding? Richard dropped me a note and I started calling everyone. In the seven years since opening, we get a lot of awards, but from The World of Fine Wine it's quite special because it's such a reputed magazine, and to have that confirmation through someone that we admire, for us is really very special.
And, of course this coming just before high season, it elevated the energy to actually go through and survive the season! It was right on time for the team, so thank you.
To celebrate we opened some Portuguese bubbly, a bottle of Espumante Soalheiro Alvarinho Bruto 2015, Minho. It's something we have in Portugal and that is really difficult to find in the world. And it shows what we're all about.
How do you describe The Yeatman wine list?
It all starts with the partnerships with the Portuguese producers. We have the 83 rooms, and I also have access to things you don't have anywhere else in the world. For example, collector items, or bottles that each producer has in their wine cellar, but are no longer available to the market.
What I think these wines do, is that they tell a story of each producer. I wanted to tell that story and do this through the Yeatman wine book. There are [in the wine book] 1,300 different wines, 97% are Portuguese and only 3% are international.
Of course the majority of this 3% is Champagne, but we also have some Sauternes, Burgundy, other French regions, Italy, Germany, and Australia. I wanted top notch names in wine, but not just the commercial vintage years.
It's not just name-droppers or commercial labels, it's something that shows care for being authentic and looking for wines with values, and that are representative of each region.
I think what makes the program special is having this magazine that we edit three times a year, showing the wine of the season. It's a wine list designed for wine consumers, not for wine professionals. I've broken it into wines in terms of personalities that we can all relate to. We have the classics, the icons, the famous, and the newcomers. Then I go on to explain why the wine is famous, or why it is iconic, and so on.
Since September 2010 every single Thursday we host a wine dinner with a different Portuguese producer. I've done a lot of wine dinners as you can imagine! The majority are Portuguese, but not just the 83 producers. We arrange tailor-made menus for the wine lists.
What inspires your wine list?
Before joining the team in Portugal I always thought that we had so much potential, we had amazing wine that were great value, they were so authentic and unique. But it was almost a crime that the world did not taste them.
I wanted people to try a glass of Portuguese wine, and feel as passionate about wine as I do. That is what inspires me.
What's unique about your wine list?
What I think is quite special is that it's a wine list that is not divided into regions, red, sparkling, or rosé wine, it is divided into personalities. Therefore one day you may feel like having a newcomer, or an iconic wine. You're not choosing your wine by region.
The reason for this is that most people might look at Portuguese as if it is Russian or Greek, so we needed to demystify, and try to speak an intentional language for people to try our Portuguese wine. It is the way the wines are grouped; I think that is the most unique part of this wine list.
Now that we're halfway through the year, have you noticed any trends in wines or the restaurant scene?
During the summer I think the wines are showing beautifully, and also red wines with lower alcohol are much more versatile, light bodied, which can be paired with fish or meat. But what are most popular in our restaurant are the wine flights. We do the same concept as our wine journal, which is a journey through Portugal. You can start either north or south, visiting other regions along the way, and you taste five to six different wines from different producers and different vintages, so you get a sneak peak of the wines of Portugal.
What wine regions or producers have inspired you recently?
Germany, particularly Riesling from Pfalz. The wines have body, the wines can begin and finish a meal, and the white wines can almost behave like red wines. This is inspiring me.
Which wines are you personally enjoying at the moment?
Right now what I'm enjoying is a large full season white or red wine, not pretentious, a no-brainer, that won't make me think about the wine, and just enjoy it. When you get exposed to so many different wines, high end and all that, at some point you just want to drink something simple and not think about it, that you can actually enjoy. And because it's summer and there's a lot of shellfish and fresh grilled fish, it's great with a nice Albariño from the north of Portugal or Malvasia from Lisbon. They're really nice.
What advice would you give to others entering the World's Best Wine Lists?
Be authentic. Try to reach into wine consumers' minds. Not to do a wine list for yourself, for your ego, but to create a wine list that actually communicates with consumers and is fun – it's fun to read, it's fun to choose – and try to speak the consumers language. and you don't need to replicate things, you should innovate, you should do different things that surprise and excite the consumers.
What's next for you and the restaurant?
I'm working on a new project we're launching in four years' time (2020) called "The World of Wine". There will be a 3,000sq m museum, which will be the place to learn about Portuguese wine and position Portugal in the world. Alongside this we will have a wine school and 12 restaurants. So this is going to be a massive project!
It's a partnership group project; similar to a cultural complex that will have a wine experience, a cork experience, a place where you can learn about cork, a museum about the history of north Portugal, and a fashion and design museum.
In the Port wine district most of the warehouses are now empty because they've moved their operations to a more central place. As there is this available local real estate, we're going to create something that you can do inside of all those Port lodges and learn about Portuguese wine!
I have a head sommelier at The Yeatman and a sommelier team so I am still responsible for the strategy, but I'm more focused on creating the content of the wine experience, the wine school, and involved with the 12 restaurants. It's one big project!
The Yeatman is the 2017 winner of the Best Regional Wine List in the World in the World's Best Wine Lists.