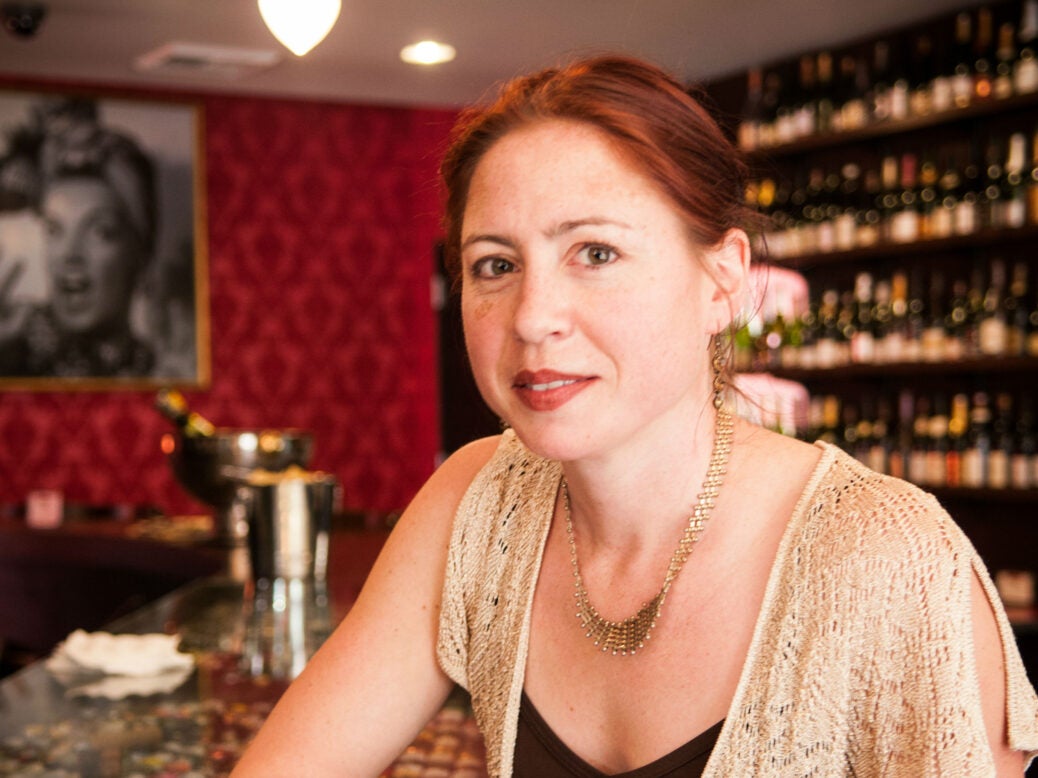 "The quality of the articles gives me information that I can use every day," says three-time World's Best Sparkling Wine and Champagne Wine List award winner Cheryl Wakerhauser, owner at Pix Patisserie in Portland, Oregon. In our follow-up interview we discuss how she applies the WFW magazine to her daily life, the similarities between Jerez and Champagne, the best place for a tipple in Portland (besides Pix Patisserie, of course), and an exciting evening with Port tongs.
What is your favorite part about being a sommelier or involved with wine in this way?
My favorite part about being a wine director and what I do every day is teaching others about wine. I teach wine at a local school and also do teaching and training all the time for the staff. I like to make the sessions fun and educational. Every time I do a staff training I try to make it a little interesting, so for example when we discussed Sherry, I tried to demonstrate the soleras and how they all move around using sardine boxes as the barrels. It makes it more interesting than just sitting there and listening.
Would you say there are any particular wine regions or countries that have inspired you the most or the most recently?
Definitely. That's an easy question for me: Jerez and Champagne. Those are the two focuses that we have on our list and not only are they extremely delicious wines but they are also very versatile. It's completely different wine than you'd find in other parts of the world and there is also a different production method for these wines.
In other parts of the world, when you make a wine, you age it, then it is complete, but with both Sherry and Champagne you have to go through several secondary stages to make the wine what it is, to create something unique in the world.
Another thing with these two regions is that they also have similarities that maybe people don't recognize. Both types of wine go through the secondary production stages that I mentioned, and both of them age (for the most part) in contact with yeast, which I think is very interesting. Blending is also very important to both of them. Jerez has the different barrels and the solera system, while in Champagne, if you're not making a Vintage cuvée, you're blending the most recent wines with those from previous years, either to make your house style or to round out those younger wines. It's kind of interesting that they have those similarities, and that they are both such beautiful wines.
How do you create a three-star wine list? What kind of things go into making a wine list of that calibre?
A lot of work! Mostly it's a lot of thought and organization for my list, I want to make sure I have a focus and a theme, so I try and select within that focus and theme, including wines of different style, different formats, and different price points, because I want there to be something for everybody.
The other important thing is that the list needs to be able to be navigated by the customer—you can't have too many categories, so I put them in alphabetical order by producer. It also needs to be easily navigated in the cellar; people often don't think about that when they're writing the list, but it's their staff who have to go into the cellar and find the wine. We have about 900 different bottles, so you have to be very organized in that aspect as well.
Since I am the owner of the business as well as the buyer and wine director, it's up to me what I want to put on the list, and I don't have to approve a budget with anybody, which is really nice. I decide what I want to put on, and if there's still money in the checking account I can go ahead! It's nice to have the freedom to do this, and if it doesn't work I've learned something.
When it's the summertime, what kind of wines do you like to drink?
There's a few, but Txakoli, from the San Sebastian area of Spain, is one of them. It has low alcohol and high acid, so it's light and easy-drinking, and it's a nice palate-cleanser as well. Manzanilla Sherry is also very refreshing in the summertime.
When you're looking for a good wine list in your restaurant's home city, which restaurants or wine bars do you like to go to?
In Portland, there are two that stand out. Number one is Ambonnay, a very small wine bar run by a guy named David Speer. The thing I like about it is that he's super knowledgable about it and it's very quaint, plus he has a nice collection at a nice price point, too.
Also in Portland there's a place called Division Wines. They were a wine store but now they've added a little bar inside so you can have a flight of something and decide which bottles you want to take home.
What inspiration do you take from The World of Fine Wine magazine?
The best part of the magazine, and what inspires me about it, is that the articles are actually something that I can apply to my day-to-day routine. For example, some of the recent articles I read were about the agability of Champagne, so I can take that information and consider where my Champagnes are at in the cellar. There was another interesting article about how light affects the wine in the bottle, and again, I can take that back to work and use that information. Another article was on Sekt, which is a type of wine you don't really get to read much about, as articles on sparkling wine are more often on Champagne or Cava. The quality of the articles gives me information that I can use every day.
What do the wine awards mean to you, and how has this affected you and your establishment?
The fact that there's somebody out there who appreciates what I've put together and all the daily work that goes into it, is really great. It also helps me realize that I'm not the only one who loves Champagne [as much as I do].
We've been getting more and more customers since the first awards three years ago, plus more people traveling through. For instance, during the International Pinot Noir Celebration, that kind of crowd would drive many miles to come to Portland and to my place. They would leave their cards and write on the receipt telling us how much they loved the list. It's really great to see that other people share the passion that we have at Pix.
What wines would you say pair the best with turkey?
Last Thanksgiving we brought with us an Amontillado Sherry—it just has that freshness from aging on the yeast, and then a little bit of nuttiness. You could also go an aged Fino. Both those styles of wine go great with turkey, and they're something outside the box. Everyone else brought a Chardonnay or this or that; we brought something different and people were really into it.
What kind of wines do you like to pair with roast beef?
Because of my love for Champagne, I would say a red Coteaux Champenois, a still wine from the region. These are more and more improved in quality as the climate increases and the grapes are getting riper, so there are a lot of producers making a still Pinot Noir or Pinot Meunier. They're light-bodied, almost like much Burgundian Pinot Noir. I'm also a big fan of Chinon. I like the ones that are less fruity and earthier. I'll take Chinon any day.
What is your go-to celebratory sparkling wine or Champagne?
It'd definitely be a magnum. I would suggest something not too serious, because you want to relax and celebrate the occasion, not sit there and analyse the wine! I would choose something from my list; I would select Éric Rodez Blanc de Noirs Grand Cru Brut, I really like that producer, or Cédric Bouchard Roses de Jeanne Les Ursules Blanc de Noirs Brut. Those would be fun to pop and just relax and enjoy with friends.
What would you say is the best bottle of wine you've ever tasted?
I think when you taste a wine and have a special memory from it; you usually remember the wine but also the company and your environment. Sometimes the wine itself may not be the best but when you have those other things the entire experience can be exceptional. I remember when my boyfriend was turning 40, we were thinking what to do and we decided to fly to France for two days. We got a bottle of Nicolas Joly, and enjoyed it with seared fois gras. It was just the perfect combination of friends and being in that atmosphere.
What is the rarest wine you've ever tasted?
Probably the rarest wine I've tasted, but also the environment that goes around it, was right after I'd just learned to use Port tongs. We were at a BBQ and there happened to be some producers from the Azores. One of the people who lives in Portland actually had a bottle of 1961 Pico, from the island of the same name, because his grandfather used to live there and he had brought it home a long time ago, so we thought we'd open it. He was worried about messing up the cork, so everyone just said "Port tongs." My boyfriend ran home, grabbed the Port tongs, then we got them nice and hot in the BBQ. How it works for a really old bottle is that you get the tongs super-hot, then you clamp them around the bottle and wait for the heat to transfer to it; once that happens you take a feather and stick it in a glass of ice, then you just brush the glass where the tongs were with the feather and the glass cracks perfectly.
That process was exciting, but so, too, of course, was the wine—I didn't even know where Pico was at the time. It was a Verdelho, a varietal best known from its Madeira versions, and it tasted pretty good, still with a lot of life to it—it was amazing.