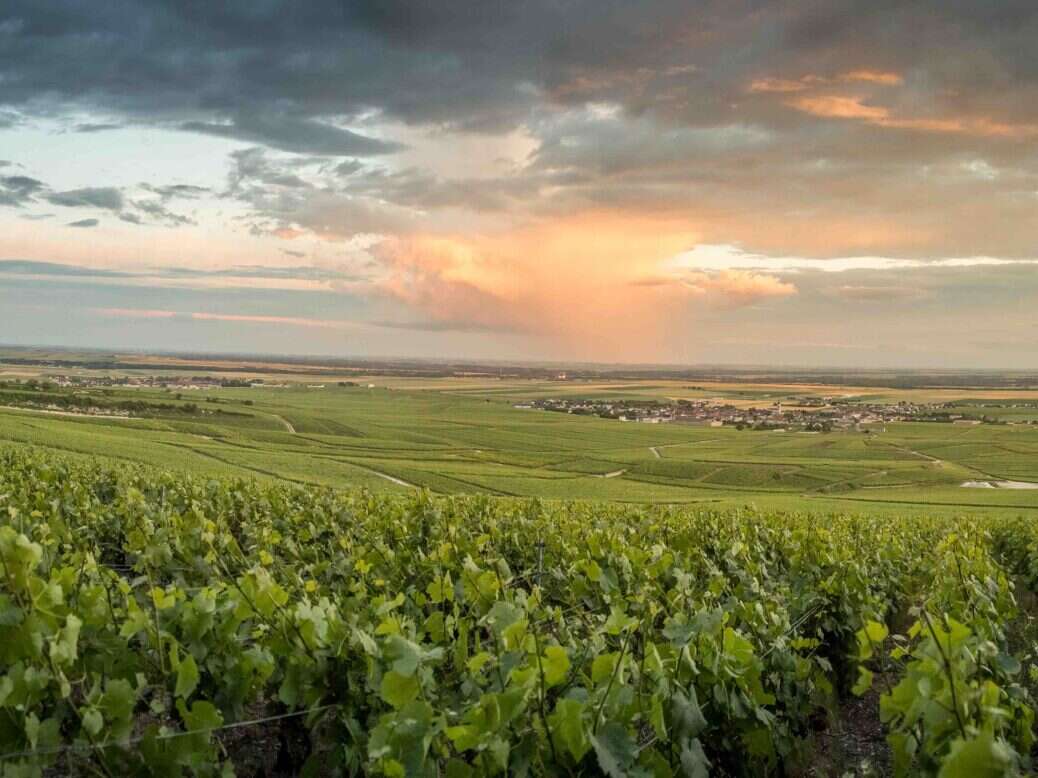 Each quarter, The World of Fine Wine conducts extensive tastings of the finest wines in a given region or stylistic set. In one of three tastings featured in issue 71 of our print magazine, three members of our internationally respected tasting panel—Essi Avellan MW, Simon Field MW, and Jancis Robinson MW—set out to assess the quality of the increasingly fashionable still wines of Champagne. Here we publish Avellan's detailed introduction to the tasting—and the three tasters' notes on the top five highest-scoring wines. For scores and detailed notes on all 48 Coteaux Champenois wines included in the tasting, subscribe to The World of Fine Wine.
The eyes of the Champenois are turning increasingly toward their Burgundian neighbors. As a result of an increasing focus on terroir winemaking and the rise of new-wave grower Champagnes, still-winemaking is on the rise. Climate change is helping, and the 2018–2020 trilogy of warm vintages in particular has ignited excitement among both growers and houses.
During the past 50 years we have all but forgotten the still-wine tradition of Champagne. From early Roman times until the middle of the 18th century the region was known for its still wines. The frothing "devil's wine" was gradually tamed, and sales of sparkling Champagne in bottles were authorized in 1728. The growth of fizzy Champagne was slow, however, and by the end of the 18th century, non-sparkling wines still made up more than 90 percent of Champagne's output. But with the industrialization of the Champagne method, the success of the sparkling style soon outshone the popularity of still wines and it became the region's bread and butter.
In the early appellation laws of 1927 still wines went by the name Vin Ordinaire de la Champagne Viticole. The much more inviting name Vin Nature de la Champagne was in use from 1953 until 1974, when the current Coteaux Champenois appellation was finally created. It resulted in a short-term boom, annual production rising from 1.2 million bottles, to 4.2 million by 1978, after which a steady decline followed. In 2000, when French Customs stopped compiling separate statistics of Coteaux Champenois, production was down to a mere 235,000 bottles. Today, the Comité Champagne estimates average production at 75,000 bottles, with vintage differences causing significant variation from year to year. The late-20th century's most iconic still wines included Bollinger La Côte aux Enfants, Moët & Chandon Saran Blanc de Blancs, and Egly-Ouriet Ambonnay Rouge. Even if sparkling wine dominated, many producers maintained the still-wine tradition—if not for sale then for in-house gastronomic purposes.
A range of styles
Even if red, white, and rosé wine production is authorized, the vast majority (some 90 percent) of output is red. The entire Champagne vineyard area may produce still wines and all of the region's seven authorized grape varieties are permitted. Understandably, due to the tiny volumes produced, the rules in most respects follow Champagne legislation.
Traditionally, many of Champagne's still wines were multi-vintage blends, however most new-wave wines tend to be single-harvest, and very often single-vineyard, wines. Varietal blending takes place even if most red wines are pure Pinot Noir. Following Champagne's micro-boom for varietal Meunier, 100% Meuniers are also produced. The red varieties are also in use for blanc de noirs Coteaux Champenois. Recently, the region's historic varieties Arbane, Petit Meslier, Pinot Blanc, and Pinot Gris have started to make their way into Coteaux Champenois as well, especially in the Côte des Bar, which has most of the plantings.
Regional developments
Today, the southern part of Champagne is witnessing great enthusiasm for still wines. Simon Normand of Domaine La Borderie explains the boom with reference to climate and terroir but also to a more Burgundian mentality: "Here in the Côte des Bar we feel quite close to our Burgundian cousins. Many local young winegrowers, such as myself, studied in Burgundy rather than in Champagne." New-generation ways can also be tasted at Drappier, where Hugo Drappier crafts Coteaux Champenois from Pinot Gris.
The Côte des Bar also contributes a unique wine to Champagne's portfolio, a still rosé called Rosé des Riceys, which was once a favorite of the Sun King, Louis XIV, himself. Having held appellation contrôlée status since 1947, it has an annual average production of 50,000 bottles, from some 25 producers. Of Les Riceys' 2,140 acres (866ha) of vineyards, 865 acres (350ha) are authorized for the making this unique rosé, which is produced by the semi-carbonic maceration of Pinot Noir grapes. The resulting wine leans toward being a light red wine rather than a classic pale rosé, but colors vary. Nevertheless, it is a gastronomic wine, which can have exceptional aging potential for still rosé.
South-facing slopes of the Montagne de Reims and Grande Vallée de la Marne are now, and have been in the past, home to many fine Coteaux Champenois, and prestigious village names such as Bouzy, Ambonnay, Aÿ, and Cumières often feature on labels. But the rest of the Marne Valley is also getting excited about still wine. One particularly passionate grower is Benoît Tarlant, whose repertoire also includes Georgian qvevri-vinified red and skin-contact white. This spring he is releasing no fewer than nine Coteaux Champenois, so his belief in the category is strong. Determined to make the most of the region's richly varied terroirs, he explains: "We make wines of Champagne, be they sparkling, still, white, pink, or red."
Along with the new generation of growers, Champagne houses are showing increasing interest in still wines. Inspired by their first oak-barrel vinifications, Charles Heidsieck's chef de cave Cyril Brun selected in 2017 four particularly impressive barrels of Chardonnay of varying origins to be displayed as still wines. Sold as a set of four, the idea is to allow the taster to discover Champagne's various terroirs and reach a fuller understanding of the role of the master blender. Another milestone is Louis Roederer's launch of its Hommage à Camille Coteaux Champenois duo this spring (see pp.??–?? of this issue).
The verdict
The archetypal description of old-school Coteaux Champenois rouge was mean, lean, and green, while the whites were typically guilty of being razor-blade sharp and base-winey. But with a growing number of producers putting their hearts and souls into crafting serious still wines—and with climate change contributing—the category is fast evolving. Eager to discover where the region sits today with its still wines, we tasted a solid sample of 50 whites, reds, and Rosés de Riceys from good producers.
Simon Field MW was still "left uninspired," and for Jancis Robinson MW the tasting was "far from unalloyed joy." I had done a similar tasting three years previously, so had a good idea of what to expect. Even so, I was disappointed not to find more improvement during the interim. On the other hand, we should remember that the red wines from the great trio of warm vintages 2018, 2019, and 2020 are yet to come on the market. We tasted four 2018s, which did generally show well. Tarlant's Grand Picou Rouge was our overall winner: impressively deep colored, fruit-packed, and boldly oak-supported. In a blind tasting, one would never put this in Champagne, but we were all impressed. Egly-Ouriet's Ambonnay Rouge is always one of the most monumental reds of the region, and the 2018 we found to be even a little too much; for Simon, a little overripe, and for Jancis, rather extracted—it craved time. But we also tasted two lovely, elegant, and varietally true, even if not similarly monumental, 2018s from Domaine La Borderie and Pierre Paillard.
The age-span of vintages was wide, and many of the older wines left us longing for more fruit and vivacity. Based on what we tasted, the red wines' aging capacity can seem limited, as the fruitiness is often delicate, even thin, and mostly early blooming. The use of oak was at times heavy-handed but tannins were generally quite supple and well-managed, and only a few wines were on the green side. None of the three Meunier reds impressed us, and more experience is clearly needed to tame the variety for red-winemaking.
Perhaps somewhat surprisingly, whites did better than reds. Our overall average score for whites was 86.4, for reds 85.3. Jancis was critical about some of the reds, finding ten of the 27 to be worth less than 80 points. But encouragingly she also scored five reds at 90+.
Some of the whites were too base-winey, lacking volume and texture, but in general they were correct, even if some were regrettably neutral. The range of Chardonnays varied from rich, oak-flavored, and tropical, to lean, tight, and mineral. We were not impressed by any of the classic Champagne blends of Chardonnay and Pinot Noir but found many of the blanc de noirs, both Meunier and Pinot Noir, quite fun. Still, our top white was Etienne Calsac's blend of Chardonnay and historical varieties Pinot Blanc, Petit Meslier, and Arbane. There may clearly be an interesting twist to these, as we also appreciated Drappier's Pinot Gris Trop m'en faut!
We didn't taste any Coteaux Champenois rosé and only four Rosés des Riceys. The style is far from the now-trendy pale pink, quaffable style—rather it is serious, even severe. Even if the phenolics were pronounced at times, we found alluring elements, especially in the Rosés des Riceys of Alexandre Bonnet, the most prolific producer of the style.
Conclusions
Even if we had few wow moments, the tasting painted an encouraging picture of the widely rising interest in still wines from Champagne and the vast repertoire of styles. It is very much work in progress, with the dwindling still-wine tradition needing to be recovered or reinvented. In today's climate, the necessary ripeness can be achieved, and early harvests aid grape health, an essential prerequisite for good red wine in particular. But Champagne is not Burgundy, and we may hope that a distinctive range of styles is forged. In Champenois fashion, there is a rainbow of possible styles that will offer authentic and truly exciting expressions of this endlessly fascinating region.
The Top 5: The best of Coteaux Champenois
Tarlant Coteaux Champenois Rouge Grand Picou à Saint-Agnan [Pinot Noir] 2018 (13% ABV)—Average score: 91
EA: Opaque purple color. Full-on, powerful, oak-enhanced nose, with vanilla and spicy tones over charred blueberry, ink, and blackberry fruit. Very much on the dark-fruit side, with tar and animally evolution rising in glass over time. There is plenty of volume on the sweet, rich palate, which finishes just a little short, with brisk acidity and plentiful tannins. Very rich and full for Coteaux Champenois, if a little too oak-dominant for the time being. | 90
SF: Dense crimson, onyx at the core; nose dominated by oak; charcoal, coal tar, and graphite; one has to infer dark fruit in this instance. The compote fruit seduces on the palate, creamy vanillin and soft spice in support; the tannins are ripe and elegant; the gentle volatility only enhances an impression of wonderfully idiosyncratic decadence, the quality of the fruit more than meriting such a diversion. | 91
JR: Extraordinarily deep crimson—almost black! This smells just like a rather successful New World oaked Pinot! With its sweetness and concentration it is definitely making a point, pretty forcefully. Is this Coteaux Champenois taken to an extreme? It's quite fun, even if pungent and dramatic. Still quite youthful, but with bags of personality and persistence and—believe it or not—a certain mineral quality. Drink 2021–26. | 92
Etienne Calsac Coteaux Champenois Blanc Photogramme [Chardonnay/Pinot Blanc/Petit Meslier/Arbane] 2019 (12% ABV)—Average score: 90
EA: Bright, lemon-green color with a golden tinge. Expressive, sweetly fruity nose, with a light lift to it. An oily, winey texture to it and balanced, crisp acidity. On the palate, the varnishy characters become more prominent but there is a supporting, vanilla-laden, oaky tone, too. Long, sweet finish. | 87
SF: Straw-green, bright and clear, the slightest of spritzes to enliven us all; leesy, mealy, a dash of honey and oyster shell; one recalls unoaked Chablis, youthful vigor writ large and as of yet somewhat unformed; a fascinating blend; tradition rolls down the years and there is sapidity and salinity on the finish. Plate of rock oysters, anyone? | 90
JR: Mid-gold. Now this has a really interesting nose! Complex, with some spice and dried apricot, plus an interesting reductive note on the finish. A genuine addition to the canon here, with a beginning, middle, and end to the tasting experience. Quite long. Drink 2020–25. | 92
Charles Heidsieck Coteaux Champenois Blanc Montgueux [Chardonnay] (12% ABV)—Average score: 89
EA: Lemon-green color. Stylishly Burgundian nose, with a touch of gunpowder and high-quality oak supporting the fine, delicate fruitiness. Compact and focused on the beautifully acid-lined palate. Long, pristinely fruity finish. | 91
SF: Straw-bright with a watery rim; subtle aromatic of Autumnal orchard fruit and a hint of fig; behind that maybe petrichor, but it is very subtle. The palate is held together by firm acidity and has medium-plus length; correct and upstanding, if currently lacking just a little excitement. | 88
JR: Nicely integrated, composed nose, but it smells as though it may be fading. Good grip and balance. If served this blind, I might take this for a slightly muted Chablis. Drink 2018–22. | 87
Coessens Coteaux Champenois Rouge Lieu-Dit Largillier Vendange Égrappée [Pinot Noir] 2017 (13% ABV)—Average score: 89
EA: Medium-deep ruby color. Youthful oak-lined nose, with clean dark-cherry and blackberry fruit. Fine spiciness on the adequately rich palate, which comes with substantial but ripe tannins. A well-made wine with a modern feel to it. Will gain in complexity and needs to integrate the wood a little better. | 90
SF: Ruby red; a nose of strawberry, cherry, and spice; cinnamon and sous-bois; gentle oak sits nicely, unobtrusive but adding weight and an alluring complexity. The palate is soft and approachable; the milky texture hints at pashmina, the thread fine and discreet, any intimations of oak now subsumed by the seductive nuance of the palate. Charming and soft, lacking, for some, a backbone of tense acidity, but eminently agreeable over the short and medium term. | 91
JR: Blackish crimson. Good lift on the nose and indications of fully ripe Pinot fruit. Just a tad too much like sweet butter for perfection but it's a flattering wine that has some light tannin. Drink 2019–25. | 87
P Louis Martin Coteaux Champenois Rouge Bouzy Grand Cru [Pinot Noir] 2013 (12% ABV)—Average score: 89
EA: Medium-deep ruby color. Attractive sweet cherry fruit on the evolving but fruity nose. Turns towards cherry essence over time. Stylishly silky on the smooth palate, with age-mellowed tannins and good but not excessive freshness. A complete and rather elegant whole. Ready to drink. | 89
SF: Dense blood to vermillion; the nose boasts wild strawberry and hints of orange and verbena; a touch of smoke, too. Nicely evolved palate, just a hint of volatility; plum, raspberry, damson, and sloe; holding up nicely; à point now, not overwhelmingly complicated. | 87
JR: Rather evolved color but with a lip-smacking nose which promises well. Lots of ripe fruit and charm—and proper Pinot come-on, with great balance. Amazing this has lasted so well! This is proper Pinot, with subtlety. Not too sweet, not too dry. Layers of juice, raspberry and plum fruit and spice. The tannin is fine but not intrusive. Dry but not drying finish. The star of the tasting? Drink 2018–26. | 92