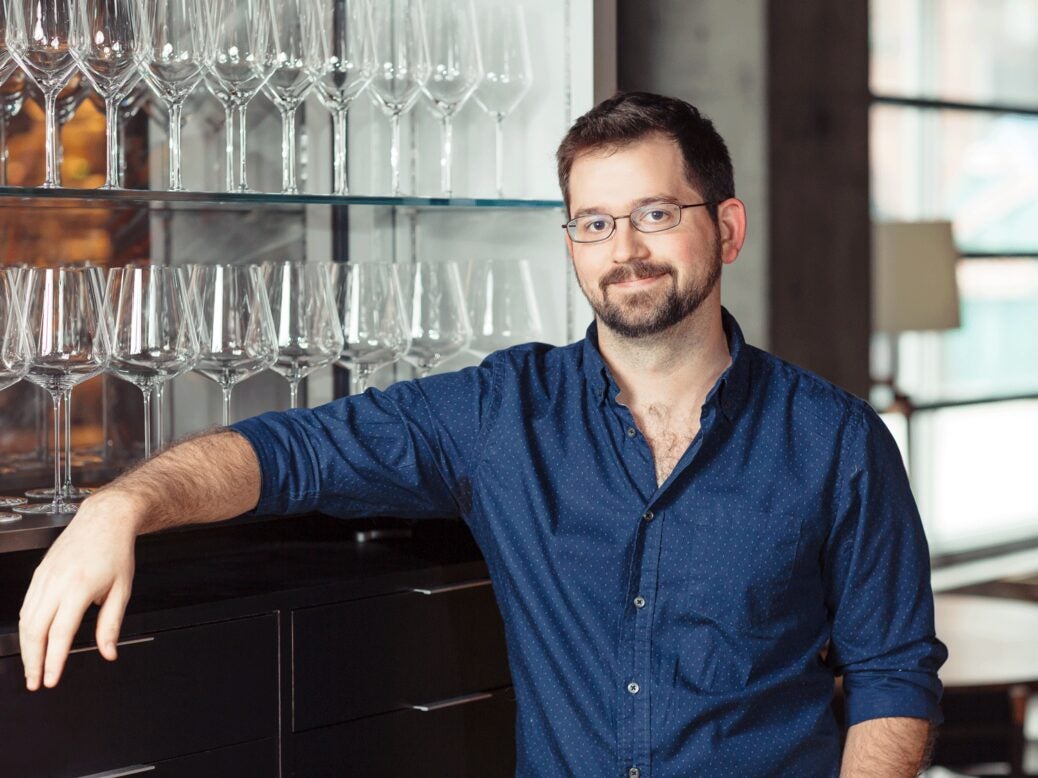 "Build a list with a vision and stick to it," is the advice for entering the World's Best Wine Lists, from Jake Lewis, Beverage Director at Momofuku restaurants. "And keep applying!" Lewis adds. One of three restaurants of the Momofuku brand all based in New York City, Momofuku Ko has gone from strength to strength over the years, and in 2017 claimed the Most Original Wine List in the World in the World's Best Wine Lists.
In a recent conversation with WFW, Lewis shares his inspiration for the wine list that won the 'Most Original' title, reveals the wines in his home fridge, and shares his opinion on this year's wine trends.
Congratulations on the success of Momofuku Ko in the World's Best Wine Lists 2017; not only claiming a three-star award for the third consecutive year, but being awarded the title of Most Original Wine List in the World 2017. What does it mean to you to win this award?
Thank you! It's a bit unexpected considering all the amazing lists in the world, but a fantastic surprise.
How did you and the team celebrate?
We opened a bottle of Champagne post shift, naturally. It was a bottle of Pierre Peters 'Les Chetillons' 2008.
Can you tell us about your wine list and how it has evolved?
Ko's wine offering has evolved over the last couple of years. When we relocated and reopened Ko, the list was built on the winemakers themselves and the relationships that bind them together, with a European, and specifically French, influence. We've continued to grow the list from the focus of benchmark producers from a couple of countries, to those of the world. We want to offer as many wines as possible that are well aged and ready to drink and be one of the best lists in the world. The list has gone about this course through our desire to have a list full of gems that are connected in some way, and still be accessible to anyone that comes in.
What inspires your wine list?
It is inspired by people and place. Many of the people that make the wines have worked together or know each other or are inspired by each other. They take what they've learned from their colleagues and apply it to their own patch of vines to achieve a sense of place in their wines. The wines we pour are all about where they're from. It's the winemaker's ability to guide the vines during their growth cycle, and their willingness to step back and allow that fruit to express itself in the winemaking that really showcases the wines we believe become the best of the best.
What trends have you noticed this year in wines or the restaurant scene?
It seems like the Loire Valley wines are continuing to grow rapidly and we've got a few newer producers in the market to show for it. Bordeaux and other classically old-hat regions are coming back into fashion. And I think Savoie is poised to be the next Jura.
What wine regions or producers have inspired you recently?
The most recent bottle that really woke me up was an Ardoisiers Schiste 2014 from the Savoie. So much tension, and minerality, but generous enough to make my non-restaurant dining companions perk up, too.
What bottle of wine would you normally reach for to drink?
I always have various Rieslings, Chenins, and Gamays in my wine fridge at home. Generally light to medium structured wines that won't put me out for the night.
What advice would you give to others entering the World's Best Wine Lists?
I would suggest to those entering the World's Best Wine lists that it's a long game. Build a list with a vision and stick to it. Let it grow organically and keep it focused on that vision. And keep applying!
Since entering the awards, what has changed for you and the restaurant?
Since the awards, we've gone all-in on pairings. We're pouring wines now that are largely not available to the public, or are at least harder to find. For instance, we have 1971 Cos d'Estournel on the menu now (in July) with our beef course.
What's next for you and the restaurant?
We're expanding! During our August break, we're expanding into the space next door, and I'm psyched. It's going to be a great place to grab an excellent bottle of wine and some Ko dishes.
What's your:
Favorite dish on the menu?
Right now, the Wild Rice Ice cream. It's such a fun dish with an array of textures and savory elements that make an ice cream course fun again.
Go-to wine after work to relax?
Usually a minerally white like a Riesling or Chenin… or a whiskey with a splash of cold water.
Favorite drinking spot nearby?
Slanté is the post-shift bar of choice for us at Ko. It's a block away and exactly what we want after a couple of great turns.
Momofuku Ko is winner of the Most Original Wine List in the World 2017. Its sister restaurants Momofuku Má Pêche and Momofuku Ssäm Bar received three- and two-star awards respectively.
Photo credit: Zack DeZon