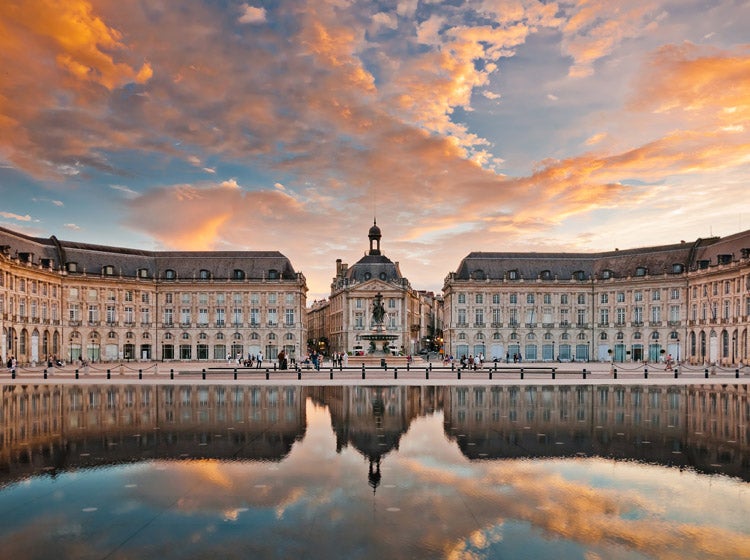 Flitting from château to château in the week before Easter was like being subjected to a stuck record. The complaint of "Bordeaux bashing" was rife. The message on both sides of the Gironde can be paraphrased thus: please stop tarring our region with one brush when only a handful of wines have been priced too highly. It felt very much as though a Bordeaux-wide PR meeting had been convened prior to the en primeur tastings, where every producer agreed to tow the party line.
In a spin
The first exposition of this message was at the welcome dinner organised by the Union des Grands Crus de Bordeaux (UGCB), whose affable, commonly straight-talking president, Olivier Bernard, set the ball rolling with a favourable spin on Bordeaux pricing. "There are 250 crus that have never been expensive in their lives," he stressed in his speech to the attending journalists.
During the week this sentiment was echoed with varying degrees of stonewalling, or langue de bois (not geule de bois – although I'm sure there were plenty of hangovers too). This same message was delivered by endless château owners and négociants. Justin Onclin straddles both perspectives, as owner of Châteaux Villemaurine in Saint-Emilion and Branas Grand Poujeaux in Moulis-en-Médoc, and founder of négociant Sovex (and until October last year, president of its now parent company Ballande France). Onclin believes that only around 50 properties are guilty of being overpriced in recent years. Of these he says "in certain vintages they should have lowered more and they didn't. "When I suggest this has put consumers off Bordeaux as a whole, he responds "it's really tragic if people don't even consider Bordeaux anymore because they assume it's too expensive". He does not blame those 50 properties for taking advantage of the demand that existed at the time, but now, he stresses, "we need to position Bordeaux with the full range of great wines it has to offer."
Bruno Borie, owner of Château Ducru-Beaucaillou, elaborates on this theme. "You mustn't see Bordeaux as an immense ocean," he insists, emphasising rather its abundant "individuality and different positions." Unsurprisingly, he highlights his own château as having a particularly terrific position, and defies mathematics as we know it, saying he "sold 107 percent last year". He clarifies that "they asked for more than we put on the market so I reduced my own personal reserve".
Miraculously, every château I come across seems to be an exception to the rule, having managed to sell the entirety of its stock last year against all odds and averages. "I sold 100 percent last year and the year before," enthuses Bruno's older brother, François-Xavier Borie, owner of Grand-Puy-Lacoste. "People say Bordeaux is expensive but they're thinking of the top crus," he recaps. He distinguishes Grand-Puy-Lacoste from such crus, saying "I'm in the affordable luxury category".
Best of the rest
Château Margaux's team, presenting the new vintage in the Orangerie, were well-versed in one version or another of Managing Director Paul Pontallier's headline for 2014: "the best of the vintages that are not the outstanding ones." Worthy of a seasoned politician, this somewhat woolly statement manages to put a positive spin on the vintage without being overly effusive. I didn't hear a single person claim that 2014 is as good as the famed 2009-2010 duo. As Pierre Lurton, Managing Director of Châteaux d'Yquem and Cheval Blanc, put it, "if any producer compares 2014 to 2010 I say 'then you must have messed up your 2010'." However, 2014 is certainly superior, on the whole, to the disappointing triumvirate preceding it.
A miserable summer meant the vintage was looking decidedly unpromising until rescued by a sweltering Indian summer from the beginning of September until harvest. The result is an elegance borne of slowly ripened fruit that was never scorched. In the words of Jacques Thienpont, owner of Le Pin, the late ripening also "makes the wine a little bit lighter, because one day in August is the same as two in September" (due to lower temperatures, fresher nights, and shorter days). Lightness was a recurring characteristic of the vintage, though not necessarily to the wines' detriment in all cases. Frédéric Faye, Director at Château Figeac, summarises 2014 as "a mixture of a hot year and a cool year," possessing the "tannic texture" of the former and the "freshness" of the latter.
Frédéric Engerer, Managing Director of Château Latour – a firm favourite in 2014 – could afford to be circumspect in his appraisal of the vintage since the property pulled out of the en primeur system in 2012. He observes, "the vintages that come after the great ones are always underestimated, and those which follow a series of difficult vintages are often overestimated."
Pricing predicament
The majority position of the château-owners I questioned was that they would release their 2014 at a higher price than their 2013. The recurring reason was a reluctance to undermine recent vintages. With much 2011, 2012, and 2013 remaining unsold in many cases, this reluctance often came across as thinly-veiled anxiety. They argue that they have no choice but to price 2014 at a premium to 2013, in order to represent its superior quality.
As a general rule, the Bordelais seem set on taking as the comparator their own pricing decision from the preceding vintage, rather than observing the subsequent rationalisation of that price in the open market. Note that in years where prices were spiralling upwards in the secondary market, producers were all too ready to work this into their en primeur pricing, notwithstanding any quality considerations relative to preceding vintages. The other way round, it clearly feels to the producers as though it would be too much like admitting a mistake.
But for the consumer, where is the motive for buying unless the price is less than that of a comparable vintage – many are taking 2008 as a benchmark – available in the market today? A group of UK wine merchants went as far as to write an open letter to Bordeaux beseeching it to bring prices down to 2008 levels. Analysis conducted by wine exchange Wine Owners even suggested applying a 20 percent discount to those levels. However, the Bordelais do not necessarily take kindly to being bossed around by the Brits. After all, it is more than 500 years since Bordeaux was under English rule.
Kenny Stewart, Head of Private Clients at Bancroft Fine Wines, is unsympathetic. "The Bordelais should be mindful that there are other areas where merchants can direct their customers," he warns, adding that these often yield more lucrative margins. One would be "lucky to make 7.5-8 percent gross margin on Bordeaux before shipping, compared to 21 or 22 percent for Barolo last year," he states.
Johnny Goedhuis, Chairman of Goedhuis & Co, in January referred to an "anti-British feeling" from the Bordeaux châteaux, who had reportedly complained that the UK market didn't buy the 2013s and that the UK press wrote up the vintage badly. He protested, insisiting, "we love Bordeaux; we'd really like to get Bordeaux sales moving again." And there can be no doubting the sincerity of that sentiment, given the measly fraction of wine merchants' revenues now represented by en primeur sales compared to the bumper 2009 and 2010 campaigns.
Following the primeur tastings, Goedhuis demonstrates renewed enthusiasm for Bordeaux and the 2014 vintage. He seems ready to embrace the en primeur system again, arguing that while there may be no point for some seasoned collectors to stock up early, there are "lots of young people now who don't have lots in their cellar, and 2014 is a super vintage for them to buy." It seems that the Bordelais' en primeur message hit home, with Goedhuis observing that, "Bordeaux is probably as cheap as any other great wine region now."
The price is right?
When I quizzed the great and good of Bordeaux on their 2014 pricing strategy, they professed to grasp the gravity of Bordeaux's situation, but when it came down to it, did not seem convinced of the need to lower prices. Lurton ceded that "Bordeaux bashing is a problem", accepting the importance of finding a price conducive to distribution. "We need to win back the UK," he said, continuing "the US is ready to open its arms," and concluding that "Asia is a bit absent". However, like others, he didn't come to the natural conclusion of his own argument, saying instead "there needs to be a little difference versus 2013," by which he meant a price increase rather than a decrease. At least he was refreshingly honest about the reason, saying bluntly that Bordeaux "can't go back to 2008 levels as it would bury the 2013".
Similarly, Onclin accepts the price "must take account of the market as it is at the moment," and yet he doesn't expect any of his neighbours to decrease price on 2013. "I think we can apply a price rise but it must be very reasonable," he rationalises, clarifying, "a little symbolic price rise rather than a real price rise. "Bruno Borie insists that "so many people in Bordeaux make the right price". He asks us to put ourselves in the place of the producer, saying that after three difficult years we shouldn't resent them for trying to make up a bit of ground; the precursor to a price hike if ever I heard one.
Bernard is sanguine, saying "I'm sure we'll find the right price for the Eurozone, and in that case I'm sure that other countries like the US, China, and Japan, will like 2014 a lot more." The weak Euro is just what the Bordelais need, as long as they don't use it as an excuse to charge more. Technical Director of Petrus, Olivier Berrouet put forward a simple and sensible approach, saying "if the prices are intelligent we will have a nice surprise because there is good quantity and the exchange rate helps," caveating any opinion bordering on financial territory with the oft-heard Bordelais protest, "I'm just a farmer."
Turning metal into gold
The most straight-talking of all I interrogated was perhaps Jacques Thienpont, who said, "we need to give a bit of oxygen to the market because the properties made a lot of money recently and the négociants are going to suffer". François-Xavier Borie dodged the question with the wise words, "we're going to see what the négociants say and listen to them". The relationship is symbiotic, with producers relying on négociants to sell their wine, and négociants reliant on producers for wine to sell. Négociants risk losing allocations of wine in a good vintage if they don't pull their weight in a difficult one, a dynamic that has arguably put them between a rock and a hard place in recent years, and allowed the châteaux to get away with artificially high release prices.
Bruno Borie defends the system staunchly, defining an en primeur campaign as "a faithful agreement between négociants and château owners". He accepts that, "probably in this equation you take into account the last three years and the next year," explaining "it's all part of the alchemy". Borie refuses to park any blame with the producers, saying, "I don't think the most speculative châteaux put a pistol to the temple of the consumers and forced them to buy; I think it's a free market."
Sitting on considerable stock from recent years, and presumably under financial strain as a result, négociants are painfully aware of the need for a successful campaign. However, they are also loyal to the producers. In the producers' defence, Mathieu Chadronnier, Managing Director of négociant CVBG, declares, "I know one thing for sure – they want to get it right." He continues, "that does not mean total undiscerning agreement with the UK trade." Chadronnier points out that "everyone played a part" in rising Bordeaux prices, saying pertinently "the UK merchants did buy the 2010." Goedhuis accepts the UK merchants should share some of the blame for spiralling prices, saying "we got carried away by the quality of the vintage, the final few months of the booming wine market and with hindsight should not have accepted the prices of the 2010s." Chadronnier points out that the allocation system extends to them too. "You're going to hear cries and complaints from UK merchants who hardly bought any '11, '12 or '13 and won't be able to get hold of 2014 now we have a fine vintage," he predicts.
"100 percent of the conversation is price, price, price," laments Chadronnier, who feels this misses the real point of Bordeaux and "what makes it desirable." I recognise echoes of his argument in an announcement from CVBG sister company, Dourthe, which stuck its neck out early on during the campaign in an attempt to "re-engage the debate on the subject of real value" of its wines, said CEO Patrick Jestin in the press release. The producer will release its wines, including Châteaux Belgrave and Rahoul, at the same price as 2013, even though "2014 undoubtedly warrants a higher price," according to Jestin.
Boats, trains and automobiles
Perhaps others will follow suit, if this analogy from Bruno Borie is anything to go by: "Bordeaux should be envisioned like an armada sailing out to the ocean all together," he evokes. "We arrive at the opening of the estuary, and there are people who sail a bit too close to the sandbanks, but in the end the entire fleet makes it through," he predicts. Even a firm advocate such as Borie concedes that "maybe there's only a market for 100 wines en primeur" and that the system might have "extended too far".
Bernard also accepts that en primeur is not always the answer. While he insists that the "134 members of the UGCB have made good wines in 2011, 2012, and 2013", he accepts that, "for an amateur there's not much point buying this type of vintage en primeur."
Therefore, "the merchants have to keep the wines in stock until the private collectors are ready to drink them." It's hard to say whether this was an admission of the system's fallibility, or simply a useful counterpoint to his assertion that 2014 is a vintage worthy of acquiring upfront.
Some châteaux have responded by pulling out of a system that is arguably flawed in the light of their specific situation. For example, Lurton withdrew Château d'Yquem from the system as of the 2011 vintage, as a sweet white wine being dragged down by poor red-wine vintages (originally touted as a one-off measure, the withdrawal appears to be permanent and Lurton confirmed the 2014 will not be released en primeur). However, he remains convinced that en primeur is an appropriate route to market for Cheval Blanc, arguing, albeit in a rather defeatist tone, "the train comes by and it's better to put the luggage inside than leave it all on the platform."
Another property that seems to be experimenting with how en primeur can best serve its needs is Château Pontet-Canet. Causing controversy last year by releasing the 2013 unusually early – before the press or trade had had a chance to taste – owner Alfred Tesseron and his niece Melanie are considering the opposite move this year. Both hinted that Pontet-Canet might not release en primeur at all this year. "We will take our time to see how the market goes," said Melanie Tesseron, while her uncle utilised a more cryptic metaphor: "In the fog one drives slowly. It all depends how thick the fog is. And sometimes I don't drive."
System failure
Will Beck and Miles Davis of WAM are vocal critics of the en primeur system, stating in February's report on their wine fund, "We reiterate our belief that the secondary market is the place to purchase Bordeaux currently, not the primary one," reasoning that "it's more mature, often cheaper, and the quality is established." In the following month's report they call for "a proper gesture of goodwill to consumers from the châteaux through the attractive pricing of a decent vintage."
This sentiment resonates with Hong Kong collector Kelly Chang, who says that "If the Bordeaux merchants and producers are clever enough, they will adjust the prices." Chang's first en primeur purchase was the 1998 vintage, and her last was 2010. When I ask if she will be buying 2014 futures, she responds assertively, "Why would I when for that kind of money I could easily buy something I could drink now?"I ask whether lower prices would make a difference, but the response is resolute: "I won't go back."
This kind of backlash seems to present a genuine threat to the en primeur system. And just when the Bordelais were down, their mascot extraordinaire, Robert Parker, announced he was stepping back from his duties as en primeur taster, critic, and provider of three decades of buoyancy and buzz to the Bordeaux market. "I think the Bordelais have more pressure on them than ever," mused Parker at the London press conference where he made the announcement in February, continuing, "they've got three unsold vintages in inventory and they know they've got to lower prices or they're going to have some real issues to deal with that could be long term."
Bemoaning the stream of Bordeaux bashing, Bruno Borie says "everybody is saying the Bordelais are bad boys, but I think we're pretty good boys because we make good wine and everybody is making money along the way. "He makes the valid observation that the trade wouldn't be coming to Bordeaux if they weren't, and there was indeed a good turnout during the en primeur tastings earlier this year. However, this certainly isn't the case for the consumer. Figure 1 shows negative returns on en primeur purchases of 50 of the top Bordeaux wines for the last five consecutive years. Let's see if the 2014 campaign can make Borie's claim a reality for everyone.