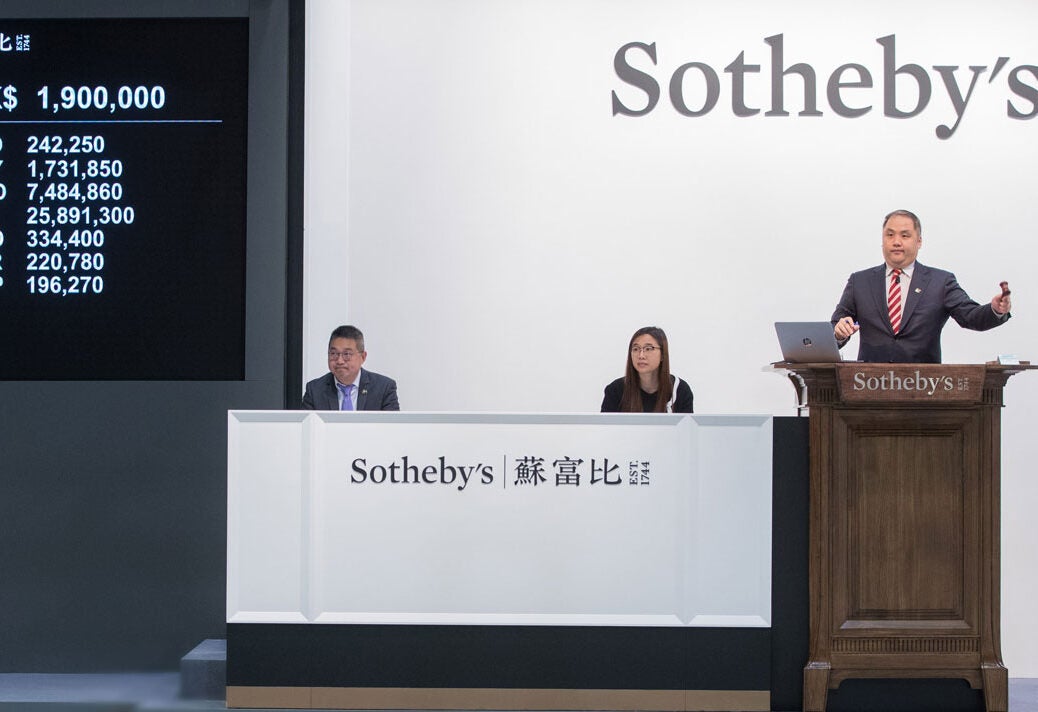 The World of Fine Wine's auctions and secondary market correspondent looks into an uncertain future—not only for wine—before glancing back over the past few months in salerooms
These are unprecedentedly hair raising times for fine wine. A perfect storm of macroeconomic factors means that producers and the trade cannot rely on any of the traditional major fine-wine markets. The UK, the USA, and Hong Kong are all undergoing severe turbulence.
Loop the loop
In the UK, we have Brexit—and perhaps more significantly, we still have uncertainty around Brexit. The British pound has not recovered the 10 percent it lost against the euro in the days after the Brexit vote in June 2016 (17 percent if you take the high of November 2015 as a starting point). Stephen Browett, chairman of UK merchant Farr Vintners, says, "The biggest frustration is not being able to make plans for the future," adding, "With the pound so volatile, it makes an important stock purchase from Europe something of a gamble." When I spoke to him at the start of November, he explained that "we have no idea where the exchange rate will be at the end of the year. It's quite possible that the sterling/ euro rate could be up to 20 percent higher or 20 percent lower than it is today, depending on the outcome of Brexit and the election."
Will Hargrove, head of fine wine at Corney & Barrow is more sanguine, saying, "From a currency point of view, the pound has been so 'rubbish' for so long that [Brexit] will make little difference." He is quick to point out that the 230-year-old UK merchant is geographically diversified, adding, "We are, though, fully committed in Asia (17 people in Hong Kong and five in Singapore), so there is that upside."
Uncertainty and the weak pound are taking a toll on UK merchants, upon whom many wine producers across continental Europe, especially in Bordeaux, have historically been heavily reliant (not least as a stepping stone to Asian markets). This means trying to fill the gap directly with other markets, but Asia currently has its own travails.
Topple tower
In Hong Kong—the indubitable Asian fine-wine hub since duty was scrapped in 2008—riots have now been continuing since June (22 straight weeks at the time of writing). There is talk of normal weekdays but battening down the hatches at weekends, and I wonder if people are drinking less fine wine in China's Special Administrative Region, but collector Agnes Hon says the international wine trade has nothing to worry about. "Those who buy still buy and are the silent majority," she says— and she proceeds to send me a flurry of photographs of incredible wine dinners and tastings from the past couple of weeks in Hong Kong.
However, Guy Ruston, Asia Pacific managing director of BI Wines & Spirits, says, "While the private client space is still very much alive and kicking, albeit that the political situation has created an air of gloom, the China-facing local trade is really suffering." He continues, "Some of those businesses have seen their monthly revenue halve since the beginning of the protests. The welldocumented slump in hotel and restaurant revenue, too, has also significantly affected wine businesses with a focus on the on-trade." Ruston concludes, "Anyone involved in F&B or retail will be hoping for a peaceful and meaningful resolution before Chinese New Year, which is such a crucial business period for Hong Kong."
In the meantime, how about the United States? With very little notice, effective October 18, Donald Trump imposed a new 25 percent tax on most EU wines below 14% ABV. Italy, Portugal, and Champagne escaped this new tariff, but other wine regions suddenly find themselves facing a huge disadvantage in one of their major markets. On a recent visit to Bordeaux, producers and négociants alike looked forlorn. Many shipments that hadn't left the harbor were canceled, but those already on the Atlantic Ocean had no choice but to continue. This left US importers scrabbling to negotiate last-minute discounts with the Bordeaux négociants, in an attempt to share the hit, bringing margins down across the board.
Big dipper
Liv-ex's fine-wine indices saw sharp drops in September and October 2019, leading all three main measures to lose ground over 12 months (fig.1). The biggest loser was the Bordeaux first-growth index, dropping 3.5 percent, followed by the Liv-ex 100 (down 1.8 percent). The broader Liv-ex 1000 lost just 0.4 percent year on year and displayed more volatility than the other two. Its peak in November 2018 was thanks primarily to Burgundy, whereas its recent dip was led by every subregion apart from Champagne, up 1.9 percent in October 2019 and 3.7 percent over the full 12-month period (fig.2). The only other three regions not to see their levels decrease since October 2018 were Italy (up 4.4 percent), Burgundy, and the Rhône.
For the full article, please see WFW 66 2019 Q4