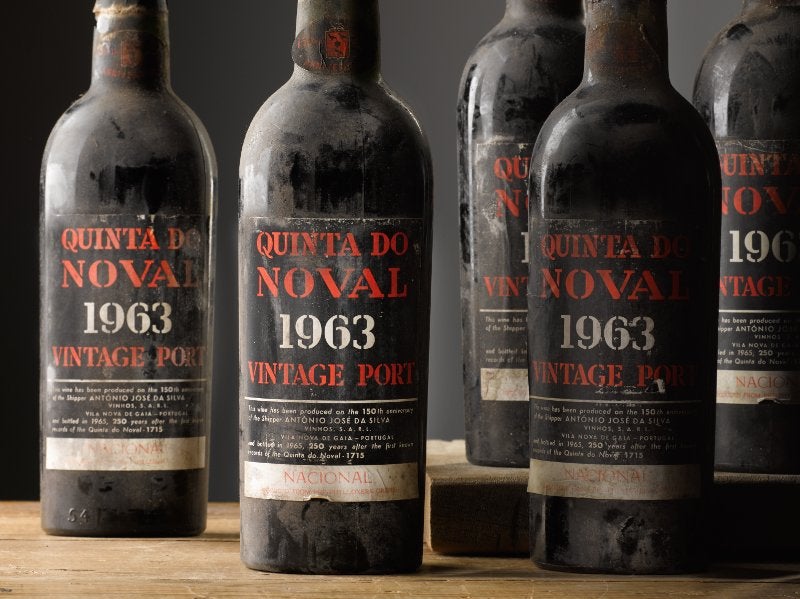 The fine wine market continued to grow—and diversify—in the second quarter of 2018
The second quarter of 2018 saw fine-wine prices rise across the board, by as much as 10 percent when taking a broad measure. This was the case for the Liv-ex 1000 index (fig. 1). Meanwhile the Liv-ex 100 rose by only 3 percent, and the Bordeaux first growths (which make up the Liv-ex 50 index) by just one percentage point more than that.
This continues a trend seen over the past year, whereby a wider range of wines from different regions is outperforming the Bordeaux-heavy basket of wines traditionally considered to be investment grade. Looking at Wine Lister's regional indices, we can start to dig down into which wine regions are buoying the performance of the wider fine-wine market. When we take the strongest five brands across key wine regions, the trajectories of these indices diverge significantly over the past two years (fig. 2).
Burgundy (here represented by five wines from Domaine de la Romanée-Conti) remains at the top?of the pile. This unstoppable region broke away from Piedmont around a year ago, after a 12-month period where the two indices tracked one another more closely, both gaining just over 30 percent from June 2016 to June 2017. Since then, Piedmont has grown at half the pace of Burgundy, but the north Italian region would nonetheless have yielded returns of 50 percent for someone investing in its top five brands over a 24-month period (fig.2).
This is in stark contrast to Bordeaux, Tuscany, and California, whose Wine Lister indices grew by less than half that amount over the two years to June. All three regions have seen price growth slow over the past?12 months in particular. Tuscany?came to a complete standstill, while California and Bordeaux grew by just?5 and 3 percent respectively (fig.2).
Bordeaux's stagnating prices are reflected in the region's falling share?of trade on Liv-ex's merchant exchange platform (fig.3). The region's wines represented 95 percent of trade in 2010, and this figure has been falling steadily year by year. In the first six months of 2018, Bordeaux made up?61 percent of trade. It should be?borne in mind that Bordeaux's decreasing share probably reflects?the broadening scope of the Liv-ex platform rather than being a like-for- like measure of the fine-wine market as a whole, though wine merchants have also reported a decreasing reliance on Bordeaux for their revenues. The king of wine regions still represents well over half of total trade on Liv-ex and far more than any other single region, but signs point to Bordeaux's waning dominance of the fine-wine world.
Auction Update
The second quarter of 2018 saw an unprecedented wine auction: the highest grossing ever. By its very nature a once-in-a-lifetime event, the sale of Henri Jayer's personal collection of the wines he made was held in Switzerland by newcomer auction house Baghera. Following Henri Jayer's death in 2006, his wines have skyrocketed in price as they become inescapably rarer. His two daughters chose to sell his collection, consisting of 855 bottles and 209 magnums, all aged in Jayer's personal cellar until they were removed in preparation for this auction. The sale was 100 percent sold, bringing in CHF34.5 million (around $35 million).
This singular auction contributed to unbounded growth for the wine-auction scene, with Q2 worldwide live-auction revenues totaling $158 million, up 35 percent on the same period in 2017 (fig.4). We had already seen global auction revenues almost double in the first quarter of 2018, and in the last issue we wondered whether this would be sustainable. Thanks to the Jayer auction, positive first-quarter trends continued. (Removing this exceptional result from the analysis, Q2 saw a more modest 5 percent year-on-year increase.)
First-half revenues totaled?$260 million, up 53 percent on the first six months of 2017 (fig.5). For the first time in a long time, the largest growth (145 percent) was seen in Europe, thanks to the Jayer auction held in Switzerland. At $66 million, this was the continent's highest-ever half-year total. (European revenues reached $45 million in H2 2010.) Hong Kong also saw exceptional growth in the first half of this year— growing 60 percent—without Europe's boost from any out-of-the-ordinary sales. US sales grew by 21 percent.
The Jayer auction saw Baghera catapulted into third place in the auction- house rankings for the first half of 2018 (fig.5). Its revenues from the one sale?of just 215 lots allowed it to overtake Chicago's Hart Davis Hart, which averaged a whopping 2,849 lots per auction, of which it held four, spanning nine days in total. Otherwise, the top of the leader board remains unchanged since March, with Sotheby's in pole position and Acker Merrall & Condit in second place. Nearly every auction house increased its first-half live-auction revenues compared to 2017 (fig.5).
The story was a similar one for online auction house iDealwine, whose first-half revenues increased by 33 percent year on year, growing to just under €9 million (around $10 million). Burgundy made up 60 percent of the top 50 most expensive lots sold on iDealwine's platform in the first half of 2018. In many instances, the hammer price was far above estimates—for example, by 42 percent for Domaine de la Romanée-Conti's La Tâche 1990, by 112 percent for Henri Jayer's Echézeaux 1986, and by 150 percent for Domaine d'Auvenay's Bonnes Mares 1999.
Burgundy's ascension is, by now, a familiar story. Rising around 50 percent apiece over the past 18 months, the Wine Market Journal 's Burgundy 50 and DRC indices both far outperformed any other category measured by the wine-auction data company (fig. 6). While DRC prices climbed more quickly than some other Burgundy peers in 2017, the two indices have now come back together as other top names start to catch up.
Jeff Zacharia, president of Zachys, commented of the company's May auction in New York, "In my 35 years in the wine business, I've never seen such a strong market for DRC and other rare Burgundy, and my opinion is that it's going to stay that way for a long time."
Burgundy was also successful at Christie's. Tim Triptree, promoted in June this year to international director of Christie's wine department, said, "Christie's Hong Kong May 25 auction of wines direct from the cellars of Domaine Comtes Georges de Vogüé was 100 percent sold, emphasizing the continued strong demand for Burgundy, as well as ex-producer sales with impeccable provenance." Christie's June 7 auction in London "corroborated the continued strength of Burgundy," observed Triptree, with its top lot—12 bottles of La Tâche 1990—selling for £78,000 against an estimate of £35,000–45,000.
Marc Fischer, managing director of Steinfel's auction house in Zurich, had expected prices to fall slightly, "due to the problems in the euro zone—Italy and the trade wars," but was pleasantly surprised to find that this was not the case. "Prices are still rising," he said, with huge interest "from all over the world, from private and trade clients."
This enthusiasm was echoed by John Kapon, chairman of Acker Merrall & Condit: "This has been the most exciting year I have ever seen; the record-setting pace during the first six months of 2018 cannot be denied," he commented, adding, "The market continues to stay red hot!"
Acker published the top table of brands sold at its auctions in the first half of 2018 compared to the same period a year before. While the report stated "Burgundy on the rise" as a major trend, it is interesting to note that the top 25 actually contains one less Burgundy producer than last year (10 compared to 11). The report also refers to "Bordeaux slipping a bit here, there, almost everywhere," though again it maintains the same number of producers in the top 25 (10, with Yquem replacing Lafleur). The report explained, "Petrus and Le Pin also moved up the ranks, and while market share is being chipped away […] Bordeaux remains timeless and classic, and [its wines] are still the most ageworthy fine wines in the world."
For the full article, please see WFW 61 2018 Q3