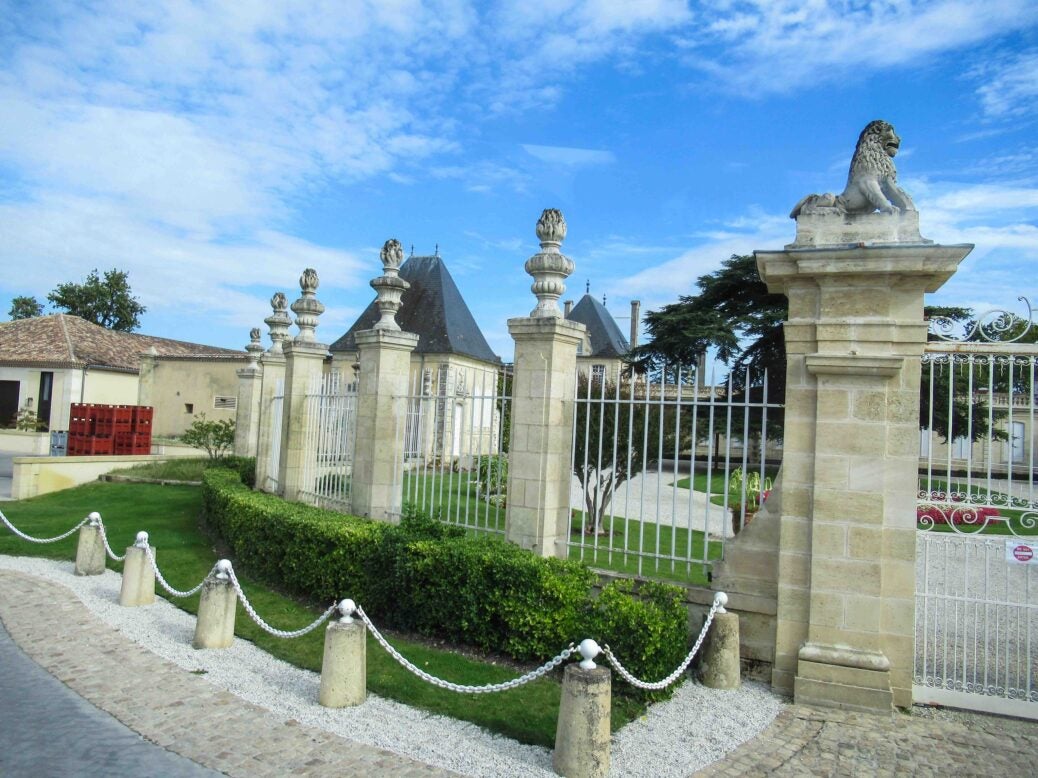 This week, as the 2020 Bordeaux en primeur campaign hots up, The World of Fine Wine is publishing the in-depth analysis and detailed tasting notes of our longstanding Bordeaux critic, Michael Schuster, based on his extensive tastings at the châteaux this Spring.
One of the world's most experienced and respected Bordeaux critics, Schuster has been covering en primeur for WFW for the better part of two decades, and has attended the Bordeaux en primeur tastings for 37 of the past 40 vintages. The 2020 Bordeaux en primeur campaign will be his last, as he concentrates on other projects both within the region and elsewhere.
After Tuesday's introduction to this fine vintage, and yesterday's coverage of St-Estèphe, Pauillac, St-Julien, and Margaux, today we feature Schuster's detailed Bordeaux 2020 tasting notes on the wines of the Haut-Médoc/Médoc/Moulis, Graves and Pessac-Léognan, and Sauternes and Barsac. Tomorrow: the Right Bank.
2020 Belgrave 5ème Cru Haut-Médoc
(53% CS, 44% M, 3% PV)
Faintly wild-rose nobly herbal, the freshly ripe Merlot to the fore? Full, fresh, firmly but finely tannic; a nice richness freshly defined, the Dourthe "very ripe fruit-abundant" signature, with a light gravel background, an almost citrussy freshness, all nicely integrated, and with good fruit-fragrant length. A fine Belgrave. As with all the Dourthe reds, this is typically richly fruit-emphatic, the wines have sufficient structure to age well, and they regularly represent very fair red-Bordeaux drinking value, especially in top vintages like 2020. The 2005 Belgrave, for example, is an absolutely delicious glass at 15 years of age, and with years to go, improvements to come.
2025–40+. 91–92
2020 Château Cantemerle 5ème Cru Haut-Médoc
(58% CS, 29% M, 7% CF, 6% PV; 70% harvest; 13.5% ABV; 40% new)
A red-fruit fresh, vivid, and minerally nose; elegantly balanced medium-full wine, lively, very finely tannic, a perfectly proportioned Médoc; sweetly red- and black-fruit ripe, clear in mineral aromas, with tannins so silky as to be almost imperceptible; a lovely, rich yet restained classic style, packed with flavor, long, graceful, effortless, refreshing, and with gorgeous black-fruit sweet persistence. You sense the richness conveyed by the now old vines, planted in the early 1980s when the property was the first to be purchased by an insurance company. A great success, and likely to be great value. What a wine on which to finish a career for Philippe Dambrine, director since those early days! 2026–46+. 91–93
2020 Château Charmail Cru Bourgeois Haut-Médoc
(35% M, 40% CS, 15% CF, 10% PV)
Mid-color; fresh and fragrant to smell, raspberry-sweet, and lightly mineral; full, fresh, firmly tannic; red-fruit ripe, with a nice density, tasty, sapid wine, good length of flavor and aftertaste, which will make for a most attractive glass. Quite structured for Charmail, but that said, it should be delicious relatively early. 2025–40. 90–91
2020 Château Chasse-Spleen Cru Bourgeois Haut-Médoc
(49% CS, 42% M, 6.5% PV, 2.5% CF; 13.5% ABV; 40% new)
Mineral and red-fruit nose; medium-full, moderately concentrated, fresh in acidity, a very fine dry tannin, an overall supple texture, easy, flowing, fresh red fruit flavor, nicely sustained, with good light scented length to follow; typical Chasse-Spleen, not big, but very good beverage claret without being grand. A sort of lighter version of 2016 in style. Likely to be accessible early. 2024–34+. 89–91
2020 Goulée Haut-Médoc
(90% M, 10% CS; 46hl/ha; 13.17% ABV; 20% new)
Very Merlot-floral and gently plummy to smell; medium-full, nice concentration, fleshy, fresh, delicately tannic, a really lovely balance; long and succulent and Merlot-juicy, with lovely length to follow. Great success, this will make a delicious drink from not long after bottling. Complete, a beauty, a real bon bon, and likely to be very good value, too. 2023–33+. 90–91
2020 Château La Lagune 3ème Cru Haut-Médoc
(65% CS, 30% M, 5% PV; 65% harvest; 35hl/ha; 14% ABV; 50% new)
Fresh black fruit and minerals, very pure, fresh and fine; concentrated, vital, finely tannic, in the slightly crisper style of some Left-Bank wines of the year; freshly ripe, rather than "sweet" as such, dense with an almost salty sapidity, and with a superfine tannic frame, a sort of close-knit velvet texture; compact, distinctly minerally aromatic, and with terrific persistence. A pure, classy, very individual and beautiful wine of great finesse. 2030–50+. 93–94
2020 Château Larrivaux Haut-Médoc
(57% M, 27% CS, 9% PV, 7% CF; 45hl/ha; 13.5% ABV)
Mineral and gravel nose; fresh, medium-full, finely tannic, an excellent balance; a juicy core, sweet and fresh, moderate complexity, a succulent sense of Merlot flesh and a lovely texture; long and even and harmonious, with a nicely perfumed fruit length. A delicious Haut-Médoc, complete, elegant, classy. Owned and made by Bérangère Tesseron, wife of Lafon-Rochet's Basile. Likely to be excellent value. 2023–35. 90–91
2020 Château Mauvesin-Barton Moulis
(59% CS, 35% M, 6% CF; 12.65% ABV; 33% new)
Deepish purple; dense, aromatic, faintly gravelly, a very nice nose; crisp medium weight, with the typical vital acidic edge of many Left Bank wines (partly also the Barton style of picking when "just-ripe" rather than "very ripe—overripe," as they would say). Even and refreshing, an attractive tauter style, crisply red fruit to taste, a nice length of flavor at the level, and good length of finish, too. Classic, mouthwatering, lighter claret. 2024–30+. 88–90
2020 Château Potensac Médoc
(44% M, 33% CS, 22% CF, 1% PV; 14% ABV; 20% new)
Fresh and lightly mineral; a very nice moderately rich balance, fresh in acidity, lightly tannic; elegant, restrained, light dry claret; dry-yet-ripe, with a good fruit core, lightly gravelly, moderate scope, and good length; not big, but harmonious, and an excellent mid-rank Left Bank Bordeaux. 2025–35+. 89–90
2020 Chapelle de Potensac Médoc
(75% M, 20% CS, 5% CF; 13.8% ABV)
Crisp and minerally to smell; fullish, fresh, moderate in concentration, very light in tannin, very nicely balanced; ripe, fresh, supple, and gently gravelly, with good light length. Easy, refreshing, limited but very nice lesser Merlot-based Left Bank wine. Accessible very soon, and a delicious entry level, quality Bordeaux. 2023–30+. 88–89
2020 Château Poujeaux Cru Bourgeois Moulis
(54% CS, 40% M, 6% PV; 34hl/ha; 13.5% ABV; 33% new)
Brisk blackcurrant Cabernet and gravel to smell, classic and quite classy; full, fresh in acidity, very fine in tannins; quite dense to taste, with a very nice impression of gentle Merlot fat (plenty of it this year), a juicy fruit core, and nice length across the palate and to finish. Lovely balance. Classic in the best sense, and likely to be deliciously drinkable relatively soon. No lack of class and scope. 2028–30+. 89–91
2020 Château Sénéjac Cru Bourgeois Haut-Médoc
(54% CS, 34% M, 6% CF, 6% PV; 33hl/ha; 13.88% ABV, 30% new)
Ripe red and black fruit and subtle mineral impressions; fresh to lively, elegant midweight of moderate concentration and fine-grain tannins, a very nice, fresh, medium-weight balance; refreshing, red fruit-flavored mid-rank Bordeaux, lightly aromatic, with good core fruit and length. Classic Sénéjac: pretty, floral, appetizing. Will be delicious in 3 to 4 years. 2025–35+. 89–90
2020 Château Sociando-Mallet Haut-Médoc
(53% M, 46% CS, 1% CF; 42hl/ha; 90% new)
Rich blackberry to smell along with the gravel element; rich, vivid in acidity, firmly tannic; not a big wine, but packed with flavor, long and close-grained to taste, a typically firm tannin, but matter and scope, a classic, firm, dry, traditional claret, linear, gravelly, with lovely fragrant length. Elegant and complete. The acidity may be a touch piquant for some tastes, at least early on. 2028–40+. 90–92
2020 Château Sociando-Mallet Cuvée Jean Gautreau Haut-Médoc
(75% CS, 25% M)
One cuvée of best Cabernets and Merlots, 4,500 bottles. Originally the idea of Jean Gautreau himself. Rich, tannic, vital wine, finely muscular; sweet-cored and richer in flesh than the regular Sociando, oaky and aromatic, fairly long-term tannic. Very good, if not that much better than the standard wine. 2034–44+. 92–93
2020 Château La Tour Carnet Haut-Médoc
(60% M, 40% CS)
Slightly raisiny ripe to smell; fullish, fresh, moderately tannic, sweet and juicy but in a firmly tannic frame for the fruit presence behind, which coarsens the wine a bit, then fairly oak extract-dry to finish. A fairly chewy style. 2025–25. 87–89
2020 Château Carbonnieux Blanc Cru Classé
(65% SB, 35% SM; 42hl/ha; 13% ABV; 25% new)
Pale yellow-gold; light, floral, fragrant Sauvignon; very nicely balanced, supple, fresh to lively; rich, dry, vital, a very sappy Sauvignon flavor, with a lively defining acidity, long and linear and fine, elegant, restrained, subtly mineral in aromas, with a lovely length of flavor and aromatic persistence. This has a wonderful fruit, and should age beautifully. For the second year running, a fine white Carbonnieux. The wonderful 2019 (retasted in April 2021, just after bottling and just as exciting as a year ago) was made by a Perrin for the first time, Eric's son Andrea. Andrea has winemaking experience in Burgundy, the Rhône, and Argentina, but wherever it had been, he clearly has "winemaking hands and palate"! So, his presence is great news for the family, the terroir, and the wines. (After considerable Premox problems, the white has been bottled under Diam for several years. But they are thinking of bottling some 2020 under cork again because of a very reductive fermentation. Only time would tell whether that were wise!) 2022–35+. 92–93
2020 Domaine de Chevalier Blanc Cru Classé
(70% SB, 30% SM; 43hl/ha; 13.5% ABV; 35% new)
Pale gold; peach and new-oak cedary at the moment; fairly full, freshly defined, moderately concentrated, long and fine to taste, if without quite the vitality of some over the past decade; beautiful, elegant, suave, and polished wine, which will be accessible early but doubtless has decades in hand—all the more so since these are now bottled under Diam. 2025–45+. 93–94
2020 Château de Fieuzal Blanc Cru Classé
(60% SB, 40% SM; 13% ABV; 25% new)
Plump melon and guava to smell, with a subtle oak-vanilla; rich, fresh to lively rather than vital, but with a sufficient acidity nonetheless; plenty of matter, ample in proportions, generous in flavor, deep and vivid, a real sense of "sap" and with fine aromatic persistence. 2024–36. 90–93
2020 La Garde
(65% M, 34% CS)
Sweetly ripe to smell, and gently oaky; full, fresh, firmly but finely tannic; crisply sweet to taste, an easy, flowing character, juicy, moderate in scope, and with good length. Attractive matter and abundant ripe fruit, very nice in its modern, juicy style. 2025–35+. 90–91
2020 Château Haut-Brion Blanc 1er Cru
(71% SB, 29% SM; 14% ABV)
Pale yellow, cloudy; like the La Mission blanc, discreet and closed, with ripe guava being the principal impression, and the Sauvignon very "mute"; full, relatively supple, with adequate acidity, but clearly in a softer, hot-year style, gently mouthfilling, fairly complex and long to taste, but considering what it can be, and often is, this lacks real race and drive on the mid-palate, but has excellent, Sauvignon Blanc-fragrant length. Good, of course, but some way from a grand vintage (like 2017 or 2014). This will likely age gracefully—the 1982, drunk recently, was wonderful at nearly 40 years—though that would not, I think, have been 14% ABV. 2028–40+? 92–94
2020 Château Larrivet Haut-Brion Blanc
(83% SB, 17% SM; 13.9% ABV)
Subtly Sauvignon grapefruit and guava; full, fresh, plump, fleshy, graceful, and gently racy dry white, with delicious fruit; very Pessac-Léognan restraint, long, complete, sappy, and moreish. Drink young. Now to 2026. 89–90
2020 Château La Mission Haut-Brion Blanc Cru Classé
(55% SB, 45% SM; 13.8% ABV)
Pale, cloudy; discreet nose, delicately ripe Sauvignon, but lacking a little Sauvignon Blanc vitality; full, broad, supple wine, with a moderate supporting acidity; dry, ample, mouthfilling, with a gentle raciness, a touch of warmth, and subtle oak-cedar aromas, and with fine aromatic length. But this is just lacking a bit in the excitement, scope, and definition it usually has. Refined and very attractive, of course, but not grand. Probably better drunk earlier rather than later. 2025–35? 92–93
2020 La Clarté de Haut-Brion Blanc
(75% SM, 25% SB; 13.4% ABV)
Pale, cloudy; slightly reduced and fairly closed; full and supple; dry, broad, and very Semillon in style, guava and melon core-flavor, pure, with a nice concentration, good length across the palate, if not the vitality and "race" of a vintage like the 2017 or 2014, for example, and with nice aromatic persistence. You do taste the vintage here, at least in this locale and with these winemaking choices. It's good, and it is nicely balanced, but it lacks a bit of tension and drive. To drink relatively young. 2023–30. 90–92
2020 Château Malartic Lagravière Blanc Cru Classé
(72% SB, 28% SM; 31hl/ha; 14% ABV; 65% new)
Fresh and very Sauvignon to smell; full, rich, fresh; within its generous style, this is gently gravelly in aromas behind the characteristically juicy fruit core but, as in 2019, it is less broad and plump than hitherto, and there is more emphasis on definition and finesse. Very nice fruit and mineral persistence. 2024–34+. 90–91
2020 Château Pape Clément Blanc
(67% SB, 30% SM, 3% SG)
Pale gold; rich, supple wine, moderate in acidity; dry, broad, quite mouthfilling, but lacking real vitality; plenty of matter, moderate length across the palate, and modest in scope and definition for its status. Good light length to finish. Good wine, of course, but not a top PC Blanc. 2024–30+. 90–91
2020 Clémentin de Pape Clément Blanc
(78% SB, 20% SM, 1% SG, 1% MUS)
Attractive, lively Sauvignon Blanc nose; nicely concentrated, supple yet fresh enough; dry, Sauvignon-vital, gently sappy, with a nice length of flavor and a reasonable finish. Good rather than exceptional second wine. Drink young. 88–90
2020 Château Carbonnieux Cru Classé
(60% CS, 30% M, 5% CF, 5% PV; 40hl/ha; 14.5% ABV; 40% new)
Black-fruit ripe, but with the gravel aromas still there, too; rich, lively, finely tannic,
a very nice balance; abundant in fruit, mineral-backed, long and juicy, with a freshly defining acidity, and a very fine tannin texture, intense in flavor, a touch of "super ripeness" and alcohol warmth, but complete, long, and mineral to finish, and very good. One of the best Carbonnieux reds for years. 2028–38+. 91–92
2020 Château Les Carmes Haut-Brion Cru Classé
(40% CF, 34% CS, 26% M; 38hl/ha; 13.65% ABV; 80% new)
Dense, sweet, florally fragrant, very lightly minerally; full, fresh, finely but firmly tannic; long and compact, both juicy and linear, pure, transparent-yet-dense, with a succulent, brisk ripe red and black fruit, very long across the palate, effortless, finely defined and tightened by its acidity and tannin; there is a wonderful freshness and vitality here, alongside a very gentle defining texture, and then gorgeous length, particularly perfumed in its persistence. Gorgeous wine, understated but very complete. So fine-textured, it will be accessible fairly early, but keep and develop beautifully, too. 2028–50+. 93–94
2020 Domaine de Chevalier Cru Classé
(65% CS, 27% M, 5% PV, 3% CF; 38hl/ha; 13.5% ABV; 35% new)
Dense, tight, closed at present, but mineral, persistent, and fine to smell; rich but restrained, vital in acidity, very fine in tannin; a refined, poised, classy wine, long across the palate, packed with fresh, ripe red fruit, subtly infused with gravel aromas, graceful and very persistent. Another very fine Domaine de Chevalier red. 2028–50+. 93–94
2020 Château de Fieuzal Cru Classé
(55% M, 35% CS, 10% PV; 13.5% ABV)
Densely ripe, black-fruit nose, stylish, subtly mineral; elegantly restrained balance;
a rich middleweight, fresh in acidity, very fine in tannins; long and graceful in a 2020 ebulliently fruity style, particularly ripe and generous from the highest proportion ever of Merlot, stylish, aromatic, succulent, and fine, and with lovely fruit length, too. 2026–40+. 90–93
2020 Château Haut-Bailly Cru Classé
(52% CS, 42% M; 14.3% ABV)
Closed, minerally to smell, with a great finesse; full, supple yet fresh, and very fine in tannin, an effortlessly beautiful balance; long and graceful, very Haut-Bailly in style, full of soft, sweet, freshly ripe fruit, long and subtle across the palate, and with wonderful fragrant length. A gloriously complete wine of great class. Power and delicacy, great beauty in a particularly discreet style. First-growth quality and refinement, an illuminating tribute to the splendid new chai. Likely to be accessible early, but offer decades of pleasure. 2028–50+. 94–96
2020 Haut-Bailly II
(54% M, 46% CS; 13.9% ABV)
Softly rich and plummy to smell, subtle, fine, and persistent; full, with a very fresh impression, particularly fine in its tannin; long, even, elegant, and restrained, ripe red and black fruit in flavor, lightly gravelly in the background, long across the palate and on the finish, even, effortless, lovely! 2024–34+. 90–92
2020 Château Haut-Brion 1er Cru
(43% M, 40% CS, 17% CF; 15% ABV)
A fine, discreet nose, the first in the Haut-Brion group of reds where there is the merest hint of "gravel" origin in the smell behind the crisply sweet cassis aromas; full, concentrated, finely tannic, and freshly defined; vibrantly sweet, long and complex in its fruit core, racy and aromatic (the terroir's class will out!); there is a considerable richness of fruit here, and great subtle length across the palate, followed by splendid persistence to finish. Elegant, aristocratic, poised, even at 15%, the location's class is all there but in a forte, almost fortissimo rendering. Clearly a very fine Haut-Brion in its current "high-alcohol" style: silky rich, sweetly ripe, fleshy cored within the fine, slightly alcohol-dried and harshened tannins. Will that texture ever mellow completely? Impossible to say at the moment. 2032–50+. 95–98
2020 Le Clarence de Haut-Brion
(60% M, 32% CS, 8% CF; 15.2% ABV)
Ripe blackberry Merlot to smell; full, moderately concentrated, firmly but finely tannic; a refined and relatively delicate core of fruit here, sweet and fresh, with the alcohol presence distracting a bit from its finesse, but behind that, this is long and graceful, with excellent sweet fruit persistence. The somewhat "dryhard" tannin texture distracts a bit, which it would not do at 13.5% ABV, for example. A refined, freshly sweet, graceful wine, successful in the style, if not so obviously Pessac-Léognan in origin any more. 2028–38+. 92–93
2020 Château Larrivet Haut-Brion
(58% CS, 29% M, 13% CF; 13.4% ABV)
Fruity and mineral to smell; full, fresh, finely tannic, remaining very Pessac; elegant, restrained, while fairly compact, too, in the style of much of the year; silky tannins, freshly red fruit ripe, pure, moderately complex, and with very good length. Not a big wine, but quite refined, and very nice. 2024–34+. 89–90
2020 Château Malartic Lagravière Cru Classé
(50% CS, 48% M, 2% CF; 26hl/ha; 14.2% ABV; 65% new)
Very ripe black and red fruit, but you can sense the gravel aromas, too; lovely balance, rich, fresh, finely tannic; ample and deliciously juicy, with a nice length of flavor, and with a lovely fruit-cored persistence, all within the refined frame of firm tannin. Lovers of Malartic's ebullient style need have no concerns; the up-front generosity is still there, but the fruit is a touch fresher, the presentation has been tightened, tautened, refined, it is an adjustment of focus, not a change of image.
2025–40+. 90–92
2020 Château La Mission Haut-Brion Cru Classé
(49% M, 42% CS, 8% CF; 14.7% ABV)
Ripe blackberry and cassis-sweet and finely oak-tinged to smell; the merest hint of raisin?; rich and concentrated, defined by a fresh to vital acidity and firmly but finely dry in tannin; refined core fruit, long and close-grained and gently mouthcoating, the "gravel" element is hardly apparent any more, and the firm 2020 tannins are a bit hardened and dried by the nearly 15% alcohol; its overall balance and "frame" apart, this remains refined and subtle, long in the mouth, with excellent fragrant fruit length. I would no longer recognize it as LMHB blind. Which is not to say that it is not good wine, just that it now tastes rather more of its climate than its soil. Will that change with bottle age? Who knows. It is said that always "terroir will out"—let's hope so! The alcohol just gives a slighly hard dryness to the overall texture, and the ripeness masks the "cooler" (soil-based?) aspect of terroir. All that said, this remains a classy wine … but vitiated in some sense? Subtle, complex, racy, complete. But no longer Pessac-gravelly! 2032–52+. 94–95
2020 La Chapelle de la Mission
(55% CS, 45% M; 14.3% ABV)
Exuberantly, freshly sweet ripe cassis fruit; nicely balanced, full, fresh, very fine in moderate tannin (clearly very careful extraction); fresh, restrained, elegant wine, a touch wood-dry (alcohol-hardened?) in texture, but with a very nice length of flavor and typical overall "house" restraint, plus a long, warm, sweet-cored aftertaste. Excellent Chapelle in this slightly hotter / harder style. 2030–40+. 90–92
2020 Château Pape Clément Cru Classé
(50% CS, 50% M)
An abundance of ripe black fruit to smell, right on the edge of raisiny; full-bodied, vigorous in acidity, firm in tannin, quite fine but making for a muscular impression and balance; intense flavor, strong and deep within its tannin frame, a light gravel impression behind the mass of fruit, quite long to taste and with good fruit persistence. A very particular style, that of the hot vintage plus fairly extracty winemaking. A solid, powerful, sinewy, low-yield wine. There is clearly a fine fruit core within the substantial framework, but little of the gravel aromas that are often there. This seems a bit old-fashioned in style in today's winemaking context—none the worse for that, but worth observing. Needs a decade minimum. 2030–50. 90–93
2020 Clémentin de Pape Clément
(66% M, 30% CS, 4% CF)
Dense; lightly but clearly gravelly nose; rich, powerful, vital wine, firmly but not coarsely tannic; deep, very sweetly ripe in flavor, quite strong, on the muscular side, with moderate complexity, and good light length. A solid second wine, accessible relatively early in its chunky way, but will keep and develop over a decade and more. 2024–34. 89–90
2020 Le Pape
(80% M, 20% CS; 13.9% ABV)
Both sweetly, freshly ripe and also gravelly mineral, too; fullish, fresh and crisp and juicy, bright red and black in fruit, with a nice length of flavor and an excellent aromatic profile for the wine; elegant, contained, very Pessac. Particularly complete for Le Pape. Drinkable early, but will age very nicely. 2025–35+. 89–91
2020 Château Smith Haut Lafitte Cru Classé
(65% CS, 30% M, 4% CF, 1% PV; 40% GV; 14.5% ABV; 60% new)
Crisply red and blackcurrant ripe; elegant and beautifully contained within its large scale, wears its alcohol with great ease. Long, refined, and complex, aromatic, elegant, complete, and impressive, a beautiful performance. And remains very Graves in its gravelly, minerally character. A sort of finer 2010? Lovely. 2028–40+. 93–94
2020 Clos Haut-Peyraguey 1er Cru
Mid-gold; rich and honeyed to smell; an elegantly balanced mid-weight, fresh, sweet but not markedly so, a hint of complexity, a nice length across the palate, and good length to finish. Clearly a good, but not an exceptional, expression. Succulent, restrained, quite stylish. 90–91
2020 Château Coutet 1er Cru
Pale lemon-yellow; fresh, fine, honeyed, well-defined, with the characteristic hint of limestone minerality; medium-full, fresh wine; sweet, refined, but with very limited concentration and botrytis complexity, a moderate length of flavor for the cru, attractive, but limited for Coutet, and with good, light length to finish. Class, yes, but a "slender" aperitif style. Likely to age gracefully but always at this mezzo-piano dynamic. 91–92
2020 Château Doisy-Daëne 2ème Cru
Pale gold; fresh honey and lemon nose; medium-full, fresh, medium-sweet; a light botrytis complexity here, but the overall impression is of a fresh, elegant, stylish wine, limited in scope, but also with very nice length. A slender, fine, and very attractive aperitif style. 91–92
2020 Château Doisy-Védrines 2ème Cru
Pale gold; honey and wax and citrus-fruit rich to smell; medium-full, moderately concentrated, fresh enough; sweet, straightforward, pleasing, but very limited in botrytis concentration and complexity, nonetheless, lively and lemony and aperitif pleasing. 89–90
2020 Château de Fargues
(13.5% ABV; 130g/l RS)
Deep gold; citrus- and pineapple-vital to smell; elegant, moderately concentrated, fine and racy; sweet without being intensely so, silky textured, restrained, delicate, lively, charming, with a light botrytis complexity and good light length. As with so many 2020 Sauternes, delicacy and charm rather than size, scope, drama. All that said, this is a very nice bottle in prospect. 92–93
2020 Château Raymond-Lafon
(13.4% ABV; 137g/l RS)
Orange-gold; gentle and honeyed nose, pure rather than complex; medium-full, fresh to vital; sweet, lively, elegant, very nicely defined midweight Sauternes, gently racy, not grand and without the real botrytis complexity and length of a fine vintage; but some fat here, and silk, and freshness, and good length. Charm, not grandeur. 91–92
2020 Château Suduiraut 1er Cru
(100% SM; 137g/l RS)
Picked late, over the last two weeks of October and the first week of November, this is 100% Semillon, with a very pure botrytis, and is surprisingly fresh in impression, even if the acidity is not high (the pH is 4), meaning the actual acidity is relatively low for a Sauternes. Orange-gold; intense, fresh, honey and citrus nose; concentrated, nicely defined by its (moderate) acidity, sweet (but not exceptionally so), tight, complex, and racy, long and elegant and fat yet contained, with a great tenacity of flavor, and great botrytis-spiced persistence. Elegant, classy, complete. Perhaps a slightly more slender expression of Suduiraut in its recent context, but this is gorgeous: a rare, top-notch 2020 Sauternes. 92–94
2020 Château La Tour Blanche 1er Cru
Pale orange-gold; a quite intense, dried-fruit character suggests a little botrytis on the nose, complex and persistent to smell; moderately rich, fresh, some concentration and an overall attractive, if lighter, Sauternes balance; sweet, a nice gentle complexity, some spice and light length. Clearly some botrytis here, and one of the richer wines for the year, but this, too, is a pleasing aperitif style, and notably limited for the cru. 90–91