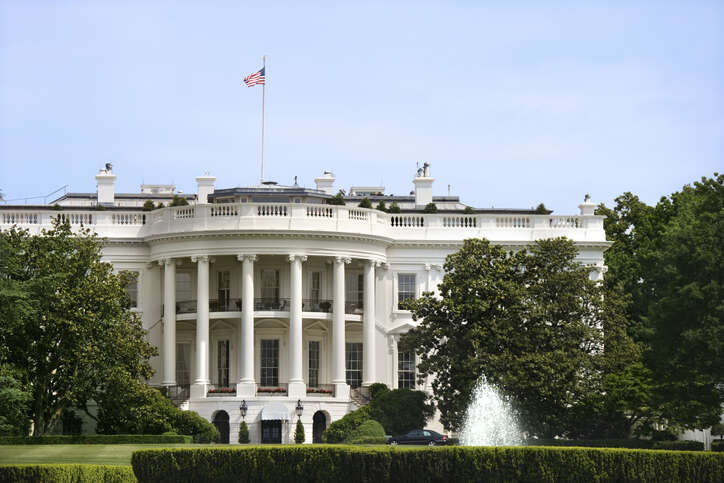 Kathleen Burk reviews Wine and the White House: A History by Frederick J Ryan, Jr.
The long-ago origin of this book is a touch unexpected. When the author was an undergraduate at UCLA, he carefully planned a first date that he knew would sweep the chosen woman off her feet. He booked a table at a very fashionable restaurant in Hollywood. He ordered prime rib for both of them—but then came the sommelier. He knew that he should order a Bordeaux wine, but he had little idea how to pronounce the names. Nevertheless, he decided that he could cope with Château d'Arche, and proceeded to order a bottle. The sommelier suggested several alternatives, but he firmly insisted that this wine would be a perfect pairing with the beef. The bottle arrived, and it turned out to be a sweet Sauternes. His date was not impressed, a promising romance died, and he decided that he had best take wine more seriously.
Several decades later, after a lot of visiting of wineries, tasting, and co-founding a winery in California, he has ended up a noted connoisseur. He served in the White House during the tenure of Ronald Reagan, a former governor of California who knew and enjoyed wine, and is currently the publisher and CEO of the Washington Post. Combining as he does a love of wine and of the history of the American presidency, as well as being Chairman of the Board of Directors of the White House Historical Association, he was clearly fated to write this book.
It is quite a book. It is 456 pages of thick, glossy paper which are covered with full- and half-page color photographs, gorgeously produced, and weighing nearly six pounds (2.7kg). Only a weightlifter could read it in bed, and reading it in a comfortable chair in the drawing room with the book resting on the lap can in fact be uncomfortable. Most of us will need a desk or table, ideally with a glass of wine to hand. It is a pleasure to say that it is eminently worth reading, much too good to be referred to as a coffee-table book.
The presidents and their wines
It consists of seven chapters, focused on the presidents and their wines, the selection, service and storage of wine, a bit of history of wine in America, photographs of the White House wine and decanter collection through the decades, a history of presidential toasts, 100 pages of the menus for White House occasions, and a catalogue of all of the vintages served at the various presidential lunches and dinners since 1953, listed by administration. Set out baldly, the chapter titles are unlikely to send the pulse racing, but the contents are so interesting that as time passes, the pages keep turning.
The first chapter is a trot through the individual presidents and their wines. George Washington, a noted Madeira man, tried to grow proper wine grapes on his estate at Mount Vernon as did Thomas Jefferson at Monticello. Sadly, all of the vines were killed by native diseases caught from native vines. Thomas Jefferson was a distinguished wine connoisseur, recognized as such in both America and Europe. During the eight years of his term of office, he himself purchased 20,000 bottles of wine, and, indeed, supplied wine to the White House cellar for five administrations, including the top Bordeaux, Burgundy, and Rhône wines—he considered a particular white Hermitage the greatest white wine in the world.
A majority of presidents enjoyed wine, but not Rutherford B Hayes (1877–91). He and his wife were of the temperance persuasion. After being strongly—desperately?—urged, he agreed to provide wines at his first official dinner, given for the Grand Duke Alexis, the son of the Russian czar. Six different wines were provided, but alcohol was never again served while he remained president, a deprivation matched only by Prohibition from 1920 to 1933.
Festooned with wonderful stories
The book is festooned with some quite wonderful stories. One of my favorites is about Richard Nixon (1968–74), a man deeply devoted to fine French wines, particularly to the Bordeaux First Growths, and especially to Château Margaux. People in the know soon referred to his practice of "pulling a Nixon": He had a specially designated wine waiter who poured the great wines being served on the occasion—at least according to the menu—with a napkin concealing the label, while all of the guests were served more ordinary wines. It would be interesting to know whether, at the State Dinner on February 4, 1970 in honor of President Pompidou of France, Pompidou was allowed to share the Puligny-Montrachet 1966, the Château Ausone 1962, and the Louis Roederer Cristal 1962 with Nixon.
Selection, storage, and service at the White House
I very much enjoyed the chapter on the selection, storage, and service of wines. At the outset we are presented with a photograph and detailed transcription of a letter from Jefferson written to a wine merchant from whom he had bought wines and who had written to Jefferson asking for his advice on the quality, prices, and sources of top European wines. His insights are wide-ranging and percipient, and any reader of The World of Fine Wine would find many of his comments very interesting: What are the best Burgundian wines, red Bordeaux, Champagne, and Moselle [sic] and hock. An architectural drawing of the President's House (its name before it was burned down) shows where the cellar was situated; the following photograph shows that of the cellar today. It is much smaller, holding only 300 bottles, since the White House now works on a "just-in-time" system. A photograph on the same page of the British Government's cellar in London emphasizes the difference between the sizes of the two.
The most fascinating part of this chapter is written by Daniel Shanks, the First Food and Beverage Usher, which is entitled "White House Wine Service: A Choreographed Ballet." This describes in some, but not too much, detail about how wines are selected and served, and all of the many factors that need to be taken into account. For example, when the dinner is intended to honor foreign visitors, Shanks locates and serves American wines that are somehow related to that country, such as a winery or winery owner. At a State Dinner for President Felipe Calderón of Mexico in 2010, the White House served Valdez Chardonnay, Herrera Cabernet Sauvignon 2006, and Mumm Napa Carlos Santana Brut, all made by winemakers who had emigrated from Mexico, started with entry-level jobs in wineries, and now create their own award-winning wines. On the other hand, in 1951, before the time of Shanks, President Truman served a sparkling Burgundy to the Prime Minister of Italy, Alcide De Gasperi.
Two interesting points: First, wines served are "generally full-flavored and easy on the palate with wide appeal," and over the years he has ascertained that Chardonnay is the favored white varietal while Pinot Noir is the red; and second, it was the case over the four administrations for which he worked that it was the First Ladies who directed the choice of wines. "From Hilary Clinton, to Melania Trump, the first ladies I served enjoyed wine with meals, often preferring wines with character and depth" (p.120). And if you want to know details about how to serve 130 guests unobtrusively and with ease and care, this is the place to turn to for instructions.
Drinking and toasting American
The chapter on presidential toasts is of mixed interest, although the story of the State Department's "recommendation" of a three-minute limit in the early 1980s is amusing. During the 1978 State Visit of Marshal Josip Broz Tito, he provided to President Carter and the assembled guests a 40-minute disquisition on his views of the international political scene. The following year, during President Carter's visit to Mexico, President José López Portillo, the Mexican President, began with a wide-ranging indictment of the US; Carter responded with a reference to Montezuma's revenge. The State Department had had enough.
The selected 100 menus enable the reader to chart the different fashions in food and wine, with certain of the presidents standing out for their differing interests. But for those who like detail, the final chapter is a catalogue of vintages, which is curiously riveting. Lyndon Johnson, after using up most of the remaining wines left over from the Kennedy Administration, was the first president who instructed that American wines be served. Nixon turned back to choosing primarily French wines, while Ford swung back to serving American wines, including the first wine from his native state, Michigan. Thereafter almost only American wines have been served. Reagan highlighted California wines, about which he was quite knowledgeable, and, up to now, wines from roughly a dozen states have been served, although admittedly 90 percent are from California.1
The research has been wonderfully wide-ranging and detailed, which I assume can be ascribed to the Researcher, Elizabeth Routhier. Yet the organization of the material and the topics were presumably decided by Ryan. His writing is very engaging and flows seamlessly, and it turns what could have been a turgid book into a most enjoyable read. I certainly enjoyed it.
1. Wines from California were first served in 1961, from New York in 1967, from Michigan in 1974, from Washington in 1975, from Illinois in 1976, from Texas in 1987, from Idaho also in 1987, from Virginia in 1989, from Oregon in 1995, from North Carolina in 2002, from Arizona in 2006, and from Missouri in 2008.