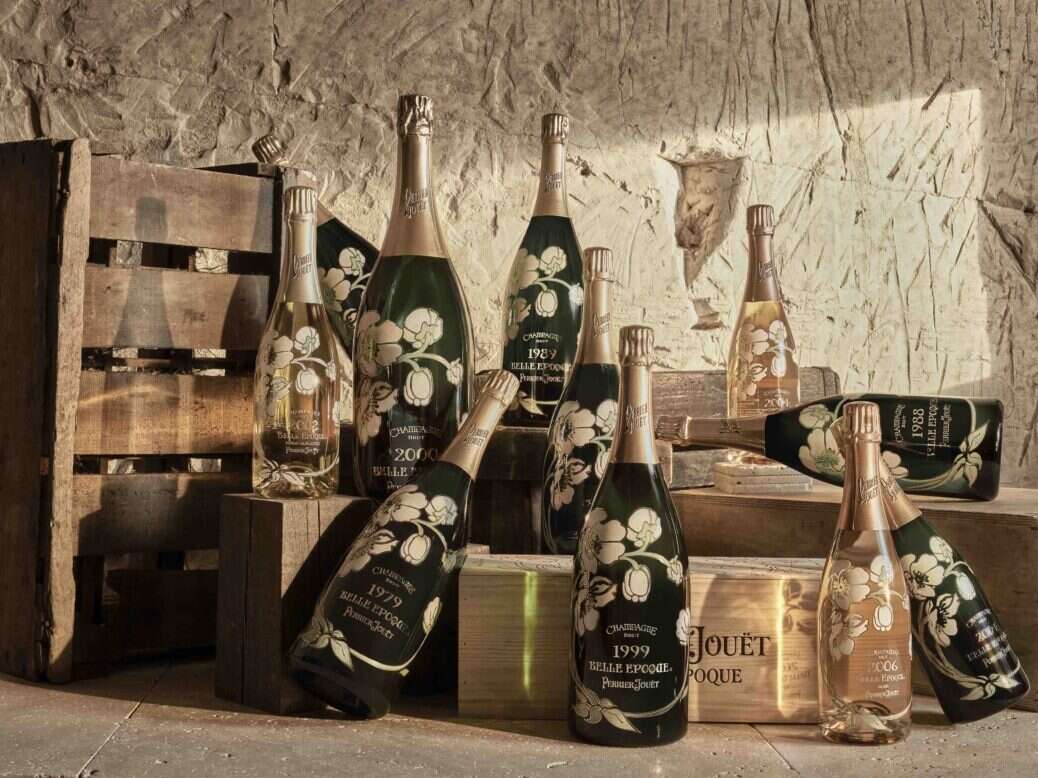 Christie's is hosting an auction of treasures from the Perrier-Jouët Oenothèque collection of historic Champagne releases on Thursday December 2, 2021. Simon Field MW reports from Paris where he was given an advance preview of some of the vintages of Belle Epoque on offer in London next week by Perrier-Jouët's new Chef de Caves, Séverine Frerson.
The white Japanese anemones which entwine every bottle of Belle Epoque are surely the envy of every marketeer and every designer in the world of Champagne. For they do exactly what it says on the tin, on the glass indeed, that is to say they evoke floral elegance, ethereal charm, and a synesthetic sense of harmonious unity. The contents of the book had better be good with such a brilliant cover! And so they are; a rare treat, then, for Christie's to be auctioning a small but highly treasured selection of Perrier-Jouët's finest historical releases at their King Street London showroom. The auction takes place on December 2, 2021.
Lots going back to 1874
There are to be 15 lots in all, the oldest from 1874 and the youngest 2006. In their number are eight magnums and one Jeroboam (the 2000 Belle Epoque). Not all these wines are privileged with the Belle Epoque livery; indeed, it is easy to forget that this icon was only introduced commercially in 1969, with the release of the 1964 vintage. The incumbent Chef de Caves, André Baveret, came across four magnums which had been decorated on commission by the master glassmaker Émile Gallé in 1902. Bavaret's commercial eye got the better of him and the search was on to find an artisan ceramist to complete the job. A legend was born.
1902 was, of course, during the Belle Epoque. France had recovered from the humiliations of the Franco Prussian war and the depredations of the First Word War were still to come. The spirit of optimism and renewal found expression in the Art Nouveau movement, itself inspired by the sinuous forms of nature and taking shape across the visual arts. La Maison Belle Epoque, located on the Avenue de Champagne in Epernay, is Perrier-Jouët's tribute to this school of art; it houses more than 200 pieces by Art Nouveau masters including Gallé, Majorelle, Lalique, and Guimard. Immersion in the rarified atmosphere of sculpture, glassware, furniture, and ceramics provides the perfect backdrop to an appreciation of the wine itself. Indeed Perrier-Jouët are offering a stay at La Maison as an additional enticement to many or all of the lots at the auction, a full tour and tasting included.
Long-standing partners
Christie's and Perrier-Jouët are long-standing partners. In 1888 the auction house set a record for the best price achieved for a single bottle of wine, the 1874 Perrier Jouët, which was only bettered 88 years later. The 1874 takes center stage once again next month amid an impressive line-up, all the wines having been selected by the new Chef de Caves, Séverine Frerson, who has decided that it is high time to showcase the family jewels. Eleven of the 15 are bona fide Belle Epoques; before the rebirth described above, the wine was either labelled as vintage (1874 and 1964) or as Blason de France (1976 and 1979). The Blason name has been maintained but now covers the three wines (Grand Brut, Blanc de Blancs, and Blason Rosé) which sit one level below the Belle Epoque in the range. The Belle Epoque family itself is now a trio, the current releases being 2013 for the Brut and Rosé and, interestingly, the 2006 for the Blanc de Blancs.
A photogenic selection
So to Paris to taste a few of the wines with Séverine. The tasting takes place in Pernod Ricard's impressive new HQ in the centre of the city, just behind grander Hausmann pomp, and just in front of the Gare St-Lazare, considerably less seedy than of old, but still edgy enough. Somehow or other the architects have managed to circumvent the famous Parisian laws on tall buildings, and we are tasting on the seventh floor, all glass and light and with a view of Sacré Coeur on one side and of Les Invalides and (inevitably) Montparnasse on the other. A most conducive venue. Séverine has assembled a very photogenic line-up for us, of both bottles and magnums, four of which are to be included in the auction. Five if one includes the magnum of 1988, unfortunately corked.
(We do not go as far as to discuss what will happen if the one of the auction lots is also tainted. I'm not quite sure how "cavet emptor" works with Champagne.)
None of these wines, in any event, have actually been made by Séverine, who only took over as the House's eighth Chef de Caves in October 2020. She has been well schooled, however; her mentors include her predecessor at Perrier-Jouët, Hervé Deschamps, and the longstanding winemaker at Piper Heidsieck (now at Rare), Régis Camus. Even in the year since our last meeting, Séverine's English has improved enormously; today's Chef de Caves must include an aptitude as an international ambassador among their job credentials. She is eloquent in any language, however, recognizing the need for "humility and artistry in the face of the elements, when making Champagne" and adding, right on cue, "I associate Belle Epoque with white orchids, my favorite flower … grace and elegance are combined with a taut, structured quality."
Cultivated charm
The floral leitmotif is key, it seems. The founders Pierre Nicolas Perrier and Rose Adélaïde Jouët (married in 1811) were keen amateur botanists and had a green house built, complete with orchids, palm trees, and even pineapples, the latter a first in Champagne at the time. Thereafter a long-standing reputation for elegance and charm was cultivated; Queen Victoria and Napoleon III were especially appreciative, history relates. It is no coincidence that Perrier-Jouët have had a fruitful association with the Côte de Blancs Grand Cru of Cramant, long considered the source of the most elegant of Chardonnays. Two of the key Perrier-Jouët vineyards, Bouron Leroi and Bouron de Midi, are located in the pure chalk of Cramant, and are always the mainstay of the Blanc de Blancs. Stylistically we are far removed from the steely austerity of villages such as Le Mesnil-sur-Oger, even though they are only a few miles away.
The Belle Epoque Brut, for its part, is usually made up of 50 percent of Chardonnay, some from Cramant, 45 percent of Pinot Noir, from Grand Cru villages of Ay, Mailly, Verzy and Verzenay, and 5 percent of Pinot Meunier. The latter was introduced to an extant 50/50 blend by Hervé and comes from the village of Dizy, which scores 95 percent on the echelle des crus. Séverine explains its inclusion in terms of a bridge between the harmony of the Chardonnay and the structured richness of the Pinot Noir. The percentage usually hovers around 5 percent and serves as a fine seasoning; its inclusion is historically apt, given that Meunier used to play a more significant part in the house's top wines
Perrier-Jouët: Stylish to the end
It is highly likely, therefore, that there was more Pinot Meunier in the 1874, although once again Chardonnay is king (queen maybe) and the village of Cramant plays a key role. If we wish to find out how it tasted we will need to call upon the ghost of Oscar Wilde, a great fan of this particular vintage, which provided solace to him after conviction for gross indecency. Presumably, hopefully, he was able to smuggle it into Reading Gaol. His dying wish in any event, was for one final glass of "PJ', stylish to the end, one may surmise. How it tastes today is anyone's guess; vinous, evolved and complex are words which do not have to take on a euphemistic guise. Mature for sure. Séverine is more precise. ''With such an old vintage, I expect aromas of incense and cognac, together with vanilla, tobacco, and marmalade … There may even be charming hints of chocolate." Who can say? There is only one way to find out, if one is feeling flush.
The other wines are considerably younger, and include magnums of 1976 and 1979, the former an intriguing example of a very warm year which has produced wines that have nonetheless aged beautifully; then there is 1982, a famous Chardonnay vintage and also the celebrated trio of 1988, 1989, and 1990, all offered in magnum and all still in the prime of life. The other lots are made up of a magnum of 1979, the Blason, which was served at the Elysée palace, a jeroboam of 2000, representatives of the Belle Époque Rosé (2004 and 2006), and the Blanc de Blancs (2002). A panoramic perspective of the house across the ages, in other words. As we survey the rooftops of Paris, we are enchanted by the intricacy and artistry of these great wines.
Perrier-Jouët Oenothèque tasting at La Fondation Pernod Ricard, Paris November 4, 2011
La Belle Epoque Blanc de Blancs 2006 (en magnum)
On the Chouilly side of Cramant, HVE accredited, two sites dominate the wine, lending warmth and flower power: the steelier notes courtesy of sites further south in Le Mesnil and Oger. This is the sixth outing of the Belle Epoque Blanc des Blancs (93,99,00,02, and 04 came before) and has been dosed at 8 g/l. Nougat and melon, hints of vanillin, then acacia and quince: a liminal passage from floral to fruit, all perfectly poised, warm in respect for the vintage, yet tense and fresh in deference to the house style. | 93
La Belle Epoque 2013
A late, late vintage; described by Séverine as "skeletal" in style; she says this as we survey the Eiffel Tower from the tasting room. Notes of linden, tilleul, and tobacco beyond the citric fruit; with a little time, honeysuckle emerges, and also hints of almond and spring blossom to braid the floral tribute. | 91

La Belle Epoque 2012
By way of contrast to the 2013, 2012 is more expressive, and with but the gentlest of swirls in the glass leafy tobacco notes cede to a creamy, nutty indulgence. The finish remains finely tapered and restrained, however, rich and open on the one hand yet still very fine and elegant on the other; the quintessence of Belle Epoque in other words. There will eventually be a Blanc de Blancs too.| 94
La Belle Epoque 1999 (en magnum)
This one was disgorged in February 2009, its dosage the standard 8 g/l. A warm vintage, with water stress issues in the summer and a "classic" mid-September harvest. Today it is showing beautifully; amandine, nougat, Mirabelle plum, hints of honey, and buttered toast. There was no Pinot Meunier in the 1999; there was no need for it, evidently. A long chalky finish, with just a hint of salty butter. Perfectly à point in magnum! | 95

La Belle Epoque 1990 (en magnum)
A rich gold color. Alas this is not the most perfectly clean example, but certainly good enough to sketch a note, if not a score. Tobacco, incense, verbena, and white chocolate, all cushioned by flavors that Séverine compares to tarte tatin. Hints of sugar cane indicate evolution (this was a very warm summer) but this may be down to the slightly under-performing magnum on the day. | NOT SCORED
La Belle Epoque 1989 (en magnum)
This was disgorged in 1995, rather early one may think. There is no virtue in challenging that decision however, as this is an absolute stunner. A deep galleon gold, then a nose which marries Armagnac, quince, verbena, fennel, and something of the sacristy. Sweet and savory engage in a battle royale, all sails unfurled, with the most explosive results. Wax and lanolin are evidenced at the back of the palate; vinous but not without fizz, cerebral but not lacking for tension and energy. A magnificent, mature Champagne, which imparts its gifts with abandon. | 97

La Belle Epoque 1988 (en magnum)
TCA taint.
La Belle Epoque Rosé 2013
The 2013 style is once again vertical, linear. An attractive soft copper with gentle red fruit aromatics and soft spice. 8% of red wine was added by assemblage, half from les Riceys and half from Ambonnay. Wild strawberry flavors, then blood orange and a hint of pink pepper. Subtly gastronomic and with more to give. | 92+
La Belle Epoque Rosé 2006 (en magum)
Deep salmon color, hints of bronze; the 2006 captures the generosity of the vintage with plenty of lively red fruit charm and a plush creamy backdrop; plums, grapefruit zest, a hint of ginger and macadamia, cherry too. A lot going on here, but all of it forward and generous. A strong finish too. | 93