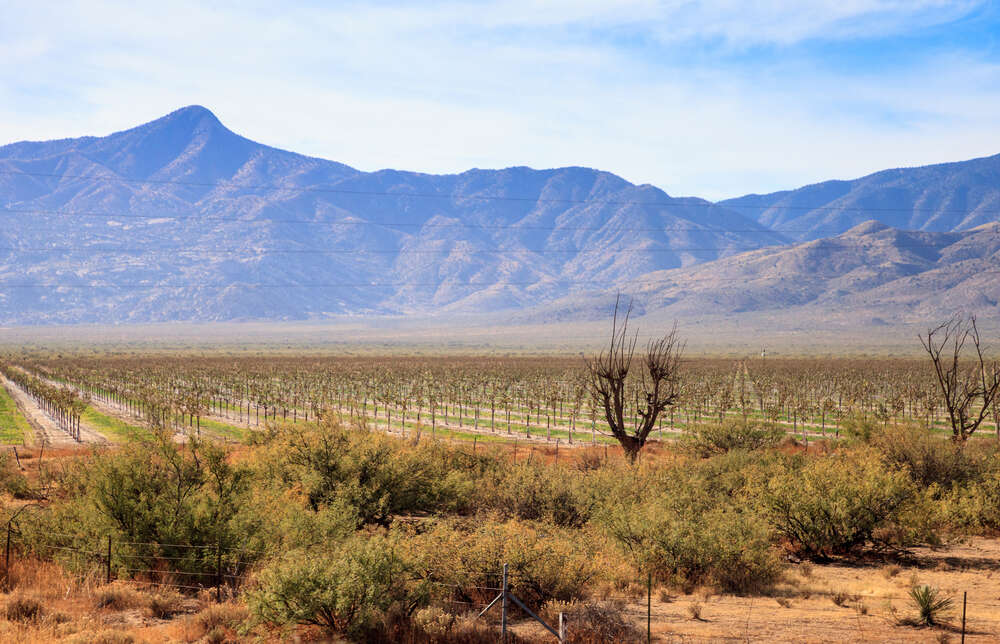 The wines of Arizona are not often found beyond the state's boundaries. But as Jim Clarke discovered on a recent visit to the Southwest, a combination of small producers, high-elevation vines, and Mediterranean varieties are producing some very promising results.
Kent Callaghan faced a small harvest this year. A cold winter had killed some vines, and both frost and hail claimed many grapes as well. Those that remained on the vines looked pretty good when I visited in June, despite some heat spikes that brought highs over 40°C (104°F); the remaining challenge was that of ripening them before the monsoon season started in August. Winegrowing in Arizona calls for the tough frontier spirit that characterized the pioneers of the American West, but winemakers persist because the results can be surprisingly sophisticated.
Going up
The battle is not all uphill. In the late 1970s University of Arizona professor Dr. Gordon Dutt determined that the southeast corner of the state had several areas well-suited to winegrowing; he put his money where his mouth was in 1980, founding the state's first commercial post-Prohibition vineyard in Sonoita, which became the Southwest's first AVA in 1984. It has since been joined by Willcox, further east, and elsewhere in the state, Verde Valley, about two hours drive north of Phoenix, is expected to become the state's third AVA shortly.
What they share in common is elevation, which brings some advantages that make the hail, frost, and heat worth putting up with. Vineyards range from 1,000m up to 1,700m (3,280ft to 5,577ft) in elevation, rivaling and generally exceeding the heights seen in the capital of high-altitude winegrowing, Mendoza. The resulting intense UV light pushes phenolic ripeness and tannin development, ensuring physiological ripeness doesn't lag behind sugars. The latter are also slowed by cool nights; temperatures can drop by more than 25°C (45°F) overnight. While acidification is sometimes necessary, the end result is wines with well-developed flavors and structure, and alcohol levels are rarely excessive.
Energizing the industry
Callaghan is one of Arizona's pioneers, a mentor or business partner of many in the web of winemakers and vineyards that have developed over and the past four decades. A more recent node in this network is Maynard Keenan, the lead singer of the alt-rock band Tool, who planted his first vineyard in the Verde Valley in 2002 and has since developed several different brands. Aside from his own brands and those of former partners, he's bankrolled several projects that have energized the industry. The Arizona Vignerons Alliance created a certification process designed to promote quality across the state, and his Four Eight Wineworks has served as an incubator and custom crush cooperative for those seeking to build their own brands such as Chateau Tumbleweed and Bodega Pierce. He also supported the development of a winemaking program, the Southwest Wine Center, at Yavapai Community College in Verde Valley, planting the program's first vineyard.
Mediterranean inspiration
Arizona's winegrowers have been delightfully restrained when it comes to planting Cabernet Sauvignon, Chardonnay, and other easily marketable varieties. In the 1990s the late grower Al Buhl pushed for the planting of Mediterranean varieties, a decision that seems to be serving the state well. That includes Syrah and Grenache, but many other varieties as well. Some of the Sangiovese and Tempranillos I tasted were among the most remarkable examples I've tasted outside of those varieties' European homelands. Among whites, Buhl brought in Malvasia Bianca, which has spread and become as close as the state has to a signature variety. Other notable white grape varieties include Vermentino, Picpoul, and Clairette.
Most of the state's wineries are still tinkering with a range of varieties while they see what works best, so, in another move that makes winemaking but not marketing sense, many finished wines are blends. Whether blended or varietal, the common thread among the state's best wines I've tasted is a pronounced mineral quality and a surprising degree of freshness, even in the bigger red wines.
Many of the state's wineries have chosen to stay small to avoid onerous regulations; outside of Arizona wines must by-and-large be ordered direct from the winery. The industry is pushing for regulatory changes which will hopefully make the wines more widely available. But in an impressive number of cases the winemakers are right: the wines are well worth the trouble.
Arizona wine: Six of the best
Caduceus Cellars: Maynard Keenan's flagship brand is red-focused, demonstrating the state's potential with serious takes on Sangiovese and Tempranillo, but also exploring other varieties such as Souzao and Aglianico.
Sand Reckoner: Based in Willcox, Sand Reckoner makes several wines of note including a Sangiovese, a Malvasia that highlights the grape's mineral side, and a skin contact Roussanne.
Dos Cabezas: Owner Todd Bostock has at one time or another worked with any number of the leading lights in the Arizona scene. He's playing with a wide range of grape varieties at his facility in Sonoita; even his entry level white blend demonstrates the saline, mineral quality that exemplifies top Arizona wines.
Los Milics: Pavle Milic has made waves as the wine director at FnB in Phoenix with his Arizona-only winelist. His ambitious winery project aims to produce top-notch wines from Grenache, Tempranillo, and Syrah among other varieties, as well as to raise the bar for accommodation and hospitality in Sonoita.
Rune: James Callahan has made wine for a number of Arizona's leading wineries, including Pillsbury and Aridus; he founded Rune in 2013. His approach is low-intervention, and the winery is off the grid and solar-powered. The Rune whites—Viognier, Grenache Blanc, Roussanne—are full but fresh, and Syrah leads the way among the reds.
Chateau Tumbleweed: One of the early successes from the Four Eight WineWorks incubator, the quality of Chateau Tumbleweed's wines belies the tongue-in-cheek branding. Their Grenache Blanc and the white blend called The Descendants are balanced and generous, and their Sangiovese, Tempranillo, and Graciano are also worth seeking out.