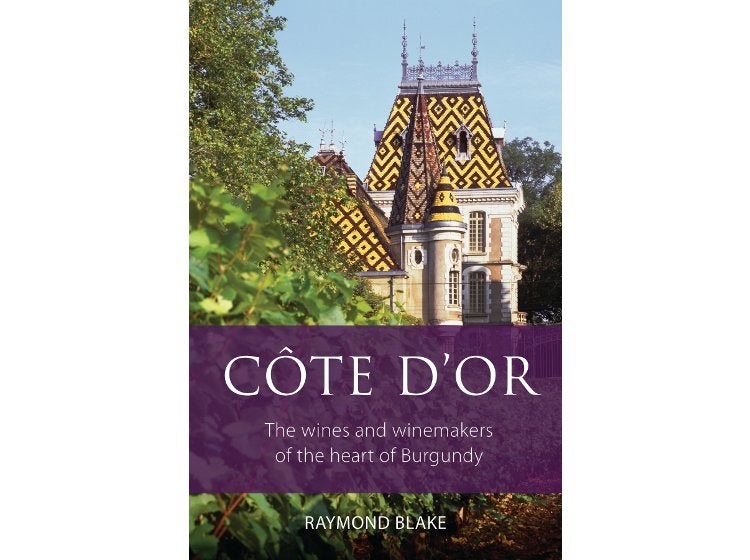 Striking literary gold: A dashing Dubliner's learned guide to Burgundy
Once met, Raymond Blake is one of those winsome characters on the international wine circuit you are unlikely to forget. I have known him for some time, and the dashing Dubliner always makes me smile—the well-cut jacket, the silk pochette, and, if memory serves, sporting a jaunty brown trilby as he glided down Bologna's Via Indipendenza in misty November, 18 months ago, when we last caught up. One of Ireland's leading wine writers, Raymond is the long-serving wine editor of Food & Wine Magazine. A Trinity College Dublin man, he disarmingly admits that he "spent more time at the university boat club than in the lecture hall." But Raymond for sure inherited a strong literary gene, which sparkled in the 2014 book Breakfast in Burgundy, the author's highly entertaining and moving story of buying a run-down cottage south of Beaune with his wife Fionnuala, Dublin's leading classical violinist. Yet this earlier book is as much about their love of Pinot Noir in the fabled heart of Burgundy and dithery decisions about which Comté cheese to eat with such pleasures.
Côte d'Or is a more scholarly affair anchored in Raymond's great knowledge of the region, but the book delights for the charm, elegance, and conviction of his prose—concise, informative, and leavened by abundant Wildean wit. Refreshingly, the target audience is at least as much the amateur (lover) of fine Burgundy wanting to know more as it is Burgundy specialists like himself. The book's aim, he says, is to get behind the dazzle, to flesh out the story, to add some nuance and extra dimension. "My hope is that it may add another chapter in the ever unfolding tale, setting it in the early years of the 21st century, a period that may come to be considered by future historians as a golden age in Burgundy." Impressively, he doesn't duck urgent issues—"those ludicrous prices, the scandal of premature oxidation in the whites, and the increasing challenges of dealing with weather events such as hail and spring frost."
Coherent and compelling
The structure of the book is coherent and well organized. The first chapters set the scene memorably, starting with a brief history, which has of course been well documented before, but his has something new. For quite recently, a first-century-ad Roman site discovered near Gevrey-Chambertin in 2008 revealed that this 3ha (7.5-acre) area was arranged with rows in a careful, regular pattern. Hollows were dug in each row, with a pair of vines planted in each, separated by stones so that their roots did not become entwined—the precursor of the vine-propagation system we know as provignage, or layering, as practiced by the 12th-century Cistercians at Clos Vougeot. Fast-forwarding to 1945, the author graphically describes the parlous state of the European wine trade: The Côte d'Or still in the long shadow of phylloxera both in the vineyards and commercially; the Domaine de la Romanée-Conti did not grub up its pre-phylloxera vines till 1948. In such straitened circumstances, Raymond argues, it was quite understandable that the impoverished vignerons should have grasped at any remedy that promised abundance and prosperity. The era of weed-killers and pesticides reached its height in the 1970s, offering short-term gains but plunging quality over the longer term. The road to renewal came in the late 20th and early 21st century, as growers renewed respect for their soils through sustainable and organic/ biodynamic precepts. Seventy years ago, of course, "the astronomical sums paid today for slivers of favored vineyards of the Côte could never have been foreseen," Raymond concludes, with some justice.
His chapter on producing Burgundy, essentially winemaking, is compelling for its analysis and explanation of the role or otherwise of destemming the grapes and whole-bunch fermentations. I was particularly drawn by his sound sense in maintaining that fining and filtering the wine can be successful when effected with light hands, but if done aggressively is akin to shaving a man's head, changing his appearance completely: "With wine of course, the hair doesn't grow back again." Amid its many virtues, this book is laugh-out-loud funny, a rare quality in wine writing.
Descriptive power
The heart and soul of the book is found in the author's 100 profiles of the Burgundy domaines and micro-négociants that mean most to him. As for any names that you or I might prefer, he's quick to stress that they haven't been excluded for any lack of quality, and they don't appear merely for reasons of space. It is perhaps no surprise that the Blake touch is surest in the Côte de Nuits, but his focus is far wider than the fabled grands crus. The coverage of the increasing quality of Pinot Noir from Marsannay (pictured) is as good as it gets, Raymond praising ace vignerons such as Bruno Clair, Laurent Fournier, and Sylvain Pataille, whose efforts will ensure that the village and its wines become better known. Pataille relates the story of a friend who bought a Côte des Nuits domaine for a price that he considered to be crazy at the time but who reckons that it would fetch ten times as much now.
Blake's judgment on estates from Gevrey right on down to Santenay and Maranges at the southern end of the Côte d'Or is even and authoritative. What is special is that his descriptive powers are so strong that he has no need of scores, stars, or, as he sharply observes, a prosaic, formulated tasting note. If I have one minor quibble, it is Raymond's contention that Morey-St-Denis, in conventional wisdom, does not have the greatest grands crus to rival the big guns of the Chambertins, the rapier elegance of Chambolles, or the supreme aristocracy of the Romanées. If that were ever true, I'm not sure that it is now, even if Morey's stealing of the headlines is relatively recent. Everyone agrees that Morey wines have balance, surely one of the most important attributes of any fine red Burgundy. And in the 2016 vintage, two of the greatest successes have been Morey's neighboring grands crus Clos des Lambrays and Clos de Tart, where there was far less frost than elsewhere.
The book has a late chapter titled "When Sorrows Come," which is essentially Blake's forensic analysis of premature oxidation (premox) in white Burgundies since the mid-1990s. It should be required reading for its thoroughness, balance, and not least for its subtle suggestion that the problem may have been caused or exacerbated at the pressing and bottling stages, because of the obsession of some producers with being entirely sulfur-free. While the desire to keep SO2 levels as low as possible is of course commendable, is still fulfills a necessary role as an antioxidant. There is also an excellent assessment of vintages back to 1985, as well as predictions for the future of Burgundy and recommendations for visiting the Côte d'Or.
Supremely, this is a work of distinguished literary merit. It is also very readable, a real page-turner. Bravo!
Published by Infinite Ideas $39.95 / £30