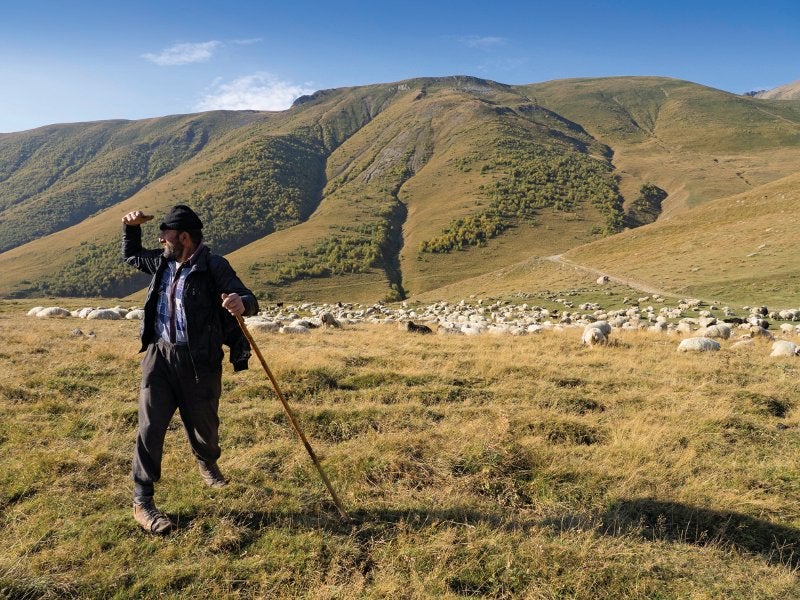 This is a wine book with a difference. It encompasses everything you might wish to know about traditional* eorgianviniculture but includes so much more: history, geography, architecture, tourism, ceramics—and food, food, food.
The author (let's call her Carla) has apparently taken a vow to eat and drink her way from one end of the land to another, taking in, as she travels through the various regions, the dramatic, sometimes awesome landscape, the ancient religious buildings and other monuments of interest, and the humble but colorful homes of the people, for whom she displays heartfelt feeling.
And who could resist accompanying her, enticed as one might well be by the always professional-standard and occasionally stunning photographs, taken by Carla herself, that adorn almost every page. (There are 390 of them, to be precise, in a book of 464 pages.)
Early in the book we are given a brief history of the country and its wine production, an essential consideration here being that Georgia— with its proximity to Russia, Azerbaijan, Armenia, and Turkey, not to mention the Black Sea—has hroughout its history stood at a crossroads for thirsty, hungry marauding hordes. Although it's impossible to say with precision how long winemaking has been practiced in Georgia, historians have estimated around 8,000 years, citing as evidence certain relics containing fossilized grape pips, tannins, and tartaric residues.
Many changes have taken place in the course of time, including a gradual switch from tree-training to training on posts, and the evolution of several hundred grape varieties of Vitis vinifera from Vitis silvestris, significant numbers of which are threatened with extinction in these industrial times.
Buried treasure
An illuminating section of the book from an enological point of view is that entitled "How to Make Wine in Qvevri."
"Qvevri," we are informed by John Wurdeman of Pheasant's Tears winery, "means 'that which is buried.' Once it's in the ground, the clay vessel is able to harness seasonal temperature shifts to help form the wine. Autumn's warmth spurs spontaneous fermentation, while winter's chill helps the wine stabilize.
A wine may stay on the skins for varying lengths of time but it needs to spend at least nine months with its 'mother.' This allows the wine to stabilize, after which it can be 'put on its feet' and stand alone in a fresh qvevri away from the lees."
It also allows producers to reduce to a minimum the use of sulfur dioxide— sometimes, indeed, eliminating its use altogether. To complete the profile of these "natural" wines, no chemical fertilizers, pesticides, or herbicides are used in the vineyard.
After the introduction to wine comes that to food. One rapidly understands that food, and food/wine pairing, plus rituals associated with eating such as the supra or feast and the practice of toasting or ramada, is as near to the hearts of
Georgians as religion (Eastern Orthodox) or national pride (for example, in the fact that, throughout the countless invasions, persecutions, and occupations, they have retained their ancient ways, together with their language and their alphabet). Carla provides plenty of photographic proof of this gastronomic tradition, some of which will have you drooling to join in. Indeed, she expounds at length on typical ingredients (preferably fresh and local) and how to prepare a Georgian meal.
Wider than wine
The heart of the book is the "food and wine journey in the Caucasus." She divides the country into ten "journeys" and, an intrepid wanderer from way back, has persuaded friends and advisors/translators to lead her into the most obscure nooks nd crannies where the religion of food and wine prevail. There are recipes galore, reflecting the nature and availability of local produce and the principle of freshness of materials, together with the importance of adhering strictly to the rules for any given dish with what might seem to Western fusioneers excessive punctiliousness.
She begins with Tbilisi and surrounds, so that from the outset we know a bit of the capital's local history, what visits to make, where to stay, shop, drink, and eat, and even a few tips/ recipes as to what to eat. The same format is used for the other nine journeys. The "Centre" or second district—Mtskheta and the Kartlis— is home to, among other things, an important viticultural institute called the Scientific-Research Centre of Agriculture, or Saguramo (after the town
where it is situated; cf Italy's Rauscedo), where, in a 44ha (109-acre) vineyard, native vine varieties, some 437 of them, are propagated (including microvinification) and in some cases brought back from near extinction following the ravages of the Ottoman Empire, phylloxera, and the Soviet Union.
But it is the third journey, "East to Kakheti," that turns out to be the most important, from the point of view of wine, particularly qvevri wine. Carla comments, "Between visits to over ten wineries here—including Alaverdi's historic monastery, where winemaking has taken place at least since 1011—we visit a qvevri maker, explore two of the country's biggest food markets and travel to the distinctive towns of Telavi and Sighnaghi. Along the way are important cultural and historical sites—including the tomb of Saint Nino at Bodbe Monastery—and an extensive nature reserve on the border with Azerbaijan that is home to 150 species of bird."
Such is the complexity and richness of the tapestry of words and pictures that is this book—thoroughly exploring, as it does, one of humanity's most important wine zones within the context of an ancient, unique, multifaceted, and still thriving culture. If one had to pick the odd nit it might buzz around the fact that it's a somewhat bulky tome—certainly not one for the pocket. I can imagine, too, anglophone readers complaining about the ubiquity of strange and difficult-topronounce names (of grapes, wines, foods, dishes, places, and so on).
But there are many more reasons to acquire this book than not—and it is certainly essential for anyone traveling in Georgia. And as I indicated above, it is so much more than a mere "Wines of…" or travel guide. Carla writes with real enthusiasm and passion—you just know she's emotionally involved. There are books and books, as there are wines and wines. For me, this is no mere village wine. This is a premier cru.
* Early on, Carla specifies, "This book focuses on the ancient and distinctive Georgian tradition of making wine in the large terra-cotta vessels called qvevri. The so-called natural winemakers who are bottling wines made in this way— now more than 50—form only a tiny percentage of Georgia's enormous wine output. Compared to the millions of bottles produced in steel tanks or wooden barrels by the large-scale commercial wineries that make up the bulk of Georgia's export market—much of which goes to Russia and the Eastern Bloc countries—these qvevri winemakers produce only tens of thousands of bottles between them."
Published by Interlink Publishing Group (US) / Pallas Athene Publishers (UK) $40 / £29.99