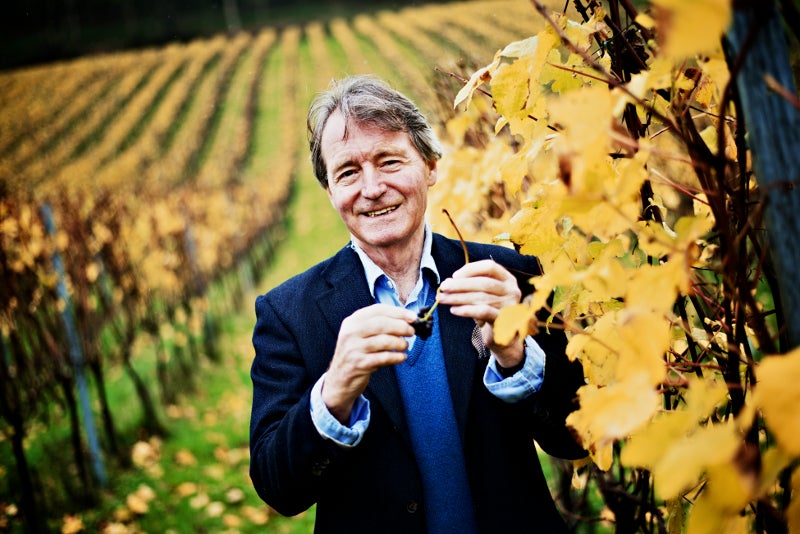 A charmed life, entwined with the global world of wine
The whirlwind that is Steven Spurrier's autobiography Wine—A Way of Life is a dizzying sweep across his 54 years in the wine trade. It describes a world of wine that revolved around only the most classic regions of France, a smidgeon of Germany, and the fortified wines of the Iberian peninsula. Spurrier briefly entered this curious world in 1964, just as it was beginning to change, only to leave it again in order to make, lose, and remake his fortune across the Channel and around the globe. He almost doesn't draw breath until he reaches the present day.
The very early chapters are particularly well told and so easy to visualize, so familiar are the tropes of second son of a well-to-do family, country-house home, and private school: first an idyllic prep school and then the far less enjoyable Rugby. Right from the start, it is clear that Spurrier is drawn to the beautiful, to the lively, to the sensuous—his life-long love of art was born in school—which is probably why he headed for London rather than Oxbridge. "The fact was that I couldn't take any more of the 'cap and gown' atmosphere of expensive private education," he writes, followed later by, "There was everything to explore in the early 1960s, from cinemas to coffee bars, restaurants and pubs for the first time on my own, art galleries and museums." As he took his place at the London School of Economics, which he treated as a "9 to 5 job," he also took to London life with gusto. What he describes is a charmed life amid a cosmopolitan, well-heeled crowd.
Even in those early days he paid attention to wine and decided, after a brief stint in publishing, that this was going to be his career. In February 1964, he was taken on as a trainee by Christopher's of St James's Street. That same year he also came into family money, £250,000, a huge sum at the time. "I was living a busy and interesting life in London and was very happy with it. The Hilton Gravel check represented over 200 times my yearly income, and I simply had no clue what it really meant." If this sounds disingenuous, it is not. Spurrier seems to have traveled through his life without firm plans or much planning, always following his inclinations and the opportunities that his social status and connections afforded him. Both a certain naiveté and a dislike for boredom of any kind are apparent. He moves in the right circles and, we get the impression, is often taken advantage of financially. That, however, does not stop him from exploring, living, drinking, traveling to the full, and doing whatever sounds most interesting and fun. I say "seems" above, because there is markedly little introspection throughout the book. While Spurrier reports frankly on events and circumstances, we know little about his inner life. There are one or two heartfelt passages and there is honesty, but perhaps this reticence is just very old-school Englishness where the personal remains absolutely private.
Committed to his training in the wine trade, however, Spurrier continues at Christopher's. The chapters in which he recounts his sojourns as a uniquely self-funded stagiaire in Burgundy, Champagne, Bordeaux, Cognac, Alsace, Mosel, Rheinhessen, Rhône, Jerez, and Oporto are further vignettes of a bygone age. We catch glimpses of bullfights, ultra-classic French cuisine, and open-top drives along the Riviera. This is where Bella appears more and more, his wife-to-be who joined him for some of these adventures. Spurrier's return to London was merely an interlude of more parties, nightclubs, tastings, dinners, and hops to France, but an extravagant one. Spurrier remembers having a fountain installed in his London garden merely to chill wine.
But the lifestyle is beginning to pall, and for 1967 he writes, "Life seemed pretty good and externally it was, internally it was a bit of a mess." Right after their wedding in January 1968, Bella and Steven set off for a new life in France. The idea was that the Spurriers would be based in Provence and that he would deal in antiques. Not much came of that, so in 1970 they moved to Paris and lived on a barge, and Spurrier found his feet. "Thus began what was to be a magical decade in Paris," he writes. Here he opened his wine shop Caves de la Madeleine in 1971 and was in his expatriate element, introducing "country wines" to the Parisians and opening his Académie du Vin, then a revolutionary idea to teach wine appreciation to consumers. The lively writing, rich in detail, reveals how happy Spurrier was during these years. It also shows how his innate combination of moving in the right circles while remaining utterly curious and open constitutes his approach to wine. He appreciates, and is familiar with, the finest but is ever ready to try what is new and different.
This is the part of the book where the chapters begin to become a dizzying parade of wine personalities, buying trips, tastings, and business ventures. It was his immersion in bringing what was new to his clients that lead to the famous Judgement of Paris in 1976. Spurrier readily credits his co-worker Patricia Gallagher with the idea but also notes that he had opportunity in March 1976 to visit vineyards in Napa Valley and that just one week before the tasting he decided to make it a blind one. It was simply devised to showcase some California wines in the United States' bicentenary year. Spurrier quotes from George Taber's book on this seminal tasting rather than telling the story himself; it was Time magazine reporter Taber who carried the unexpected triumph of these Californians to the world. Spurrier remembers going home after the tasting and briefly mentioning the outcome to Bella before reading his children a story. Only later did the magnitude of the event become apparent.
The chapters carry on in the same vein—personalities, tastings, events, trips, reminiscences—but they also start chronicling how business and finances slowly unraveled, as Spurrier admits, often through lack of judgment. A failed attempt at expanding the Académie to New York saw the Spurriers move briefly to the United States before finding themselves back in Europe, where, while keeping matters alive in Paris, Spurrier also spent more time in London to help set up Christie's wine course in 1982. It was at this time that Spurrier's writing career started. Trouble with the taxman in Paris meant that the Spurriers were stranded in London by the end of the decade. The misery was relative, since there was a house to return to in London, but Spurrier nonetheless had to pick himself up by his bootstraps. Chance was on his side, as opportunities presented themselves with various consultancies. But Spurrier cites his involvement with Decanter as his rescue—a relationship that started in 1993 and lasts to this day.
The book might have benefited from a little editorial straightening out, with its many digressions and asides, but the way it is told shows how utterly entwined Spurrier is with the global world of wine. Many see Spurrier as an éminence grise, but few realize how daringly innovative his unstuffy, fun-fueled, and open-minded approach to wine was—something we now take for granted. Spurrier retains these non-snobbish qualities to this day.
He had great ideas, but it was others who made money from them, and he freely admits to having little financial acumen. What we get from his book is a picture of a charmed life, not without its challenges; of a lasting marriage; and of a man who truly appreciates wine, wit, and art. His love for la belle France and her wines is profound. Any overspill of detail—of wines, vintages, places, and menus—is merely testament to the vividness with which they are remembered. We should all be thankful that they are and that he has shared the memories with us.
First edition published by Adelphi £20
A revised edition has since been published by the Académie du Vin Library