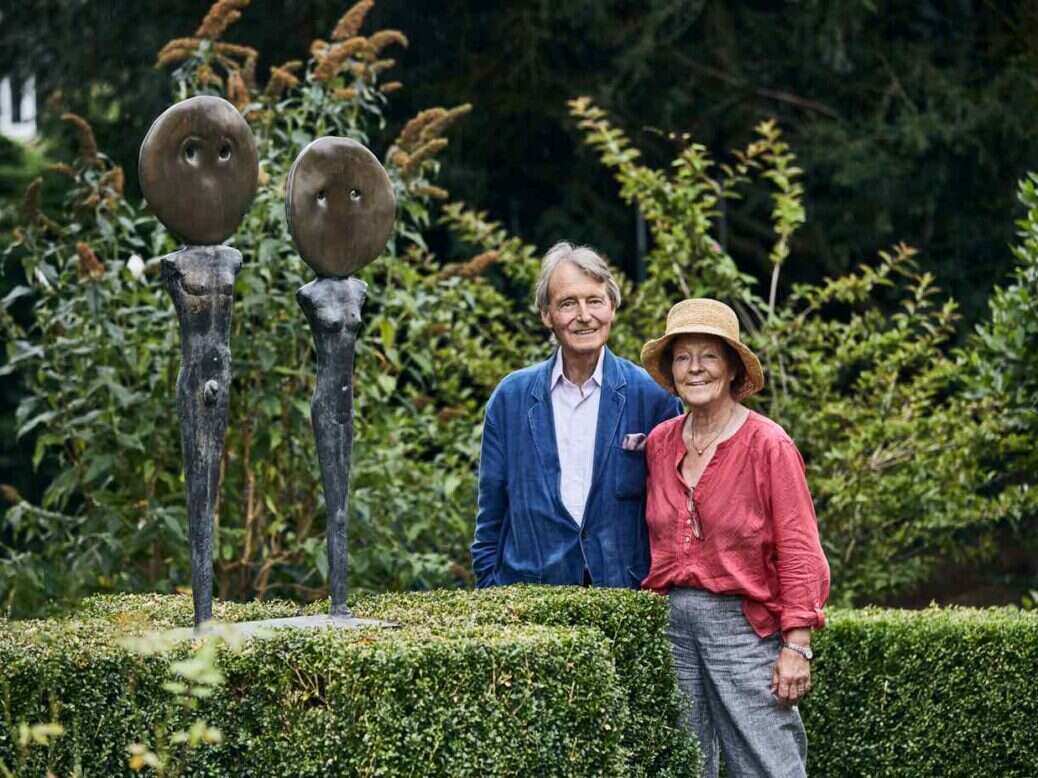 Adam Lechmere reports from Steven Spurrier's Memorial Service, which took place at the London wine trade's favorite church, St James Garlickhythe in the City of London on January 19, 2023.
It was reverent and raucous, intimate and rather grand, both timeless and very old-fashioned—in short, it was just the sort of send-off Steven Spurrier, who died on March 9, 2021, might have expected.
In the fine Wren church of St James Garlickhythe in the City of London it was standing-room only. The pews were packed, and late-comers had to find the odd seat here or there. The atmosphere was subdued at first but the rector, Tim Handley, set the tone with his address. This, he said, was a celebration of Steven Spurrier's life. "Steven had a fine voice, and on behalf of the family you are asked—no, you are commanded—to sing with everything you've got."
This was a very particular cross-section of the London wine world (strikes in France had meant that many hadn't made it across the Channel for the service). In the church was a sea of gray heads—veterans of a rarefied world of wine, those who remembered the Paris Tasting of 1976 as if it were yesterday, for whom the midday meal was a way of life. They indeed sang with gusto—the opening hymn, The Lord's My Shepherd, fairly boomed around the lovely old church.
Sarah Kemp, who had taken on Spurrier as a columnist for Decanter in the late 1990s—it was the best decision she'd ever made, she said in an emotional tribute to her friend of 30 years—remembered his zest for life. She recalled an episode when, after a lengthy lunch in Argentina, the winery owner insisted on piloting the small plane that was to take them home. "Steven, what can we do?" she asked. "Don't worry," the imperturbable Spurrier said, "He's flying on the very finest Malbec."
Mark Williamson (whom Spurrier had taken on at the Caves de la Madeleine in Paris in the early '70s and who went on to open Willi's Wine Bar and become something of a legend himself) recalled Spurrier's unselfishness, his modesty, and the infectious enthusiasm that all too often led to "off-piste" investments. This last brought chuckles from the congregation—Spurrier himself was the first to admit that his business acumen was not always the sharpest.
Spurrier was a polymath, his interest in art and literature at least as consuming as his love for wine, and the readings and music reflected this. First was Rabindranath Tagore's poem "Farewell my Friends," read by Spurrier's son Christian, followed by the choir (singing from the organ loft) with Mendelssohn's "I waited for the Lord" and a Gaelic Blessing by John Rutter. The recessional was Edith Piaf's haunting "Non, Je ne regrette rien," which nicely echoed Tagore's lines, "I have no regrets whatsoever/Save the pain I'll leave behind."
Just as the actors' church is St Paul's Covent Garden, so St James Garlickhythe, a mere spittoon's reach from the 450-year-old Vintners' Hall, is beloved of the wine trade. It was to this venerable building that the congregation repaired to be fortified with Spurrier's Bride Valley sparkling and Stag's Leap Cabernet Sauvignon 2013 (a nod of course to the winning Cabernet of Paris '76). Ben Howkins, who was at Rugby with Spurrier, took to the podium. "Speak up!" shouted someone. Howkins recalled lunches, and more lunches. "After our usual magnum of Léoville-Las-Cases '61…" ("Hear, hear!" from the floor, to guffaws). "Lunch is my sport," Spurrier once told him. "Now," Howkins told us in mock solemnity, "you must all reflect on your own lunches with Steven."
He paid loving tribute to Bella Spurrier ("Bella Bellissima!") who had been an acerbic yet warm presence at her husband's side for more than five decades, and to their children Kate and Christian, and grand-children Lily, Constance, Seamus, and Otis. As Bella, looking Parisian in a neat black beret, greeted her old friends—Jean-Charles Boisset and Bill Blatch from Bordeaux, Jasper Morris MW, Mark Williamson, Oz Clarke, Adam Brett-Smith, Hugh Johnson, and Jancis Robinson MW, among a host of other wine luminaries—the children helped themselves to canapés. There wasn't an influencer in sight.
There was something poignant about this cheerful bunfight (as such gatherings used to be known). Like good old-fashioned claret, this type of well-tailored, affable, rubicund wine professional, as comfortable in Beaune or Tain-l'Hermitage as in St James's Street, is becoming rarer. But while Steven Spurrier was the doyen of this once-mighty cohort, and his passing represents the end of a very particular era, he was just as revered by the younger generation of writers, bloggers, and influencers. He continued to be relevant right up to his death, which was why this "gentleman explorer of wine" was saluted, again and again, with such affectionate enthusiasm.