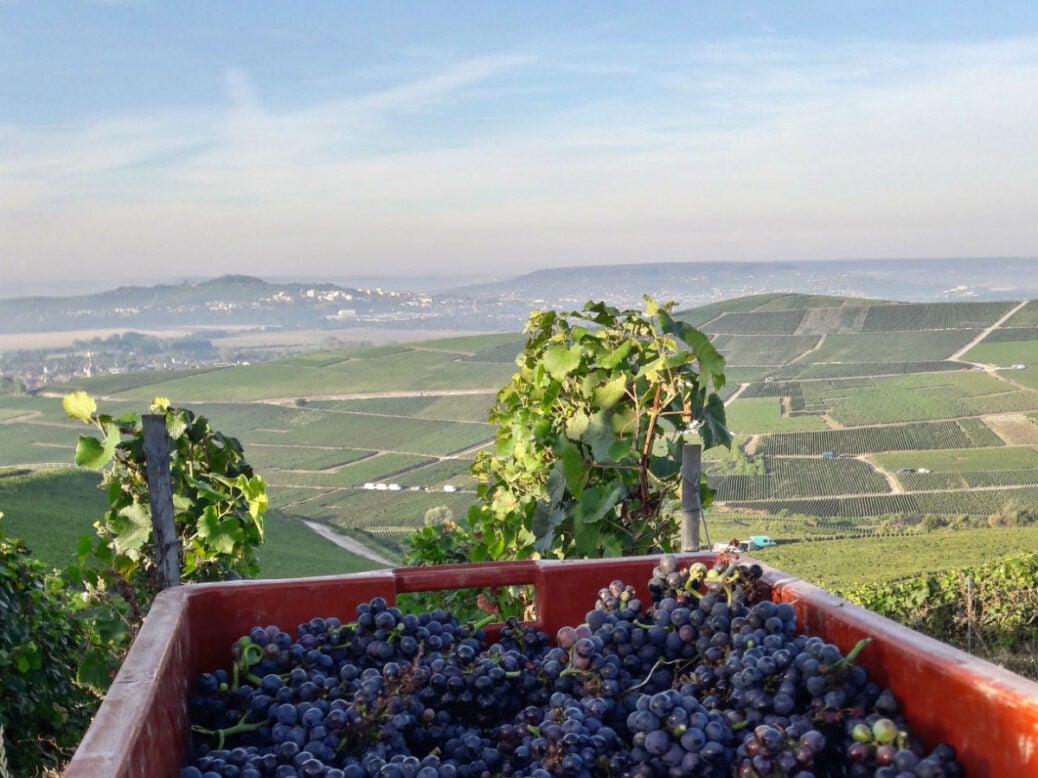 The Champagne Bollinger Vins Clairs 2016 tasting took place over March 8–9, 2017, with chef de cave Gilles Descôtes. Guests were treated to a rare trip to the cellars of the historic house alongside the still wine tasting.
Located in Aÿ, Bollinger covers an impressive 165 hectares (407 acres), the majority of which are classified as grand or premier cru. The Champagne house perseveres with traditional wines practices including oak barrels, hand riddling, and a resident cooper, to name a few.
Descôtes discussed the success of the harvest despite a challenging year: "The most difficult year I've ever lived." In the end, however, the harvest was perfect, he said.
The upsetting weather conditions caused a great deal of damage to the vines in Champvoisy, which is mostly Pinot Meunier. Some 80 percent was lost when late bursting buds were destroyed in springtime by the frost, and a further five percent of the crop was sunburned. Fortunately the Pinot Noir vineyards were barely affected, which works in Bollinger's favor considering Pinot Noir comprises at least 60 percent of each of its cuvées. Descôtes commented that in the past winter temperatures would drop to -20º Celsius (-4ºF), whereas now, with global warming, they drop to only -5º Celsius (23ºF).
During May, June, and July the region was subjected to a plethora of rain, raising the issue of diseases including mildew. Bollinger, however, was successful in fighting any signs of the feared disease, with promising weather in August of windy, sunny days, and cold nights, to keep it at bay.
Bollinger's distinctive house style is built upon a high proportion of Pinot Noir and oak vinification. Comparatively, Champagne Ayala uses a majority of Chardonnay in its blends, and uses only stainless-steel tanks. Back in 2005 Ayala was bought by Bollinger, leading former secretary general Hadrien Mouflard to become Ayala's managing director. One of its first investments was to perform a refurbishment at Ayala in 2007.
Ayala chef de cave Caroline Latrive talked passionately about her love of Chardonnay as we tasted a selection of 2015 and 2016 vins clairs, before the Brut Majeur blend (40% Chardonnay, 40% Pinot Noir, 20% Pinot Meunier; 75% base year 2016; 25% reserve wine 2015/2014). Next, we experienced the full Ayala range—Brut Majeur, Brut Nature, Blanc de Blancs, Rosé Majeur, Perle D'Ayala—which expressed the freshness and lightness of the Ayala style.
Bollinger guests enjoyed a decadent three-course lunch with pairings from the house range, including the Special Cuvée, La Grande Année 2007, La Grande Année Rosé 2005, R.D. Extra Brut 2002, and Bollinger Rosé, which exhibited the complexity and elegance of the house style.
In all, there were some excellent elements to the 2016 harvest; however, it was a testing year and grapes were not perfect everywhere, so there were not enough grapes to produce the volume required for La Grande Année. As a result, Bollinger will not be producing a 2016 Grande Année, said Director of Bollinger UK Victoria Carfantan, but it still hopes to produce a limited edition wine from this vintage.