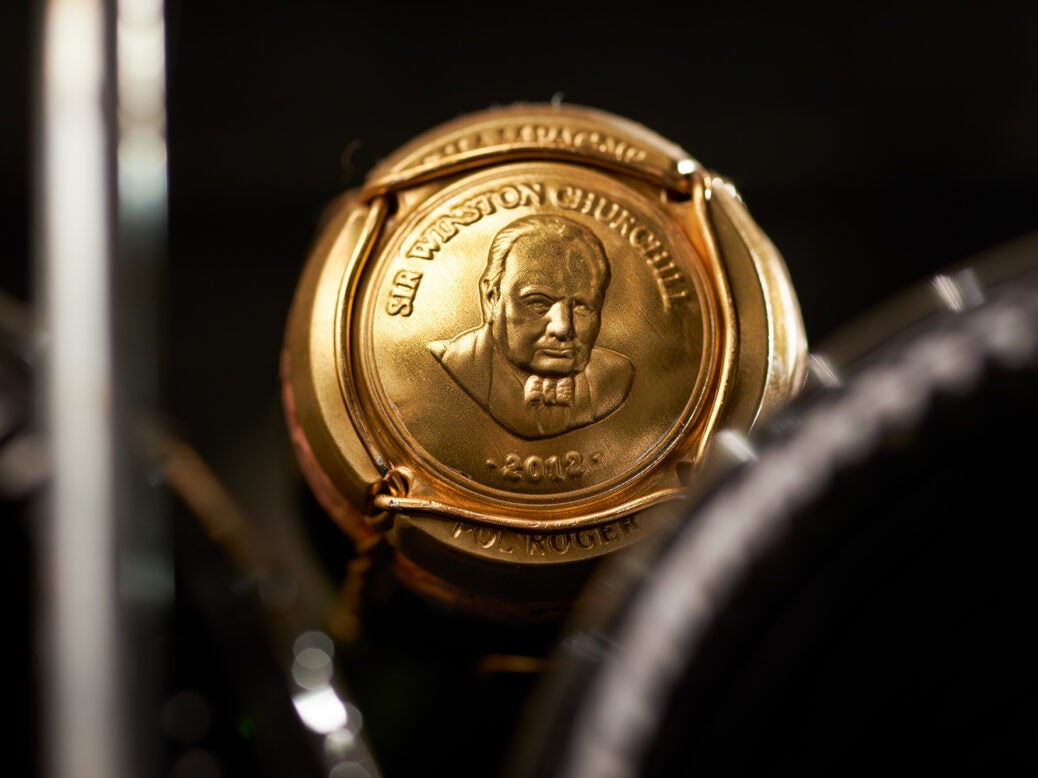 There has been no shortage of anticipation trailing this launch, most specifically because 2012 has been pitched in Champagne as a Pinot Noir vintage par excellence, and, notwithstanding the House's ornate reticence as to the precise blend, Cuvée Sir Winston Churchill is often perceived to be the nec plus ultra of Pinot-dominated Champagne. We have already seen highly successful 2012s in Veuve Clicquot La Grande Dame and Roederer Cristal, powerful beasts both—so, how does Sir Winston carry himself in such august company?
Rather well, it seems, although the famous austerity of the wine in youth (it's still less than a decade old, for heaven's sake) is writ large in a vintage of small yields and unparalleled concentration. Ask the same question ten years on and I expect that the response will be rather less cautious; "good things come to those who wait" seems to be an appropriate platitude for an article composed on Ash Wednesday. The carnival of the tasting took place yesterday!
2012's Champagne harvest was brought in with a potential alcohol of 10.6% and total acidity of 7.8g/l (as H2SO4); the crop was short, yielding just 9,210kg/ha, the result of a growing season that had not been bereft of challenge. After the catastrophic 2011, 2012 appeared to start on a similar footing; record levels of Spring rain and then no fewer than five episodes of frost (7,166 acres [2,900ha] were destroyed) and, for good measure, nine incidences of hail. A gauntlet well and truly deposed for the gods of optimism; thereafter redemptive sunshine and a measured season, the late flowering pushing the harvest into September (of late it has often started in August) and extending it over three weeks. The verdict was universally positive although, at the time, no one was quite sure whether or not it would quite live up to the reputation of the two greats of the previous decade: 2008, generous and sunny, and 2002, a little more reserved and contemplative. History is now inscribing its letters on the chalice of merit, the wines of 2012 looking set fair to follow the stylistic pattern of 2002 rather than 2008. Maybe 2015 and 2018, ostensibly not dissimilar, will be next onto the podium.
So, a 19th outing for this famous Champagne, the first, 1975, launched at Blenheim Palace a decade later, its nomenclature and raison d'être commemorating Churchill's death a decade earlier. Dominated by grand cru Pinot Noir, with robustness and maturity to suit the great man's tastes and, inevitably, to match his personality, this wine is a keeper, its patient tirage under 44 Avenue de Champagne (and the near-by No 1 Avenue Sir Winston Churchill) and modest 7g/l of dosage both designed for a slow and dignified unfurl. The ripeness bequeathed by the concentrated fruit and the 10.6% of potential alcohol is held in check by a firm and persuasive streak of acidity. All is in place to signal a fascinating evolution.
The well-rehearsed story underlines the benefits of entente, the cordiality of which is now threatened by the newly configurated European identity. The platonic relationship between Sir Winston Churchill and Odette de Pol Roger was born at a luncheon at the British Embassy in Paris in 1944 and lasted all the way up to Churchill's death in 1965. Every year Churchill received a birthday gift of a case of Pol Roger Champagne, 1928 his preferred vintage, thereafter 1935, 1945, and 1947. It is said that Churchill consumed more than 42,000 bottles of Champagne during his lifetime, presumably mostly Pol Roger, possibly, by way of exculpation from accusations of excess (perish the thought!) mainly in the Imperial Pint format, thereby a little more restrained. For all the indulgence, restraint is the key word here, perfectly captured in the style of the wine itself and its eponymous metonymy. 2012 shows all the signs of being the greatest Pinot Noir vintage in Champagne since 1952, and this wine is surely set fair to be its most faithful ambassador.