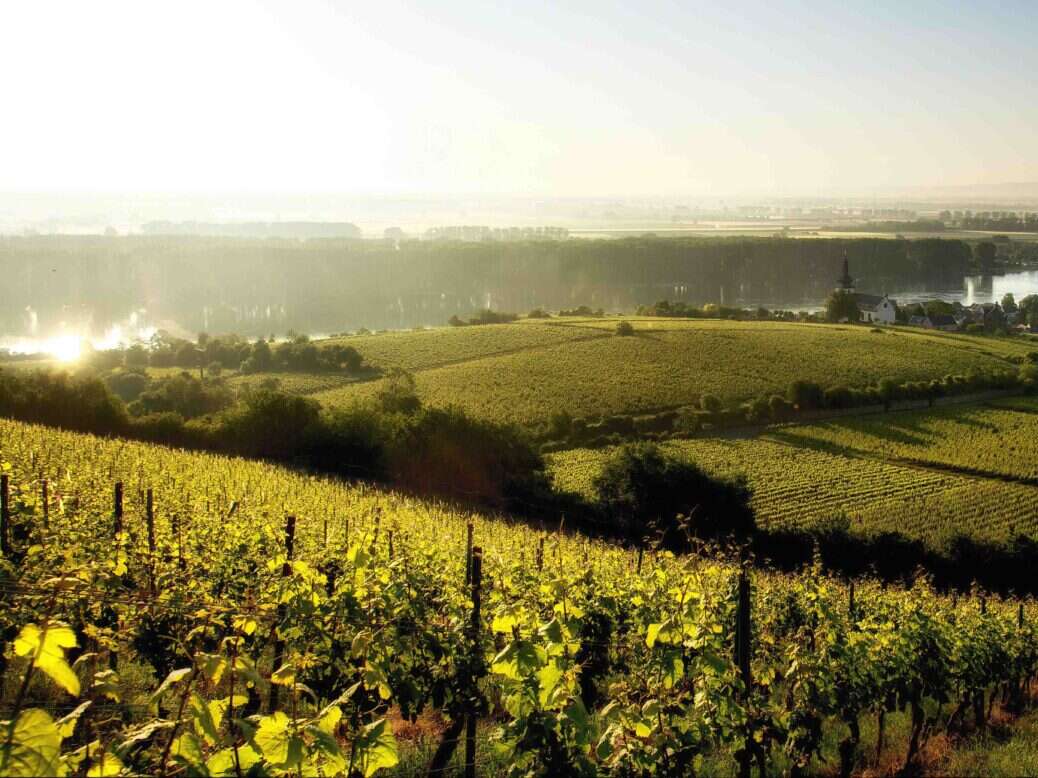 In the first of an important series of data-led reports, WFW tracks the effects of the climate crisis on global wine production
When Kai Schätzel looks out of the window of his home, he can see his vineyards, just 270 yards (250 meters) away. Weingut Schätzel, a winery in the Rheinhessen region of Germany that produces mostly Riesling, has been in his family over 600 years, and it's important for him to be able to keep a close eye on his wine harvest—not least over the past few decades, as increasingly temperamental climate change conditions require close monitoring.
Schätzel, like so many other of his fellow wine producers across the world, is experiencing first-hand the effects of global climate change. The impact differs across the world. Some vineyards, such as those in the UK, are even feeling benefits from rising temperatures; other regions are seeing drought, fires, and frost.
"Fifty years ago, wet summers were normal; the biggest problem of German farming was moldiness," says Schätzel. "That's not what's happening any more. It's getting drier and drier and hotter and hotter at the same time, so the vines consume more water but they get less."
The climate crisis has huge consequences for the wine industry globally. This piece is the first in a data-led series at The World of Fine Wine aiming to track and quantify the impact.
Our warming world
One key aspect of rising temperatures for many wine producers is its acceleration of the ripening process. A study of 600 years of harvest data in Beaune (Burgundy, France) shows that higher temperatures in spring and summer clearly correspond with earlier autumn harvest dates.
Along the Rhein in Germany, the change is even more stark. Data measured by Regierungspräsidium Darmstadt in Eltville, a town just 25 miles from Schätzel's vineyards, shows that the harvest over the past ten years has on average begun on September 26, some 25 days earlier than in the 1960s.
"When I was younger I didn't believe in climate change," says Schätzel. "We said 'Okay, it's one degree over 100 years.' Today we see how much change there is behind it, and it's really happening. We say today that we feel 500 kilometres [300 miles] farther south."
Schätzel says wine producers have had to totally change their growing techniques from those he learned growing up.
"The vine growing system in the vineyards when I was a kid was based on the idea of speeding up the ripening process, because most of the vintages 50 years ago did not go ripe by themselves," he says. "Today, most of the grapes are getting overripe by themselves. And on the way they consume more water, or they want to consume more water than we have."
Sometimes, explains Dr Claudia Kammann, who researches climate change and agriculture at Hochschule Geisenheim University, vines may even start to grow leaves so early that they get caught in a late frost, which can cause significant damage to the plants. An early harvest might also mean a warm picking season, which increases the risk of mold and infections if there is high humidity.
Even if wine producers can adapt their harvesting process and manage resources, climate change could still have a lasting effect on the flavour and characteristics of the wine.
"You used to have grape harvest dates up to mid-October, and by then you would normally have a cool temperature," says Kamman. "These are crucial in forming aroma components that are typical for Riesling; they develop under cool climate conditions."
Schätzel found rising temperatures were influencing the acidity and stability of his wines, which pride themselves on being lightweight and stable. They also increased alcohol levels from the typical 10-11% ABV to as much as 13.5%
Techniques such as cutting the vines shorter and not trimming the leaves to keep the natural shadows can slow the ripening process and stop grape skins from burning. Schätzel says sometimes it can feel like a generational battle, between preserving the old growing methods, and preserving the taste of the wine.
"The challenge is that the generation before tries to keep their tradition, but their tradition was the cool climate," he says. "If you just go to the supermarket [and] look for German wines, 20 years ago it was a sour wine style. Today, German wines feel like international wines."
Growing at the extremes
Of course, there are more extreme examples of the impact of climate change on wine growers. Last year saw multiple wildfires ravage the wine regions of northern California, destroying hundreds of thousands of acres and numerous wineries. Some Napa growers said their entire 2020 vintage would be contaminated by smoke damage.
In previous years, fire season in wine country would usually fall in October and November, when most grapes had already been harvested; now the timing is less predictable. Even if the vineyards escape the fires themselves, the flavor of smoke that taints the grapes can be ruinous to the wine.
In the western Cape of South Africa, drought between 2015 and 2018 had a severe impact on the wine industry. The summer of 2017 and 2018 saw the water in Cape Town's main reservoirs approach only 13.5% of their usual capacity. Had it reached this point—known as "Day Zero"—the government would have cut off water supply to the city, and residents would have had to queue for supplies." Cape Town would have been the first major city in the world to essentially run out of drinking water.
"Day Zero" was avoided—just—but its knock-on effect on the region's vineyards has been stark. The Stellenbosch grape harvest in 2019 was only 65.6% of its 2014 level, and only began to recover last year.
"All of those vineyards really took a lot of pain, to the point that many of those vineyards no longer exist," says Mike Ratcliffe, wine producer and chair of Wine Routes Stellenbosch. "The reality is that the climate imposes itself on an industry."
What the drought brought to light, says Ratcliffe, was the unsustainable growing practises taking place among many wine producers in South Africa.
"If you live in a climate that has got a potential for drought, and you haven't bothered to make the investment in irrigation, then your business model is not right," he says.
Looking for solutions
What will determine which wineries survive, Ratcliffe says, is the ability to invest, particularly in tools and technology that enable sustainable wine production. But, of course, that means producers must have the capital available; it can also mean more expensive wines for the consumer.
"I would specifically point to the producers who have been able to premiumize," he says. "People that have been able to entrench their quality, build brands, and sell wine at prices that are not on the bottom shelf of Tesco. They're able to generate the profits that allow them to reinvest back in the infrastructure."
Schätzel agrees that innovation is crucial—not just for the survival or vineyards, but also so the producers can do their part in fighting the climate crisis overall. It doesn't make sense, he says, to counter climate change with heavy irrigation, when we should be conserving water and the coming years may even see legislative restriction on water uses in agriculture.
"We need to adapt with everything we do," he says. "Climate change is here and it's not a story anymore."
The way Schätzel sees it, wine producers are uniquely placed to help the public understand the realities of climate change. There are very few products that go directly from the farmer to the table in the way wine does, so the wine bottle and its brand can be used to communicate directly to people.
"Wine growers, I think, are ambassadors for agriculture, we are kind of activists for climate change," he says. "If we start bringing it to the tables and make people talk about it, we can change a lot. That's why I think we can perhaps be first movers; at this point, we have a responsibility for it."
Katharine Swindells is a data journalist at the New Statesman Media Group