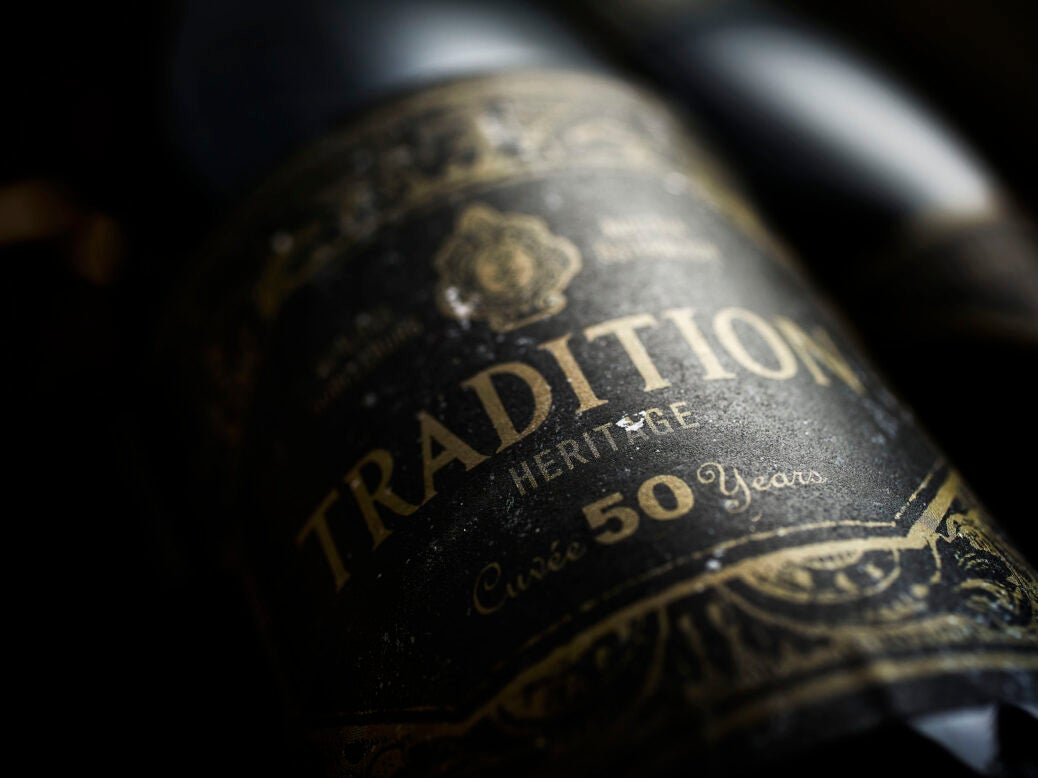 With Schloss Gobelsburg marking its 850th anniversary this year, Terry Theise spent a week tasting the great Austrian estate's latest releases. Today, in the final installment of his three-part account of a profoundly impressive and affecting tasting, Theise presents his thoughts on Schloss Gobelsburg's Rieslings.
You can read Theise's thoughts on Schloss Gobelsburg's Zweigelt, rosé, and sparkling wines here, while Part II focuses on Grüner Veltliner.
Schloss Gobelsburg's Rieslings (or as Michi prefers it: "Appellation wines based on Riesling")
2020 Kamptal Riesling (Schlosskellerei Gobelsburg)
Typically a cuvée of young vines—less than 15 years old—from Gaisberg and Heiligenstein, whereby fruit is intentionally in the foreground. But "fruit" is something quite different in Austrian Riesling. Privately I call this "green and funky" and I mean it as a compliment. Green like herbs (tarragon and lemon verbena in this case) and funky like irises at their purple pungent best. It also smells like schnapps from mountain plants, and like juniper; I wish I had the Dautel Riesling around to taste alongside it!
The palate is frisky and then some! Dazzling and generous yet with the bracing breezes of these '20s, and also with the gravelly phenols on the finish—but compared with the GV this is—or feels—riper, less scraping, though the wine is snappy and crackly, with mid-palate rock-dust and suggestions of chervil and anise seeds. Such attack as it does have is mitigated by juiciness, heightened by the smaller glass. The more I tasted it the more I liked it.
The same is true re-tasting, and there's a physio-ripness here that doesn't exist in the equivalent GV—that, or maybe even a stealthy couple grams of RS to lengthen and round out the finish. It's a loveable beast, and not without its edges and angles.
Now all funk, and even a little feral. I'm tasting this on an indecently pretty June day, one of those 24-to-48-hour respites we get before the summer sultries descend stickily over us, and in the midst of this euphoric weather is a wine that is deeply, powerfully of nature, but nature at her least adorable. There's a part of Scheurebe that isn't grapefruit or cassis or sage, one you could call "darkly catty," and I'm thinking of that now.
I admire a wine that doesn't ingratiate, but this Riesling swings pretty wide on the hinges. I like the finish in its burned-resin saltiness, and I like the caraway character of amphibolite wines, but I confess I wouldn't mind a sideways smile from this Riesling.
2019 Ried Gaisberg 1ÖTW Kamptal (Riesling) +++
While this warms in the glass, a thought; of all the great (or near-great) Rieslings I know, Gaisberg is the most Gregorian of them. It is placid and quiet and feels like it emerged not from a winery but from a cloister. We who love Riesling love this one almost in secret, and we're not sure we can meet its cool purity with our own. The Gaisberg from this estate is a kind of apex of riesling's introverted poetry.
And with all that said, this wine is ludicrously beautiful. Carried away by the elusive and ethereal perfumes, I had all these images of a pre-dawn birder on a dewy cool morning, hoping to spy an elusive little bird, blue and trilling…you know, that stuff. And then I took a sip.
An eerie clarity. Those colorful ice-clouds you sometimes look up and see. Frost on the ground but a mild day in store. Then comes the generous part, a riot of bee-balm and white nectarine and blueberries, and then just when you think it may be too ethereal there's a wave of saltiness and wild fennel fronds, and it seems to quiver with intensity yet it's all in the higher registers, and you can't be sure you understand it all.
I am sure of this; people who love this sort of wine are rare people, and this is a rare gift. You can taste a thousand Rieslings and not find another one that's rare in this way. It's Riesling in the form of irisation. A keening, salty ghost. One who ate a lot of mangoes in her life, and misses them.
Earthly things emerge with air and warming in the glass, and the wine grows more tangible. You get to decide which profile of greatness you want; the ethereal one (at cold temperature) or the fruit-divinity mango-jazz one. It's wonderful to watch the shape-shifting. The whole thing is heart-rending. Please don't confuse my three plusses for the kind of wine that puts on a big clamorous show for you, but also please understand, for me and maybe for others who love Riesling in its seeker-of-divinity profile, this is as profound as it can be.
And it's not only the greatest Gaisberg I've ever tasted from this estate; it's the greatest I've ever had.
2019 Ried Heiligenstein 1ÖTW Kamptal (Riesling) +++
It certainly takes it place on a list of the world's 20 most profound Rieslings. And 2019 is said to be a great vintage. So!
It is wilder and spicier and more visible than the Gaisberg. No interstellar dust here. It's the first Riesling that really required the Jancis glass; my poor little Spiegelau was too small. On successive days the wine got all serpentine and slinky and push-pull and smoky-salty. I like an exciting wine!
When Heiligenstein works—and face it, you have to go to some trouble to make it not work—it is a big lush polyphonal chord with low tones and medium tones and high tones and the shimmer of their proximities and just when you think it's one way oops it's another way and even if you're a wine big-shot like me you're frozen in your tracks remembering this is what complexity means and you're so happy it's all there before you—to be seen and loved.
There is nothing wrong with explicit complexity. At their best, Heiligenstein makes you want to sing with gratefulness, while Gaisberg makes you want to pray with longing. In one, you lift your voice. In the other, you still your voice.
Please see my most recent catalogue for a contrast between the two vineyards. Of the several great (and many excellent) Heiligensteins I know, Michi's is the most deliberate, explicative and filigree. Of the many things he has achieved, the daisy-chain of greatness this wine has shown through the years counts as among the most profound.
And if you think there's a better white wine on earth than this one, do be so kind as to share it with me.
Tradition "Heritage" Cuvée 50 Years +++
Last year just before Christmas Michi sent a letter to a few of us, explaining how the following wine came to be. He wrote: " In Summer [2020] the abbot came to visit the construction site [for the new cellar: TT] and I was already considering what would be the appropriate wine to celebrate 850 years, so I asked him if it would be imaginable to use some stock of the library for such a project and he instantly agreed that we can use whatever we feel is usable for such a wine. So we started to make a few trials and from September on we took around 3000 bottles from the library, opened them, tasted and emptied the bottles first in small containers. From there we blended them into 300-liter casks and from there in 2,700l until we made the final blend. This is something really untypical for us, but I have to admit, that it was not only interesting, but something that was worthwhile doing.
The wine will be bottled in January and released in March / April."
OK, I took off the black wrapping paper and there was the label and the band atop the cork (with its wax seal) and I thought I should play 16th century chants or at least some John Taverner. But when you start out solemn you end up in a fudge, so I'm trying to play it cool.
The color is surprisingly pale. It looks like a 20-something wine, more green/straw than gold.
The smell is one I know well. It's the scent of a healthy cellar. I'm finding it beautiful that it's just "old" wine in general and not any single one in particular, because then I'm not thinking about vintage or variety or site. It's just wine, plus time, plus love.
Obviously it is what we'd call contemplative. But what's truly amazing is how fabulously good it is. The taste is younger than the aroma, and the first thing I thought was "this was blended by a genius." It has a surmise of that "physio-"sweetness …actually, for all I know some of the wines in the blend were sweet, as they often were back then. It felt cruel to spit such a thing, so I didn't.
I am mindful that a wine like this is in my wheelhouse for my most effulgently emotive/mystical wanderings, and I'm trying to pare them down. See what's left. We know the burnishes and atmospheres and something I can only call the "ripe vapors" of wines like these. A lot of tasters who never wrote poetic tasting notes will write poems for this wine. I hope they let us see them. We could use more hearts on more sleeves.
Right now I am thinking, I'm glad I lived long enough to have tasted this. It is a benediction. I'm thinking, also, what one thinks at such times. Have I been kind enough? Did I love the way I wanted to? Thoughts like those.
But Michi, my friend, wanted a wine that might in some way embody a tradition of 850 years, that might suggest the dignity, the sweetness, and perhaps the sheer unknowability of such a rope of time. I wonder where those threads might join, his and mine. Could it be said, that an abiding human regret, throughout all time and for each of us, is that we weren't as kind as we might have been? Even the monks were not as kind as they might have been. And so maybe, just maybe, the echoing music of the centuries, sitting in my glass just now, is that no kindness is ever regretted. Oh, I would like to think that.
We wash up on a far shore, finally; we sought to serve the cause of love and too often failed, and now we are shipwrecked and yet there is this sweetness. This sweetness. How in the world do we account for it? It must have to do with the kindness of dogs. Otherwise I can't make sense of it.
This is the last one; that is, the last to be varietally labelled and vintage dated. In the future there will be 3-year, 10-year, and possibly a 20-year "Tradition" and these will be varietal blends, the point being time rather than variety or vineyard.
I will say that as long as this idea persisted in this way, the results were often deeply beautiful. Both the wines, and the idea behind them, this shape-shifting into the mentalities of cellar-masters who didn't have the technical options of today, and who worked with what they did have, and whose relationships to their wines were defined accordingly. Michi's curiosity to enter that ambience was and remains an inspiring thing.
This one is one of the Traditions powerfully expressive of its tertiaries. Saliently, it is only Riesling because we know it is, but otherwise it's the breathing of the casks and the abiding fragrance of the cellar. I think it's a fine, savory vintage of this wine, but you need to pay attention lest you think it is merely oxidative. It also comes back and jabs on the finish, but not in a bothersome way.