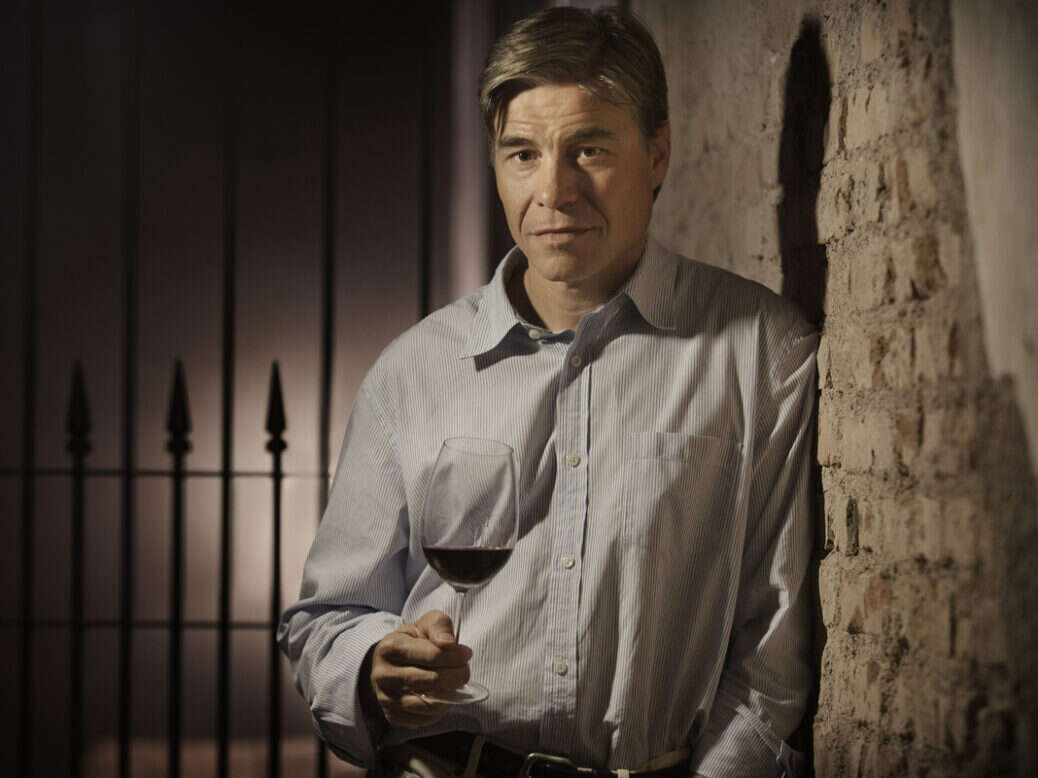 When Hervé Birnie Scott first arrived in Mendoza to start his new job at Domaine Chandon, he stepped off the airplane in shorts and a t-shirt discovering temperatures of -5oC (23oF). The Sancerre native, like others who have not spent winter months in South America, assumed Argentina, and particularly Mendoza, equated to hot climate. "Everything was a surprise for me. And a love affair. You can image, as I'm still there 30 years later," muses Hervé as he sets the scene for the launch of the newest project he's led for Moët Hennessey: the Grand Blends of Terrazas de los Andes.
"Argentina is the largest reserve of natural resources in the world—unfortunately it's also full of Argentinians," he jokes warm-heartedly about day-to-day life, but when discussing his viticulture experience it's clear that the opportunities there have set him on a fulfilling path of discovery and wonder, despite some inevitable challenges along the way.
His first step was to explore the land. "I had carte blanche. For the first six months, I did nothing but carry out investigations with the Technical Institute of Mendoza and the Agricultural Institute. I was struck by the fact that the terroir was responding in a completely different way than I was used to. Basically, it was the elevation."
Trial and error viticulture
"It took me and my little team five years to determine what we wanted to do. We were exploring the beautiful Uco Valley." One of his most timely and important discoveries was Las Compuertas. A very old, high-altitude, vineyard in Luján de Cuyo originally planted in 1929, own-rooted with excellent plant material. "Before my arrival the group was starting to pull it out, and I immediately stopped them." They sold 86 acres (35ha) to Cheval Blanc (Cheval des Andes) but the remaining 148 acres (60ha) has become the secret sauce of their Malbec and newly released Grand Malbec.
"We learned to respect the land," Hervé explains, with a mixture of amusement and horror, referring to a time when a newly planted vineyard was washed out by heavy rain in just 30 minutes. They learned through trial and error how to plant new vineyards successfully in uncharted territory. Eventually they accepted that the soil was shaped by the erosion of the Andes, and that fighting nature was futile.
Instead of making the vineyards conform to one recipe, the pendulum swung the other way and precision viticulture has become the golden rule at Terrazas de los Andes.
Hervé and his team (who refer to themselves as vineyardists) subdivided three original blocks into ten blocks and manage each one completely individually. With ten different protocols on pruning, irrigation, harvest dates, and vinification, depending on the sites' specific needs.
"Is irrigation good or bad?" Hervé asks the room of tasters. We all mutter something along the lines of "it depends" and "if it's sustainable."
"Our team was the first to import drip irrigation in 1994. Flood irrigation uses twice as much water. Mendoza is one third the size of France—not that small! Water is so scarce there, so water management is critical."
Commitment to precision means they take 15,000 measurements per year. They measure the hydric potential of the vines through petiole analysis, checking: Is it stressed? Does it have enough water? They are the only ones in Mendoza doing this, claims Hervé. Besides converting 93 percent of their vineyards to drip irrigation, they reduce the amount of water they drip by a further third thanks to measuring what the plant needs and being more precise.
Sustainability to the people
"For me, sustainability is a nice motto that allows you to 'buy virginity,' as we say in France, but really sustainability for us is about the people."
Terrazas de los Andes started an educational program 15 years ago which now funds 22 rural schools near the vineyards and winery training 1,500 children per year on artistic, agronomic, manufacturing, or civic topics.
There is also a sustainable commitment to the vineyards they own. No herbicides are used on more than 740 acres (300 ha), more than half of which are certified organic. "It's been our philosophy for a long time—if going all the way gives us the certification and therefore recognition, then fine, we'll go all the way."
Climate change and consumer preferences for balance have both resonated in Mendoza.
"We are now harvesting three weeks earlier," says Hervé. "Where we used to start in early April, and finished early May, now the critical month for red is March." The mentality has changed from saving the best vineyard to be harvested last, to now harvesting your best vineyard first, trading ripeness for freshness.
The Wines
Terrazas de los Andes Reserva Chardonnay 2018
Finca Caicayén, Uco Valley; 4,100 feet (1,250m) above sea level; 20–25-year-old vines. 60% aged in French oak barrels; 30–50% MLF; 14% ABV
Very reductive aromas of flint and decomposing autumn leaves. Floral and citrus notes shine through with a graphite and smokey toast on the end. Lovely, rounded, and smooth palate, with good freshness and concentration of fruit. The alcohol feels a touch warm but balanced, with a crisp finish.
Terrazas de los Andes Reserva Torrontés 2017
Cafayate Valley, Salta; 5,905 feet (1,800m) above sea level; 40-year-old vines.
Hand-harvested in March, 10 days before neighbors in the Cafayate Valley, to keep freshness, favoring a citrus over a floral profile; 13.5% ABV
Fragrant magnolia, mimosa, iris notes, and even a touch tropical. Stone fruit with subtle layers of spice, graphite underneath. Quite aromatic on the palate, too, but tangy, keeping it very drinkable and refreshing.
Terrazas de los Andes Malbec Reserva 2016
Las Compuertas (Luján de Cuyo) and Paraje Altamira (Uvo Valley); 3,510 feet (1,070m) above sea level; 20–80-year-old vines. An El Niño year meant a colder spring, with delayed budbreak, rains during flowering, and overcast days, leading to delayed maturity and lower yields with lower alcohol and high acidity; 13.5% ABV
Abundant purity of fruit, with a marked violet and herbal character, laced with graphite/mineral and peppery notes reminiscent of the Northern Rhône.
Powerful and muscular yet very sleek and lean. Soft, velvety tannins and fresh acidity all the way through, with good fruit intensity. Feels very genuine. Delicious.
Terrazas de los Andes Malbec Reserva 2017
Las Compuertas (Luján de Cuyo), Paraje Altamira, Eugenio Buston and Chacayes (Uco Valley); from 3,510 feet (1,070m) to 3,937 feet (1,200m) above sea level; 20–90-year-old vines. A warmer year than the previous two vintages led to more concentration, color, and intensity; 14% ABV
Vivid purple rim with a dense, dark, core. A much bigger, more structured, full-bodied wine, with mouthfilling, chewy tannins. Slightly peppery as well, with heaps of ripe black fruit, with a roasted and savory edge to it.
Terrazas de los Andes, Grand Malbec 2017
A mix of their three best vineyards: 25% Las Compuertas Estate (Luján de Cuyo), 30% Los Castanos Estate (Paraje Altamira, Uco Valley), and 45% Licán Estate (Los Chacayes, Uco Valley): 3,510 feet (1,070m), 3,606 feet (1,100m), and 3,937 feet (1,200m) above sea level respectively. 12 months in French oak barrels; 14.5% ABV
Electric purple with a black-garnet core. Very intense ripe fruit, yet savory and spicy. Very enticing. Powerful, forward, with firm tannins that are polished and only gently grippy. Energetic acidity, driving the fruit concentration to a long finish. Outstanding.
Terrazas de los Andes, Grand Cabernet Sauvignon 2017
From their best single vineyards: 60% Los Aromos Estate (Perdriel, Luján de Cuyo) and 40% El Pedregal Estate (Paraje Altamira, Uco Valley); 3,215 feet (980m) and 3,608 feet (1,100m) above sea level respectively. 12 months in French oak barrels; 14% ABV
Intense, ripe black fruit, with the herbal and sauvage character of the Cabernet resonating through. Rich, deep, and succulent, with smooth tannins and a juicy freshness.