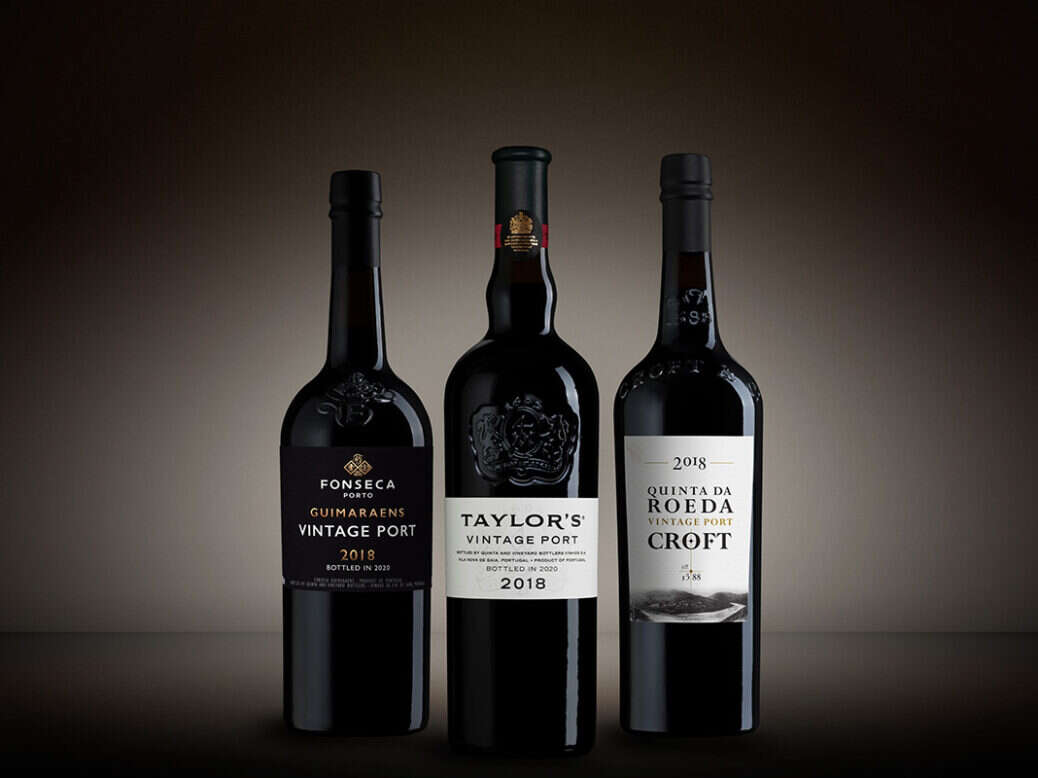 Some of the Douro's biggest names have made declarations of classic and single-quinta Vintage Ports from a year of low yields and high quality
A cluster of Port houses have waited for the traditional St George's Day date to announce their releases from the 2018 vintage, with some shippers making a full Vintage declaration for an unprecedented third year in succession.
The Fladgate Partnership, owners of Taylor, Fonseca, Croft, and Krohn, said the conditions had been "excellent" throughout the Douro, but that those in the Douro Superior had been "exceptional." With Taylor's having extensive vineyard holdings in the Douro Superior—including the historic core of the Taylor's Vintage blend, Quinta de Vargellas—the house was able to produce a classic Vintage in 2018, following on from declared Vintages in 2016 and 2017.
"Although a Classic declaration normally only happens about three times a decade, the exceptional run of years has meant that Taylor's has been able to make a third in a row," said Fladgate managing director, Adrian Bridge. "This is very unusual but our principle is that we declare a Classic Vintage when the quality is there. This is dictated by the year, not by any other consideration."
"The 2018 viticultural cycle had a challenging start but, as the harvest drew nearer, the conditions for making outstanding Vintage Port all fell into place," added Fladgate head winemaker, David Guimaraens. "This was particularly true of the Douro Superior, which enjoyed the combination of intense summer heat and abundant ground water which often produces great Vintage Port. It gave us the excellent phenolic maturity typical of a hot ripening season but the elegance and fresh acidity we normally associate with cooler years. What stands out in the Taylor's 2018 are its impressive, linear tannins, its depth of aroma and its wonderfully complex multi-layered fruit."
The Fladgate Partnership also announced that it would be releasing two other 2018 Vintage wines from its houses. Fonseca has made a Guimaraens 2018 Vintage Port, the first edition since the 2015 vintage of a wine that Bridge said has "the same make-up and character" as the Fonseca Vintage Port, but in a more accessible style. Croft, meanwhile, has produced a 2018 Vintage of its Single-Quinta Vintage Port, Quinta da Roêda.
Under the stewardship of managing director Christian Seely, Quinta do Noval has recently tended to release some Vintage wine every year. So, as Seely said, "It will perhaps come as no surprise that we are declaring the Quinta do Noval 2018 Vintage Port"—the eighth year in succession that the producer has declared a Vintage. Just 1,600 cases—or 7 percent of the quinta's production—have been made in 2018; as ever, exclusively from the eponymous quinta in the heart of the Douro Valley.
"Both Touriga Nacional and Touriga Francesa flourished in 2018, in particular the Francesa which benefited from the ideal ripening conditions, and this Vintage Port blend is dominated by these two varietals," Seely said. "The wine is wonderfully ripe, full, and exuberant, spicy on the nose, with very fine long tannins and a classic Noval purity and elegance."
Seely also declared the 2018 Vintage for his own property, Quinta da Romaneira. Some 555 cases have been bottled of a wine that Seely described as "magnificently ripe, with profound color, expressive intense rich fruit, and a wonderful underlying freshness."
The Sogevinus group, meanwhile, announced it was releasing four Vintage wines—two classic Vintages and two Single-Quinta Vintage Ports—after what it described as a "challenging year."
Both Kopke, from its Quinta de São Luiz in Cima-Corgo, and Burmester, with a wine from Arnozelo, in the Douro Superior, have produced Singe Quinta Vintages, while Cálem and Barros will release Classic Vintages "that reflect the rich diversity of the Douro region."
"2018 was a particularly challenging year, with adverse weather conditions resulting in a lower yield, albeit of excellent quality. With a lower quantity of grapes coming into the winery, we were able to closely monitor the fermentation of the first musts. These exceptional wines, perfectly representing the profile of each of their Port houses, are the result of the excellence of that raw material", said Carlos Alves, Sogevinus Fine Wines' Port winemaker. "In general, the 2018 Vintage ports stand out for their freshness, elegance, and excellent balance between sweetness and acidity."
Finally, Ramos Pinto has announced the release of a Single Quinta Vintage Port from its historic Quinta do Bom Retiro estate. In a year that Ramos Pinto master blender Ana Rosas called "one of the most challenging for viticulture," the shipper said Quinta do Bom Retiro Single Quinta Vintage Port 2018 "has fresh red-fruit aromas with a complex silky palate and an impressive structure."