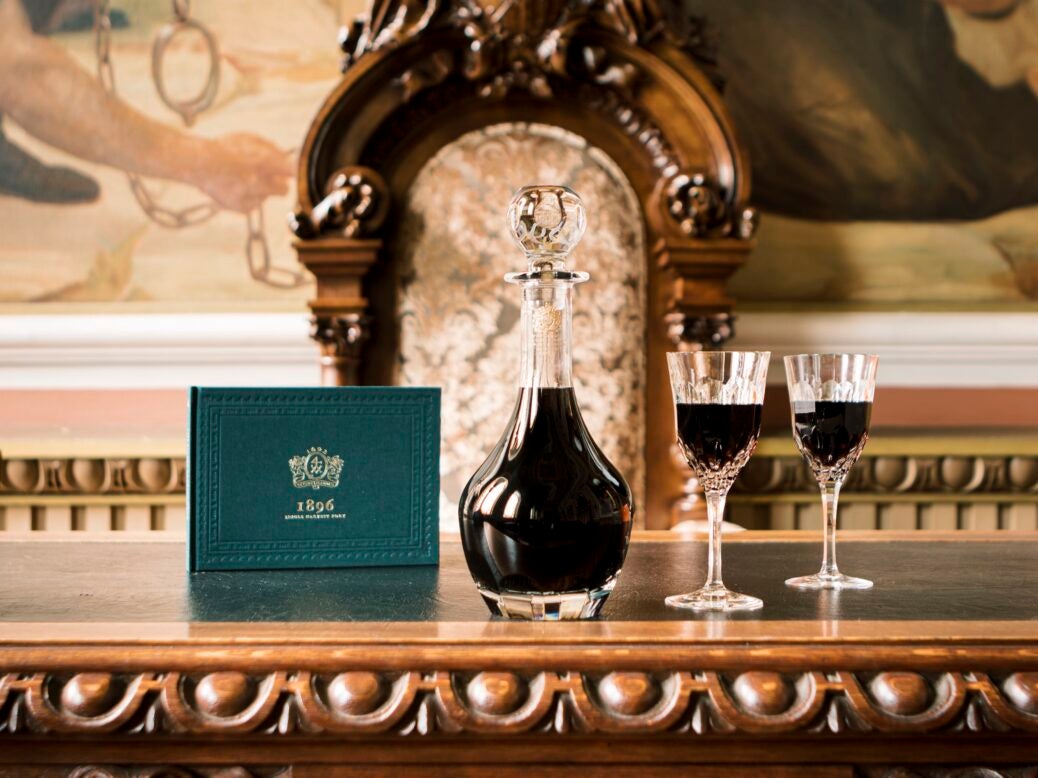 Taylor's Single Harvest 1896 is the latest in the shipper's series of releases of very rare old Ports.
As the booklet that accompanies the release of Taylor's Single Harvest 1896 makes very clear, the shipper's latest dip into its stocks of very old, very rare Ports is an historic moment.
The booklet describes some of the notable people and events that were contemporaneous with the wine's birth in the late 19th century. It was the year of Wilhelm Conrad Röntgen's discovery of the x-ray, of the first modern Olympiad, and the première of Puccini's La Bohème, a year when Queen Victoria became the longest-reigning monarch in British history and when, closer to home, Taylor's acquired its famed Douro property, Quinta de Vargellas.
The vintage itself was celebrated from the very beginning. According to Taylor's, the wines of "the great landmark year of 1896 were exceptionally powerful and deeply colored, still impressing with their vigor and stamina when tasted 50 years later."
By 1946, wines from this "exceptional" vintage were already vanishingly rare "and changing hands for a small fortune," the booklet's text continues. And by 1999, "A century in oak had darkened its color to a deep mahogany brown, reducing it to an essence of extraordinary depth and density."
The two remaining pipes of 1896 stayed in the Taylor's lodges in Vila Nova de Gaia for a further quarter of a century, before the decision was made to release a mere 1,700 bottles. As with other extremely rare 19th-century Port releases from Taylor's in recent years, such as SCION from 1855 and the 1863 Single Harvest Port, Taylor's Single Harvest 1896 comes in luxurious packaging in the shape of a bespoke, re-usable cherry wood box and individually hand-blown Scottish crystal decanters. The suggested retail price is £3,950.
Taylor's Single Harvest 1896: A tasting note
The wine is described by Taylor's in a suitably extensive and expressive tasting note:
" Mahogany core with olive green highlights on the rim. The magical quality of this wine is unique, hard to compare even with the few other wines of similar age that have survived to the present day. Its depth and density are astonishing, even taking into account the wine's concentration over a century and a quarter of ageing in wood. At first, a rich and seductive redolence of black coffee and liquorice takes centre stage but a host of other scents and nuances soon emerge from the wings, creating an intricate display of complex aroma. Notes of sawn cedarwood blend with hints of dried rose petal, fennel and eucalyptus. Notes of black pepper and vanilla add a warm spicy dimension.
"On the palate the wine is dense, round and velvety with impressive volume and concentration, the sweetness balanced by a fresh acidity. Mellow flavors of coffee and butterscotch combine with vibrant notes of orange peel and citrus. The finish is endless, the dense mellow flavors remaining on the palate long after the wine has been tasted."