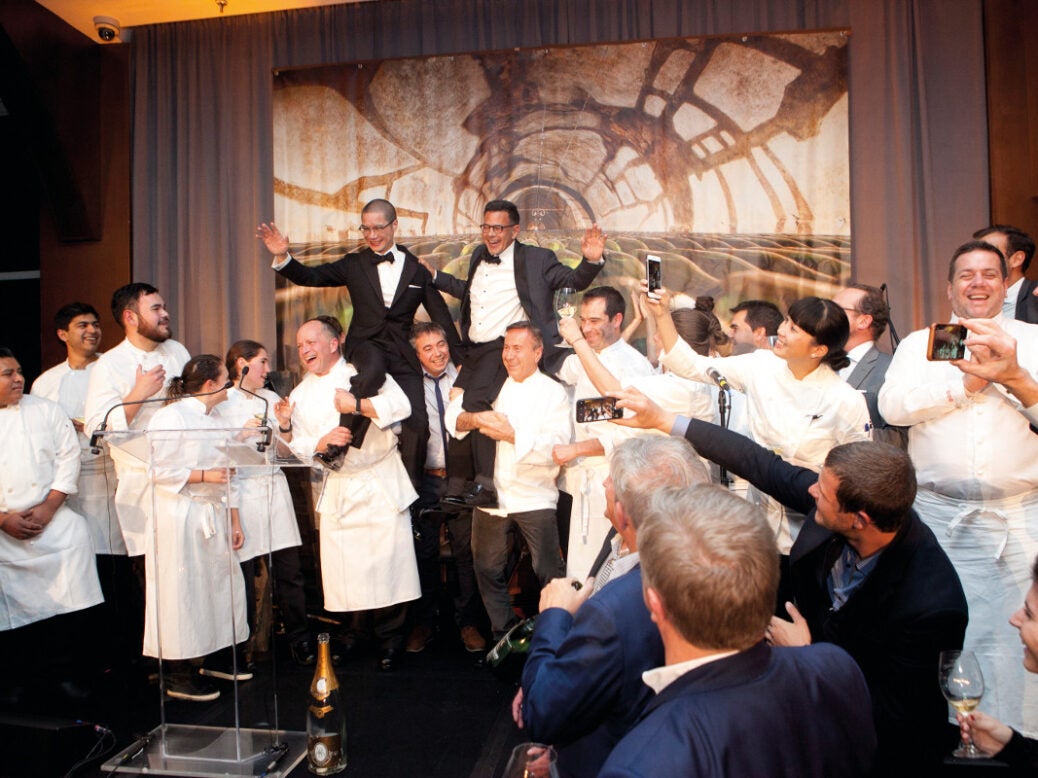 Over three chilly days last November, the 2018 Fête du Champagne surged, frothed, and crackled like the mousse of a freshly poured glass. Be it vertically or horizontally, over dinner or lunch, in an academic setting or with uninhibited revelry, the Champagne flowed in New York.
It was my first time at this annual event, which began in 2014, and I was eager to see how it would compare to other major wine events produced by sommelier and importer Daniel Johnnes, especially his famous Burgundy event, La Paulée, which I have attended a number of times. The Fête, as it's called, follows the template of La Paulée, so the progression was familiar: a few Champagne-paired lunches and dinners staged at local restaurants on Thursday and Friday set the stage for a big Saturday—a morning of seminars, followed by the Grand Tasting, in which current releases from the participating houses are sampled in a jam-packed, walk-around format. Then the room is turned around for a multicourse dinner for a couple of hundred people, who are encouraged to bring and share wines from their own cellars. Events can be purchased à la carte, though some Champagne lovers splurge for the entire program.
From the inaugural year, Johnnes was wise to enlist writer Peter Liem as co-host. While Johnnes's credentials as a wine expert are not in question, his primary association is with Burgundy. Liem has built his reputation around Champagne (and, to a lesser extent, Sherry), with his authoritative website champagneguide.net and 2017 book Champagne: The Essential Guide to the Wines, Producers, and Terroirs of the Iconic Region. Slight, bespectacled, and dapper, Liem cuts a figure in line with Champagne's current vibe—elegant, studious, intellectual, focused, urbane.
The enduring success of La Paulée raises the interesting question of whether Champagne is as viable a candidate for over-the-top excess as Burgundy. Do people care as much about Champagne terroirs as they do about the Côte d'Or? Are there enough collectors or people who covet rare bottles to fuel a major event? Can people even bear to drink so much Champagne in one night or over a period of days?
However much acidity and effervescence I could cope with during the event, one thing I knew was that the Fête would offer the best snapshot of the region available outside of it—not just vinously, but also in terms of the spirit of the industry. And so, in the current moment, Champagne presented itself as being as dynamic and exciting a region as any in France. This was demonstrated in both the diverse composition of the group of 36 producers represented at the Fête and in the wines themselves that we tasted over the three days.
The past couple of decades have seen a palpable shift in the character of the region and its wines. The most profound evolution is the Burgundification of the wines—the shift from the primary product being a brand, to being the expression of the terroirs of Champagne. At the heart of this evolution, and empowered by it, is the grower-producer, who has also had a major impact on the overall tone of the region. In the past, interactions with the Champenois were fairly stiff, formal, and corporate; it felt more like a business than a pleasure. The growers of today are a younger, more jolly, and raucous group, and their radiance has caused even the executives to loosen their ties—a boon for the Fête. To that end, most of the producers present for the Fête 2018 were small growers. The exceptions—Pol Roger, Louis Roederer, Philipponnat, Jacquesson, Drappier, Gosset, Diebolt- Vallois, and AR Lenoble—were mostly high-performing négociants who also grow their own grapes.
Champagne lunch and dinner
The Fête's smaller lunch and dinner events were routinely excellent. Kicking off the program was the Déjeuner Champenois, featuring 12 mini-verticals from four houses: Laurent Champs of Vilmart, Jean-Hervé Chiquet of Jacquesson, Quentin Paillard of Champagne Pierre Paillard, and Charles Philipponnat of Champagne Philipponnat. The downtown restaurant Racines, where renowned French Master Sommelier Pascaline Lepeltier heads up the wine program, was the setting for the intimate gathering, with guests seated around four tables. With each course, the Champagne producers exchanged seats, so guests had a chance to chat with each one of them.
Vilmart led off the meal with its stunning Coeur de Cuvée 2002, 2005, and 2008, which were vintages that provided the intensity and tautness to balance Vilmart's notably plush style. Jean-Hervé Chiquet chose to highlight the Côte des Blancs grand cru village of Avize, serving the 1989, which was a blend of terroirs in Avize, as well as the 2004 and 2005, by which time the wine had become an expression of a single parcel, Champ Cain. Next were Grands Crus Blanc de Noirs 2008, 2012, and 2013 from Pierre Paillard, a house with which I wasn't familiar but by which I was very impressed. Quentin Paillard gave a lovely introduction to the town of Bouzy, but much of the group conversation would concern the 2012 and 2013 vintages, considered opposites in almost every respect. A vintage of exceptional intensity, 2012's harvest began in August, a fact on which Peter Liem would reflect. "When I began studying Champagne in the 1990s," he said, "the beginning of harvest had already advanced into the middle of September. But now all four of the harvests in August in history have been within the past 15 years, including 2012."
Vintage 2013, on the other hand, was the opposite. "A total retro vintage," according to Liem, "2013 was the first time they've harvested in October in 20 years." It was a difficult year, with a cold spring pushing back ripening, as well as problems with mildew and hail. Nevertheless, the Pierre Paillard expression shows great tension and acidity. Last up were Philipponnat's iconic Clos des Goisses 2007, 2008, and 2009. Champagne's first single-vineyard wine of consequence (first vintage, 1935), Clos des Goisses is a very steep, chalky, south-facing site planted to both Chardonnay and Pinot Noir. Its redfruited richness was the perfect pairing with delicately prepared hen over a chestnut and yuzu velouté. This was the ideal sort of lunch one can find at the Fête: Resplendent wines, beautiful food, and exacting knowledge were all shared. While this Champagne-soaked meal was almost over the top, some of us had to restrain ourselves, since the evening event was perhaps the pièce de résistance of the entire Fête: a dinner at one of America's most celebrated restaurants, Eleven Madison Park, hosted by vigneron Rodolphe Péters. The theme was Champagne Pierre Péters's excellent single-vineyard wine from Le Mesnilsur- Oger, Les Chétillons. The house has been marketing this wine since 1971, when it was bottled as a Special Club. From 1982 it was called Cuvée Spéciale and, since the 2000 vintage, labeled with the name of the vineyard. All 12 vintages were poured from magnum, some of which were the last in the house's cellars, ensuring that this was a tasting that would never be reprised. Péters, a warm and engaging fellow, spoke emotionally for the occasion, noting that "this vineyard is a part of the family, because it's a tribute to my father." Specifically, it's made of three plots, with vines at 70, and 35–45 years of age. Les Chétillons is always a crystalline expression of Mésnil, delivering powerfully chalky minerality but elegantly lodged in a wine of rich fruit and depth. The vintages tasted included 1970 (before the wine was sold), 1973, 1985, 1988–90, 1999, 2000, 2002, and 2008–2010. While the oldest wine was perhaps a bit tired, the rest displayed remarkable staying power. The 1985 was potent with acidity, while the 1989 had developed a fine toastiness and lovely elegance. The 1999 was soft and gentle, while the 2000 burst with showy fruit.
A scintillating Saturday
Saturday's program started at an early-feeling 10am, with a seminar featuring Liem, the writer Jon Bonné, and importer Terry Theise. The theme was fascinating: Chardonnay wines grown in the traditionally red-wine terroirs of the Montagne de Reims and Vallée de la Marne. "A producer told me," said Bonné by way of introduction, "that since we already know and are used to what we think Chardonnay tastes like, when you taste it from other soils, you know when you are tasting the place."
The six wines tasted were extremely interesting, but none more so than Gaston Chiquet's 2012 Blanc de Blancs from Aÿ. Arguably the greatest Pinot Noir village in Champagne, Aÿ unquestionably made its imprint on this Chardonnay, which tasted of the delicate strawberry and cherry notes for which the village is renowned. "This wine has nothing whatsoever to do with Chardonnay," said Theise. "It's simply the soprano register of Aÿ, delivered clearly and without embellishment."
The Grand Tasting occurred at noon in a large, glass-walled hall overlooking the Hudson River with views toward the piers and New Jersey. For three hours, guests elbowed through the crowds to obtain tastes of a panoply of wine and bites prepared by top local restaurants. It was a lovely range of producers—from stalwarts like Bruno Paillard, Pol Roger, and Ruinart, to the currently fashionable and Maison Bérêche.
After the room was cleared, workers began turning it around, constructing long, formally decorated tables for the evening's gala dinner. I was curious to see how this dinner would compare to those at La Paulée, which have occasionally become disagreeable contests pitting collector versus collector, and creating unpleasant moshpits around certain tables as guests mobbed to procure a taste of this DRC or that Leroy.
But the Fête was different for a couple of reasons. First, it was much smaller than the Burgundy events so had a more intimate feel. And second, Champagne collecting isn't quite the sport stockpiling Burgundy is, at least not in the US, meaning there weren't too many obscene rarities going around to attract the masses. Of course, there were plenty of great bottles, including older vintages of the superstars: Selosse, Krug, Dom Pérignon, Cristal, Salon, Prevost, and so on.
While there wasn't too much older Champagne (1950s–1980s) going around in the first place, the bottles that were available didn't impress in the way one might expect. Mainly this was because the popular style of Champagne these days is so different from the past. We are used to drinking much drier wine, with very low or no dosage and ripping acidity. Comparatively, the older Champagnes often seemed heavy, dull, and cloying. I found myself sitting at what turned out to be the bohemian table. We had Vincent Laval and Benoît Marguet with us, the former dressed in tweed jacket and cap, no tie, looking ready for an ale been offered a place in one of France's most prestigious neuroscience programs but had decided to forgo it in order to become a jazz drummer. "I am thrilled!" exclaimed Laval.
Sitting across from me was the Québecois importer and sommelier Vanya Filipovic of the Joe Beef empire, a leader in the natural-wine movement. She happened to be sat next to a curious young fellow, by far the youngest in the room, who wore a white T-shirt. It was, however, a fortunate seating assignment, since he was a natural-wine enthusiast. And when Vanya pulled out a wine that she had brought, he screeched with the excitement you'd expect of a cinephile meeting Jude Law. The wine, of which I'd never heard, was a rare still Champagne from a tiny producer named Timothée Stroebel. Later, a young woman walked by our table and, upon recognizing the bottle, let out a similar shriek of delight. I was seeing another generational shift in Champagne before my very eyes. The first was from corporation to grower. And now it was from grower to extreme natural, bohemian grower.
To witness the dawn of a new Champagne era at a formal dinner in New York is indeed what makes the Fête so compelling. You can taste the new and the cutting edge while comparing it to the very old and everything in between. As for the question of how much Champagne guests could reasonably stomach in one night, well, veterans of the Fête had come prepared. We weren't even past the second course, when I saw the first Burgundy being popped. The shadow of La Paulée is long.