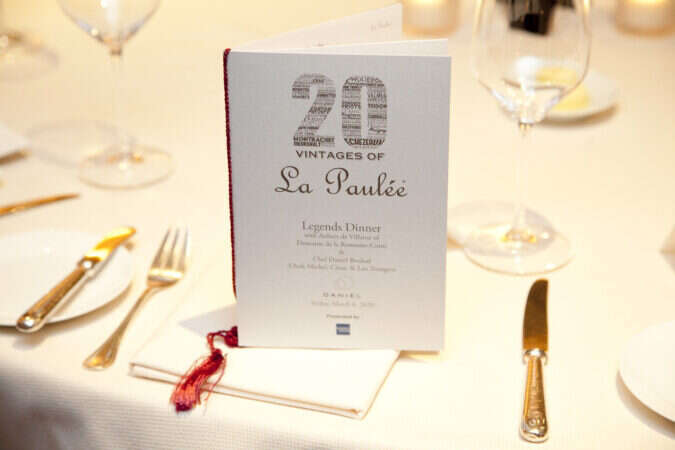 The 20th anniversary edition of the celebration of Burgundy proved to be a spectacular occasion
From only one year out, reflecting on La Paulée de New York 2020 feels like gazing back into another era. As it always does, the great celebration of Burgundy took place at various venues across the Big Apple in the chilly, windblown first week of March. But this first week of March also happened to be the last week of a particular epoch in world history. Were those of us merrily clinking glasses of the world's greatest Pinot Noir and Chardonnay akin to the merrymakers on the decks of the Titanic? In retrospect, it's hard now not to view the hundreds of us who descended on New York as naïve. While the looming pandemic was a consistent topic of conversation, no one knew what a Zoom call was or had started wearing a mask. No one could fathom worrying about toilet-paper supplies or being sequestered at home for months on end. As Eric Asimov would write in the New York Times late last year, "Looking back, the idea of hundreds of people gathering in close proximity, laughing, talking, singing, and sharing wine, seems horrifying. It could have been a disaster."
While the rest of 2020—crushed by pandemic, death, wildfire, political tension, and more—certainly was a disaster, fortunately the year's La Paulée 2020 was anything but. Indeed, rather than sheepishly reflect on our naïveté, it's more enjoyable to luxuriate in the memory of the last time most of us dined in a crowded room. As ever, La Paulée is also a barometer of all things Burgundy, and it's instructive to note the various notions that resonate during the event. Last year there were many.
An air of crackling anticipation pervaded the entire proceedings, since 2020 was also the 20th anniversary of La Paulée. While the many dinners, tastings, and seminars that comprise this celebration of Burgundy are carefully curated and always of great quality, last year's saw new heights, given the desire to celebrate a 20-year span that saw La Paulée swell from a single dinner, to a multi-day juggernaut that has unquestionably played a significant role in the global Burgundian renaissance (and skyrocketing prices).
La Paulée's founder, Daniel Johnnes, reflected on the event's founding several times over the course the week, recalling how the idea came during a dinner in 1992 with the likes of Jean-Pierre de Smet (then of Domaine de l'Arlot), Patrick Bize, Jacques Seysses, Dominique Lafon, Christophe Roumier, Jean-Marc Roulot, Etienne Grivot, and Alain Graillot (deemed an honorary Bourguignon, thanks to his long friendships thereabout). Shortly thereafter, Lafon invited Johnnes to attend the Paulée de Meursault in Burgundy, where Johnnes would find himself blown away by the spirit of friendship, generosity, and revelry on display, where crowds at long tables sang drinking songs and drank copiously from rare bottles proffered by producers roaming from table to table. It was a celebration of wine like no other Johnnes had experienced, and in 2000 he threw a facsimile in New York. The rest is history. Over 20 iterations, Johnnes's Paulée grew in size and scope, alternated locations between San Francisco and New York, added satellite versions in Aspen and Stockholm, spawned emulations based around Champagne, the Rhône, Riesling, and Piedmont, and became arguably the most prestigious wine event in the world.
In his introduction to the final event, the Gala Dinner, Johnnes made the poignant case for La Paulée. "These winemakers and many others have taught me the Burgundian spirit of sharing—the culture of bringing people together around a common element, a glass or a bottle of wine, and spending a moment exchanging thoughts and just enjoying life… La Paulée for us is not just another wine dinner. Its significance is much greater. It is a platform for educating and a nesting-ground for talent, winemakers, chefs, sommeliers, and guests."
Return of the original star cast
Today the power of that platform is undeniable, and the shift even in the attitudes of Burgundians I've talked to over the years is significant. For a great part of its existence, producers would still tell me in private that they were participating, but almost grudgingly so. While they couldn't refuse the invitation to come, they said, they weren't exactly comfortable with what they regarded as a typically American display of orgiastic excess, which resulted in hundreds of bottles of excellent, pedigreed wine being left unfinished or even barely tasted during the revels of the Gala Dinner. This year, however, I heard nothing of the sort. Indeed, Burgundy has apparently made peace with La Paulée. As one producer noted to me, "Today, if there's no big party, few people ever get to see these bottles—they just disappear into collectors' cellars."
Furthermore, skeptics can't discount the reach of La Paulée to promote Burgundy and the attending producers. While only some 400 people or so attend the Gala Dinner, many more than that visit the Grand Tasting or the Verticals. At many events, local chefs are involved, creating more promotional opportunities. And then, of course, the army of sommeliers is a prime mover of Burgundy hype and information. Sommeliers from all over the world covet an invitation to work at La Paulée. The experience of casually pouring side by side with celebrated producers, getting to know new producers, and decanting and serving priceless bottles at the Gala Dinner is life-altering for most sommeliers. If they weren't already, they become Burgundy devotees for life, possessing knowledge and passion that they will share with thousands over the course of their careers.
This year's balanced and intriguing roster of producers gave sommeliers (and guests) plenty to share. As befitted a significant anniversary, it was loaded with superstars, including those who had been there at the beginning in 2000: d'Angerville, Bize, Dujac, Fourrier, Grivot, Lafarge, Lafon, Jobard, Comte Liger-Belair, de Montille, Mugneret-Gibourg, Domaine de la Romanée-Conti, Roulot, Roumier, Sauzet, de Vogüé. The most distinguished négociants were well represented by their well-known faces: Véronique Drouhin-Boss for Maison Drouhin, Erwan Faiveley for Domaine Faiveley, Jean Soubeyrand for Olivier Leflaive, and Pierre-Henry Gagey for Louis Jadot. There were sterling personalities like Pierre Morey, David Duband, Nicolas Rossignol, Olivier Merlin of the Mâcon, Christian Moreau of Chablis, and more. And then there were, as always, the finds, the new(ish) producers being introduced to a wider audience: Domaine Y Clerget, Didier Fornerol, Domaine Génot-Boulanger, Domaine Hudelot-Baillet, and Camille Thiriet. And these are but a fraction of the total producer guest list, which also featured many other wonderful vignerons.
Rich, unique, and varied seminars
The seminars were uniformly spirited and thorough. The wine world's ongoing focus on geology was observed with an exploration of the geology of Volnay with producer Nicolas Rossignol and young geologist Brenna Quigley (who has been working extensively in Burgundy producing soil maps for producers and importers), noting the soil and expositional differences between such 2017s as Clos des Angles, Cailleret, and Chevret. Another seminar (moderated by me) was star-packed, with Véronique Drouhin-Boss, Pierre-Henry Gagey, Dominique Lafon, Louis-Michel Liger-Belair, Etienne de Montille, and Jean-Marc Roulot discussing their winemaking beyond Burgundy. Discussion began with all producers reverentially deferring to Véronique Drouhin-Boss, the trailblazer who founded Domaine Drouhin Oregon in 1988. The panel showed wonderful camaraderie, alternating between light humor and profound sentiment as they talked of their desires to discover winemaking philosophies beyond their own cellars and the occasionally crushing weight of Burgundian traditions and even their own family names. A final, very moving seminar, moderated by Johnnes, was dedicated to Domaine Michel Lafarge's monopole, Volnay Premier Cru Clos du Château des Ducs. Frédéric and Chantal Lafarge and their daughter Clothilde provided pours of the 2015, 2010, 2005, and 1999 vintages, while many a tear was shed during and after a short film by Lola Taboury-Bize as the room paid homage to the great Michel Lafarge, who died earlier last year.
The sommelier seminar, a guided tasting exclusively for the more than 100 sommeliers who volunteered their time to work at the event, featured the wines of Paul Pillot and Domaine du Comte Liger-Belair. The room was packed, as neither producer, especially Louis-Michel Liger-Belair, held back with either his thoughts or his wines, all 2010 Vosne-Romanées—Clos du Château, Aux Reignots, and the fantastically rare La Romanée. "Among the three days of the Paulée, this sommelier tasting is to me the most important," he said. "I am super-happy to share La Romanée. They said it's too much, but I don't care about that. I drink La Romanée every day. It was important because some of you have never tasted La Romanée. You may have it on your wine list, but still must feel comfortable answering questions of who and what is La Romanée. And now you can."
Some will tell you that the greatest events of the Paulée are the limited, private lunches and dinners. Last year's program was exceptional. The OG Dinner at restaurant Del Posto featured Johnnes's original braintrust (listed above) serving wines, mostly from magnum, of or around the 2000 vintage. The lovely "Les Petits des Grands" lunch, at the casual eatery Franks, in Brooklyn, was a wonderful nod to the lower end of Burgundy, featuring regional appellations from elite winemakers: d'Angerville, Lafon, Mugneret-Gibourg, Roulot, Roumier. Everyone agreed that, for their quality, these wines were incredible bargains. The rare wine dinner of Christophe Roumier at Legacy Records offered a practically unmatched selection of these low-production wines. The dinner featured seven vintages of Bonnes-Mares (including '91, '90, '88, and '85 from magnum), four of Les Amoureuses ('88, '86, '85, and the spectacular '78), and Musigny 1988 from magnum.
For sheer rarity and soul, Roumier is hard to beat, but the legends dinner climbed even higher. Hosted at restaurant Daniel, with chefs Daniel Boulud and Michel and César Troisgros providing the repast, the featured winery was DRC. Aubert de Villaine, of course, did more than fulfill the roll of legend, addressing the full dining room with signature sagacity and modesty. Aubert admitted that some of the bottles, which came direct from the Domaine, were "wines I rarely get to taste," and Johnnes confirmed that "some of these are close to being, or are, the last bottles in the cellar."
The first course of lobster with black truffle, tomato confit, and caramelized fennel was accompanied by the trio of Echézeaux, Grands-Echézeaux, and Romanée-St-Vivant from 2014, which Aubert opined was a "fantastic vintage" despite the challenging conditions, because "it was a vintage where you receive lessons." The lessons were that greatness can come from misfortune—heavy summer rains provided the soil moisture that allowed a long maturation when the weather finally turned at the end of September; botrytis attacked the clusters but also provided a natural thinning, and the importance of old vines, which know how to weather tough conditions. The dinner proceeded with Richebourg 2006, 2001, and 1999; La Tâche 2000, 1991, and 1971; and from magnum Romanée-Conti 1991 and 1971. Both 1971s not only held up majestically, but held true to type—the Romanée-Conti was ethereal, La Tâche spice-laden and incisive. If one had to choose, the former would get the nod thanks to its larger format—the wine showed just a little more body, intensity, and length.
How to follow that? A Gala Dinner for the ages. That afternoon, the Grand Tasting had gotten everyone loosened up, offering only a scant few hours to rest before the onslaught of wine and food reached high gear. After Johnnes said his words, de Villaine spoke again to the more than 400 guests and 100 sommeliers, praising La Paulée as a tremendous achievement. "What is remarkable for me and perhaps the key to the success of the Paulée," he said, "is that it highlights something unique and essential in Burgundy, and that is sharing. Here at La Paulée we share the bottles we have kept in our cellars with love sometimes for many years and by doing this we celebrate the culture of Burgundy. Burgundy was elected to the list of the world treasures of UNESCO not for the wines, but for the culture. Sharing is the link between the two."
The legend having spoken, the feast began. And much sharing took place, sharing at an all-time level. Of the dozens and dozens of miraculous wines that passed through my glasses that night, I couldn't keep a record of them all. Among the highlights, however, were: 1991 Domaine Leroy Clos de la Roche, 1957 DRC La Tache, 1988 Armand Rousseau Chambertin, 2001 Coche-Dury Corton-Charlemagne, 2000 Coche-Dury Meursault Premier Cru Les Perrières, 1989 Domaine René Engel Grands-Echézeaux, 1998 Domaine Leroy Clos de la Roche, 1990 Domaine Dujac Clos St-Denis, Domaine Drouhin Musigny 1971.
Late that night, heading back to my room with New York's frigid winter air soothingly cooling my Burgundy reddened cheeks, I had no idea that this would be one of my last meals around strangers in a crowded room. And we're left to ponder what La Paulée will look like in years to come. This year's version, La Paulée Mondiale, is perhaps the most ambitious yet, with a lengthy program of guided tastings, interviews, and seminars—all online (March 10–21, tickets on sale now, see www.lapaulee.com/program-2021 for details). Burgundy has certainly never been so represented in the virtual world. But will future Burgundy lovers get to experience the camaraderie, electricity, and surfeit of divine wine that has characterized La Paulée's first 20 years? We can only pray.