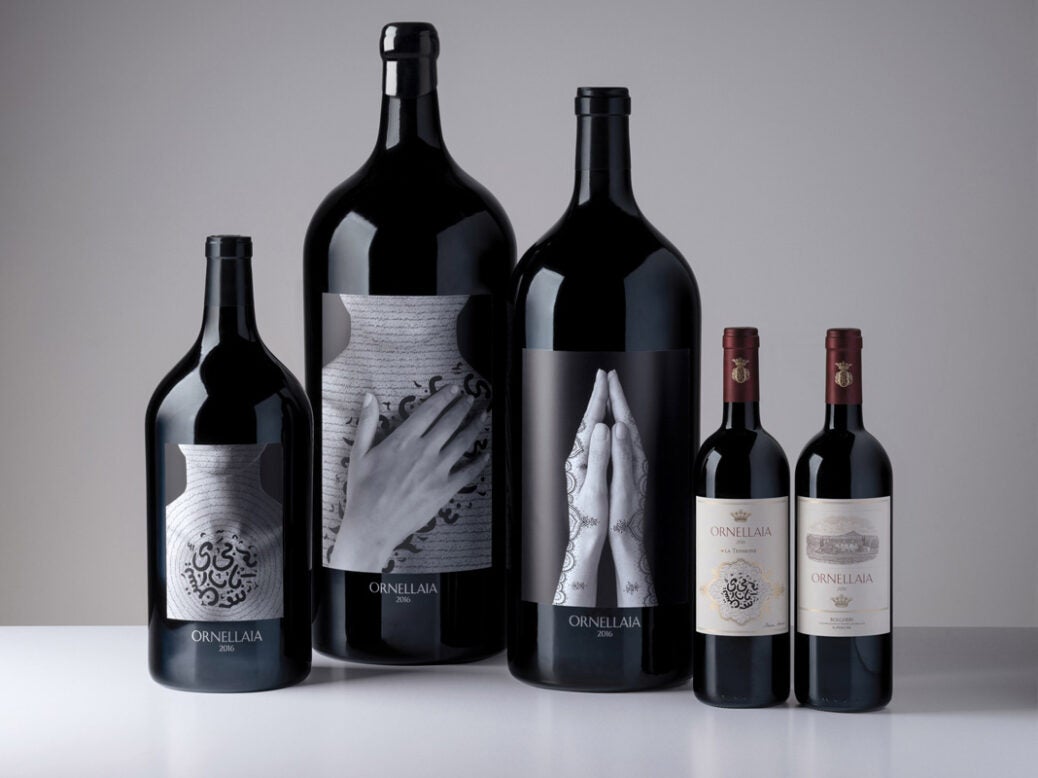 Victoria Daskal looks at the latest offering in this renowned series of artist collaborations, revealed in a tasting with winemaker Olga Fusari
As Ornellaia's 2016 harvest transformed into wine in Bolgheri, the global conversation around women's empowerment became ever more serious and tense. Allegations against Harvey Weinstein were coming to light, and the MeToo hashtag gained momentum on social media, while the fight for gender equality continued. If art imitates life, and wine is an art form, then the decision to characterize Ornellaia's 2016 vintage as La Tensione was perfectly timed. At its annual vintage tasting and Vendemmia d'Artista reveal in Milan, the Ornellaia team was visibly bubbling with a nervous energy. There were many changes to announce to the assembled Italian and international press. Olga Fusari, the young female winemaker who has been with Ornellaia for ten years, took center stage and, for the first time, led the tasting, while estate director Axel Heinz sat silently beside her. She presented her milestones of the past decade and explained the interpretation for 2016 as La Tensione.
"The 2016 vintage, the year of tension, of opposing forces, is muscular, powerful, and structured," said Fusari. "Sometimes we are almost embarrassed to say 2016 was a special and lucky vintage, especially after the success of 2015. It is the typical Bolgheri vintage: excellent summer, some water stress that helped with phenolic development, but nothing was out of balance. From mid-August onward, normally you have cooler temperatures in Bolgheri, but in 2016 the cooler weather didn't arrive until mid-September. This late weather change really rounded off the ripeness.
"The wine has a fantastic texture, and a powerful but never excessive structure, which is always balanced with a vibrant, brisk acidity. We characterized these traits as a 'tension.' It's broad but with a brilliant acidity supporting it. A bit like looking at an athlete. He has a lot of muscles and he can jump high. Agility and strength. Powerful yet nimble. A typical expression of Ornellaia."
Proceeding with a taste of the harmonious 2013 vintage, Fusari shared that this was a pivotal year, when she allowed herself to raise her gaze from the path and appreciate her growing winemaking expertise. And then finally, back to where it all began—her unforgettable first vintage at Ornellaia: 2008. "The wine is all about power, strength, balance. It is still drinking very young but promises to show a lot of things over time." Like Olga?
Turning points
Ornellaia's growing focus on white wine is another turning point. Fusari showed two wines: Poggio alle Gazze 2017 and Ornellaia Bianco 2015. She has been working on the white-wine project from the start of her career at Ornellaia, and Heinz conceded it was the feminine ability to pay attention to detail that led to its success. "We men are a little less accurate and prefer to make red wine, which is easier, and give the challenge of making a white wine in a land that is known for red wine to women." The results were indeed impressive. The fresh, crisp, and aromatic Poggio alle Gazze (81% Sauvignon Blanc, 10% Vermentino, 6% Viognier, 3% Verdicchio) is rounded and rich, with a slightly sharp zest and bitterness on the finish. The sensation of tension comes to mind with this wine as well. The Ornellaia Bianco 2015 (100% Sauvignon Blanc) is barrelfermented, followed by 12 months on lees, and quite Burgundian in texture. It is rich and ripe, with vanilla-bean notes and citrus-peel freshness. Given the excitement and focus on white wine this year, it is clear that further developments are expected as they continue to experiment with new varieties and styles. "We are very proud to lead the way in the rebirth of white wines in Tuscany," says Heinz. "We want the world to look at Italy as a producer of top white wines as well."
And the biggest surprise of all was the artistic label reveal itself: intimately close photographs of female faces, hands, and bodies covered by Farsi calligraphy. For the 11th edition of Vendemmia d'Artista, the Iranianborn American artist Shirin Neshat interpreted the character of Ornellaia 2016 La Tensione with contrasts between the softness of the skin and the graphic nature of the text to seduce the eye and engage the imagination.
As a photographer, filmmaker, and video artist, Neshat is known for her disruptive and poetic visual narrative. Bartolomeo Pietromarchi, director of MAXXI (Museo Nazionale delle Arti del XXI Secolo) in Rome, described her strong personality and her personal story of moving to America as a child, in exile from her native Iran. This experience, of being caught between two cultures, dominates Neshat's creative work. Her art offers a glimpse into the complex social, religious, and political realities that shape her identity—and the identities of Muslim women worldwide. Calligraphy is central to her work, and for the Ornellaia project she used text from the renowned 11th-century Persian poet Omar Khayyam, who often referenced wine in his poems as lifting the human spirit to more universal values, taking man closer to god.
Neshat explains, "Throughout centuries, in classical Persian literature, our great mystics and poets have continuously made references to wine as a form of spiritual intoxication to the human soul, elevating the mind from the banality of everyday life to reach the depth of humanity and existence. Over the years, in my own artistic practice, I have consistently made use of ancient mystical Persian literature—either in the form of poetry inscribed as calligraphy over my photographic surfaces, or as songs in my videos and film-based work. In the work created for Ornellaia, I inscribed a poem by the legendary poet Omar Khayyam titled 'Without Pure Wine I Cannot Exist.' He has written more than any other Persian poet about the relationship between wine and spirituality."
Now in its 11th year, the Vendemmia d'Artista has established itself as an important contributor to the arts. More than $2 million has been donated to art institutions of the label artist's choosing in the first decade of the project. This year, the focus has shifted slightly to a longer-term project with the Guggenheim Museum in New York. Ornellaia CEO Giovanni Geddes da Filicaja said, "We are very proud to help the Mind's Eye project of Guggenheim for the coming years. It is a great pleasure for Ornellaia to be able to establish a long-term relationship between our Vendemmia d'Artista project and an art institution of such international stature as the Guggenheim Museum. Appreciation of great wine, like that of great art, requires the involvement of all the senses, and that is precisely why we decided to lend our support to a project of such stature as Mind's Eye, designed to assist sight-challenged adults to experience art through creation of a model that utilizes all the senses to provide an entryway for enjoying art throughout the world. This initiative will be, without any doubt, an invaluable heritage for future generations."