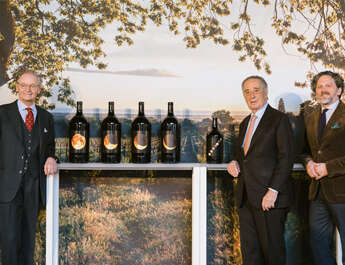 It has become a tradition, now 12-years strong, not only to describe each new Ornellaia vintage, but to sum up in a single word what makes it unique. Exuberance, Harmony, Energy, Equilibrium, Celebration, Infinity, Enchantment, Elegance, Essence, Charisma, and Tension is the roll call of essential ideas or qualities over the past 11 years.
But beyond summing up the vintage, the team at Ornellaia also manages to capture something of the zeitgeist of our global society, tapping into what is most concerning or relevant for our times. Which is why the summa for the 2017 vintage—Solare (translated as Radiance)—expresses far more than the hot and sunny growing season Bolgheri experienced that particular year, prompting reflection on climate change, solar energy, and extreme weather patterns.
Il tempo capriccioso
Ironically enough, however, as Ornellaia's estate director, Axel Heinz, pointed out at the launch of the 2017 wine in Florence on February 21, this radiant Ornellaia vintage actually sits in the shadow of the two extraordinary preceding years—2015 and 2016—"both very different but great vintages that made history for Bolgheri." "2017 was not easy," Heinz lamented, "and posed several challenges for us. The climate was very particular, though I wouldn't say it was totally unknown to us—we're in the Mediterranean after all, so we're used to sun, heat, and even drought. It was a very hot, sunny vintage; very dry, too, with very little rain—way below the seasonal average. This caused a short growing season, in which lay some of the challenges. It wasn't just that 2017 was hot—it was hot at those specific moments that are crucial for vine development. It was a vintage with very early results."
Heinz explained that this was a vintage to which they had to adapt; they couldn't have applied a "traditional recipe" even if they'd had one. The climate defines the character of each Ornellaia vintage, and Heinz reminded us that 30, or even 20, years ago a very sunny vintage was welcome, producers struggling to achieve ripeness, "whereas now we are very worried every time we have such a hot, sunny vintage." The warmer winters are also a challenge, since the vineyard needs strong signals to enter into its period of rest; otherwise it stays in a state of semi-activity and may bud too early.
Connecting the climate dots
Climate change, which the Ornellaia team has been monitoring in its vineyards for several years, is not only about rising temperatures, of course; it's also about extreme and unpredictable weather patterns, which clearly present challenges in the vineyard. Heinz therefore decided to present the 2017 alongside three other "extreme" vintages, with conditions that were exceptionally cool, warm, wet, or dry: 2011, 2010, and 2006.
This tasting of opposite extremes underlined once more that climate change is not as simple as the weather getting warmer—nor is the answer just to harvest earlier. The inevitable question came from the audience: So, what are you going to do about it? Heinz replied that several changes in the vineyard are already underway, inspired by practices from even hotter regions of Italy. Vineyards that were densely planted at 9,000 vines per hectare are now being reduced to 6,000–7,000 vines per hectare in order to ease competition for water during drought. The albarello training system (gobelet in French), more common in Puglia, Sicily, the South of France and Spain, is being adopted, too, because it offers better shading for the bunches and reduces evaporation. Certain cover crops are increasingly being used to create a protective carpet to avoid excessive evaporation from the soil. The team is also leaf-plucking when necessary: "We need fewer leaves, to slow down the ripening, and less vegetation, to manage the limited water resources."
Another adaptation is the optical sorting machine introduced from 2016. "We resisted for a long time," explained Heinz, "since we do a lot of selection in the vineyard, and the hand of a man or woman is always best. But grapes that are sunburned and dehydrated have a negative effect on the wine: too much sugar [and therefore alcohol], aromas of dried prunes, and a loss of freshness."
Heinz pointed out that the 2017 wine includes less Merlot than normal: "We're still getting splendid results from Merlot, but may have to reduce it and replace it with later ripening varieties. We will have to choose the varieties that perform best over the coming years. We still have some difficulty understanding it fully." He concluded the tasting with an air of "to be continued." "There is no one single response," he insisted, "it has to be a lot of different actions and changes."
Aerocene interpretation
For the 12th edition of Ornellaia's Vendemmia d'Artista project, Argentine artist Tomás Saraceno interpreted the character of the 2017 Ornellaia vintage by creating an ode to the sun, the most important source of energy for our planet. Internationally renowned for his interactive installations that propose new, more sustainable ways to live, Saraceno has worked closely with the Massachusetts Institute of Technology and presented his work at the Paris Climate Change Conference in 2015.
He envisages a future beyond the Anthropocene, the current geological era in which human activity has had a dominant impact upon the Earth. For his Aerocene project he has created a series of experiments and installations based on the hypothesis of fossil-free flight. His floating sculptures, made of silver and transparent Mylar material, take flight from the heat of the sun and infrared radiation from the Earth's surface, the idea being for them to be navigated solely by atmospheric currents.
The 2017 Ornellaia vintage launch took place in the Pallazo Strozzi in Florence (rather than its usual venue, the Milan office of long-time Vendemmia d'Artista partner, Sotheby's, in Palazzo Serbelloni) in order to coincide with Saraceno's major solo exhibition, Aria, which was opening the next day. It is an immersive, interactive experience co-created with spiders (he holds one of the largest collections of spiders in the world), and invites viewers to explore a new way of cohabiting with plants and animals, using air as the principal theme.
Saraceno's commission for Ornellaia builds on these themes for the customized 111 large-format bottles charting the solar eclipse, the single Salmanazar adorned with a floating cloud-like sphere. One 750ml bottle in each case of six of the Ornellaia vintage has a special thermochromic label, through which Saraceno invites wine lovers to reflect on the impact that human behavior has on the environment. This label also bears a resemblance to a cornea, and thus offers a deeper connection to the Solomon R Guggenheim Foundation's Mind's Eye program, the sole beneficiary of the sale of the limited-edition large-format bottles. As in previous years, the 100 double magnums will be sold to avid collectors around the world, while the unique Salmanazar and the ten 6-liter Imperials will be available only through an online auction hosted by Sotheby's. Saraceno will open the Vendemmia d'Artista online auction during the annual event organized by Ornellaia at the Guggenheim Museum in New York in September, 2020.
Ornellaia 2017 Bolgheri Superiore Rosso DOC: Solare
(56% Cabernet Sauvignon, 25% Merlot, 10% Petit Verdot, 9% Cabernet Franc; 15% ABV)
The Merlot was harvested early (August 24–31). Heinz said it was the first time at Ornellaia that they did not harvest the Merlot in September. "We waited another two weeks for the other varieties, and the context changed; we got a little rain and the temperature dropped. The grapes were so small—the smallest I've ever seen. We couldn't operate the way we usually do; we had to balance the concentration by reducing the winemaking: a lower fermentation temperature, very little movement, very little maceration."
Brilliant garnet hue. At first sniff, quite subdued, but after several swirls ripe red and black fruits emerge, along with a soft, warming spice. Firm and structured, with drying tannins, but not overly concentrated and surprisingly fresh, too. Tasted again later with food, the wine sprang to life with a sumptuous texture and layers of rich cherry and blackberry fruit.
Ornellaia 2011 Bolgheri Superiore Rosso DOC: L'Infinito
(51% Cabernet Sauvignon, 32% Merlot, 11% Cabernet Franc, 6% Petit Verdot; 14.5% ABV)
"2011 has the reputation of being a warm vintage," explained Heinz, "but we tend to forget that it was actually warm only for a very limited period during the year, because most of the spring and summer were quite fresh; it was one of the nicest years I ever saw at Ornellaia. Then there was a rush of heat that made September very warm and transformed the season from the last week of August. We were preparing for a cool and fresh vintage, then suddenly received a very powerful, hot vintage."
Aromatic and spicy, with a ripe, rich, and intense nose. Smooth, rich, and penetrating as firm tannins unfold across the palate, wrapped in complex layers of fruit and spice. Very broad on entry but it moves powerfully to a tapering finish.
Ornellaia 2010 Bolgheri Superiore Rosso DOC: La Celebrazione
(53% Cabernet Sauvignon, 39% Merlot, 4% Cabernet Franc, 4% Petit Verdot; 14.5% ABV)
"2010 was the exact opposite of 2011," said Heinz. "It was the coldest and latest vintage we have had. It was very rainy throughout the vegetative cycle, then we had a hot July, and then it was cool again. The harvest started after mid-September. It was the opposite of 2017 in the cellar; while in 2017 we had to be very careful not to extract too much, in 2010 we had to really look for what we were interested in from the grapes. In 2010 the Merlot performed to its full potential."
Slightly leaner and fresher than the 2011 in its range of fruit aromas, with taught, tight tannins. Quite savory and mineral, not particularly fruity or generous. Medium-bodied but still intense. A long finish, with lingering tannins that remain drying and grippy.
Ornellaia 2006 Bolgheri Superiore Rosso DOC: L'Esuberanza
(56% Cabernet Sauvignon, 27% Merlot, 12% Cabernet Franc, 5% Petit Verdot; 15% ABV)
"Another extreme year when, I dare say, whatever you could have imagined, happened!" exclaimed Heinz. "At first it was only a little out of the norm, but then with time we realized how exceptional this vintage was. Having studied and worked in Bordeaux, I know about certain vintages that are now legendary—such as 1961 or 1947—but at the time the winemakers were not happy with them, because whenever you have difficult conditions you don't know how to behave. It was a very atypical season in Bolgheri, and we had very drastic changes. A long period without any rainfall, maturation started very late, September became very hot—we had the warm, humid Sirocco wind—then a whole weekend of exceptional rainfall… So, we had no precedent to help us deal with this, we were in totally uncharted waters."
Beautifully aromatic and complex, a playful balance of rich red fruit and spice. Powerful and fleshy, yet very clean, smooth, and balanced, with bright freshness. Bottle-age has definitely proved rewarding; very elegant and refined, with a long, sensual finish.